— -- Firefighters saved the life of an elderly dog after he somehow fell down a 40-foot-deep well in McDonough, Georgia, according to county officials.
The yellow Labrador retriever named Bama was "desperately trying to keep [his] head above water," when animal control officers found him on Monday afternoon, according to a post on the Henry County Animal Care and Control Department's Facebook page.
The officers "realized that an extraction of this sort was beyond [their] capabilities," so they immediately contacted the Henry County Fire Department for help, said a spokesperson for the county's animal care and control department.
"We affectionately call them the 'Batman Department' because they have all the 'cool toys' and specialized equipment for situations like this that animal control departments don't have," the spokesperson told ABC News today.
The fire department's Technical Rescue Team shortly arrived on the scene and worked for over three hours to rescue Bama, according to Capt. Michael Black, public information officer for the Henry County Fire Department.
The rescue team first pumped oxygen down the 40-foot-deep well before lowering a firefighter to get Bama back up, Black told ABC News today.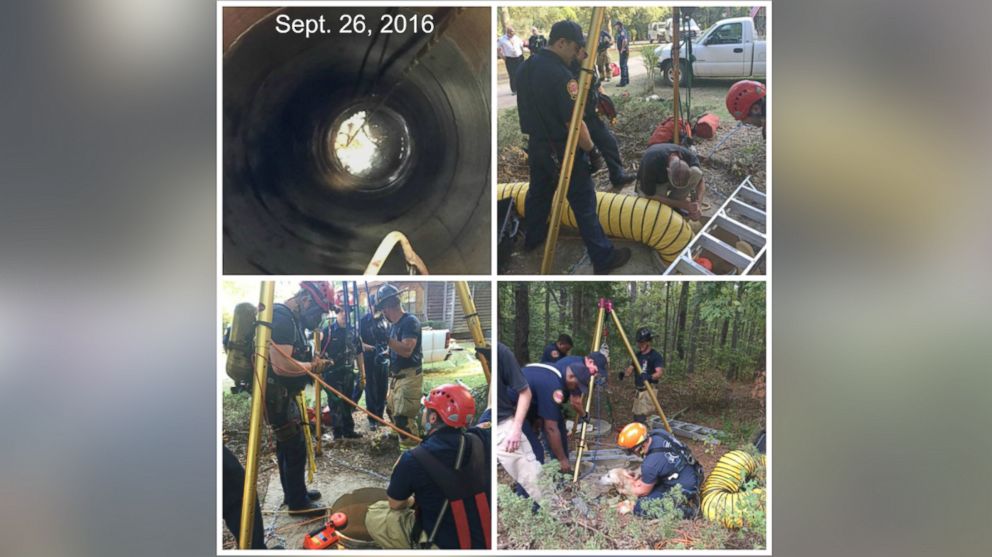 "The dog was really friendly, and when he was out, he even seemed like he was going around to thank everyone," Black said. He added that Bama was determined to be OK and turned over to his owner without further incident.
It appeared that the dog had accidentally fallen into the well, which is located in the backyard of his owner's neighbors' house, while "hanging out" there that afternoon, Black said.
Bama's owner, James House, told ABC affiliate WSB-TV in Atlanta, Georgia, that he "didn't even know" Bama had fallen in the well "until they had already got him" out.
"I know it must have been scary for him," House said. "I brought him home and hugged him -- mud and all."