— -- That's one haute dog. It's the most expensive, in fact, according to Guinness World Records, which crowned Tokyo Dog with the world title.
So what exactly does $169 get you? A 12-inch smoked cheese bratwurst topped with butter-teriyaki grilled onions, maitake mushrooms, wagyu beef, foie gras, shaved black truffles, caviar and Japanese mayo on a brioche bun.
"It's savory. It has fabulous flavors. It's an amazing hot dog," Tokyo Dog co-owner Eugene Woo told ABC News. "Our buyers loved it. They think it's the best hot dog they've ever had."
Alan Chang of California was the first person of six to officially buy the hot dog. At $169, that's a grand total of $1,014 that Woo said went entirely to the Red Cross.
"The previous record was $145.49 -- sold by a hot dog manager in California -- and we thought it would be fun to break that record and bring it home," he said. "It's also for fundraising. We gave away every single penny to the Red Cross."
These World's Most Expensive Foods Will Give You Serious Sticker Shock
Most Expensive Pizza in the World Sold in Canada
This hot dog joins the ranks of other foods that hold titles in their own categories, like the world's most expensive pizza in London at Maze restaurant, which, at $178, is a thin-crust, wood fire-baked pizza topped with onion puree, white truffle paste, fontina cheese, baby mozzarella, pancetta, cep mushrooms, wild mizuna lettuce and rare Italian white truffle shavings.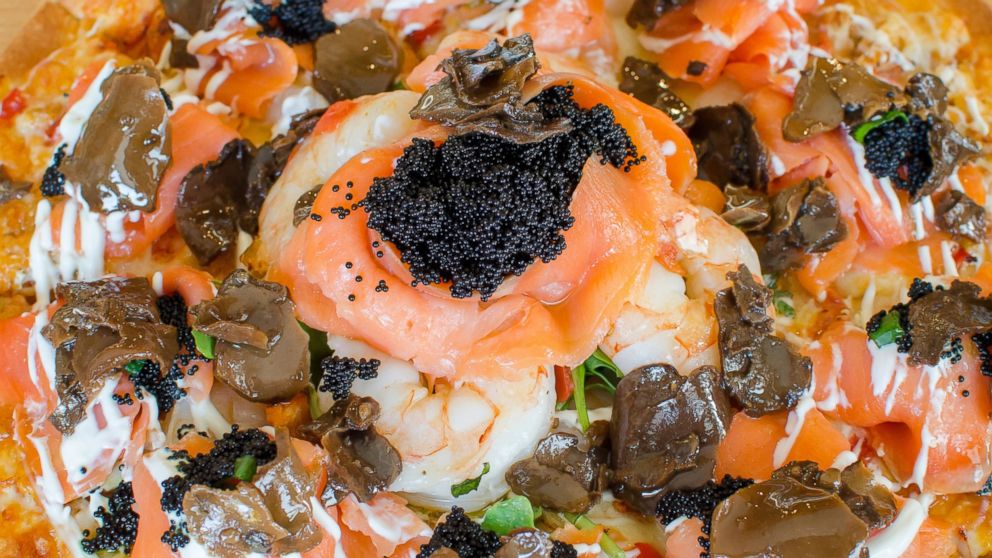 That pizza may hold Guinness' official title, but it doesn't mean it's actually the world's most expensive. Steveston Pizza in Canada tops their pricey pie -- at $720 plus tax -- with lobster, smoked black Alaskan Cod, smoked British Columbia steelhead salmon, creme fraiche, Russian caviar and white truffle carpaccio.
Woo called getting officially certified by Guinness "brutal," which is why many restaurants may not take the time and expense to snag the title. The process took Woo and his co-creators, Samson Kwong and Rocky Weh, an entire year to accomplish. The crew sent in their application last August. It was approved 10 weeks later. Then, it took four months to develop the dog.
"We wanted to not just throw a bunch of expensive ingredients on it," Woo said. "We just wanted a really awesome hot dog that people would love. It was a lot of research and trial and error."
Tokyo Dog made its official attempt on Feb. 23, sending in evidence such as photos, videos, transaction records and witness signatures to Guinness World Records. Fast forward six months to Aug. 13 and they now hold the world title -- at least for now.
"I think records are meant to be broken. For us, it's the experience [of] going through and getting this Guinness World Record award," Woo said. "Eventually, someone is going to break it again."