— -- One little girl got an early Christmas present better than anything Santa could have brought.
Kaley Faris' mom, Christine Rainey, a specialist in the Army, returned home from her 6-month deployment in Qatar to surprise her daughter at her Irish dancing recital on Dec. 16.
"She had absolutely no idea and her reaction was absolutely perfect," Rainey, who is based out of Shaw Air Force Base in South Carolina, told ABC News. "It was so great to be able to come home to her."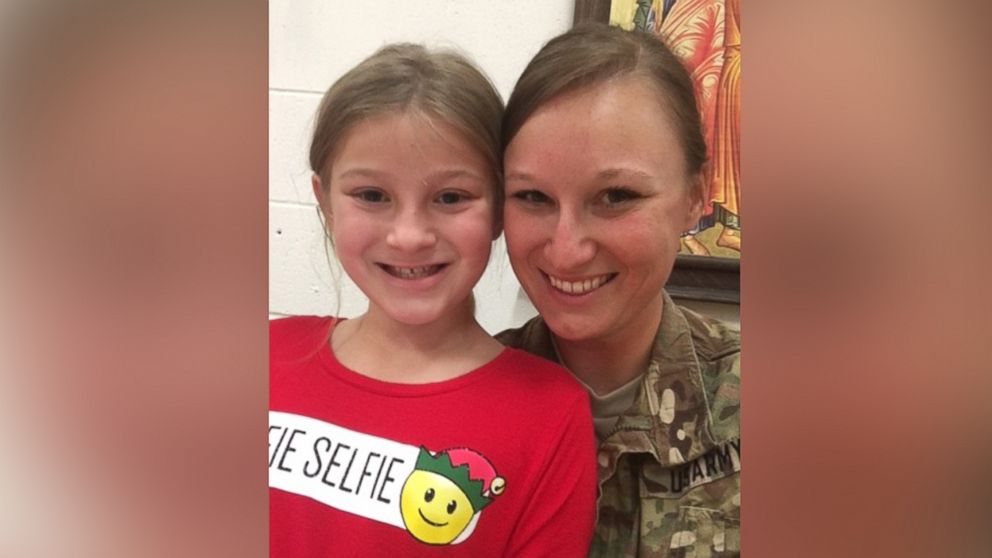 As a bagpiper played "God Bless America," Rainey snuck into the dance performance to greet her unsuspecting 10-year-old, who immediately burst into tears as soon as she and her mommy locked eyes.
"I had no idea what her reaction would be and it was just priceless," said the proud mom. "When I originally deployed, I was told I was going to be home the 15th. But when I got to Qatar, it was switched until the 22nd, so I was really praying for good weather to get home in time for Christmas. I told her the update and it broke her heart."
But in November, "they pushed it forward again to get home for Christmas, and it just happened to coincide for her dance recital," she explained.
A former competitive Irish dancer herself, Rainey said being able to see her young daughter perform meant the world to her.
Now, with no deployment date in sight, the mother-daughter duo are looking forward to relaxing and enjoying the holidays together.
"I just want to enjoy being home and sitting on the couch and cuddling with her and doing the family thing," said Rainey. "We have a tree up, but we haven't decorated it yet. We'll do that one night this week. They put it up and waited to decorate it until I got home."