— -- When it comes to planning a wedding, forget something old and something blue. This year, it's all about the something new.
More couples are finding ways to incorporate the latest technologies into their wedding day.
"Some people may say that using technology during your wedding day may make it a little bit impersonal. I would argue the opposite," said Samantha Murphy Kelly, the Deputy Tech Editor for Mashable. "If you're using in subtle or certain ways you can actually make it much more personal."
Taylor and Samantha Sinclair had the ultimate, tricked out, high-tech wedding in California last June.
The couple won a contest thrown by The Knot and Mashable, which used every single digital detail they could dream up for the big day.
Watch the full story on "Nightline" tonight at 12:35 a.m. ET
Drones flew overhead. Monitors tracked the bride and groom's heart rates as they walked down the aisle. Go-pro cameras were tucked into the wedding bouquet to capture every step. They had robot bartenders and of course plenty of selfie sticks.
"Reading it on a list was not worrisome, but a little weird," added Samantha. "It's a little weird to read that there's going to be robots at your wedding or drones flying everywhere."
"You never know if that stuff is going to stick out, or if everyone is going to accept it," added Taylor.
Michael Anderson, the CEO of the New York City-based 3-D printing company DOOB-3D USA, said more people are coming in asking for printed wedding cake toppers.
Hanley Smith and William Connell went to DOOB for a customized topper for their upcoming June wedding in Georgia.
"What we thought was really fun is their wedding toppers aren't just wedding toppers, they're actually us in whatever pose we wanted to pick, whatever we thought would most represent us as a couple," Smith said. "We decided we wanted it to be a surprise, so when they walked by the couple they might be like [gasp] – 'It's them!'"
First the couple coordinated their pose, then they stepped into the 3-D scanner where they were photographed from every angle. Then the 3-D printer went to work.
"It's a backyard barbeque wedding," Smith said. "Obviously there will be a band and lights but it's a real homey kind of wedding. I think bringing this technology into it just enhance the personalized nature of what a wedding should be."
Another big wedding trend that's taking off is drone photography. Photographer Brian Ozegovich said about 40 percent of the wedding he shoots want to use drones.
"When you see the footage of your catering hall from the air, and seeing your cocktail hour from the air, you're able to see that wedding from a whole new angle," he said. "And they have fun too because what we do is we interact the bride and the groom with the drones and the guests love it."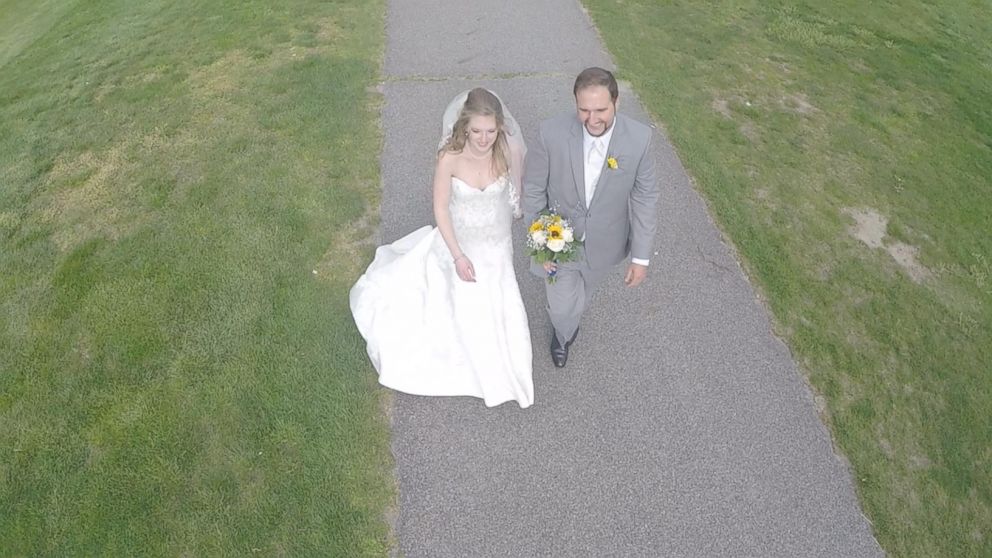 Even the wedding dresses are going high-tech. Dress designer Rebecca Schoneveld created an app so brides could scroll through her entire collection and pick and choose features from different dresses to create their own custom designs.
"I just had an epiphany," Schoneveld said. "What girl wouldn't want to say, 'I love the top of this dress, but I love the bottom of this dress and I really want a touch of pink somewhere in it,' so sure, why not?"
The model in the app can be customized for brides as well, with options to change hairstyle, hair color, skin tone, among other things.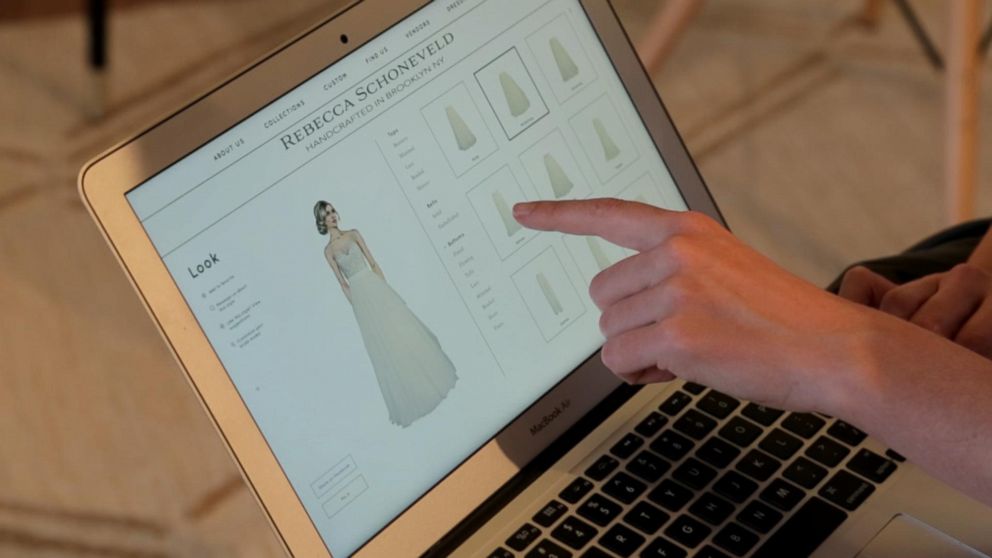 Of course, all of these high-tech features come at a price. A 3-D printed cake topper showing a replica of the bride and groom can cost over $400. Drones can run an extra $800, and Schoneveld's custom bridal gowns can cost up to $5,000.
For couples looking for just a touch of tech to incorporate into their big day, while not tacking onto their budget, there are dozens of free sites and apps available to help with planning.
"Wed Happy is an app that lets you track all the many different tasks you have to do before the wedding date," Kelly said. "It will ask you to put in your wedding date and through the many months ahead it will ask you if you've ordered invitations, hired an efficient, sort of where you are in process, the alerts and reminders are really great and keep you on track."
There are also sites that offer wedding hashtag generators and registry help.
As for the Sinclairs, technology ended up playing a sentimental role in their ceremony. Samantha's mother, who was suffering from cancer, wasn't able to attend the wedding so the couple livestreamed the event for her so she could watch.
"My mom not being here was obviously the hardest thing about this wedding," Samantha said. "But from the second I got her I was immediately relieved because I knew she could live in the moment as if she was here."
The thoroughly modern affair turned out to be their fairytale ending.
"After seeing everything come together, I may not have picked everything but it was my dream wedding," Samantha said.