Celebrities' red carpet looks are undeniably polished and professionally styled. But more and more, women are less interested in high-fashion and more interested in what stars wear the rest of the time.
That's where People StyleWatch comes in -- a magazine that tracks who wore what and where to buy it. Envious of Vanessa Hudgens's leopard leggings or Jessica Biel's patent pumps? Editors track trends and find stars' looks at bargain prices.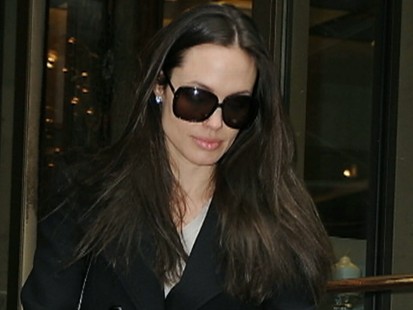 While it may not seem like rocket science, the formula is working. StyleWatch is a bright spot in the otherwise bleak magazine business. The Washington Post Co. just announced it is putting the veteran weekly magazine, Newsweek, up for sale, citing problems with circulation and revenue, in a digital age.
But as fashion magazines suffer jaw-clenching declines in advertising and circulation, StyleWatch is actually growing, increasing its ad pages by about 130 percent by showing clothes people can actually afford.
"I think we are the right magazine for people who want to get value for what they are buying," said StyleWatch Editor Susan Kaufman. "We want to say if it's inexpensive and it's just for fun it's a quick trend that you don't have to invest a lot in."
"Nightline" visited Kaufman at the StyleWatch offices as they prepared the June/July issue. At 180 pages, it's the largest issue to date and features buys under $100.
"We're trying to make sure we have something for everyone that buys this magazine," StyleWatch Editor Susan Kaufman said. "It's really just having enough variety of clothes, variety of price points."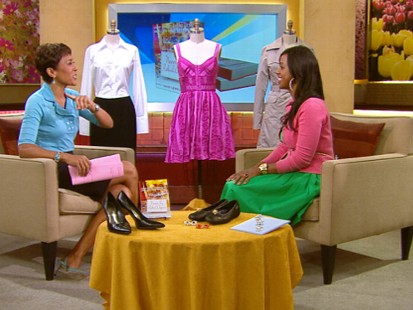 Fashion guru
Tim Gunn
even edits a "Who Got It Right" feature in the magazine.
"It's really about the democratization of fashion and trying to reach more people so those who have a limited budget aren't limited," Gunn said. "There is no excuse for looking awful. One can find fashion on a budget...the more realistic the price is the more accessible it is of course and what greater honor is it to wear your very affordable item and looking great."
Making Celebrity Fashion Accessible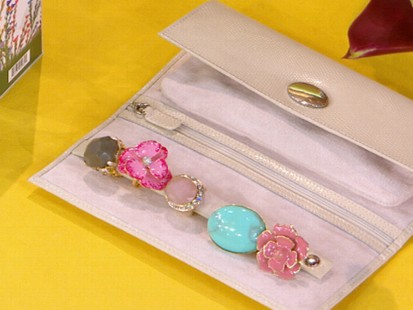 Kaufman has taken a new approach to what a fashion glossy can be. She draws her inspiration from a surprising source: a stack of paparazzi print outs of celebs at red carpet events and on city streets.
"All the photos that all the photographers take of celebrities, they get sent to us digitally every day and our photo editors go through the process every day of printing out all the different celeb looks so from this I can see what everyone is wearing," she said.
Then, they spot trends -- from the huge statement necklaces young stars like Lauren Conrad, Rihanna and up-and-comer Erin Lucas are sporting to crop tops and baggy harem pants.
Kaufman works with editors to pull similarly trendy, but cheaper looks. They literally crawl on the floor to pick out the perfect shoe -- a scene seemingly a million miles away from the elite and high-fashion world of Vogue Magazine.
Unlike Vogue, StyleWatch is about being inclusive; editors are more likely to be talking about Banana Republic than Balenciaga.
"A lot of great things are happening at this price point," said StyleWatch fashion editor Kate Dimmock. "The recession is an awful thing, but it's made people work harder to make amazing products at an affordable price point. You really would be amazed to see what's going on at J.C. Penny and H&M and Target, J. Crew... good design shouldn't be about money."
One store doing it well is American Eagle Outfitters. With many of their designs retailing below $25, Kaufman says it's the perfect price point for StyleWatch and even some celebs.
"We're actually showing Taylor Swift wearing a really adorable AE floral dress in our June/July issue so I know she's a huge fan of the line," Kaufman said.
StyleWatch: Retail Nirvana
StyleWatch's has done away with the expensive photo shoots of traditional fashion magazines, opting instead for paparazzi shots for less than a thousand dollars each.
Next to every item readers can find information on where to buy it, the price and sometimes a code for a discount from the retailer. When StyleWatch offered a discount at this fashion website, Revolveclothing.com, sold $1.4 million of merchandise to its readers.
To critics who call the magazine more of a catalog than a magazine, Kaufman says there's more than meets the eye.
"No. 1, we are not a catalog because there is so much editorial experience that goes into putting this magazine together," she said. "It's not just one brand showing. We edit the trends for the reader so they understand what is important in fashion."
And much the way, the paparazzi chases stars, StyleWatch now hunts down designers starlets are wearing -- often doing hours of detective work to credit the right store.
"It can be challenging," Dimmock said. "Let's say the celebrity doesn't always want you to have the information, the designer sure does, they definitely want their product in the book. It's just money in the bank, there's just no two ways about it."