Chef Daniel Humm, executive chef at Eleven Madison Park in New York, has garnered much praise for his classic European style and sophistication. Click here to read the "Nightline" profile and check out his seasonal recipes below.
Roasted Organic Chicken, Figs and Chestnuts
Yields 1 small chicken
Ingredients: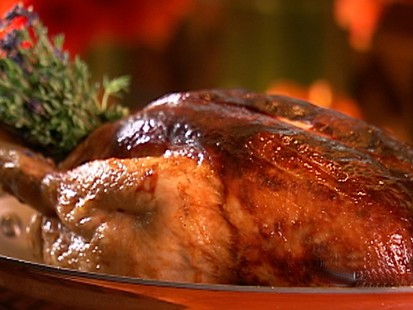 Stuffing:

1/2 cup brioche, no crust, and dried in a low oven overnight

1/4 cup celery

1/4 cup fennel

1/8 cup Fiji apple

1/2 cup Spanish onion

1/4 glazed chestnuts

1/3 cup dried figs

1/4 cup butter, soft

1/4 cup duck fat, soft

1 cup ground chicken

1 chicken liver

1/4 cup chicken jus

1 pinch quatre épices

1 teaspoon fresh thyme leaves, chopped

1 teaspoon fresh sage leaves, chopped

1 teaspoon fresh marjoram leaves, chopped

2 teaspoon salt, chopped

1 teaspoon ground pepper, chopped
Instructions:
In a Cuisinart, grind the brioche to a fine crumb and set aside.
Next, in Cuisinart, coarsely chop celery, fennel, apple, onion, chestnuts and figs. Add chicken livers and ground chicken and pulse a few times. Remove from bowl and place in mixing bowl. Add butter, duck fat and chicken jus and fold in. Next, add chopped herbs, pain d'epice, salt and pepper and mix to combine.
Place the stuffing into a piping bag. Mixture should be soft when ready to use.
Run finger under the skin separating the skin from the meat (from the head side of the bird) being careful to leave it attached at the center of the sternum, so as to help keep the shape of two breasts during roasting. Be careful to not tear the skin. Pipe brioche stuffing under the skin of the legs and breasts. Ensure that there is an even distribution and that a good shape is maintained. Season the inside of the bird with salt. Fill the cavity with 2 cloves of garlic and 1 whole lemon that has been pricked with a knife to release aroma. Truss each bird with a by hand with a twine. Chill in refrigerator to set butter and shape. Roast in 380°F oven for about 45 minutes rotating the bird after 20 minutes. (Cooking time with vary with size of birds.) Let rest 15 minutes before carving.
Cranberry Chutney
Serves 6
Ingredients:

12 ounces fresh cranberries, cleaned and dried

12 ounces sugar

2 teaspoons orange zest
Instructions:
In a kitchen aid with paddle attachment, combine cranberries, sugar and zest. Turn on very slowly and paddle for at least one hour. Cranberries will begin to break down and macerate.
Click here to get recipes and watch other top chefs in action on the Nightline Platelist.