It was 11 a.m. on a Tuesday and there was vodka everywhere.
"Nightline" was in the "sensory analysis lab" at Absolut's vodka headquarters in Ahus, Sweden. This is their war room, where Absolut plots its path to vodka-world domination.
"The sensory lab is to understand the consumer, the consumer's perception," said Per Hermansson, the company's secret weapon. "Not only of our product but as you see also our competitors' products."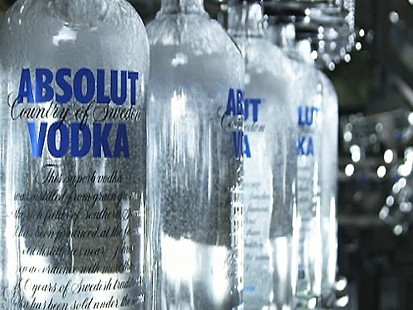 Watch the full story tonight on "Nightline" at 11:35 p.m. ET
It was 30 years ago that Absolut first took America by storm. With its bold name, iconic bottle and wildly successful ad campaign, the Swedish vodka quickly became the No. 1 imported vodka in the U.S. and the third-largest spirit brand in the world.
But even Absolut is not immune to a recession, and while people may drink more when times are tough, they're also less likely to fork out $30 for a bottle of vodka.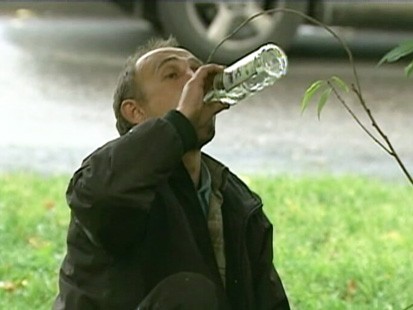 For the last two years sales in the United States -- the largest vodka market in the world -- have been sluggish. At the same time, hundreds of cheaper brands like Skyy and Svedka have flooded the market. But Absolut CEO Philippe Guettat insists he has no fear of losing the vodka war.
"Competition is always stimulating, and Absolut is by far today still the largest imported spirit in the United States," said Guettat. "We're holding our share."
Absolut: 'We'll Never Compromise'
We asked Guettat if the company had considered making a cheaper version of Absolut.
"We'll never compromise on quality," Guettat replied. "[Absolut has] very strong traditions, an obsession for quality and purity ... so [a] cheaper version is out of [the] question."
Still, Absolut is building up its arsenal with a new wave of ads starring celebrities rather than the bottle. The company reportedly shelled out hundreds of thousands of dollars for a star on Hollywood's Walk of Fame. And a push is on to showcase the vodka's unique production process.
It's a little-known fact that every single drop of Absolut vodka in the world is made here, in the sleepy village of Ahus in southern Sweden.
This town of 10,000 doesn't even show up in a world atlas, but it is home to the pure well water, winter wheat and distinctive distillation process that makes Absolut Absolut.
"When you have an Absolut tonic in Beijing it should taste exactly the same as if your colleague has one in New York," said Krister Asplund, head of production at Absolut.
Every day as many as 600,000 bottles of vodka are produced here. Attention to detail is paramount. "We can trace every bottle back to what minute it was produced," said Asplund.
Before it is filled, every bottle is rinsed with Absolut vodka. Every label must be placed with an accuracy of half a millimeter. Imperfections are quickly spotted and culled.
The bottles are stored in a massive warehouse before being shipped off to 129 different countries.
Absolut: Vodka Fanatics
As with any war, winning the hearts and minds of civilians is essential. It's a strategy that Absolut seems to have down cold.
Michelle Chumash of Matawan, N.J., started her Absolut collection in college. She gave "Nightline" a tour. "Pens, a lot of pins," she said. "Watches, earrings, jewelry, even have some makeup, lipstick, and there's nail polish... various keychains, flashlights... hats … I have umbrellas, a lot of barware, tip jars and coat-check numbers. ... I have 3,500 ads."
Chumash is part of a global community of Absolut fanatics who have made full-time hobbies out of their love for Absolut's iconic brand.
"I have traded with or sold ads to collectors in Israel, Greece, Singapore, Sweden, all over the world," Chumash said.
But ultimately the key to victory in this battle for Absolut vodka supremacy lies in the taste.
"The consumer always should be able to recognize Absolut and say, Absolut," said Hermansson.
Which brings us back to the sensory lab, where "Nightline" is enjoying a vodka tasting -- and quickly getting a grip on the new "vodkabulary."
Nightline: Oh yeah, this one's much more yeasty.
Hermansson: Very good! Yeasty! Perfect!
Nightline: Nail polish remover.
Hermansson: Exactly, very good, acetone nail polish remover, excellent. ... What do you think the raw material could be?
Nightline: I would guess wheat.
Hermansson: So would I, very good. ... You're really good, I am amazed.
Nightline: Beginner's luck.
Hermansson: No, no, no. You have a very good nose. ... Any ideas what this one might be?
Nightline: I've been told that Absolut has a slight grainy character. So I'm going to go with Absolut.
Hermansson: That's very good because I think it's Absolut. ... It is Absolut. Very, very good. Welcome to the club for super tasters!
Never has war been so much fun.