You've no doubt heard of "Glee," the Golden Globe Award-winner this year for best TV comedy. The show follows a high school teacher who tries to turn a talented group of misfits into stars.
Well, this is a story about a real-life "Glee" -- with a twist.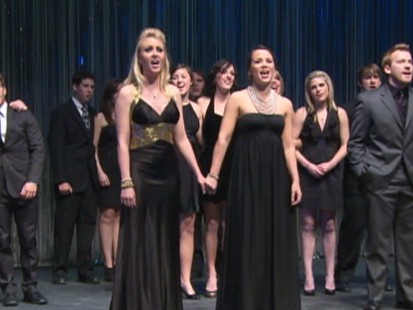 For decades, Lynn Zednick Shaw -- or Zed, as most students called her -- ran one of the most
successful high-school theater programs
in the country at J.J. Pearce High School in Richardson, Texas.
Watch the full story tonight on "Nightline" at 11:35 p.m. ET
"We are the opposite world of the show 'Glee,'" said Heather Biddle, a 1995 graduate of J.J. Pearce. "We're the kids who are student council president, captain of the football team, the beauty queen, the prom queen -- and they're all in theater."
Alumni include Jessica Simpson, who starred as Cassie in a 1997 production of "A Chorus Line."
To commemorate the theater program's long success, Shaw hatched a plan: She would put on the biggest show of her life, with everyone she taught over 25 years.
What Shaw didn't know when she began to plan the event was that she didn't have much time.
Recruiting Performers for Real-Life 'Glee'
Shaw made a practice of reaching out to students who otherwise might not have thought about performing in the theater.
"She came up to me and said 'Can you sing?'" recalled Will Hughes, whom Shaw recruited from the baseball team. "And she kept after me and said, 'You need to come audition.' I didn't know I could act, but she told me I could do it and gave me a lead in 'Beauty and the Beast.'"
Elizabeth Judd was on the cheerleading squad when she landed her first lead role. Her performance in "Miss Saigon" was a sellout for three solid weeks.
"She changed my life in the sense that I think now I can do this, this career," said Judd, who is studying musical theater in New York City. "She pushed me to believe in myself."
Former Students Respond to Call
When Shaw put on a show, she set the bar high. Nobody wanted to be the one to tell her "No."
Peter Pan needed to fly -- and so he did. Jesus needed to rise from the dead in "Jesus Christ Superstar." And when Shaw directed "Miss Saigon," she told her technical director, Kelly Cox, that she needed a show-stopper.
"She would say, 'Build me a helicopter,'" recalled Cox. "And we'd say, 'Well, we don't have any room, any height,' and she'd say, 'Well I'm sure you'll find a way.' So we flew it in sideways and banked it. Exact scale model of a Huey helicopter."
And so, when word went out that Shaw wanted to mount the show of her life, more than 80 of her former students said they were in.
"She said, 'When I get to 25 years, I'm going to do a big show and bring back everyone from all the years,'" said Biddle. "I think that's why everyone jumped at the chance. I mean, who doesn't want to come back and relive their glory days?"
But this reunion took an unexpected turn: a final farewell that no one expected.
Last summer, Shaw got devastating news. She'd beaten breast cancer nine years before, but now it was back. In no time, word spread she had days to live.
A Tearful Farewell
Former students like John Redlinger went to say goodbye.
"At one point, she came to for a minute, and her eyes lit up and she smiled and said, 'OK babies' -- which is what she always said at the end of every rehearsal -- 'OK babies, time to go home,' or 'OK babies, great job tonight,'" said Redlinger. "And then she cried and we sat at her bedside and held her hand. It was heart wrenching but truly a moving moment, and I will never forget that. It will stick with me the rest of my life. We loved her, we loved her."
With Shaw gone, what would happen to the show she had dreamed of directing? The answer was obvious: The show would go on.
"You know, they pay tribute to stars who pass away," said Biddle, who took over as director of the theater. "Lynn was a star here for so many people, so to be the one to bring it all to the stage is beyond an honor. To know that her family wanted me to be the one to do it is pretty amazing."
One by one, alumni put their lives on hold and came from New York, California and elsewhere to take the stage ... and be 15 again.
One of the first to show up was Anne Stone. She's now a stay-at-home mom with two kids.
"February 1992 is the last time I did this number on this stage," said Stone.
Stone was ready to reprise her role as "Val" in "A Chorus Line" ... on one condition.
"She was the first person on board and she said, 'Do I have to wear a leotard?'" said Biddle. "And when I said no, she said, 'I'll do it.'"
Real-Life 'Glee': Showtime
On the day of the show, a final dress rehearsal was under way.
"The gods of theater are smiling down on me," said Biddle.
Although with just four hours to go, it looked like the gods of theater might not be looking down on this performance.
The theater's boiler broke. Not every number was coming together. Then performer John Herzog's flight from Salt Lake City arrived late -- giving two old friends little time to rehearse a song they hadn't performed in six years.
"Every time something happens on stage, I can hear Lynn yelling in my head how to do it better," said Herzog. "This is her stage. And I know that she's watching down and saying, 'Thank you.'"
As show time drew near, emotions were running high.
"In August, when we lost Lynn," said Biddle, "we said we still have to do this because we have to honor everything that she did. And every single person still said, 'Of course, we'll be there.' And that's what this is about. This is not about us. This is about her and everything she did."
"It is hard, just realizing that she's gone and how much she meant to so many of us," said performer Lauren Briant, tears running down her face. "But it's cool to see the impact she had."
In the end, the performance came off as well as Shaw might have dreamed. The company played to a full house -- despite one very empty seat.
Over the seat was a red velvet cover with an embroidered legend: "Reserved -- Lynn 'Zed' Shaw."