It's as ancient as war itself: the ritual homecoming of the warrior.
In this case, the warrior is Capt. Greg LeMasters of the 4th Infantry Division, currently deployed in Afghanistan. LeMasters' homeward odyssey was a multi-stop journey from Jalalabad, where he's been based since June. He made connections in Bagram, Qatar, Kuwait, Ireland and Dallas. Finally, he landed in Colorado Springs where he was met at the airport by his wife's brother-in-law. All told, the trip took six days.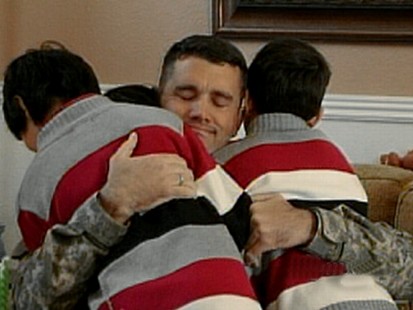 "Nightline" joined LeMasters for the final leg of his trip, driving home to the surprise return he and his wife, Claudine, had arranged for
their kids
. They decided to keep their three children -- Christian, 11, Elizabeth, 8, and Joshua, 6 -- in the dark for good reason.
"We didn't want the kids to count on a specific day that I'm coming back, and if it ends up being cancelled, we didn't want them to be let down right at Christmastime," LeMasters said.
For military families, cancellation of plans to come home is an ever-looming and very real possibility.
"He should have been here on the 13th," said Claudine LeMasters on the day her husband finally made it, Dec. 18. "But then he got stuck in Qatar or somewhere. ... I didn't sleep at all last night. Just worrying he got stuck in Kuwait. Where is he?"
The kids may not understand the danger their dad's work entails. But they understand separation. They hadn't seen their father since June. He was on his third assignment overseas in their short lifetimes.
"She's the one that cries the most for Daddy," Claudine said of Elizabeth.
Not that being a grownup makes it easier to handle LeMasters' absence.
"There was a time I didn't hear from him for two weeks, and I am not kidding, I was literally waiting for the cars to drive up with the officers to tell me the bad news," said Claudine. "But you can't share that with the children. Your life goes on in front of your children because you can't get them worried."
It's a disquieting sort of secret to keep -- the fear that the soldier won't come home. But now, LeMasters was returning, and the secret Claudine was keeping was the good kind.
YouTube Homecoming Videos
The scene is familiar from YouTube, where an increasing number of videos show military dads -- it's mostly dads -- surprising kids with unannounced homecomings.
Some of it is cute and silly: Dad dressed up as Santa. Some of it is bizarre: the guy who pretended he was a dead deer under a tarpaulin to fool his parents. Some of it happens in public, in school classrooms and gyms and with local TV crews. Some of it is almost painful to see, as overwhelmed with joy and relief as the children can be.
The women -- especially if they were in on it -- always shed a tear or two. The returning dads, with the surprise executed, seem surprisingly short of anything to say. It's more emotionally complicated than it looks.
So here's how Greg LeMasters did it. He sat on the couch. The kids were upstairs, unaware that he was in the house. Someone rang the doorbell to get the kids downstairs.
And what do they get? Two weeks together. But only two weeks -- and LeMasters was quick to tell his kids that.
"You understand that Daddy has to go back in two weeks," he said. "Daddy is only here for two weeks."
And then he's gone again, leaving the kids to wait for another surprise, and Claudine hoping that next time it's once again the good kind.