In early June, Stephanie Lazarus appeared in a Los Angeles courthouse in an orange jumpsuit, accused of committing a murder decades earlier -- a stark contrast from the Los Angeles Police Department uniform she wore until just a few weeks ago.
Lazarus, now charged with capital murder, spent the last 25 years as a highly regarded detective with the LAPD.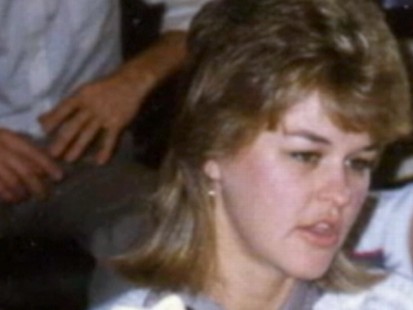 "She had a good reputation, hard-working, very energetic," LAPD Chief Charlie Beck told ABC News, adding that nothing in Lazarus' job performance raised a red flag. "People ought to, to recognize that it's -- that there are people that can hold very, very dark secrets, and hold 'em very well."
Her alleged secret goes back 23 years, to the 1986 murder of a young woman named Sherri Rasmussen. Rasmussen, a 29-year-old nurse, had, at the time of her death, been married only three months to a man Lazarus had known since childhood and previously dated.
"Sherri was bludgeoned and then shot," Beck said. "Shot several times at close range in the chest. ... There was a struggle, there was a struggle that involved a lot of physical contact, including a bite."
"It was a real loss to everyone and to the nursing world," said Althea Kennedy, former vice president of nursing at Glendale Adventist, where she supervised Rasmussen. "Because I think she would have gone far."
Lazarus has pleaded not guilty to the charges.
Stephanie Lazarus: The Most Unusual Suspect
At the time of the murder, police suspected two men linked to a residential burglary in Rasmussen's neighborhood. The suspects were never apprehended, and the case book was eventually closed.
"I don't think they viewed [Lazarus] as a suspect," said Beck. "I'm sure that, in her opinion, she had gotten away with murder."
Cold case detectives took a fresh look at Rasmussen's murder a few years ago as part of a routine review of unsolved crimes that predated DNA testing to see if there was any evidence that could be re-examined. In the Rasmussen case, the evidence included fluids connected to a bite mark.
DNA analysis of saliva from Rasmussen's bite wound showed the original theory of the culprit's identity was mistaken. The DNA didn't belong to a male burglar -- but to a woman.
"They started looking, to see if there was somebody in the victim's life, and this is going back 23 years, so you gotta re-, you know, you gotta reinterview everybody," said Beck.
Investigators developed a list of female suspects, and they eliminated them one by one, until they came to Stephanie Lazarus.
"We were very shocked, obviously. But, you know, our belief here is that we follow these cases where they take us. And if it goes to Japan, we go to Japan. If it goes across the hall we go across the hall," said Beck.
But Lazarus seemed like the most unusual suspect. Her life appeared to be idyllic. She married another detective, and together they have a 2-year-old daughter. A young cop at the time of Rasmussen's murder, Lazarus worked her way up the system from the night shift to a prestigious position at LAPD headquarters investigating art theft.
A top secret surveillance team trailed Lazarus as she went about her daily routine. When she discarded a plastic utensil or cup, they snatched it to test her DNA. Police say it matched.
Fearing their investigation would be exposed, they worked quickly to orchestrate Lazarus' arrest. The investigation played out less than 30 feet from where Lazarus herself worked.
"These are folks, one side of the hallway investigating a member of the other," Beck said at a news conference. "And it is very difficult."
On June 5, detectives lured Lazarus to a jail cell in the building, telling her there was a suspect in an art theft case they wanted her to question. She walked down to the basement, removed her weapon, and went into the cell, not knowing it was a trap.
The detectives then told her they wanted to talk about the Rasmussen case. At some point Lazarus asked for an attorney and halted the conversation.
Rasmussen's Parents Suspected Stephanie Lazarus
When Lazarus appeared in court to face murder charges, Rasmussen's parents watched in stunned silence. The woman they suspected almost a quarter of a century ago was finally being charged with their daughter's murder.
Rasmussen's parents told police after the murder that Sherri had been worried that someone was following her and that her husband's ex-girlfriend, who was a police officer, had accosted her on a couple of occasions.
"They told the police that the ex-girlfriend had gone to Sherri's workplace and confronted her, and told Sherri that if she couldn't have John then no one could," said John Taylor, attorney for the Rasmussen family. "Stephanie Lazarus came to Glendale Advent, where [Rasmussen] worked and told her, 'If I can't have John, then no one can.'"
Taylor said the parents felt vindicated "to some degree" but added that they also believe the LAPD could have solved the crime earlier.
"There -- there's a lot of questions that the family still has," Taylor told ABC News. "There was an inordinate amount of information given to the LAPD back in 1986 which would have led them to look at Stephanie Lazarus before the time that they did.
"There had been this ex-girlfriend, their son-in-law's ex-girlfriend. And they wanted to know, had photographs been taken of this woman's [Lazarus's] body, which might indicate that she had been involved in a struggle."
But no matter how many times the family called the investigators -- and even wrote a letter out of frustration to the police chief -- they could not get the LAPD at the time to look beyond the burglary theory.
"Whenever [the father] would bring up the ex-girlfriend and ask, 'What's the status of the investigation about her?' he was told that he'd been watching too much TV," said Taylor.
Kennedy, Rasmussen's boss at the time, also has her questions. She reviewed the original coroner's report in order to process Rasmussen's life insurance policy.
"It was very obvious that there had been quite a struggle from the type of wounds that were described. ... Sherri was 6 feet tall, very athletic, and would have taken on a woman. It was really odd that she would fight with robbers with a gun, that didn't make a lot of sense."
Is New Evidence Trustworthy?
Beck said it's difficult to judge police work in retrospect.
"You know, hindsight is 20/20," he said. "They were going down the wrong path, so, I mean, no matter how hard you work, it was just the wrong theory. And that's kind of -- that's one of the dangers that we talk about all the time in investigations is, don't get to -- don't fall in love with your own theories here."
The original detectives on the case are long retired. Beck said that police solidarity would not have been a factor in the case.
"I think, I mean, obviously all professions -- whether it's doctors, police officers -- they all have a, have this fidelity to each other to some degree," said Beck. "But that degree does not extend to murder with the Los Angeles Police Department, and it never has."
Defense attorney Mark Overland say the prosecution's evidence is old and full of flaws.
"When you have a [police] department that says, 'Trust me now, I got it right, but don't trust what we did 23 years ago because we got it wrong' -- that causes some concern," said Overland. "An investigation closer to the time would seem to be more reliable than one that happens 23 years later.
"When people think of DNA they think it is infallible. DNA typing is a very complicated process. ... This is a sample that has been stored in numerous locations. And there's issues of decomposition, there's issues of contamination. There are many questions that are raised when you have such a sample and that's just the initial step."
Many of those close to Lazarus remain faithful to their friend and neighbor.
"I think the two words that come to mind are caring and warm," said neighbor Jim Hudson. "It just doesn't seem like she would ever do something like that over a man."
His wife, Sue Hudson, agreed. "I am convinced she's innocent," she said. "I cannot imagine anything else."
Stephanie Lazarus: Unanswered Questions
Beck said the community was still processing the accusation.
"I think a lot of people were very, very shocked, I mean she [Lazarus] is a very outgoing, well-liked person, do you know, that had a long, long history with a lot of people here," he said. "I think a lot of people felt very bad. And, and are still coming to grips with it."
A July 21 hearing is scheduled on a prosecution motion to get dental impressions from Lazarus.
For Rasmussen's parents and friends, this could be the beginning of a healing process after two decades of unanswered questions.
"The overwhelming thing that they have is relief," said Taylor. "They feel that it's been solved, but they're still processing."
For another family, it's the start of a lengthy legal ordeal that may not bring resolution -- but may instead lead to a dark revelation.