Most drivers don't have any reason to stop in Richmond County. Through a car windshield, they would see only an endless expanse of farmland and trees on a trek toward the South Carolina state line.
But to car enthusiasts, Richmond County is not only the place to stop, but the place to race. The Rockingham Dragway -- affectionately known as "the Rock" -- is one of the most famous quarter-mile drag-racing strips in the Southeast.
'Textiles and Tobacco'
"Textiles and tobacco were the basis for this economy," said Steve Earwood, owner of the Rock. "But over the years that has faded and motor sports has stepped in to fill that void."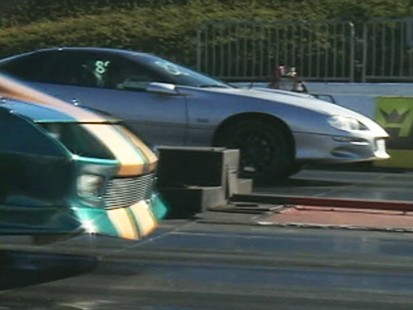 In the 1960s, NASCAR built the Rockingham Speedway literally across the street from the drag strip. The Rock's regular races and the Speedway's NASCAR fame drew thousands of spectators and millions of dollars every year.
"When NASCAR was running there, Richmond County was thriving," said Thurman Exum, professor of motor-sports management at Sandhills Community College.
"It was my favorite place to go," said Jonathan Medlin, one of Exum's students. "That's where I really fell in love with racing." He remembers going to the Rockingham Speedway with his family.
Economy Takes Hit
"Then NASCAR pulled out, and everything started to fall apart," Exum said.
When the Rockingham Speedway shut down in 2004, the county's economy took a serious hit. According to the latest U.S. Census, 20 percent of Richmond County's population still live under the poverty line.
Yet locals and loyalists have continued to race at the Rock. Now, five years later, the Rock is still operating in one of the poorest counties in the state.
"There's nothing here," said Rock employee John Leviner. "Everything's closed down except Wal-Mart. But with big events, we get lots of people. Then money gets spent in the area. And that doesn't hurt nothing."
Coveted Jobs
With nearly 4,530 people in Richmond County unemployed, jobs at the drag strip are especially coveted.
Young people start off collecting tickets and sweeping the track. Diligence translates into part-time work in track maintenance or timekeeping.
Medlin has been racing and volunteering at tracks most of his life. After he completes his degree at Sandhills, he plans to enroll at the University of North Carolina at Charlotte, where he wants to pursue a master's degree in mechanical engineering.
"Growing up around the business and being involved is really important," Medlin said. "But what's really going to set me apart is my degree."
'Test and Tune'
While Medlin concentrates on the science behind the strip, most young people just come to race.
"Without us, there isn't a place for amateurs to drive," Earwood said. "This is one of the few strips where anybody can come to test and tune."
During the Rock's off-season, drivers from all over the Southeast come to rev up their rides at the quarter-mile strip.
"Lawnmowers, motorcycles, street cars, drag cars," said Leviner. "If it got wheels on it, you can run it."
Elliott Garrou, a regular at the Rock, said he comes "because I really like to know how my car works."
A junior at North Carolina State University, Garrou has been tweaking cars since he was 16. His 2006 Scion TC has about $10,000 worth of modifications, $2,500 of which has come from his own pocket.
"All my spare change goes into my car," he said. "I pay for it -- slowly."
His self-declared obsession with body work and brakes has sparked an interest in a metal design career.
"I've always wanted to drive down the road and be like, 'Hey I designed that,'" he said.
Design Dreams
While he dreams of designing for NASCAR, Garrou takes comfort in the fact that most car dealerships are eager to employ young, speed-savvy auto technicians.
Salaries for technicians start at $29,000 and can reach $70,000 to $80,000 after six to seven years of employment, according to the North Carolina Motorsports Association.
"The salaries are certainly a motivation for young people," Exum said. "Some of the highest paying jobs in this area are in racing."
In an economy where new jobs are becoming scarce -- especially for college graduates -- Garrou is confident that his passion for 10-second speed can become a lifelong career.
In the shadow of an abandoned stadium, stuck in Richmond County's economic rut, the Rock remains a home base for drag-racing.
To racing enthusiasts like Medlin and Garrou, there's one good reason to stop in Richmond County: for that one bit of road that doesn't take you anywhere but fast.