Election 2016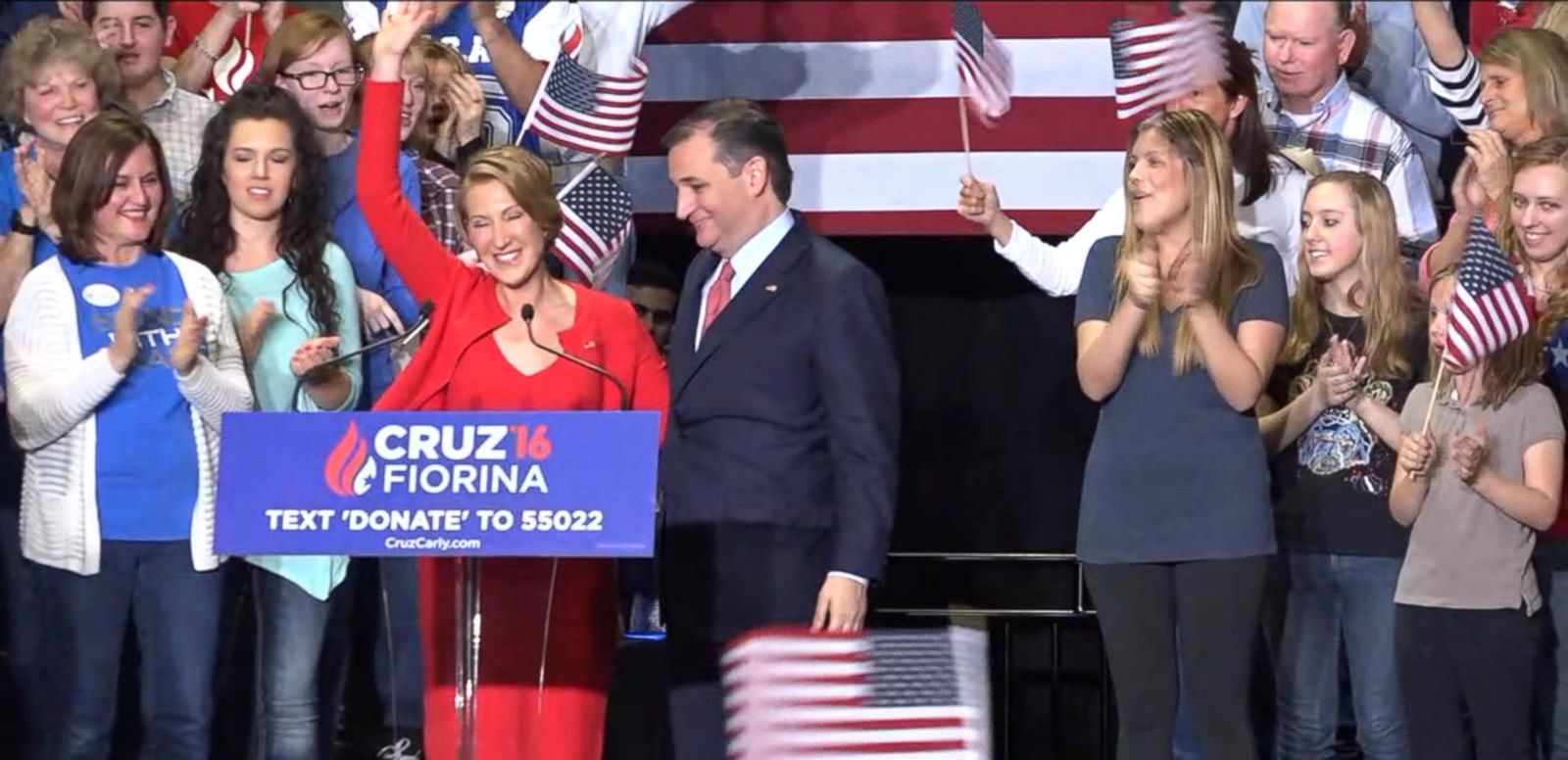 1.
Republican presidential candidate Ted Cruz announced yesterday Carly Fiorina as his running mate after "a great deal of consideration and prayer." Cruz praised Fiorina as a "woman of extraordinary intelligence" and "a woman of deep principle." "Carly respects the Constitution and the Bill of Rights and she understands the threats facing America," Cruz said. "She understands this is a dangerous world and in naming her as my vice presidential nominee, I am also telling you that she is someone you can be confident in." ABC's JONATHAN KARL, BEN GITTLESON, JESSICA HOPPER and VERONICA STRACQUALURSI have more: http://abcn.ws/26uUszH
2.
Analysis -- ABC's Rick Klein
He's pulled the goalie, flung the Hail Mary, started chucking a flurry of threes toward the good old basketball ring. Ted Cruz now has permanent company on the campaign trail – permanent so long as his campaign lasts. Choosing Carly Fiorina as his running mate is being cast as a desperate move, and it is. But at least it's a move while he's still playing the game. Combined with the odd alliance he formed with John Kasich, Cruz has sought to rest the entirety of his campaign on Indiana for a very good reason: a Donald Trump win there makes Trump's path to the nomination a near-certainty. The move is bold, and a little weird. But it's a low-risk, high-reward scenario that acknowledges the reality of the next week and beyond. Fiorina sang a few notes in getting introduced, though her best tunes are aimed at both Trump and Hillary Clinton. Faced with the prospect of losing quietly or loudly, Cruz chose the latter – and to not be lonely. If he wins Indiana, choosing Fiorina will cast a new light on Cruz's campaign and candidacy. If not, there's more time to practice and-of-game strategy later.
3.
Fiorina, the former Republican presidential candidate and Hewlett-Packard CEO wasn't always such a fan of the Texas senator. When Fiorina was still competing with Cruz for the Republican nomination, she said Cruz is just "like any other politician" and will say whatever his audience wants to hear to get elected. Republican front-runner Donald Trump tweeted a clip of the interview after news leaked that Cruz was choosing Fiorina as he would-be running mate. ABC's JORDYN PHELPS has more: http://abcn.ws/1Txat0X
4.
Donald Trump mocked rival Ted Cruz's announcement that Carly Fiorina would be his running mate, should the Texas senator be the Republican nominee, during a rally at the Indiana State Fairground in Indianapolis last night, ABC's CANDACE SMITH reports. "First of all, you have to look -- Cruz can't win," Trump told his supporters. "What's he doing picking vice presidents? He can't win." Trump added, "He's mathematically eliminated, it's like if you're playing in the World Series and your team loses a game...He's mathematically eliminated. He has set a record, though. He is the first presidential candidate in the history of this country who's mathematically eliminated from becoming president who chose a vice presidential candidate." http://abcn.ws/1TxCGov
5.
Donald Trump has made some major delegate strides in across the Northeast over the last two weeks. But what does he need to do from here to hit the magic number of 1,237 delegates on the first ballot at the convention this summer? His path to the nomination may come down to Indiana next Tuesday, according to an ABC News analysis of the delegate count and future allocation rules. If Trump wants to become the presumptive nominee by hitting 1,237 bound delegates before Cleveland, he will almost certainly need to win Indiana. If he loses Indiana, he still has a viable path to 1,237 delegates on the first ballot with a broad win in California plus unbound delegates. ABC's RYAN STRUYK looks at why Indiana could tip the scales for Trump in the fight for the GOP bid. http://abcn.ws/1UhPwt5
6.
Donald Trump said Wednesday that American citizens and their safety will be the main priority when it comes to his foreign policy decisions. "America first will be the major and overriding theme" of his foreign policy should he become president, Trump said at a speech in Washington, D.C., ABC's MEGHAN KENEALLY and JOHN SANTUCCI report. "It's time to shake the rust off of America's foreign policy," Trump said, adding that his policy will be "one that replaces randomness with purpose." http://abcn.ws/1TwRuDG
7.
It was only the second time since the summer that Donald Trump has used a teleprompter. But writing down his thoughts ahead of time didn't make them more accurate. Trump's speech, billed as his major foreign policy rollout, was riddled with errors and contradictions. Here are four things he got wrong, courtesy of ABC's JUSTIN FISHEL: http://abcn.ws/1TeEmR3
Running Mates: Meet The Candidates' Other Halves
In Depth: The Latest ABC News-Washington Post Polls
The Latest in the Republican Primary
The Latest in the Democratic Primary