President-elect Barack Obama paid homage to Dr. Martin Luther King the day before his inauguration, leading the nation in a day of community service. The president-elect spent the day with fellow volunteers, painting a shelter for homeless teens and visiting with wounded soldiers.
"It's good practice because I'm moving into a new house tomorrow. I may have to do a few touchups here and there," Obama joked, after rolling light blue paint on the wall.
After a weekend of gala events with casts of thousands, Obama spent the day before his inauguration applying a more personal touch.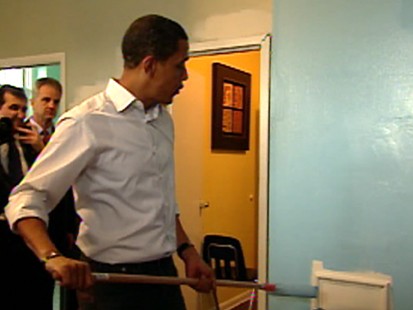 "I think I've got this wall covered," Obama said after rolling paint on the wall of a boys' dorm at the Sasha Bruce Youthwork shelter. "What else you got for me?"
Throughout the campaign, Obama faulted the Bush administration for not seizing on the post-9/11 patriotic goodwill and calling the nation to service. Today, Obama led by example.
"These young people have huge potential that right now is not being tapped," Obama said during a painting break. "Don't underestimate the power of people who join together. ... they can accomplish amazing things."
Obama, accompanied by Martin Luther King III, invoked the slain Civil Rights leader, in hopes of encouraging volunteerism.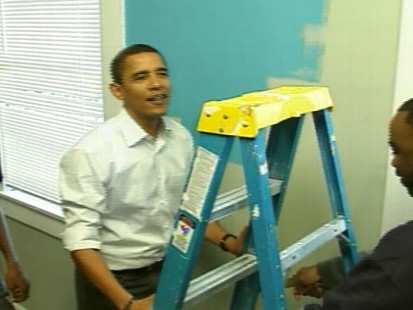 "He [Dr. Martin Luther King] said, 'Everybody can be great because everybody can serve.'"
When asked if he was experienced at painting walls, Obama replied, "It's not rocket science. You take the roller, put some paint on it and then you roll. ... You do have to apply a little elbow grease like in anything you do."
Michelle Obama along with daughters Malia and Sasha were elsewhere in Washington helping to assemble care packages for U.S. troops overseas.
The president-elect later joined his wife Michelle at a lunch honoring other volunteers, including a squad of cheerleaders who gave him an impromptu cheer.
Obama started the day at Walter Reed Hospital where he visited with 14 soldiers who had been wounded in Iraq or Afghanistan. That visit was private and no press was allowed to accompany him.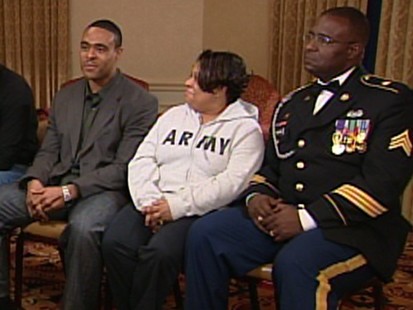 To mark Martin Luther King Day, Obama released a statement linking King's "I Have a Dream" speech on the Washington Mall 45 years ago and his own ascension to the
nation's top job
, saying, "Tomorrow, we will come together as one people on the same mall where Dr. King's dream echoes still."
Today's events, however, were little more than a countdown to Tuesday's history-making swearing-in and the anticipation of Obama's inauguration speech.
At a local high school, the president-elect made his message clear.
"Government can only do so much. ... we're going to have to take responsibility -- all of us," he said.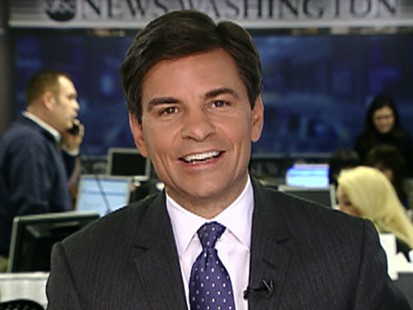 The speech has been written and rehearsed, but Obama is still tinkering with the words that he hopes will mark a moment in history and galvanize the nation for a new "era of responsibility."
'Era of Responsibility'
That speech will begin shortly after his swearing-in with Michelle Obama holding President Lincoln's Bible.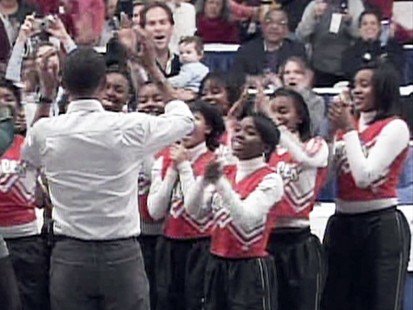 Sources tell ABC News that the remarks
delivered to a hushed nation
Tuesday will last about 15 to 20 minutes, and the theme is an era of responsibility.
That theme comes after months of headlines about the country's economic meltdown and general outrage over corporate greed and executive bonuses. Obama has said that the best inaugural addresses crystallized the moment the nation was in and where it needed to go.
Obama rehearsed the speech Saturday, but he is still going through it, trying to make sure the language is as fresh and unique as possible.
Not that there's any pressure. Obama said that when he visited the Lincoln Memorial with his family this past weekend, daughter Sasha saw Lincoln's inaugural speech on the walls of the memorial and remarked that it looked like a long speech.