Eleven suspected suicides this year at Fort Campbell, Ky., prompted the military base to put its regular duties on hold today while officials paused for a program on suicide prevention.
The decision comes not long after a separate tragic shooting earlier this month at a Baghdad stress center, where a U.S. soldier was charged with killing five of his peers.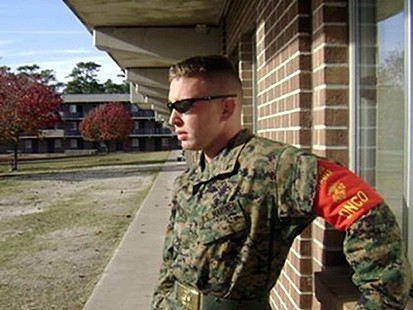 Both are devastating markers that reflect the
stress of war
-- and young men, like Brendan Schnitzler, 21, and Cedric Brooks, 26, can directly relate.
"When I got back, I knew I felt that the Brendan that left the states had died," said Schnitzler, who served in Iraq as a machine gunner before twice trying to kill himself.
"I turned to alcohol. I was drinking pretty heavy just to pass out at night so I could get some sleep, and I was just miserable. So one night I just said, you know, 'This is all I've got left. I don't want none of it. So it was Jan. 3, 2008. [I] climbed to the roof of my barracks, about a 60-foot fall, and I jumped off the roof."
During a recent visit with ABC News at thePathway Home in Yountville, Calif., Schnitzler also remembered what he was thinking at that moment.
"I really hope this works," he recalled thinking. "I had no intention of getting up off that ground."
Watch "World News with Charles Gibson" TONIGHT at 6:30 p.m. ET for the full report.
Chilling reminders of the toll wars take on troops' mental health are evident today in the events at Fort Campbell.
Even as they battle the enemy around the world, as many as three soldiers try to kill themselves every day. The number of those who have succeeded is higher than it has been in nearly 30 years.
"We are at two to three times the rate today than we were in previous years," said Col. Dallas Homas, chief surgeon with the Army Medical Corps. "It is of grave concern."
"This is a very stressed force," said Army Secretary Pete Geren at a Senate hearing earlier this month.
In the past four years, Army suicides have skyrocketed -- from 67 in 2004 to 143 last year. So far this year, the Army has already tracked 64 potential suicides -- a pace that could bring a new and tragic record.
Brooks, who spent 52 months of the last eight years as a sniper in Iraq and Afghanistan, also tried to commit suicide on two separate occasions once he returned home. He also was with a friend in Iraq just moments after his peer took his own life.
"I say, 'OK, I'll be right back in like five minutes,' walk outside, go get a drink, then come back -- and all of a sudden, you hear a discharge," Brooks recalled. "You think somebody on the compound accidentally discharged a weapon. So I run in to say, 'Hey, I just heard something and --' ... and the wall behind him is completely red."
Soldiers on First Deployments at Greatest Risk
One third of suicides occur during deployments, many stemming from relationship problems or fear of disciplinary action. Perhaps surprisingly, suicides are less frequent among those who have been deployed in Iraq several times. Rather, it is the soldiers who are on their first deployment who are at the greatest risk.
"We all assumed the length of the deployments and the frequency of the deployments had something to do with the rising suicide rate," Homas said. "What we're finding, though -- counterintuitively -- is that the more times a soldier is deployed, it's almost building, in a protective effect, that they've learned the resiliency skills.
"They realize they can get through the 12 months, the 15 months, it's not the end of the world," he said.
The Army urgently is trying to gather data to figure out why the suicides have increased so dramatically. In the meantime, Col. John Looper, a psychiatrist, said he thinks the level of stigma associated with mental health issues is gradually waning.
Lt. Col. Beth Salisbury, who runs the Camp Liberty clinic in Baghdad where the recent shootings occurred, likewise said, "I think this stigma has changed a lot," adding that it's a good sign when soldiers bring their peers into the stress center for care.
Still, Alex Penalver, 25, said he can relate to how many troubled troops feel during deployment. After three consecutive tours in Iraq, he, too, is at Pathway Home, where more than a 1,000 veterans from earlier wars now live.
Penalver is battling symptoms of post-traumatic stress disorder, as are about 20 percent of the 1.6 million U.S. servicemembers who have deployed to Iraq and Afghanistan. While some get help and learn to cope, many others do not.
Penalver did three consecutive tours in Iraq and said his life changed when he first faced rockets and mortars.
"It prepared me for death. It prepared me. Mentally, I was prepared every day to die," Penalver said. "Every single day, I was ready to go. It was a little bit of a detachment. I had to detach myself from emotions. I had to detach myself from my life, the family life. I had to be ready to do what I had to do at any given moment. That's what I was trained to do, that's what I had to do."
Of the Camp Liberty shootings, Penalver said, "I can sympathize with feeling like there's ... nothing else you can do, feeling left, like you're against a wall."