Illinois is holding the first-in-the-nation 2010 primary elections today, testing whether the voter unrest which helped elect Republican Scott Brown in Massachusetts reaches all the way to President Obama's home state.
"What you have here in Illinois is a very weakened Democratic Party," Rick Pearson, a veteran political reporter for the Chicago Tribune, told ABCNews.com's "Top Line" webcast Monday. "There is no doubt that the White House is very concerned."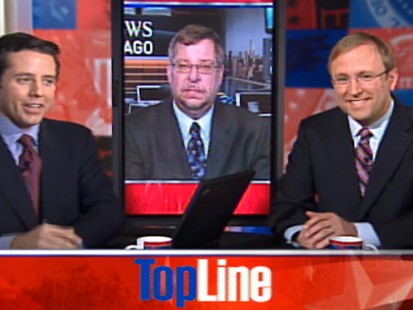 Voters will choose the Democratic and Republican candidates who will face off in November for governor and for the U.S. Senate seat formerly held by Obama.
It's the first gubernatorial primary since ex-Democratic Gov. Rod Blagojevich was removed from office.
Since Obama won the White House, his old seat has been filled by Democrat Roland Burris who decided not to seek the Senate seat in his own right.
Illinois Gubernatorial Primary
Illinois Gov. Pat Quinn, the former lieutenant governor who assumed the governor's office after Blagojevich resigned, finds himself in a tough Democratic primary with Comptroller Dan Hynes.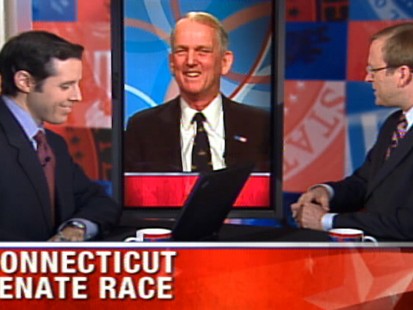 Quinn appears to be getting a run for his money in part because of the anti-incumbent mood which is prevalent in the country, and is under attack for his plan to boost income taxes and for his handling of a prison release program.
Aiming to capitalize on voter unrest, Hynes sent an e-mail to his supporters Monday with a subject line which read: "Shaking Up the Status Quo."
Beyond facing attacks over his current job as governor, Quinn is also under assault for a job he held more than two decades ago.
Hynes is airing a television ad featuring decades-old video of former Chicago Mayor Harold Washington saying that he was "nuts" to ever hire Quinn as Chicago's revenue director. The footage was filmed in 1987 after Washington, Chicago's first African-American mayor, fired Quinn from his job. In the video, Washington slams Quinn and said appointing him in the first place was a terrible mistake.
Illinois Senate Primary
"I was nuts to do it. I must have been blind or staggering," said Washington, who died about two weeks after the interview. "Pat Quinn is a totally and completely undisciplined individual who thinks this government is nothing but a large easel by which he can do his (public relations) work. He almost created a shambles in that department."
Watch the ad HERE.
Quinn's camp is livid about the ad.
During a Jan. 28 debate sponsored by WVON radio, Quinn accused Hynes of trying to create racial divisions. "Mr. Hynes ought to be ashamed of himself," said Quinn.
Ironically, the Quinn camp points, the same year Dan Hynes was fired, 1987, Hynes' father, Tom Hynes bolted the Democratic Party and ran unsuccessfully as a third-party candidate against Washington.
Quinn said that when he was a young man, he fought for civil rights and backed civil rights leader Martin Luther King Jr. He compares that to Hynes supporting his father in an attempt to unseat Chicago's first black mayor 23 years ago.
Hynes said during the debate that there is nothing racially divisive about the television ad. He says it simply raises questions about Quinn's ability.
Can a Republican Win the Illinois Governor's Race?
The top Republican contenders for governor are former Illinois Attorney General Jim Ryan, state Sen. Kirk Dillard, former state Republican Party chairman Andy McKenna, and businessman Andrew Andrzejewski. McKenna launched a campaign ad last week blasting Dillard for appearing in a 2008 commercial praising Obama as a bipartisan figure.
Today's Senate primary is of national interest because Republicans think that the GOP frontrunner, Rep. Mark Kirk, R-Ill., would have a good chance in the fall against the Democratic frontrunner, state Treasurer Alexi Giannoulias.
The 33-year-old Giannoulias, who has played pick-up basketball with Obama, is under fire from former Chicago Inspector General David Hoffman and former Chicago Urban League President Cheryle Jackson about his oversight of a family-owned bank and his handling of the Bright Start college saving program.
Democrats are worried that if Giannoulias wins the Senate primary, he will have a difficult time against a moderate like Kirk who is favored to win his GOP primary against attorney Patrick Hughes.
The Chicago Tribune reported Monday that Broadway Bank, the lender owned by the Giannoulias family, saw a $75 million loss for the year. Last week, the bank was hit with an order by banking regulators to raise capital and to set aside more money for bad loans.
It lost $27.3 million in the first nine months of the year.
The Tribune's Pearson told "Top Line" that the White House is clearly worried about the Senate race in November.
"There is no doubt that the Democrats are concerned as far as the Senate seat and what an embarrassment that would be to lose Barack Obama's own seat," he said.
ABC News' Matt Loffman contributed to this report.