A White House National Security Council official who listened to President Donald Trump's July call with the Ukrainian president told House impeachment investigators on Tuesday that he was so "concerned" by Trump's comments he raised alarms with a White House lawyer.
Army Lt. Col. Alexander Vindman, the National Security Council's Director of European Affairs, arrived in uniform on Capitol Hill but did not answer reporters' questions. The House Intelligence Committee issued a subpoena to compel testimony from Vindman this morning, according to an official working on the impeachment inquiry.
He is the first current White House official to appear before House investigators despite a White House effort to block all administration officials from testifying. He's also the first witness who was on the call who could undercut criticism from Trump and Republicans that all the information gathered so far was second-hand.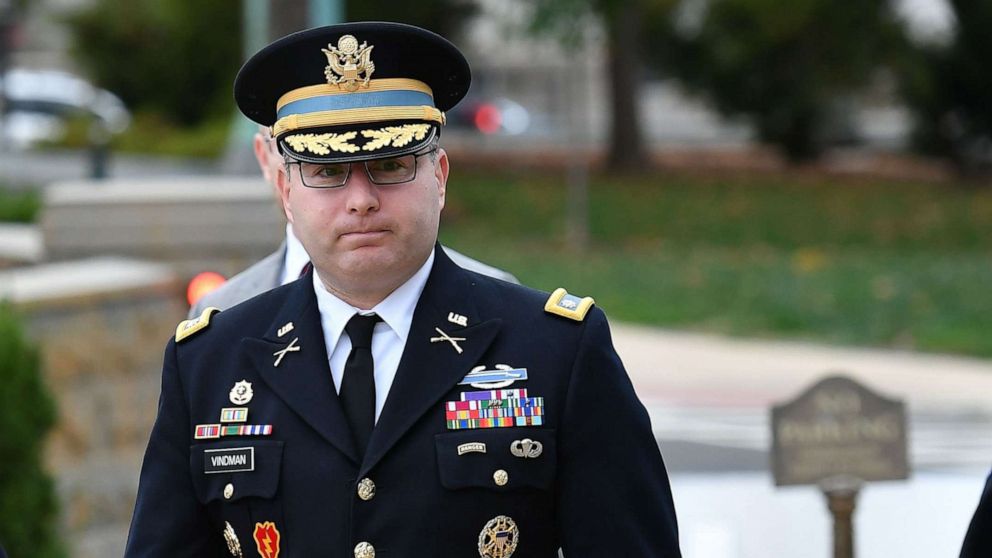 "I was concerned by the call. I did not think it was proper to demand that a foreign government investigate a U.S. citizen, and I was worried about the implications for the U.S. government's support of Ukraine," Vindman testified impeachment, according to a copy of his opening remarks obtained by ABC News.
"I realized that if Ukraine pursued an investigation into the Bidens and Burisma, it would likely be interpreted as a partisan play, which would undoubtedly result in Ukraine losing the bipartisan support it has thus far maintained. This would all undermine U.S. national security. Following the call, I again reported my concerns to NSC's lead counsel."
Moments after Vindman entered the secure area where questioning takes place, Rep. Jim Jordan, the top Republican on the House Oversight and Reform Committee, was asked whether he was troubled by Vindman's planned testimony. "It doesn't trouble me," Jordan said, arguing what was in the July 25 phone call is already known. "The facts have not changed," Jordan said.
In the afternoon, Jordan and House Minority Whip Steve Scalise told reporters that House Intelligence Committee Chairman Adam Schiff had restricted Republican members from asking Vindman questions about who he spoke to following key events and conversations in July.
The deposition briefly turned into a shouting match, a source in the room said, when Democratic members accused the Republicans of using a "process of elimination" style of questioning to determine the identity of the whistleblower.
When House Intelligence Committee Chairman Adam Schiff pushed back on the line of Republican questioning, it sparking a heated argument between Rep. Mark Meadows, R-N.C., who attempted to defend the questioning with a point of order, and Rep. Eric Swalwell, D-Calif., who pushed back.
Vindman, who immigrated to the United States from Ukraine as a child, has served in the Army and was wounded in an IED attack in Iraq, and received a Purple Heart.
"I am a patriot, and it is my sacred duty and honor to advance and defend our country, irrespective of party or politics," he is expected to tell investigators.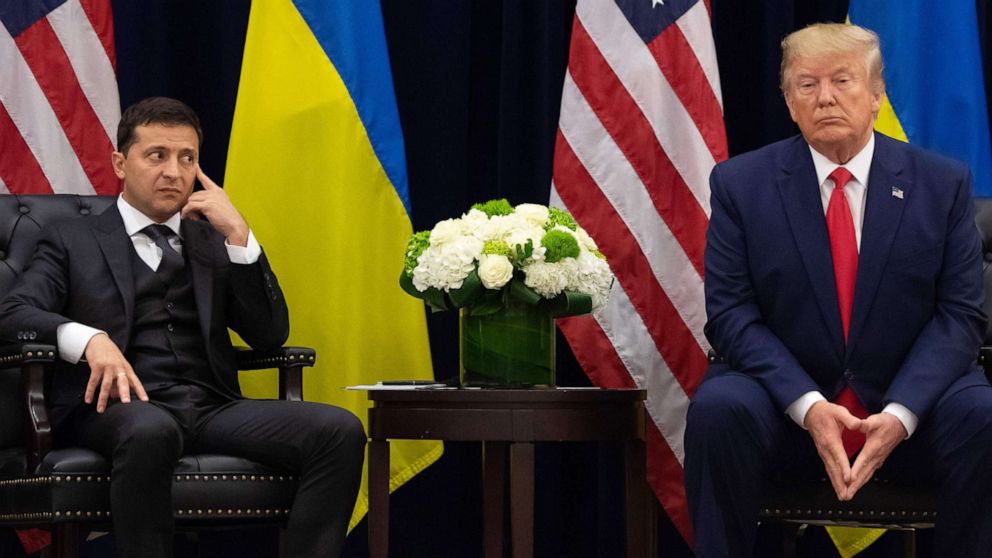 He said he listened to the July phone call with NSC colleagues and staff from Vice President Pence's office from the Situation Room.
The New York Times first reported details of Vindman's prepared remarks.
Vindman, according to his opening statement, also raised concerns about comments Gordon Sondland, the U.S. ambassador to the European Union, made in a July 10 meeting with a top Ukrainian official about setting up a meeting between Trump and Ukrainian President Volodymyr Zelenskiy.
Sondland "started to speak about Ukraine delivering specific investigations in order to secure the meeting with the President, at which time Ambassador Bolton cut the meeting short," Vindman will tell lawmakers.
In a follow-up debriefing, Sondland "emphasized the importance that Ukraine deliver the investigations into the 2016 election, the Bidens, and Burisma," according to Vindman.
Vindman, according to his opening statement, told Sondland his statements were inappropriate, and that he and Dr. Fiona Hill, then his superior at the National Security Council, reported their concerns to the NSC's lead counsel.