Battleground Breakdown: Where Ohio Stands in the 2016 Presidential Race
An in-depth look at Ohio, one of the swing states in the 2016 election.
— -- There's an old saying, as Ohio goes, so goes the nation. There's a lot riding on the Buckeye State for both candidates. While Republican presidential candidate Donald Trump seems to be taking the lead in the polls, there's no telling which way this state will vote.
Here's an in-depth look at the battleground state of Ohio: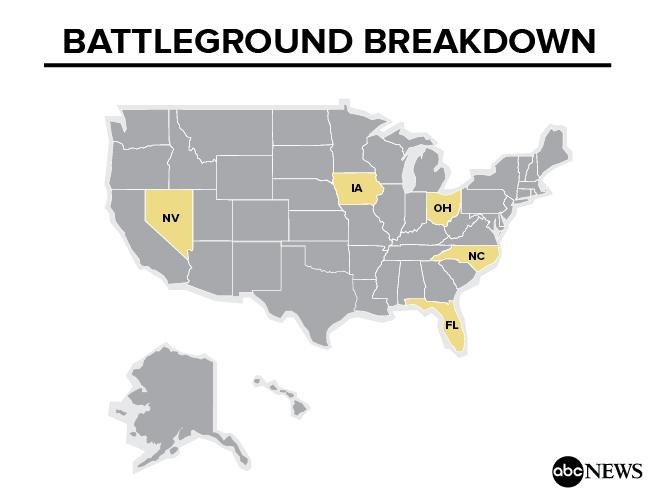 State's Voting History in Presidential Elections
Ohio has voted for the winner of the White House in every presidential election since 1960. In the 2008 and 2012 elections, the Buckeye State voted for Barack Obama. And in the 2000 and 2004 elections, it voted for George W. Bush. The 2012 election was close in Ohio, with Obama getting 50.1 percent of the vote and Mitt Romney receiving 48.2 percent.
How It Played in the Primaries
Hillary Clinton won 56.5 percent of the vote in Ohio, nearly 14 points ahead of her Democratic primary challenger, Sen. Bernie Sanders. Trump came in second in the Republican primary, with 35.6 percent of the vote, behind Ohio Gov. John Kasich, with 46.8 percent.
Money Matters
Data from CMAG/Kantar Media shows that Clinton's campaign is pumping a whopping $20.9 million into TV ads in Ohio through Election Day. The Trump team is setting aside $1.8 million — the most it's spending in a single state.
Ground Operations
Clinton's campaign and the Democratic National Committee have 60 offices in total in Ohio. The Republican National Committee has 43 offices across the Buckeye State. The Republican Party has 115 staffers and 322 trained volunteer organizers working to get out the vote.
State Issues
Ohio has been dealing with a growing heroin epidemic. According to the Centers for Disease Control and Prevention, Ohio was among the five states with the highest rates of death due to drug overdoses in 2014.
Latest Poll Numbers
Ohio is a tight race. A Quinnipiac University poll released Monday, October 17, has Clinton and Trump both at 45 percent. Two weeks ago, a Quinnipiac poll released October 3 showed Trump at 47 percent of support while Clinton garnered 42 percent.
ABC News' Ryan Struyk contributed to this report.