When President Joe Biden delivers his second State of the Union on Tuesday, he'll no doubt tout a list of what he considers his greatest accomplishments.
But that raises the question: What did he promise last year, and was he able to achieve what he laid out?
Among the top priorities he outlined last March were rallying American support for Ukraine in its effort to repel the Russian invasion and efforts to fight record-setting inflation.
Ultimately, he said, the State of the Union was strong "because you, the American people, are strong."
Yet, a new ABC News/Washington Post shows just 36% of Americans think Biden has accomplished a great deal or good amount as president; 62% say he's accomplished not very much or nothing at all.
And with Biden appearing poised to run for a second term -- and looking to use this year's speech to make his case -- nearly six in 10 Democratic-aligned adults don't want to see him nominated again -- and his approval rating after two years in office is well below average compared with the previous 13 presidents. Only one, former President Donald Trump, has lower numbers.
Here are highlights of what Biden said last year and how things turned out:
War in Ukraine
Just six days before Biden's first State of the Union address, Russia invaded Ukraine and he spent a large portion of his speech, not on usual domestic concerns, but condemning Russian President Vladimir Putin.
"Putin has unleashed violence and chaos -- but while he may make gains on the battlefield, he will pay a continuing high price over the long run," Biden vowed, receiving bipartisan applause.
Biden said the Justice Department was assembling a task force to go after the crimes of Russian oligarchs and that the U.S. would join allies in closing off American air space to all Russian flights "further isolating Russia and adding an additional squeeze on their economy," he said.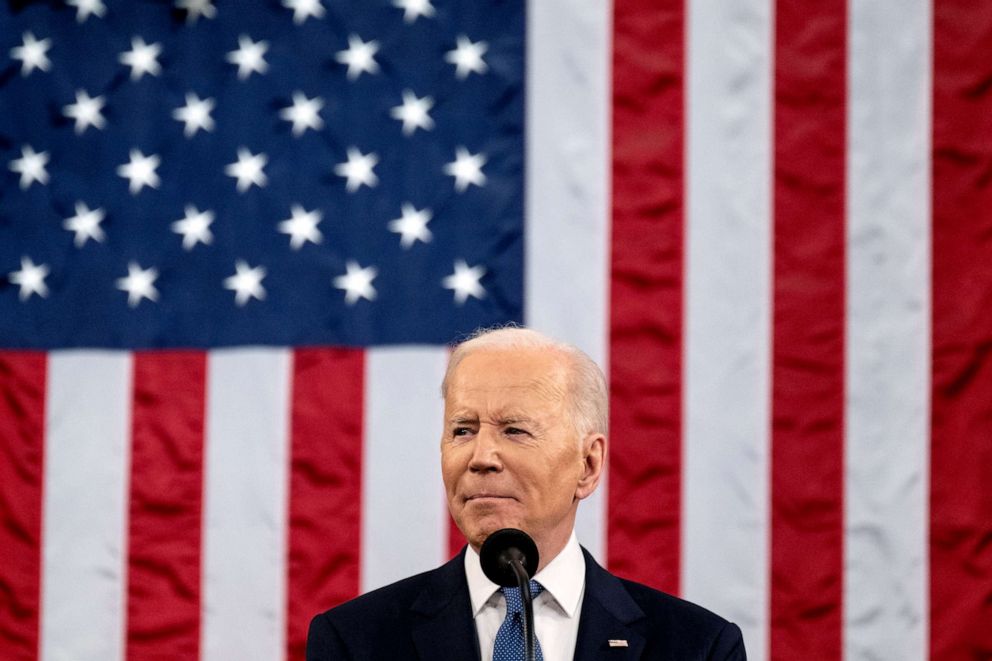 "Tonight, I say to the Russian oligarchs and corrupt leaders who have bilked billions of dollars off this violent regime no more," he continued. "We are joining with our European allies to find and seize your yachts your luxury apartments your private jets. We are coming for your ill-begotten gains."
It's a warning the U.S. delivered on. Week after week in the months to follow, the U.S. announced new sanctions on sanctions on Russia, targeting banks and individuals including Putin's adult daughters. As of last summer, the U.S. had frozen more than $30 billion of Russian oligarchs' assets.
The U.S. has also committed more than $24.9 billion in security assistance to Ukraine over the last year, but it has not sent American troops to the war -- a promise Biden made and has, so far, kept.
"Let me be clear, our forces are not engaged and will not engage in conflict with Russian forces in Ukraine," he said last year. "Our forces are not going to Europe to fight in Ukraine, but to defend our NATO allies."
While everyday Americans have appeared to rally around Ukraine's people, Biden holds just a 38% approval on his handling of the war, according to the latest ABC News/Washington Post poll.
US economy
Tempering expectations on the cost of war at home, Biden transitioned to the U.S. economy saying, "To all Americans, I will be honest with you, as I've always promised. A Russian dictator, invading a foreign country, has costs around the world."
Biden said his "top priority is getting prices under control."
But one year later, according to new ABC News/Washington Post, four in 10 Americans say they've gotten worse off financially since Biden became president, the most in ABC News/Washington Post polls dating back 37 years. Only 37% of Americans approve of his handling of the economy
Biden attempted to brace Americans for the war causing gas prices to go up, announcing the U.S. would release 30 million barrels from the Strategic Petroleum Reserve. Biden later expanded that release to 180 million barrels -- a move Republicans condemned as driven by politics.
"These steps will help blunt gas prices here at home. And I know the news about what's happening can seem alarming. But I want you to know that we are going to be OK," Biden said at the time.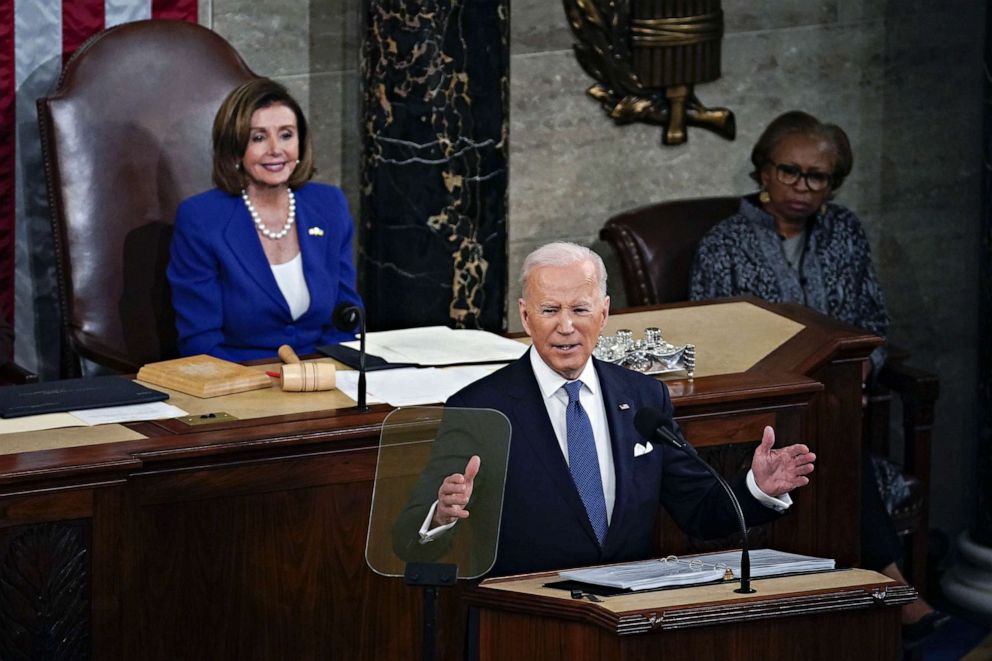 But gas prices did continue to rise, peaking over the summer and concerning Democrats ahead of the midterm elections.
Addressing inflation, Biden pitched his plan to cut costs by promoting some of the pillars of "Build Back Better" -- capping prescription drugs, lowering energy costs, and instituting free, universal pre-K, among other initiatives -- all without ever using the plan's name.
"I have a better plan to fight inflation," he said. "Lower your costs, not your wages."
As the year went on, it wasn't looking promising for Biden's Build Back Better plan, but after a closely-guarded deal was made between Senate Majority Leader Chuck Schumer and West Virginia Democratic Sen. Joe Manchin was revealed over the summer, everything changed.
Democrats, with Republican support, passed the CHIPS and Science Act, aimed at countering China, just before Manchin joined his party to pass a stripped-down Build Back Better plan, newly-rebranded as the Inflation Reduction Act -- in a major victory for Biden.
COVID pandemic
Congress dropped its mask mandate last year just one day ahead of Biden's optimistic address, so the president notably spoke before a crowded and mostly mask-free chamber.
"Because of the progress we've made, because of your resilience and the tools we have, tonight I can say we are moving forward safely, back to more normal routines," Biden said. "We've reached a new moment in the fight against COVID-19, with severe cases down to a level not seen since last July."
But it's dangerous to predict the unpredictable, and COVID deaths went on to peak for the year over the summer as cases increased with the more transmissible Omicron variant.
More than 267,000 people died of COVID last year, according to data from Johns Hopkins University, with the disease continuing to be a leading cause of death in the U.S., despite Americans moving away from mitigation measures.
This year's address comes as the Biden administration has confirmed it will end both the COVID-19 national emergency and public health emergency on May 11. The current public health emergency is in place through April, while the national emergency is in place until March.
"I know some are talking about 'living with COVID-19.' Tonight, I say that we will never just accept living with COVID-19," Biden said last year.
Lawmakers were required last year to have a negative COVID test to enter the chamber. Several Republicans boycotted the speech by refusing to test -- and in a sign the virus was still virulent at least four positive cases turned up afterward.
Gun violence and policing
Biden took a moment last year to talk about policing too, prompting Republican Leader Kevin McCarthy and other Republicans to stand up and applaud.
"We should all agree: The answer is not to defund the police. The answer is to FUND the police with the resources and training they need to protect our communities," Biden said.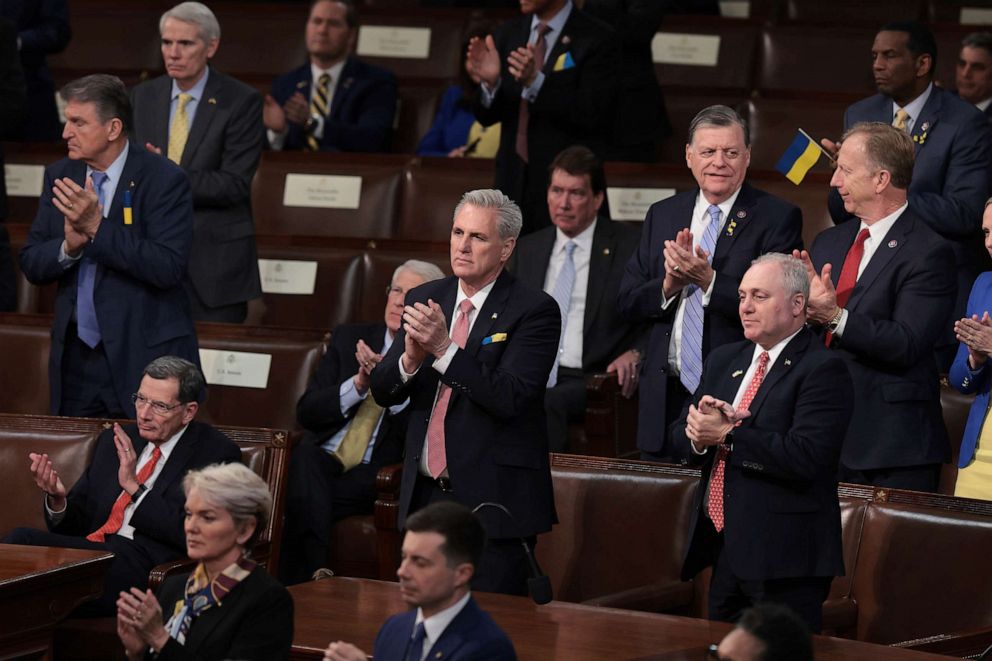 He then briefly called on Congress to pass gun-safety legislation, saying the laws wouldn't infringe on the Second Amendment but "save lives."
"I ask Congress to pass proven measures to reduce gun violence. Pass universal background checks. Why should anyone on a terrorist list be able to purchase a weapon? Ban assault weapons and high-capacity magazines," he said. "Repeal the liability shield that makes gun manufacturers the only industry in America that can't be sued."
Congress did, in May, pass gun safety legislation following mass shootings at Robb Elementary School in Uvalde, Texas, and at a supermarket in Buffalo, New York, though the legislation fell far short of what he asked.
As the administration continues to call on lawmakers to renew the long-expired ban on assault weapons, the public appears more divided on the question: 47% support such a ban, and 51% oppose it, according to the latest ABC/Post poll. That reflects a nine-point drop in support since 2019, despite recent gun violence.
While it's unclear how the president will address gun violence and policing in this year's address, in the wake of Tyre Nichols' beating and death, it's clear that compromise on gun violence and policing legislation is increasingly rare.
Infrastructure
Biden took a victory lap last year in touting the passage of the bipartisan infrastructure law, which he's hailed as landmark to his presidency.
"Now our infrastructure is ranked 13th in the world. We won't be able to compete for the jobs of the 21st century if we don't fix that," he said. "That's why it was so important to pass the Bipartisan Infrastructure Law -- the most sweeping investment to rebuild America in history."
He said the U.S. was "done talking about infrastructure weeks" and moving forward to "have an infrastructure decade."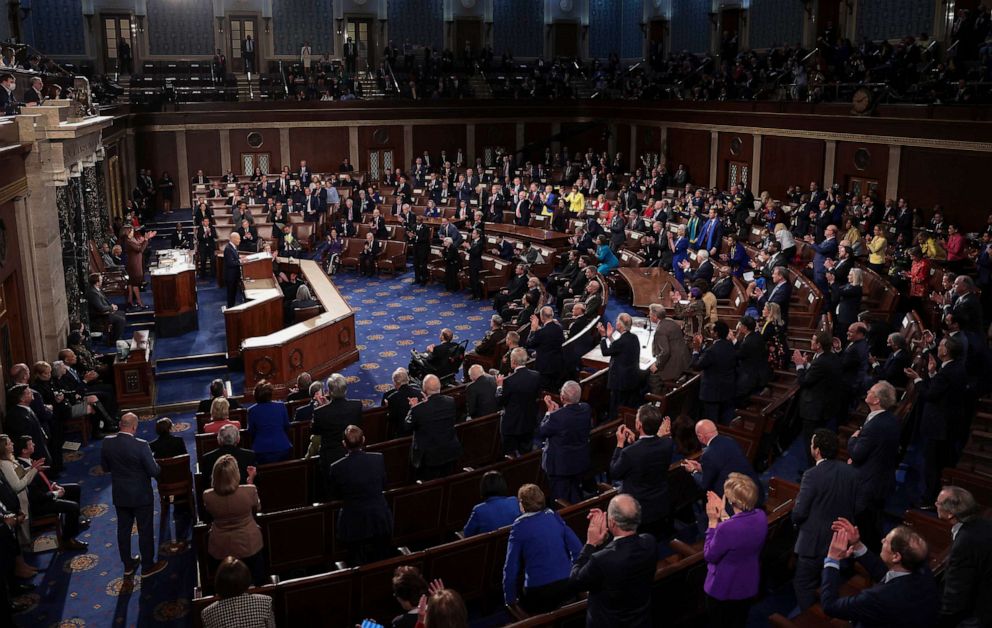 Biden spent the week ahead of this year's address by touting his infrastructure agenda around the country, a tour he plans to continue later this week as money from the legislation starts to flow and projects can be started.
'Unity agenda'
Near the end of his address, Biden ticked through broads ideas with bipartisan support in proposing "a unity agenda for the nation."
Beating the opioid epidemic, focusing on mental health in children, supporting U.S. veterans, and ending "cancer as we know it," he said, were the pillars of the unity agenda.
While those initiatives earned applause on both sides of the chamber, they're longstanding, long-term issues without a clear end-game established.
In terms of unity in Washington, Biden will address a newly-empowered Republican House majority for the first time on Tuesday, and while Speaker Kevin McCarthy has vowed to block Biden's agenda, the two appeared to have a cordial meeting at the White House last week.