4 dead after US Capitol breached by pro-Trump mob during 'failed insurrection'
One woman was fatally shot by police inside the Capitol building.
Four people are dead following Wednesday's violent protests in Washington, D.C., where supporters of President Donald Trump stormed the U.S. Capitol.
One woman and two men suffered "medical emergencies" during the anarchy and have subsequently died, according to Robert Contee, chief of the Metropolitan Police Department of the District of Columbia.
Another woman was shot and killed during a standoff inside the Capitol between law enforcement and protesters, Conte said. An angry mob of Trump supporters had breached the building, forcing a lockdown with members of Congress holed up inside the chambers.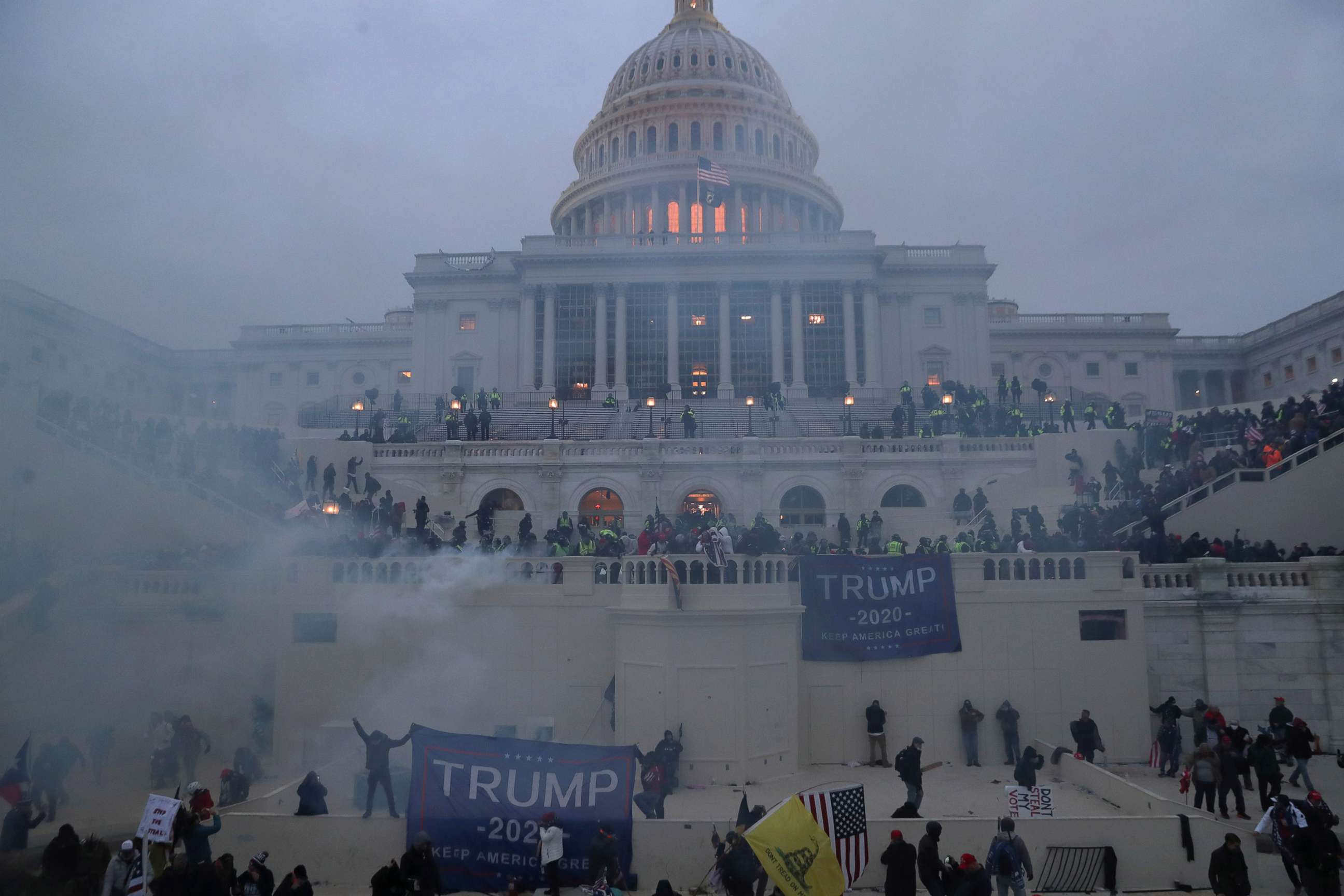 The woman was shot by a U.S. Capitol Police officer in plainclothes, after "multiple individuals forced entry into the Capitol building" and "attempted to gain access to the House room, which was still in session," according to Conte. She was transported to an area hospital where she was pronounced dead, Conte said.
Rep. Markwayne Mullin, R-Okla., told ABC News he saw the shooting happen, saying he "never thought" he would witness such a scene unfold in the United States.
"I get people being passionate and being frustrated, but there's a right way and and wrong way to do things and yesterday was wrong. There was absolutely no excuse for it," Mullin said in an interview Thursday on "Good Morning America."
"We're very fortunate a lot more people didn't actually lost their life," he added. "One is way too many."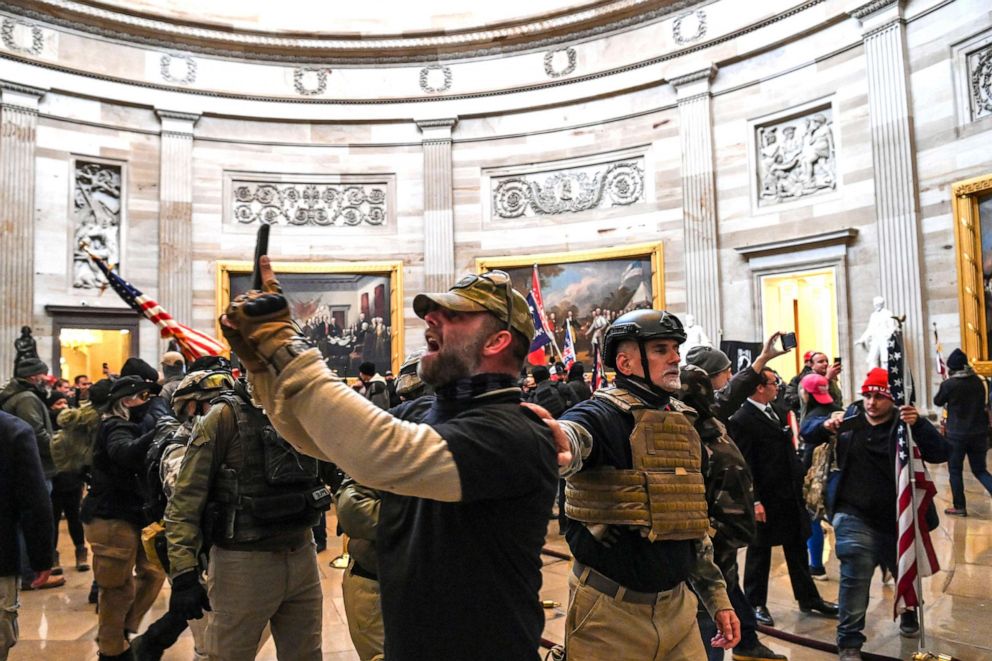 The rioting began Wednesday afternoon after Trump and his allies held a rally earlier in the day, urging Congress to not certify the results of the November presidential election. Trump vowed to "never concede" and urged his supporters "to fight," as he continued to push baseless claims of election fraud.
"All of us here today do not want to see our election victory stolen by emboldened radical Democrats," Trump told the crowd on the Ellipse park, just south of the White House. "We will never give up. We will never concede. It will never happen. You don't concede when there's theft involved. Our country has had enough. We will not take it anymore."
Protesters -- some of who were seen wearing body armor -- made their way up the Capitol steps around 2:15 p.m. ET, pushing their way through barricades, officers in riot gear and other security measures that were put in place in anticipation of the protest. Once inside the Capitol building, the pro-Trump mob moved freely and shouted chants while holding "Trump 2020" flags. One person was also seen waving a Confederate flag inside the building.
Law enforcement officers inside the building instructed elected officials, staff and journalists to shelter in place as the protesters broke in. In a bulletin sent to Capitol building staff, the U.S. Capitol Police ordered people to lock their doors, remain quiet and silence their electronics.
"If you are in a public space, find a place to hide or seek cover," the bulletin said.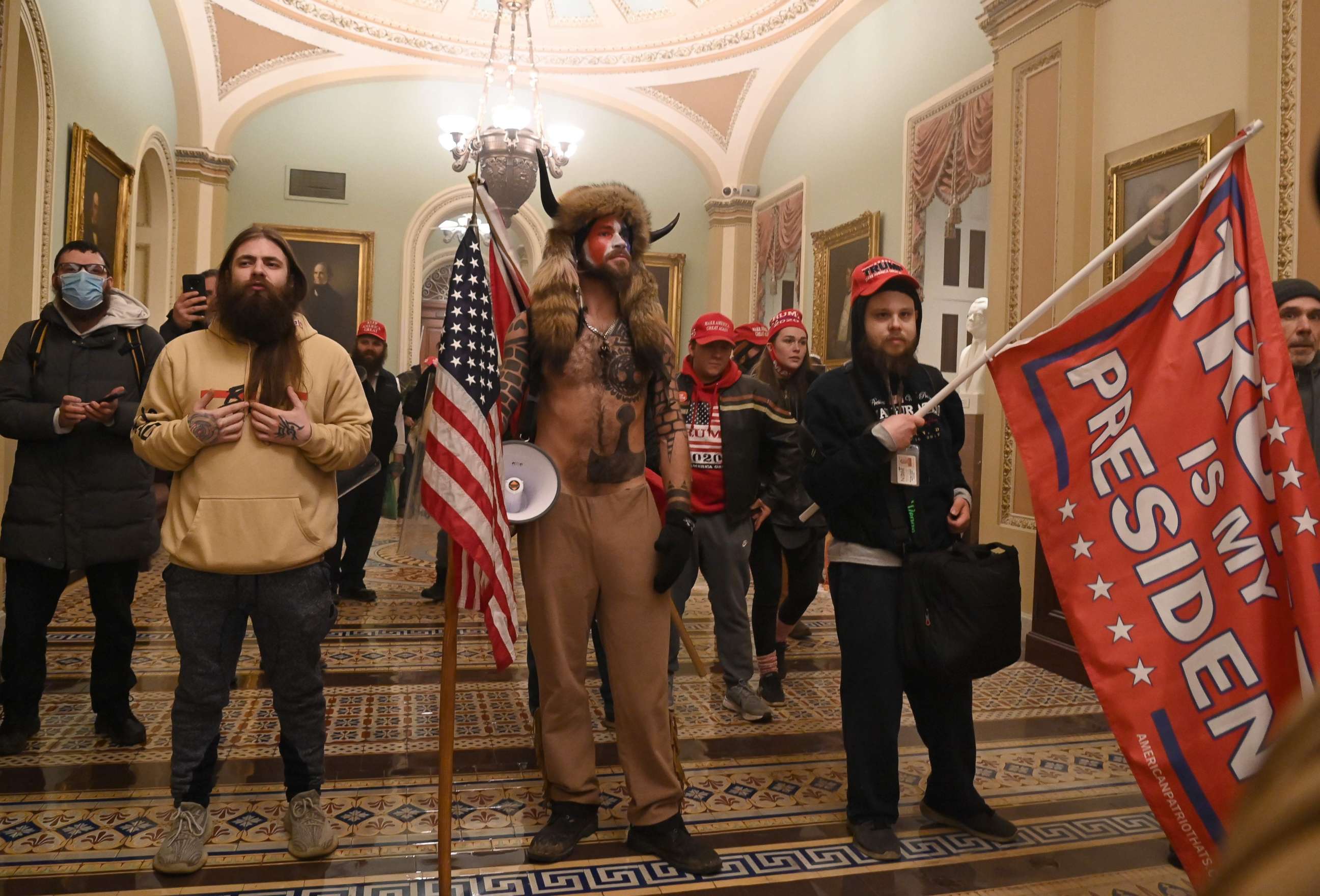 As the mob breached the Capitol building, Trump took to Twitter, saying Vice President Mike Pence "didn't have the courage to do what should have been done to protect our Country and our Constitution," and that the "USA demands the truth!" He also tweeted, "Please support our Capitol Police and Law Enforcement. They are truly on the side of our Country. Stay peaceful!"
Meanwhile, Pence, who was escorted out of the Capitol building, pleaded for the "violence and destruction" to stop and for anyone involved to "immediately leave the building."
Rep. Jim Himes, D-Conn., tweeted that he and his colleagues inside the House chamber were told by police "to be prepared to get under our chairs" and to put on gas masks because "there has been tear gas used in the rotunda."
Sen. Jeff Merkley, D-Ore., tweeted that the "Electoral College ballots were rescued from the Senate floor."
"If our capable floor staff hadn't grabbed them, they would have been burned by the mob," he added.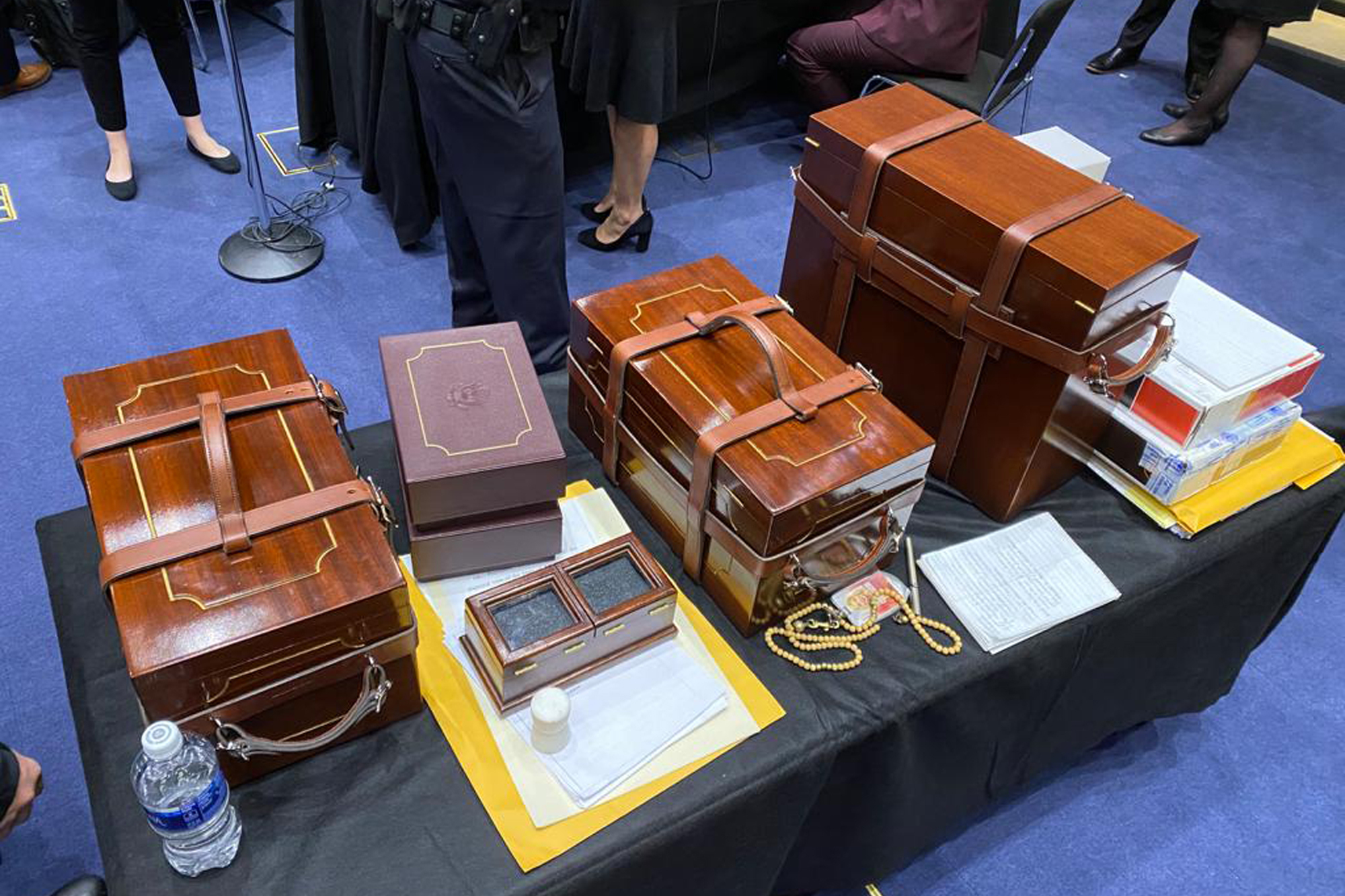 Sen. Mitt Romney, R-Utah, told reporters who were with him in a secure position that "this is what the president has caused today, this insurrection."
Senate Minority Leader Chuck Schumer, D-N.Y., and House Speaker Nancy Pelosi, D-Calif., released a joint statement around 3:50 p.m., calling on Trump "to demand that all protestors leave the U.S. Capitol and Capitol Grounds immediately."
Trump's former chief of staff, Mick Mulvaney, even called out the president for not doing enough to put an end to the violence.
"He can stop this now and needs to do exactly that. Tell these folks to go home," Mulvaney tweeted.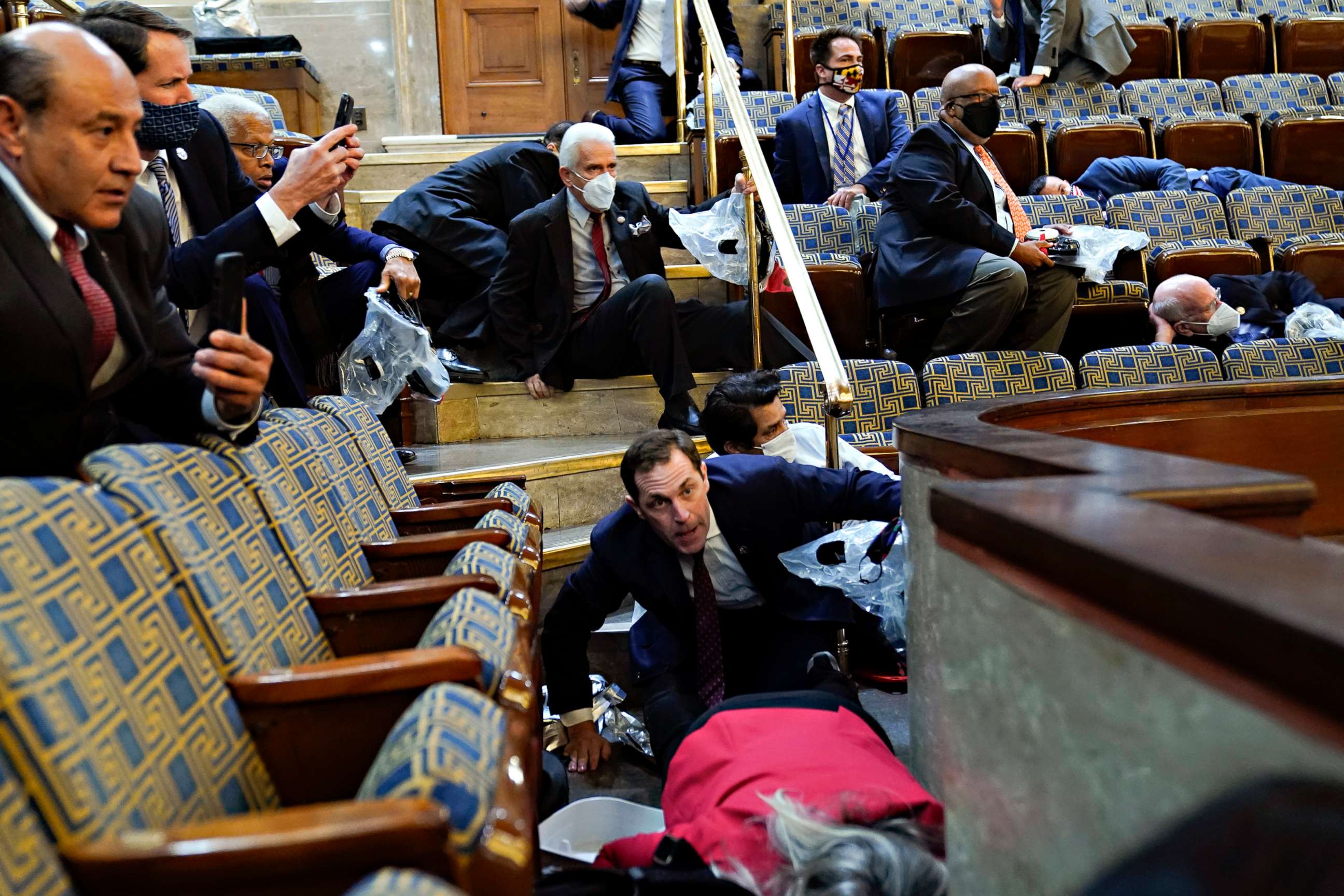 Following repeated calls from leaders on both sides of the aisle, Trump finally released a video message via Twitter on Wednesday afternoon, telling his supporters to go home. But he also continued to push baseless, false claims about the election.
"I know you're in pain, I know you're hurt. We had an election that was stolen from us," the president said in the one-minute, prerecorded video. "But you have to go home now."
Twitter removed Trump's tweet with the video, along with two other tweets. At 7 p.m., Twitter announced that it has locked Trump's account for 12 hours and will continue to keep it locked until the tweets are deleted.
"Future violations of the Twitter Rules, including our Civic Integrity or Violent Threats policies, will result in permanent suspension of the @realDonaldTrump account," the social network company tweeted.
Later in the night, Facebook announced that it would not allow Trump's official page to post for 24 hours.
The move came just as Trump's successor, President-elect Joe Biden, held a news conference to address the situation. He called on the outgoing president to tell his supporters to stop.
"This is not dissent, it's disorder. It's chaos. It borders on sedition, and it must end now," Biden said. "I call on this mob to pull back and allow the work of democracy to go forward."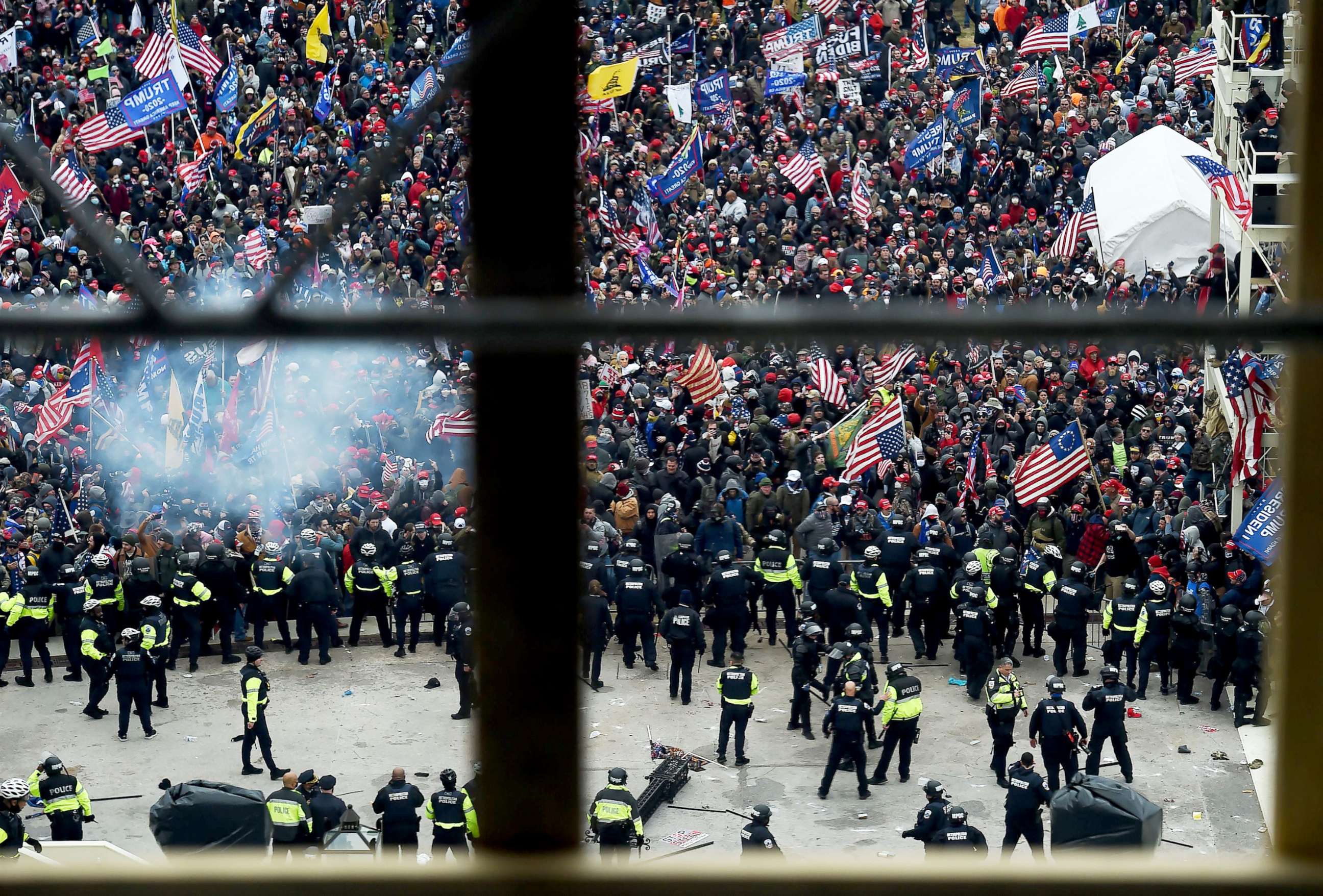 The entire District of Columbia National Guard was activated and the Metropolitan Police Department was deployed to assist the U.S. Capitol Police in dispersing the protesters and restoring order. Several other law enforcement agencies in the region were also deployed to help.
A source told ABC News that Pelosi requested the National Guard's help to secure the Capitol building.
Police declared the scene a riot "due to the violent behavior towards the police officers there and their intent on gaining access to the Capitol," Conte, the D.C. Police chief, said at a press conference Wednesday night.
Mayor Muriel Bowser issued a citywide curfew that began at 6 p.m. and ended Thursday at 6 a.m. She called the violence "shameful, unpatriotic" and "unlawful." Virginia Gov. Ralph Northam also declared a 6 p.m. curfew in the nearby cities of Alexandria and Arlington.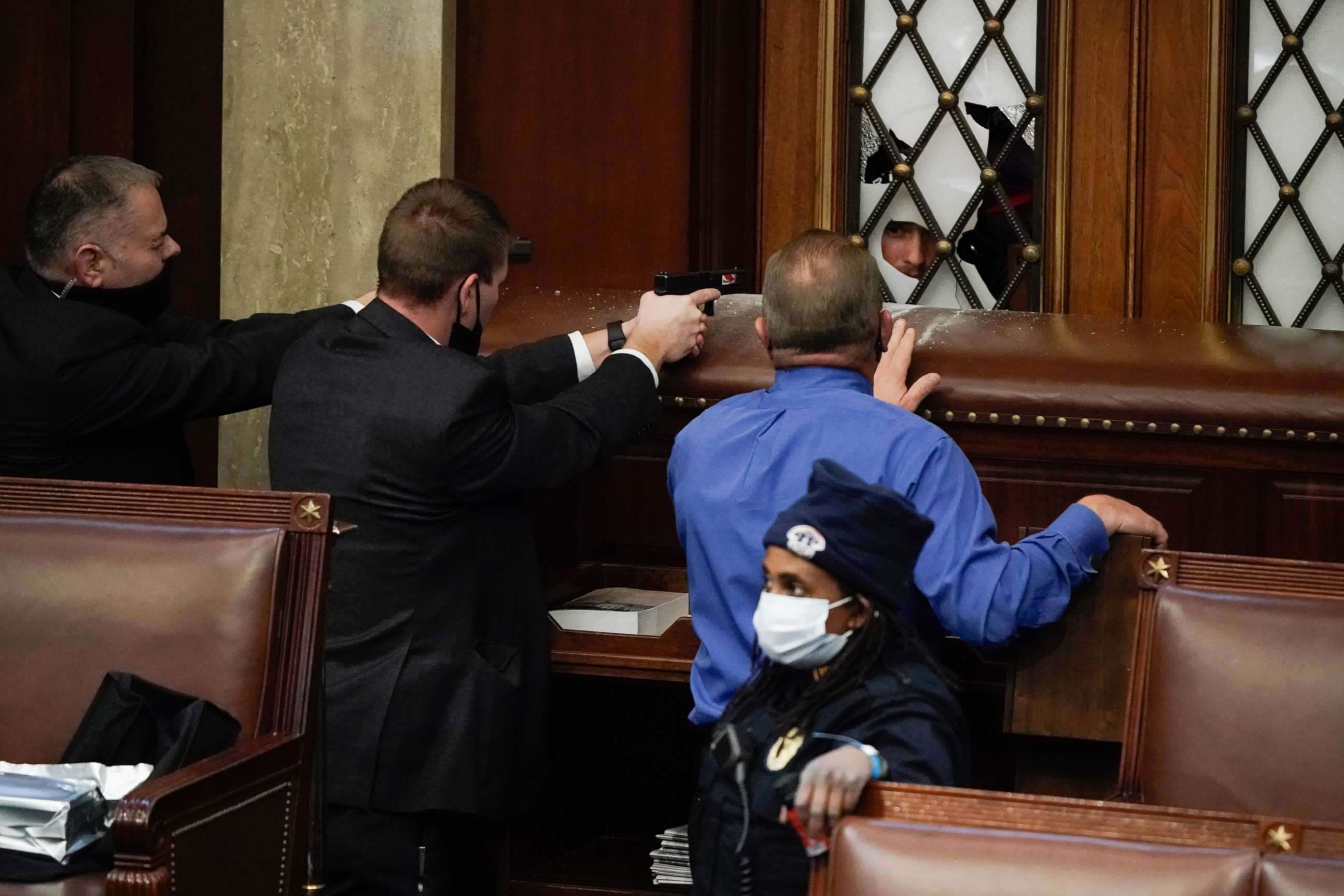 It took hours for law enforcement to clear the Capitol building and establish a perimeter around the area. Later in the evening, authorities fired tear gas to disperse the rioters.
As of 9:30 p.m., police had made "in excess of 52 arrests" related to the protests, 26 of which were made on Capitol grounds, according to Conte.
Conte said two pipe bombs were recovered, one at Republican National Committee headquarters and the other at Democratic National Committee headquarters, both of which are located near the Capitol building. A cooler was also recovered from a van on Capitol grounds containing a long gun as well as Molotov cocktails, according to Conte.
Meanwhile, Conte said more than a dozen D.C. Police officers were injured while responding to the protests.
The Federal Bureau of Investigation issued a bulletin on Wednesday night, calling for witnesses to submit information to assist in identifying individuals who were involved with the "rioting and violence" at the Capitol building and in the surrounding area.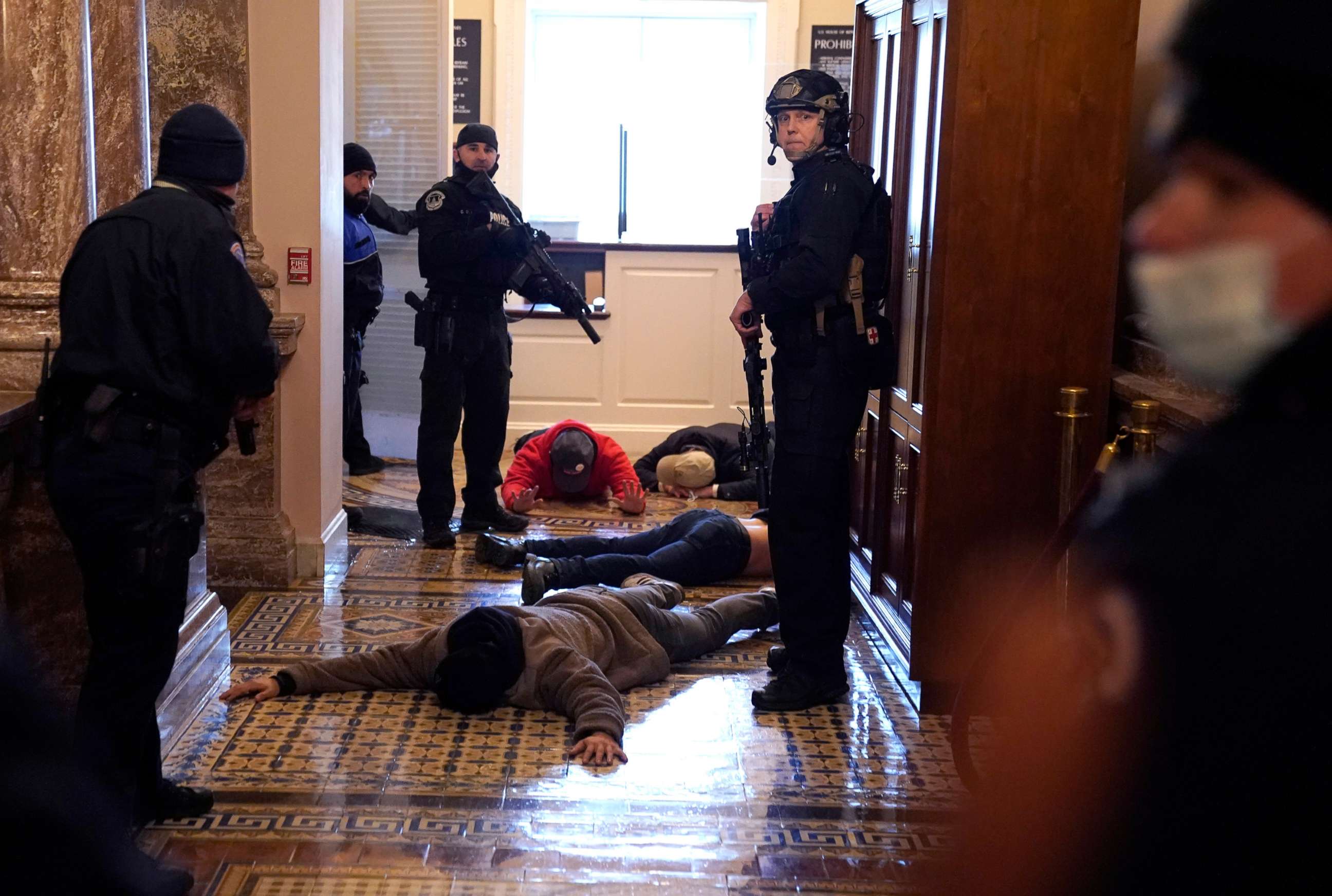 Almost exactly 12 hours after the protests began, the U.S. Capitol Police sent a notice to all staffers on Capitol Hill, stating that the threat was cleared and operations could return to normal while police "continue to maintain a security perimeter."
The Senate resumed its session at around 8 p.m., where both Vice President Mike Pence and Senate Majority Leader Mitch McConnell condemned the violence.
"We will not be kept out of this chamber by mobs or thugs or threats. We will not bow to lawlessness or intimidation," McConnell said. "We are back at our posts. We will discharge our duty under the Constitution and for our nation -- and we're going to do it tonight."
McConnell went on to describe Wednesday's event as a "failed insurrection."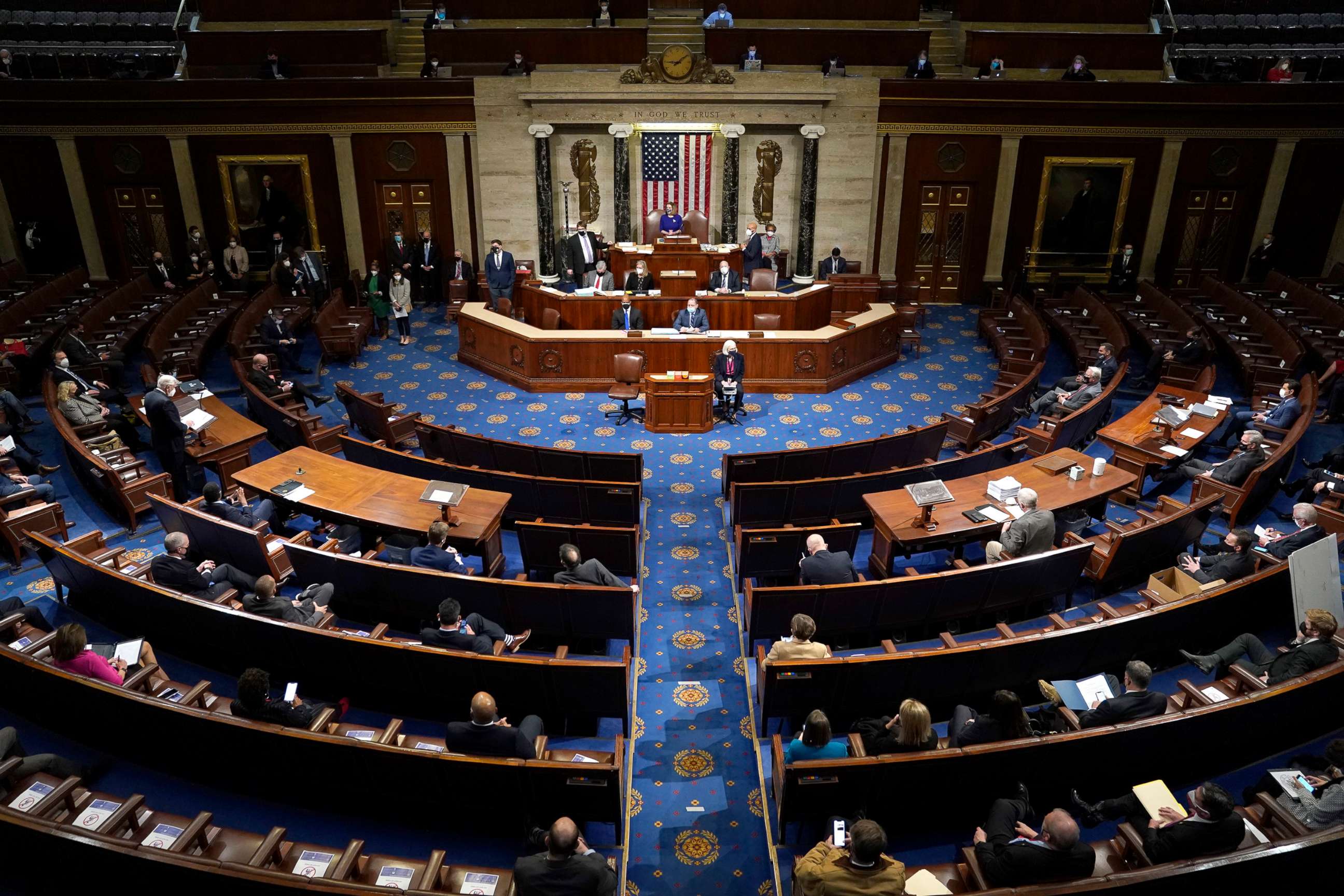 Both the Senate and the House ultimately went on to vote against Republican objections to certify Electoral College votes in the presidential election, with Pence declaring Biden the winner early Thursday morning.
In a statement tweeted by White House Deputy Chief of Staff Dan Scavino following the news, Trump said: "Even though I totally disagree with the outcome of the election, and the facts bear me out, nevertheless there will be an orderly transition on January 20th. I have always said we would continue our fight to ensure that only legal votes were counted. While this represents the end of the greatest first term in presidential history, it's only the beginning of our fight to Make America Great Again!"
It was the first time Trump has publicly accepted Biden's victory and agreed to a peaceful transfer of power.
ABC News' Luke Barr, Jack Date, John Parkinson, Allie Pecorin, Ben Siegel and Trish Turner contributed to this report
This report was featured in the Thursday, Jan. 7, 2020, episode of "Start Here," ABC News' daily news podcast.
"Start Here" offers a straightforward look at the day's top stories in 20 minutes. Listen for free every weekday on Apple Podcasts, Google Podcasts, Spotify, the ABC News app or wherever you get your podcasts.