Coronavirus government response updates: Trump, Fauci confirm black communities especially hard hit
Fauci said hypertension, diabetes can make blacks have worse outcomes.
One day after President Donald Trump's trade adviser Peter Navarro publicly pushed back against the nation's top infectious disease expert on whether to promote use of an unproven drug to treat COVID-19, memoranda that the economist wrote to the White House earlier this year may come back to haunt the administration.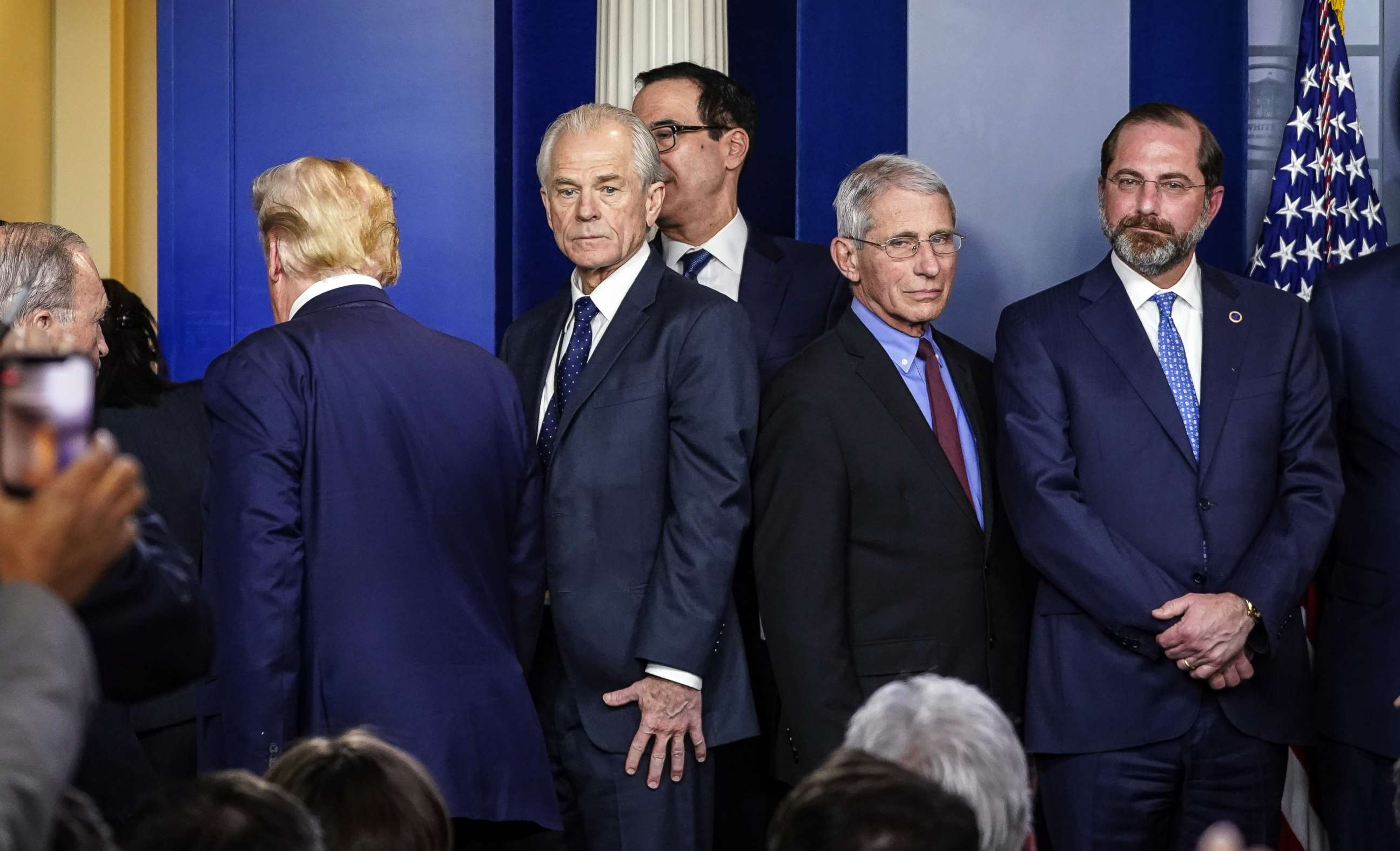 Navarro issued dire warnings in two White House memos dated late January and February of the potential for the novel coronavirus to cost the U.S. economy trillions of dollars and to claim half a million American lives, multiple sources familiar with the matter confirm to ABC News.
The documents reveal that at least some Trump administration officials had considered and perhaps even circulated the possibility of a serious outbreak, while the president was publicly downplaying its impact.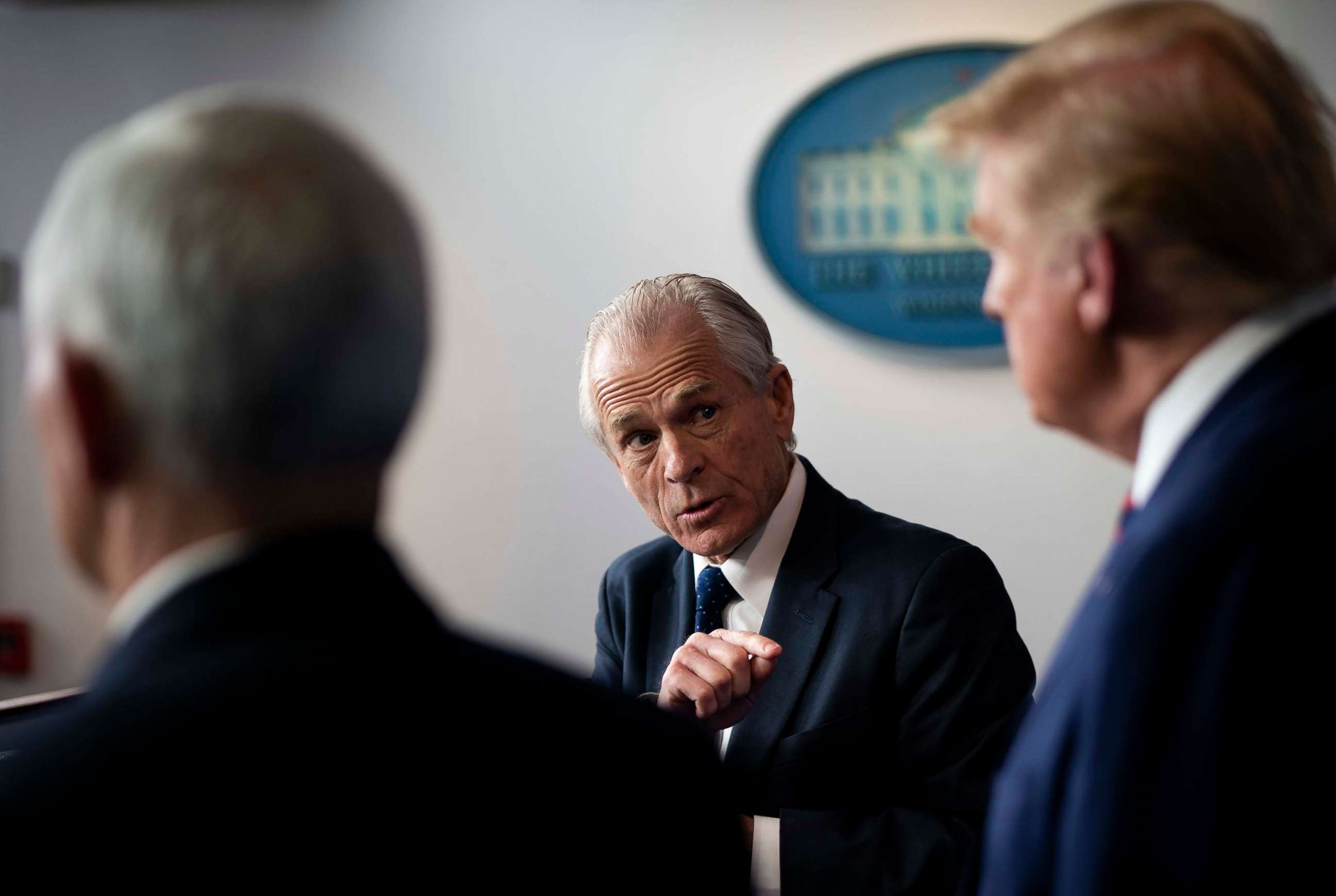 Meanwhile, Drs. Anthony Fauci and Deborah Birx and other members of the White House coronavirus task force revealed Monday that social distancing and mitigation measures appear to be working to flatten the curve in some areas.
Tune into ABC at 1 p.m. ET and ABC News Live at 4 p.m. ET every weekday for special coverage of the novel coronavirus with the full ABC News team, including the latest news, context and analysis.
Here are Tuesday's most significant developments in Washington:
Trump, Fauci confirm blacks especially hard it
Newly-surfaced memos show Trump trade adviser Navarro warned the White House in January of dire consequences
Mnuchin says administration to request additional $250B from Congress to replenish loan program for small businesses
Trump replaces inspector general who was appointed to oversee $2 trillion coronavirus relief package
Wisconsin voters urged to wear masks to the polls
Here are the latest developments in the government response: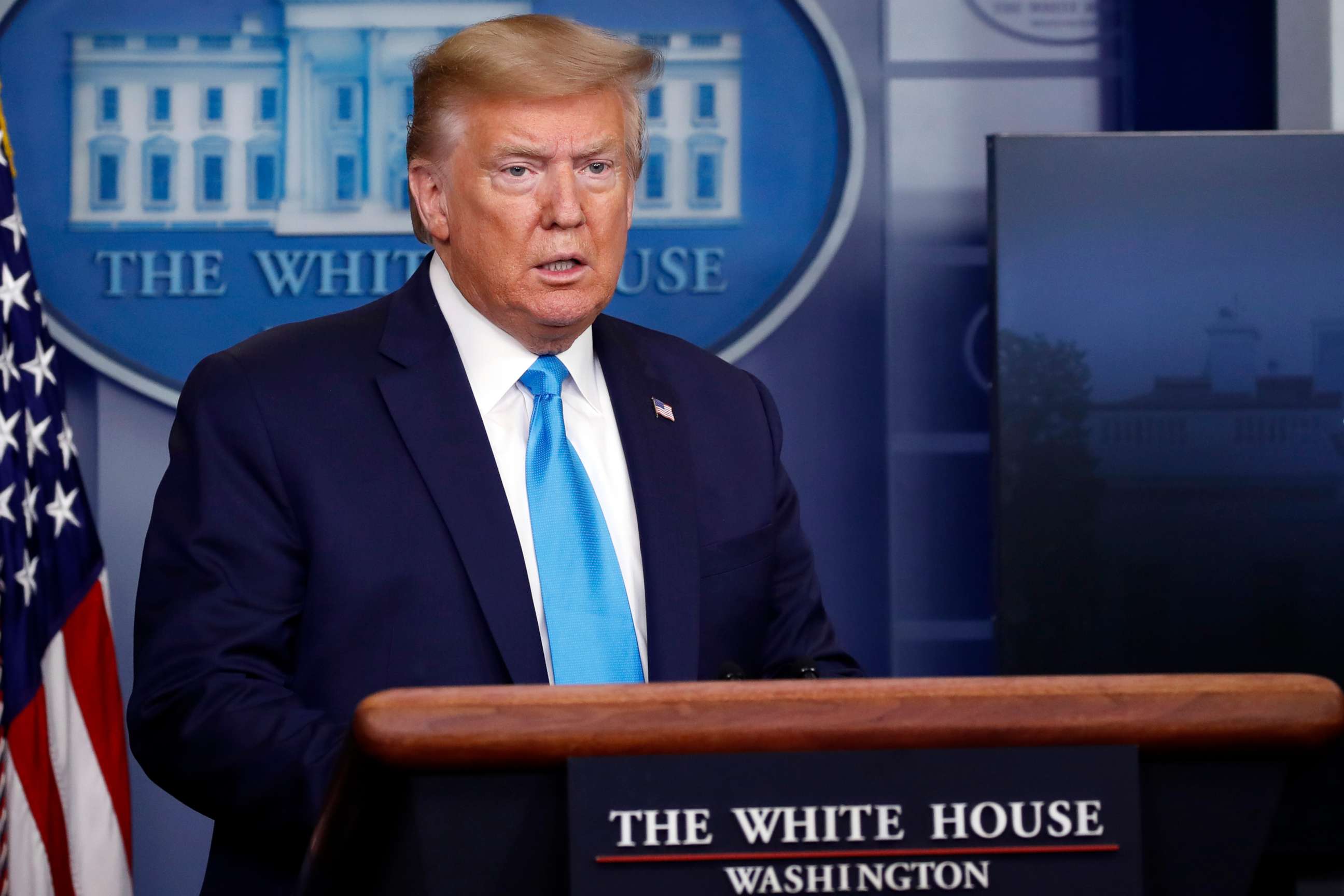 Trump, Fauci confirm blacks especially hard hit
President Trump began his daily briefing at the White House saying he sees "glimmers of very, very strong hope" but warned Americans that it will be a "painful" two weeks.
"Look, if one person dies, it's a painful week. And we know that's gonna unfortunately happen. This is a monster, we are fighting," Trump said.
But Trump encouraged people that social distancing efforts are working.
"Signs are that our strategy is totally working. Every American has a role to play in winning this war, and we are going to be winning it. We are going to be winning it powerfully, and we will be prepared for the next one, should it happen, but hopefully it won't," Trump said.
Speaking about complaints from some governors that the federal government was not doing enough to make critically-needed ventilators available, Trump said, "I will protect you if your governor fails."
Trump and Dr. Anthony Fauci, the nation's top expert on infectious diseases, both took the podium to address the disproportionate number of deaths in black communities, which Trump called "terrible" and a "tremendous challenge."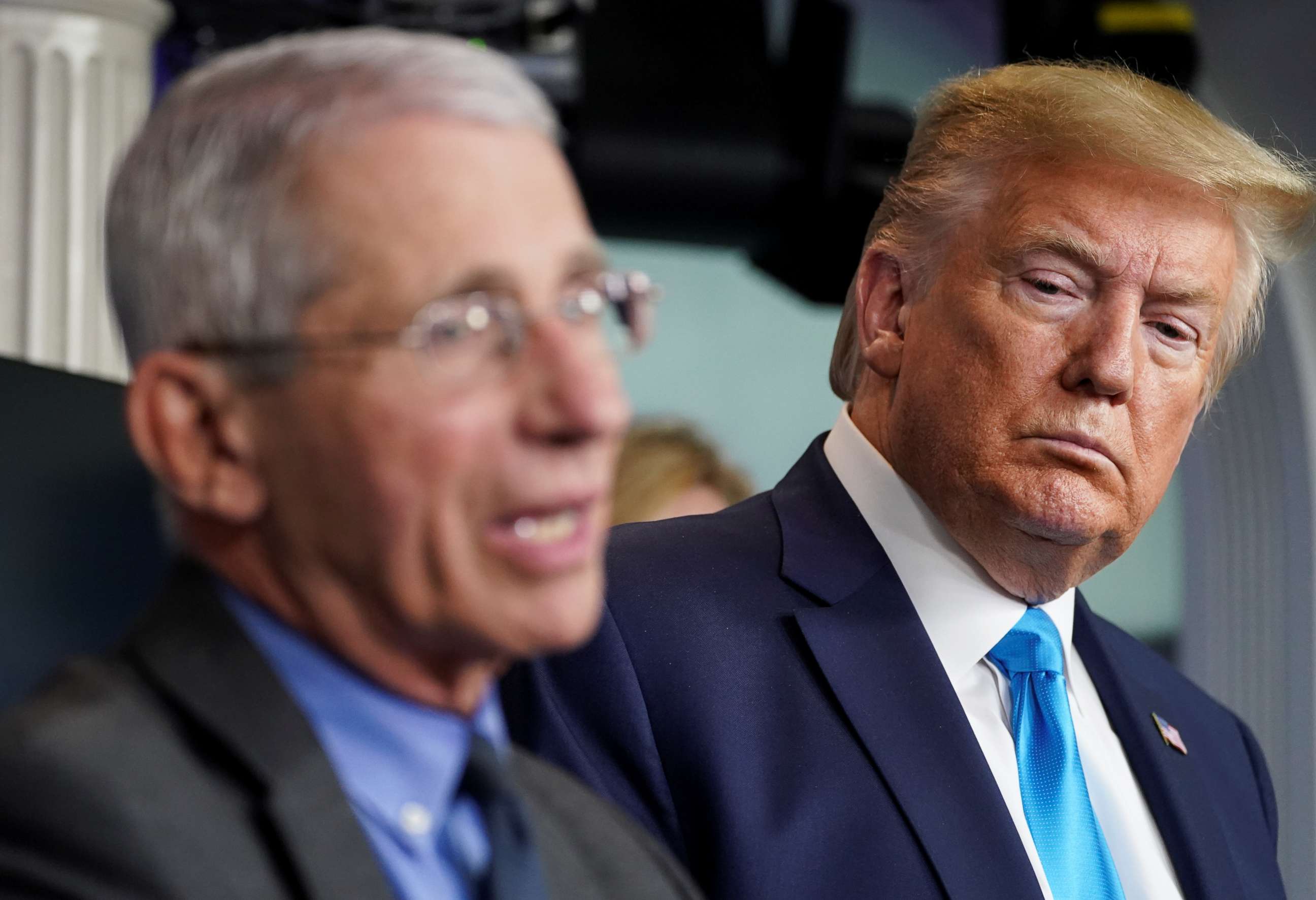 "We have a difficult problem of exacerbation of a health disparity. We have known literally forever that diseases like diabetes, hypertension, obesity and asthma are disproportionately afflicting the minority populations, particularly the African-American," Fauci said, adding that those are the same conditions that "lead to a bad outcome with the coronavirus."
"So we are very concerned about that. It is very sad. There is nothing we can do about it right now except to give them the best possible care to avoid complications," Fauci said.
The disproportionate sickness and deaths from coronavirus in black communities across the country has become more and more apparent as states begin to release data by race and ethnicity.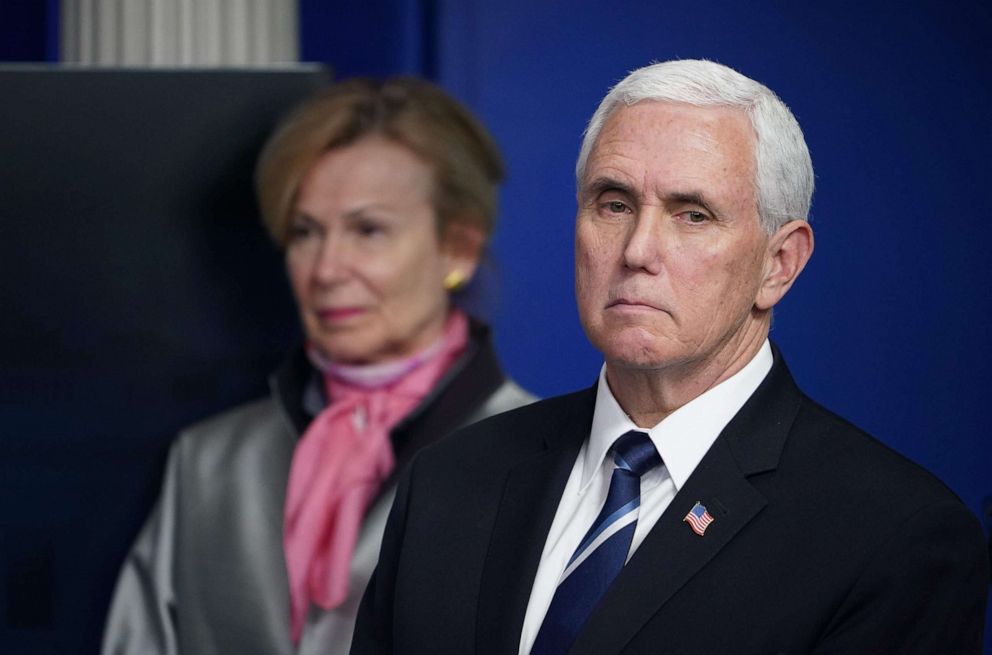 Later in the briefing, Dr. Deborah Birx, the task force coordinator, tried to clarify how the virus is affecting the black community.
"We don't want to give the impression that the African-American community is more susceptible to the virus. We don't have any data that suggests that," Birx said. "What our data suggests is they are more susceptible to more difficult and severe disease, and poorer outcomes."
"We really need to make sure that every household is aware of what it's going to take to protect the individuals in the household that have pre-existing conditions," she added.
In a powerful moment, Fauci got back up to the podium and said he wanted to address his earlier comments about the disproportionate coronavirus deaths in black communities across the country after sitting at the side of the room and reflecting on the moment. He said it's not unlike what he spent the majority of his career on: stopping the spread of HIV/AIDS.
"I could not help sitting there reflecting about how sometimes when you are the middle of a crisis, like we are now with the coronavirus. It really does have ultimately -- shine a very bright light on some of the real weaknesses and foibles in our society," Fauci said. It was important to address those weaknesses, he said, noting they will still exist even as people see the threat of coronavirus dissipate.
"When all of this is over -- and as we said, it will end, we will get over coronavirus -- but there will still be health disparities which we really need to address in the African American community," Fauci said.
He said there was a strong stigma against the gay community during the HIV/AIDS outbreak, which he sees happening today with African American communities across the country..
"I see a similarity here because health disparities have always existed in the African-American community," Fauci said. "It's not that they're getting infected more often -- it's that when they do get infected, their underlying medical conditions, the diabetes, the hypertension, the obesity, the asthma, those are the things that wind them up in the ICU and ultimately give them a higher death rate."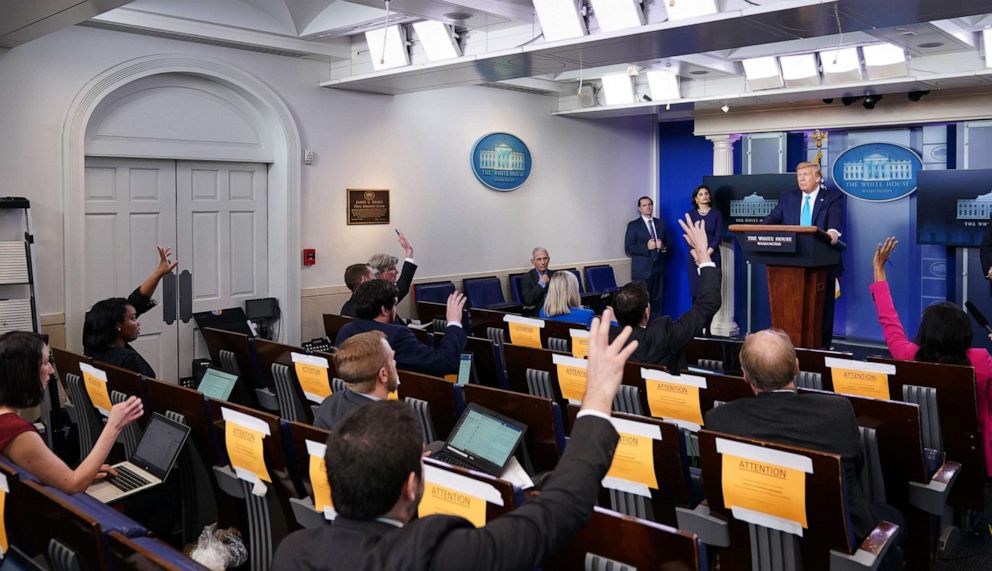 Trump threatens to cut off funding for World Health Organization
After tweeting criticism at the World Health Organization earlier Tuesday, Trump announced that the U.S. is going to put "a powerful hold" on all money sent to the W.H.O. amid the global pandemic.
"They actually criticized and disagreed with my travel ban at the time I did it, and they were wrong. They've been wrong about a lot of things," the president said, calling the organization "China-centric" and suggesting it held onto vital information about COVID-19 early on.
"They missed the call. They could've called it months earlier. They would have known. They should have known. They probably didn't know. So will be looking into that very carefully," Trump continued. "And we're going to put a hold on money spent to the W.H.O. We're going to put a very powerful hold on it and we're going to see.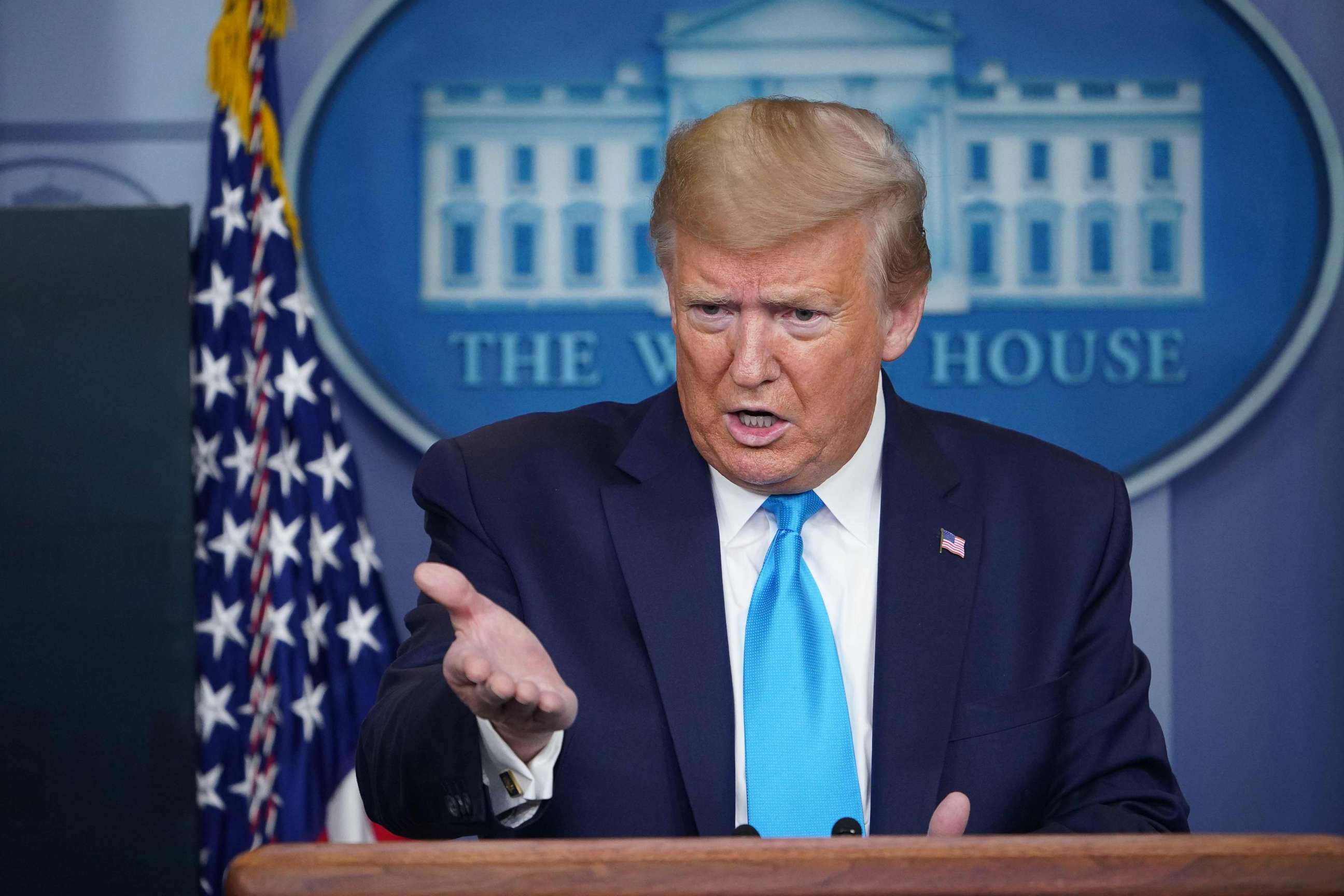 Trump says he didn't see Navarro memos, 'didn't matter'
When asked about the newly-surfaced memos from trade adviser Peter Navarro, which ABC News confirmed, warning the White House of the deadly virus beginning in January, Trump largely dismissed the matter, sticking by Navarro and claiming he only heard about the memos "maybe one, two days ago."
"I think he told certain people on the staff, but it didn't matter. I didn't see it," Trump said, of Navarro's dire warnings that the virus would cost the U.S. economy trillions of dollars and claim half a million American lives.
While Navarro's January memo made a case to block travel from China just days before Trump gave the order, Trump maintained Tuesday that he still hasn't seen either memo.
"I guess he talked to various people about it but, ultimately, I did what the memo -- more or less -- what the memo said just about the time the memo came out," Trump said. "I didn't see 'em, but I heard he wrote some memos talking about pandemic."
"It was a recommendation. It was feeling that he had. I think he told certain people on the staff, but it didn't matter. I didn't see it," he said.
Trump said he doesn't know if his response would have changed had he seen them.
Trump says he 'would not have asked' acting Navy secretary to resign
On acting Navy Secretary Thomas Modly's resignation today, President Trump said he "had no role" in it and called "the whole thing" "very unfortunate."
Trump said he "would not have asked" Modly to resign and that he did not speak to Modly, but he thought that "in, really, many ways that was a very unselfish thing for him to do."
"He didn't have to resign but he felt it would be better for the country," Trump added.
As for the fired Capt. Brett Crozier, Trump said it was up to the "regular Navy channels to see what they want to do" with him and repeated criticisms of Crozier for writing his letter, calling oin the Navy to do more to protect the sailors aboard the carrier USS Theodore Roosevelt.
"The captain should not have written a letter," Trump said. "He didn't have to be Ernest Hemingway. He made a mistake but he had a bad day. And I hate seeing bad things happen."
Under Secretary of the Army James McPherson has been tapped to takeover as the acting secretary.
The developments come one day after leaked audio showed Modly suggesting Crozier, the ousted commander, was "naive" and "stupid" in an address to the ship's crew. Modly apologized for the comments late Monday.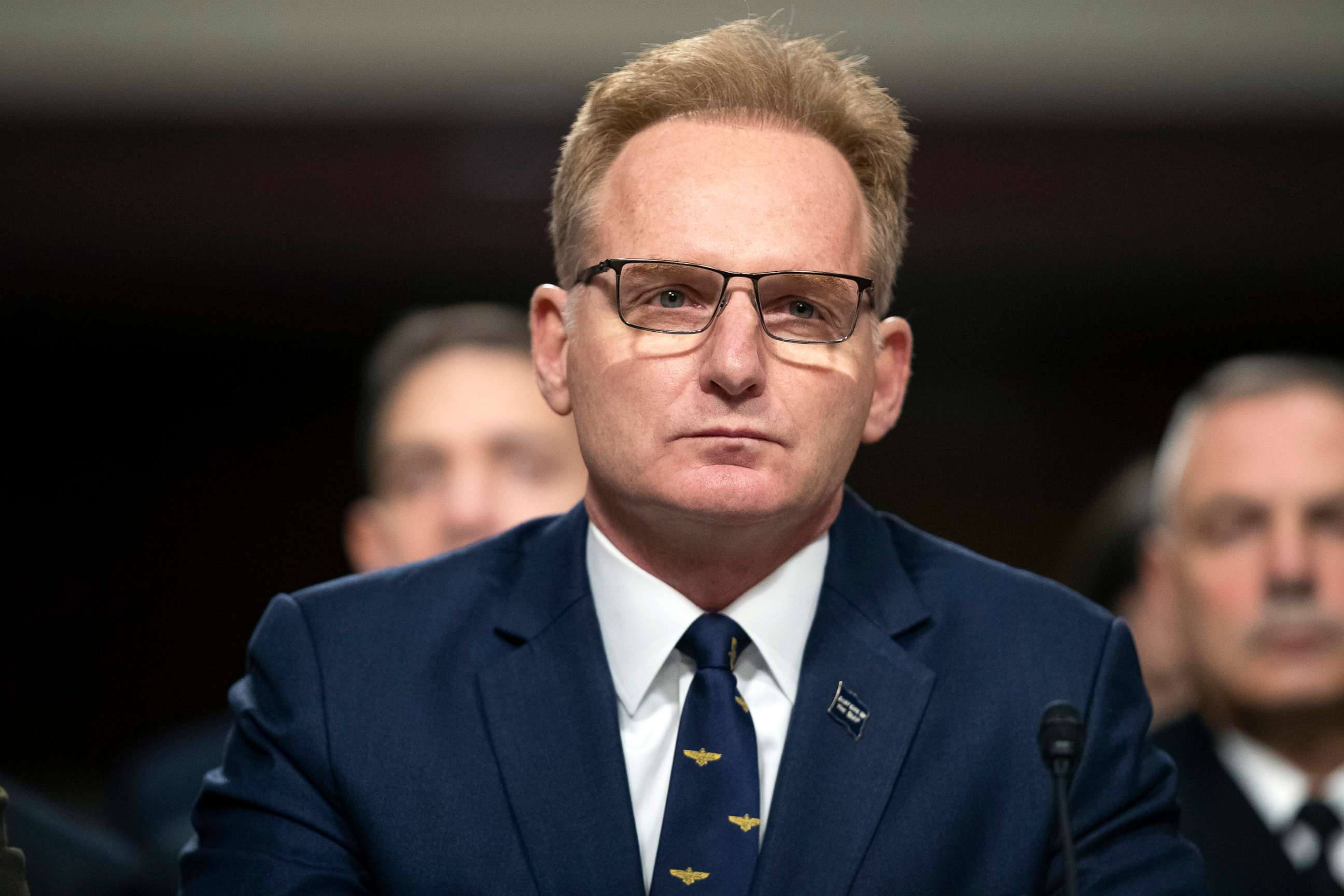 "I want to apologize to the Navy for my recent comments to the crew of the TR," he said in a statement. "Let me be clear, I do not think Captain Brett Crozier is naive nor stupid. I think, and always believed him to be the opposite."
The apology also came after President Trump said in Monday's White House briefing that he was "going to get involved" and look into the incident involving Crozier and his future status.
ABC News' Luis Martinez reports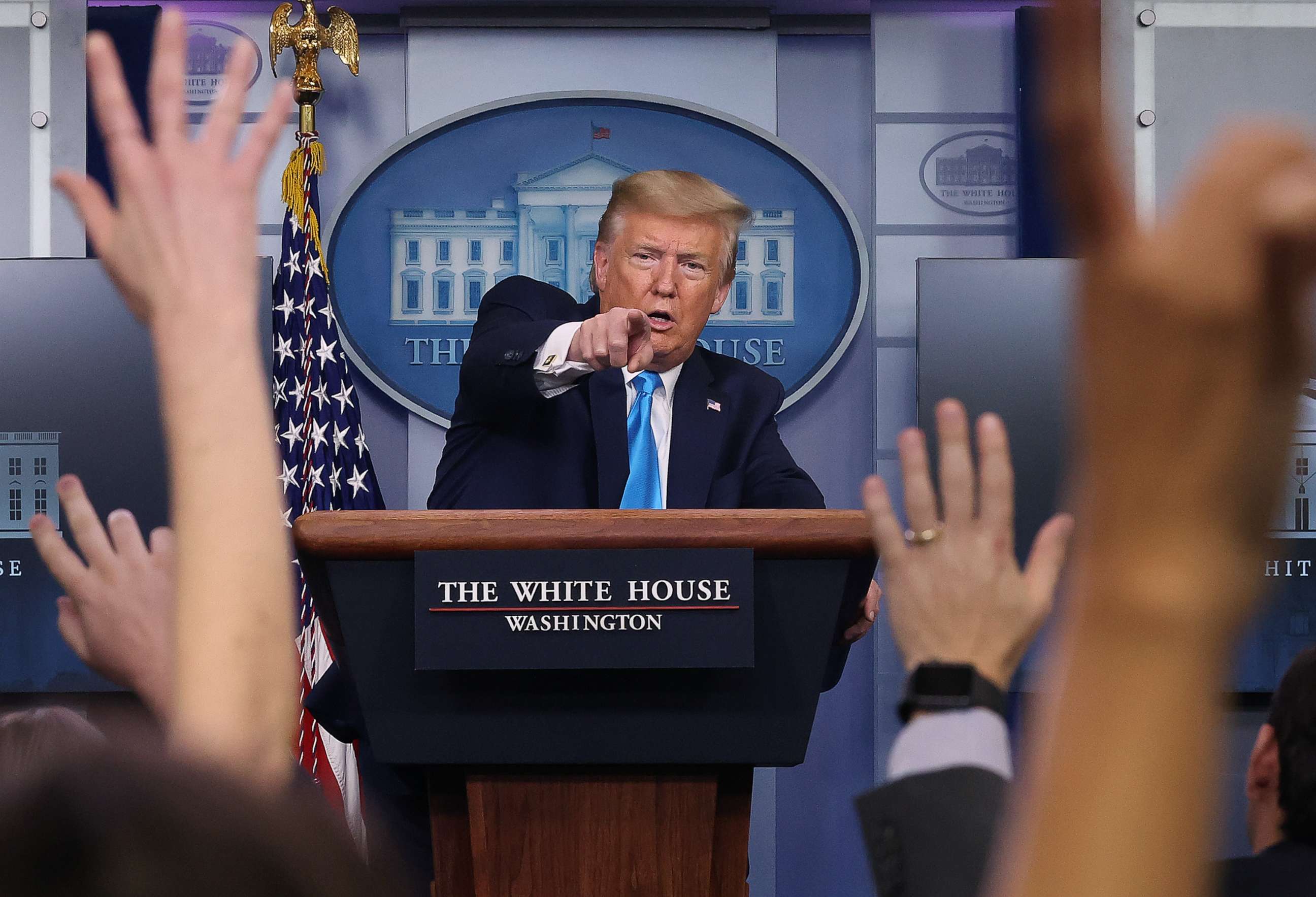 Trump removes IG who was to oversee $2 trillion coronavirus relief package, cites 'reports of bias'
President Trump has removed the lead member of a new panel Congress tasked with overseeing the implementation of the $2 trillion coronavirus relief package signed into law last month.
Glenn Fine, who had served as the acting Department of Defense inspector general since before Trump took office -- and was tapped last week to lead the relief oversight panel -- is being replaced on the committee by Sean O'Donnell, currently the acting inspector general at the Environmental Protection Agency.
The president also nominated Jason Abend, a senior policy adviser at Customs and Border Protection, to be the permanent inspector general at the Defense Department.
"Mr. Fine is no longer on the Pandemic Response Accountability Committee," said Dwerna Allen, a spokesperson for the office of the inspector general at the Pentagon. "Fine reverts to his position as the Principal Deputy Inspector General."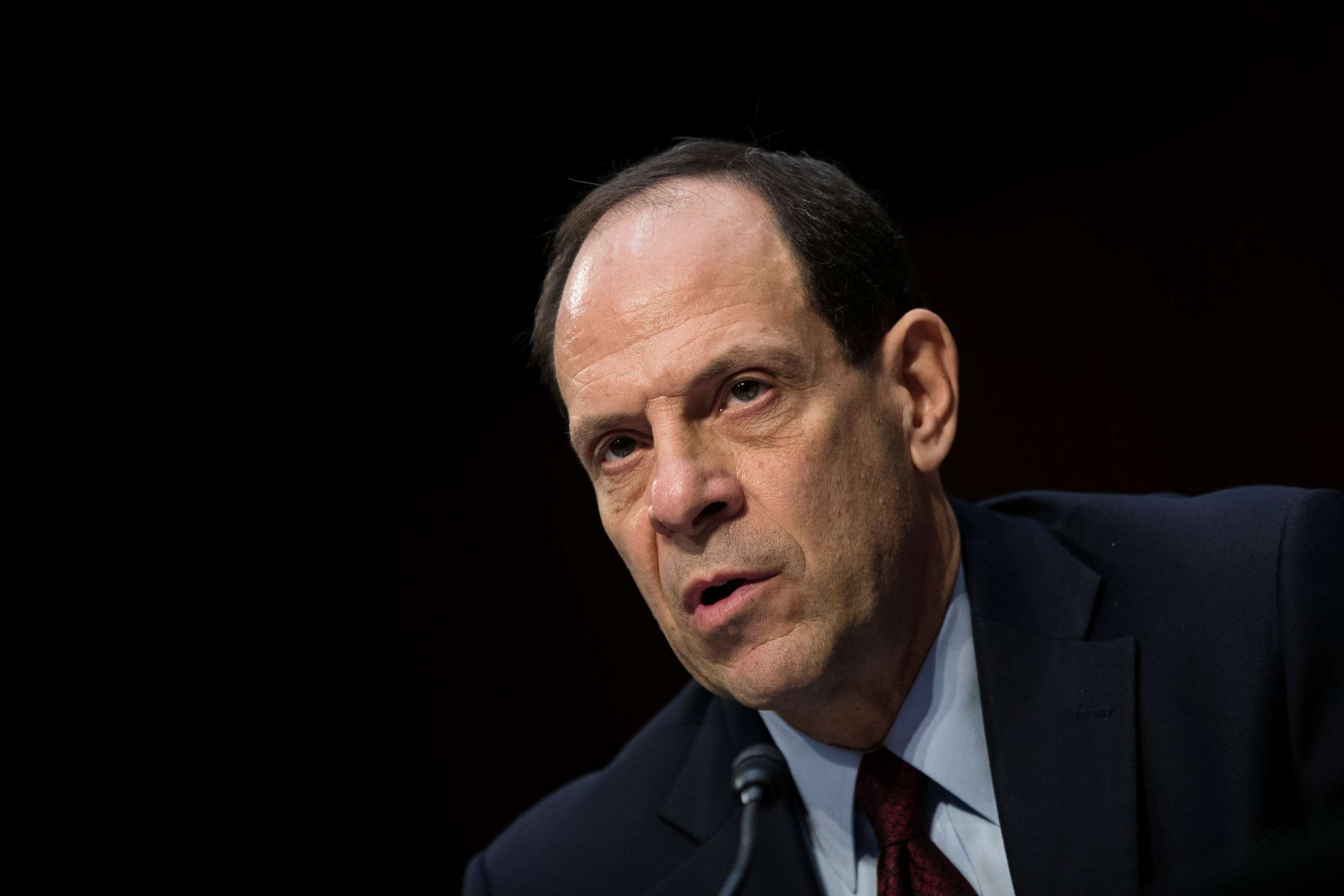 At the White House briefing, Trump defended his decision to remove Fine, saying he was within his rights as the nation's chief executive.
"As you know, it's a presidential decision," Trump said, adding that his administration has "a lot" of inspectors general left over from the Obama administration and that he's "largely" left them in place.
He also claimed that he doesn't even know Fine, has never met him but suggested that reports of bias may have contributed to his decision.
"When we have, you know, reports of bias and when we have different things coming in -- I don't know Fine. I don't know Fine, I don't think I ever met Fine. I heard the name," Trump said.
ABC News' Ben Siegel reports
Mnuchin says administration requesting $250B in additional funding from Congress to replenish small business relief program
A senior administration official confirms to ABC News that the Treasury Department is preparing to request roughly $250 billion to replenish the rapidly-depleting paycheck protection program as early as today.
Treasury Secretary Steve Mnuchin later confirmed the news on Twitter and said he's already spoken to congressional leaders about the imminent request.
The roughly $367 billion small business loan program was founded last month as part of the $2 trillion relief package and designed to help distribute federally-backed loans amid the coronavirus pandemic. The program is still having technical problems, on top of it become increasingly clear this week that the current fund will run out of money.
Small business owners, who desperately need federally-backed loans just to survive, have flooded the program since it began accepting applications Friday.
Sen. Marco Rubio, R-Fla., who co-authored the program, tweeted about the need for more funds Tuesday morning.
Sen. Majority Leader Mitch McConnell later said he will work with his counterparts to get it passed in Thursday's session.
"I will work with Secretary Mnuchin and Leader Schumer and hope to approve further funding for the Paycheck Protection Program by unanimous consent or voice vote during the next scheduled Senate session on Thursday," McConnell said in a statement.
The news was first reported in the Washington Post.
Despite three days of majors complaints with the program -- from banks not meeting the deadline to go live with applications to the Small Business Administration portal experiencing heavy security and traffic issues -- Trump touted it at Monday's coronavirus briefing.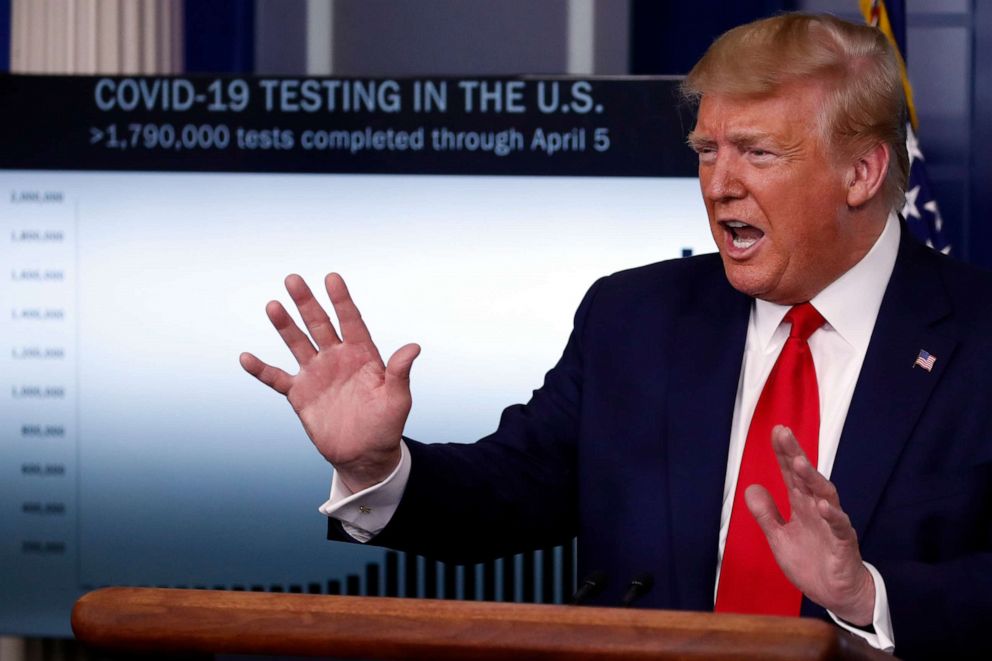 "Couple of little glitches, minor glitches that have already been taken care of," Trump said.
When a reporter noted that Wells Fargo has stopped taking applications, Trump falsely replied, "Not anymore, they haven't."
The president said he would ask Congress to "refill it immediately" if the $367 billion earmarked for the program ran out.
ABC News' Trish Turner and Cheyenne Haslett
Navarro issued dire internal warning of virus in January
President Trump's trade adviser Peter Navarro issued a dire warning in a White House memorandum in late January of the potential for the novel coronavirus to claim a half-million American lives and cost the U.S. economy trillions of dollars, multiple sources familiar with the matter confirmed to ABC News.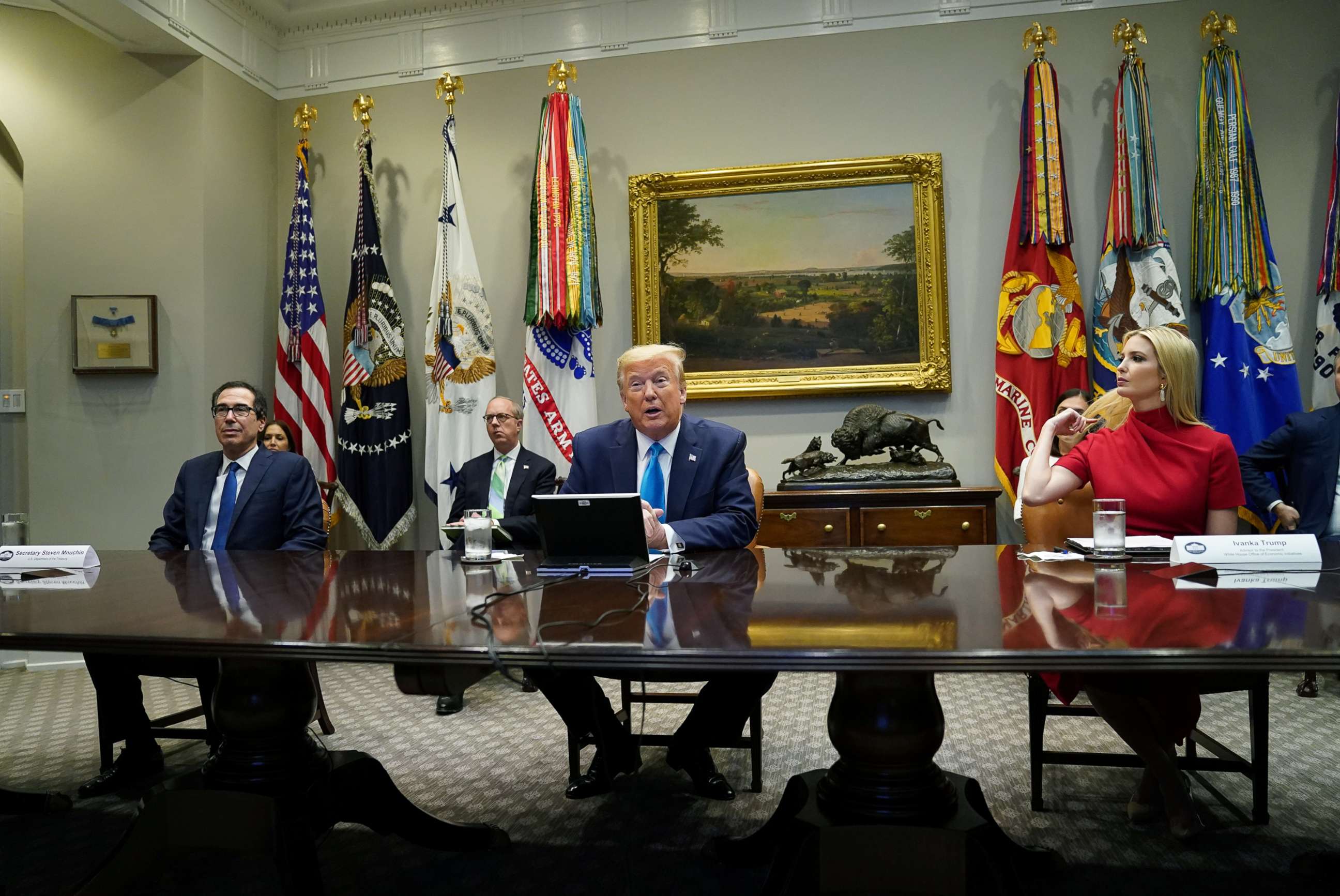 While it wasn't immediately clear whether Trump himself had seen the warning, he said, "I know all about it" when asked at the end of video teleconference call with bankers Tuesday afternoon. "We'll talk about it at the press conference," he said, referring to his daily afternoon briefing on how his administration is dealing with the crisis.
Navarro's warnings grew still more urgent in a second m in February, in which he estimated that as many as one to two million Americans could die and called for taking immediate supplemental appropriations measures.
The existence of the memos, which represent the first high-level warning of the virus circulated within the White House, was first reported by the New York Times.
In his January memo, Navarro made a case for an immediate travel ban on China. Days later, President Trump announced tight restrictions on travel from China.
Even as the president took action to restrict travel from China, President Trump continued to publicly downplay the virus for weeks and has since defended the administration's slow response time.
While the White House has declined to comment on the memorandums, another one of President Trump's top economic advisers, Larry Kudlow, said he had not seen the memos and noted that there are "a lot of voices in the administration."
Surgeon General Jerome Adams also said he had not seen the memorandums but acknowledged that the virus has "humbled many of us" in government.
"I've been in public health for 20 years. We've been saying for decades this is a possible. When you look at SARS, MERS, the situations we've dealt with, many people at all levels just did not expect something like this to happen at this magnitude. There are many lessons learned. This virus humbled many of us. At the federal, state, local level we'll backtrack and try to figure out how to improve going forward," Adams said Tuesday in an interview with NBC News.
ABC News' Jordyn Phelps and Ben Gittleson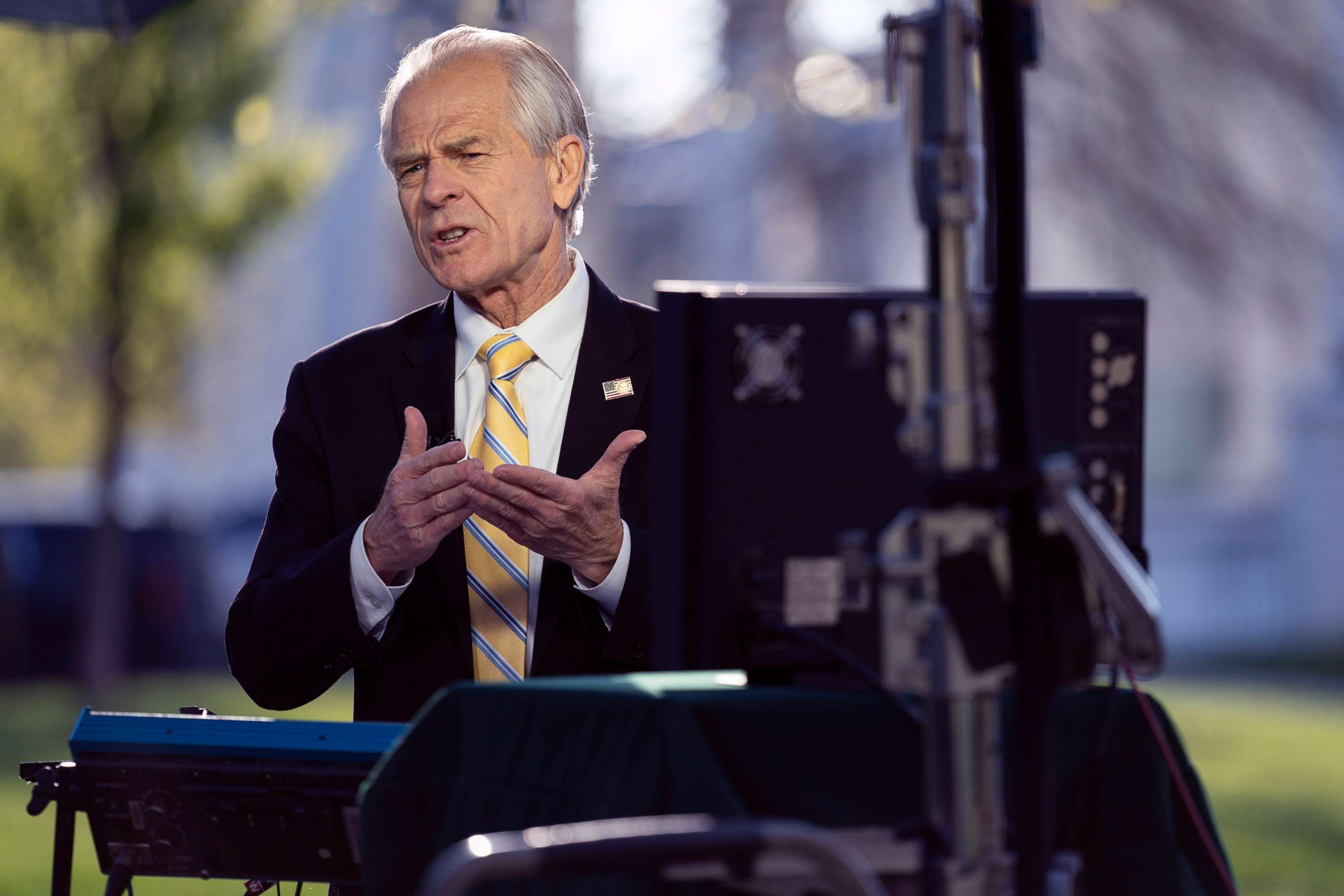 Surgeon general says mitigation is working
Surgeon General Jerome Adams, on ABC's "Good Morning America" this morning, said there's cause for "both" optimism and concern in the days ahead as the nation fights the coronavirus.
While he said it's going to be "a hard and tough week," Adams also said he's encouraged by evidence that some U.S. hot spot locations like Washington and California having seen cases come down, demonstrating that "the American people have the power to change the trajectory of this epidemic if we come together."
"I feel a lot more optimistic again because I'm seeing mitigation work," Adams said Tuesday morning, after earlier warning that this week would be a "Pearl Harbor" or "9/11 moment."
For voters in Wisconsin set to head to the polls, Adams advised that where in-person voting is the only option, people should "please try to maintain six feet of distance between you and the next nearest person" and to "consider wearing a cloth facial covering."
On the lack of a national stay-at-home order, Adams was careful not to break with the president and emphasized that local governments have the real enforcement capabilities and applauded the American people for voluntarily abiding by social distancing practices.
ABC News' Jordyn Phelps
Grisham out as White House press secretary
After less than a year on the job, White House press secretary and communications director Stephanie Grisham is stepping down, according to senior Trump administration officials.
Grisham is returning to the East Wing to start immediately as first lady Melania Trump's chief of staff and spokesperson, her office announced Tuesday.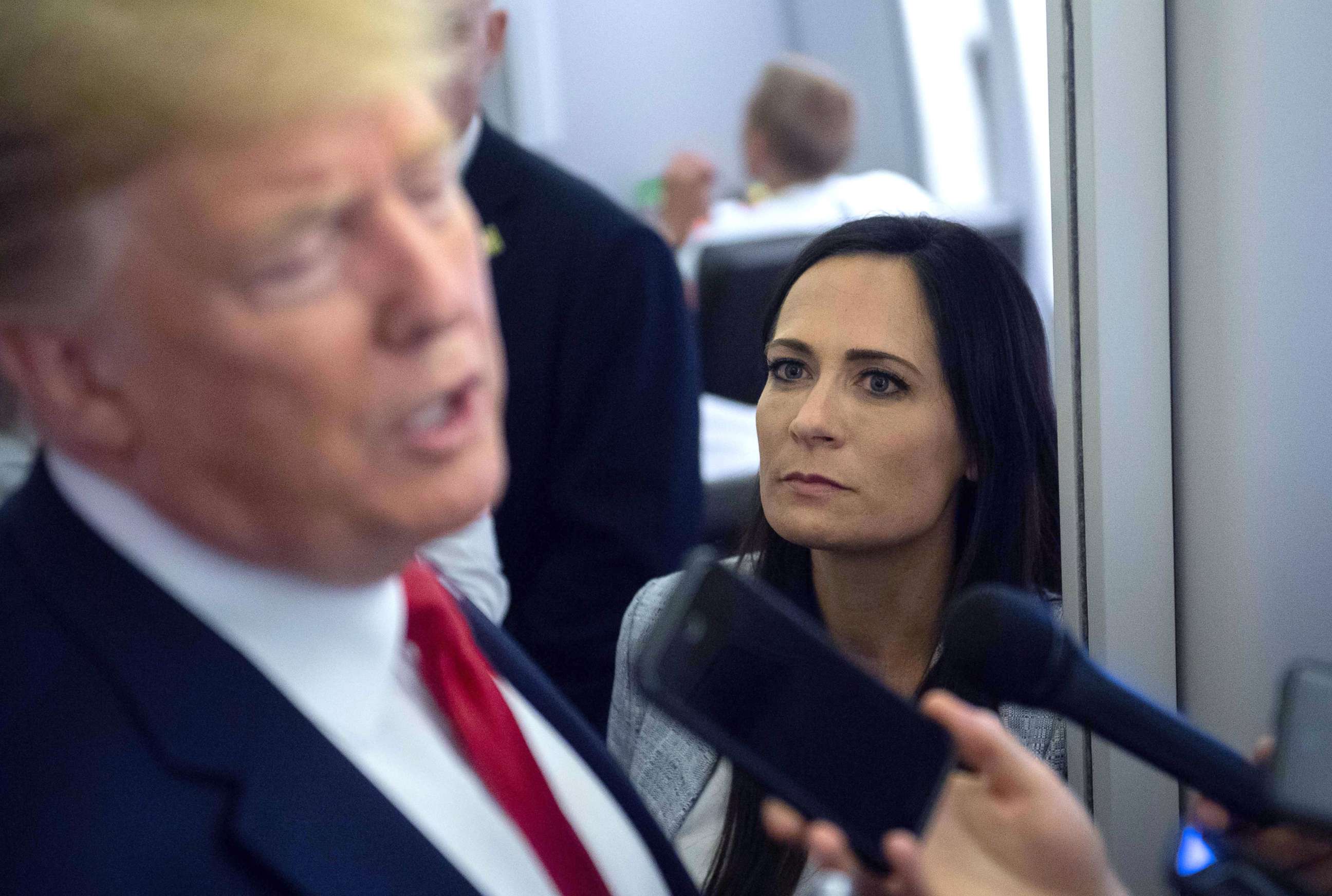 Sources say the president is considering adding to the White House communications team by bringing on Alyssa Farah, the current spokesperson for the Department of Defense and longtime aide to new Chief of Staff Mark Meadows. Trump is also considering having Kayleigh McEnany transition from the re-election campaign to the White House, though no final decisions have been made.
Grisham spent two weeks in self-quarantine in March after coming into contact with a Brazilian official who tested positive for COVID-19, though she later negative for the virus.
She leaves the role without ever having given a press briefing at the podium.
ABC News' John Santucci and Katherine Faulders
White House organizes blood drives for employees as nation faces 'severe blood shortage'
As the United States faces a severe blood shortage, the White House said today it had organized two blood drives for its employees.
Fifty-five staff members of the Executive Office of the President signed up to donate blood today through the American Red Cross, according to a White House official.
The drive was scheduled to take place in the ornate Indian Treaty Room in the Eisenhower Executive Office Building next to the White House, and spots were limited in order to adhere to social distancing guidelines, the official said.
The White House declined to say if any senior officials were participating, citing privacy concerns.
Another drive will take place on April 14 in conjunction with the military's Armed Services Blood Program, the official said.
Surgeon General Jerome Adams has repeatedly urged Americans to donate blood. The American Red Cross said on March 17 that it faced a "severe blood shortage."
Vice President Mike Pence's press secretary, Katie Miller, said Pence wanted to host a blood drive for White House staff in order "to encourage Americans to donate blood and do what they can to help a fellow American in need."
ABC News' Ben Gittleson
What to know about coronavirus: