Former Vice President Dick Cheney's office says he had a "mild heart attack" this week -- his fifth -- but is in stable condition and will be released from the hospital in a couple of days.
"Former Vice President Cheney was admitted to GW Hospital after experiencing chest pain," his office said in a statement. "Lab testing revealed evidence of a mild heart attack. He underwent a stress test and a heart catheterization. He is feeling good and is expected to be discharged in the next day or two."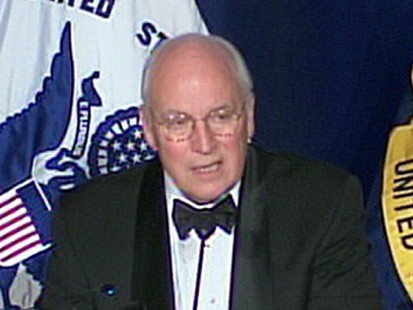 Cheney was busy on the phone today from the hospital. The former vice president spoke to Vice President Joe Biden and former President George W. Bush.
Biden told Cheney to "get better soon," in what an administration official described as a "friendly, personal call."
This week, Bush and Cheney are expected to meet for the first time since they left office.
Bush is going over to Cheney's house for coffee on Thursday and on Friday they will attend a breakfast reunion in Washington sponsored by the Bush-Cheney Alumni Association, the official group of political appointees who worked in the administration.
As of now, there is no indication it will be cancelled due to Cheney's health issue.
Hundreds of former staffers from around the country are expected to attend the event where Bush and Cheney will speak.
Cheney was admitted to the hospital Monday after complaining of chest pains. He stayed overnight while a series of tests were conducted.
Cheney has a long history of heart problems. His first heart attack came in 1978 when he was just 37 years old and the most recent in November 2000 after he and former President George W. Bush were elected to the White House. In 2001, Cheney had a pacemaker installed into his chest and last September he underwent elective back surgery to treat lumbar spinal stenosis.
Dick Cheney Hospitalized Monday
The news of Cheney's hospitalization first broke because his daughter, Liz Cheney, cancelled a scheduled appearance at the Lincoln Day Republican dinner in Schaumburg, Ill. Monday.
Liz Cheney was to be the keynote speaker at the fundraiser organized for the Republican committees of Barrington, Elk Grove, Hanover, Palatine, Schaumburg and Wheeling townships.
An Illinois Republican involved with the planning of the event said that he spoke to an aide to Liz Cheney Monday morning.
The aide informed this official that Liz Cheney would not be able to attend the event because she was in Washington and at the hospital with her father.