Former first lady Rosalynn Carter diagnosed with dementia, Carter Center announces
She is 95.
Former first lady Rosalynn Carter has been diagnosed with dementia, The Carter Center announced on Tuesday.
"She continues to live happily at home with her husband, enjoying spring in Plains [in Georgia] and visits with loved ones," The Carter Center said in a statement.
The Carter Center pointed to the first lady's advocacy for mental health and said it was making the announcement to decrease stigma.
"We recognize, as she did more than half a century ago, that stigma is often a barrier that keeps individuals and their families from seeking and getting much-needed support," the statement continued. "We hope sharing our family's news will increase important conversations at kitchen tables and in doctor's offices around the country."
Rosalynn Carter has long been outspoken about the importance of lifting up caregivers as well, telling a Senate committee in 2011: "Our nation is in need of a fundamental shift in how it values and recognizes caregivers especially in view of the rapidly escalating number of older adults, many of whom live with chronic illness and disabilities."
"As the founder of the Rosalynn Carter Institute for Caregivers, Mrs. Carter often noted that there are only four kinds of people in this world: those who have been caregivers; those who are currently caregivers, those who will be caregivers, and those who will need caregivers," The Carter Center said on Tuesday. "The universality of caregiving is clear in our family, and we are experiencing the joy and the challenges of this journey."
Later Tuesday, White House press secretary Karine Jean-Pierre reacted to news of Rosalynn Carter's condition.
"The Bidens have stayed in touch with President Carter's team to ensure that their family knows that they are certainly in the president and the first lady's thoughts," she said.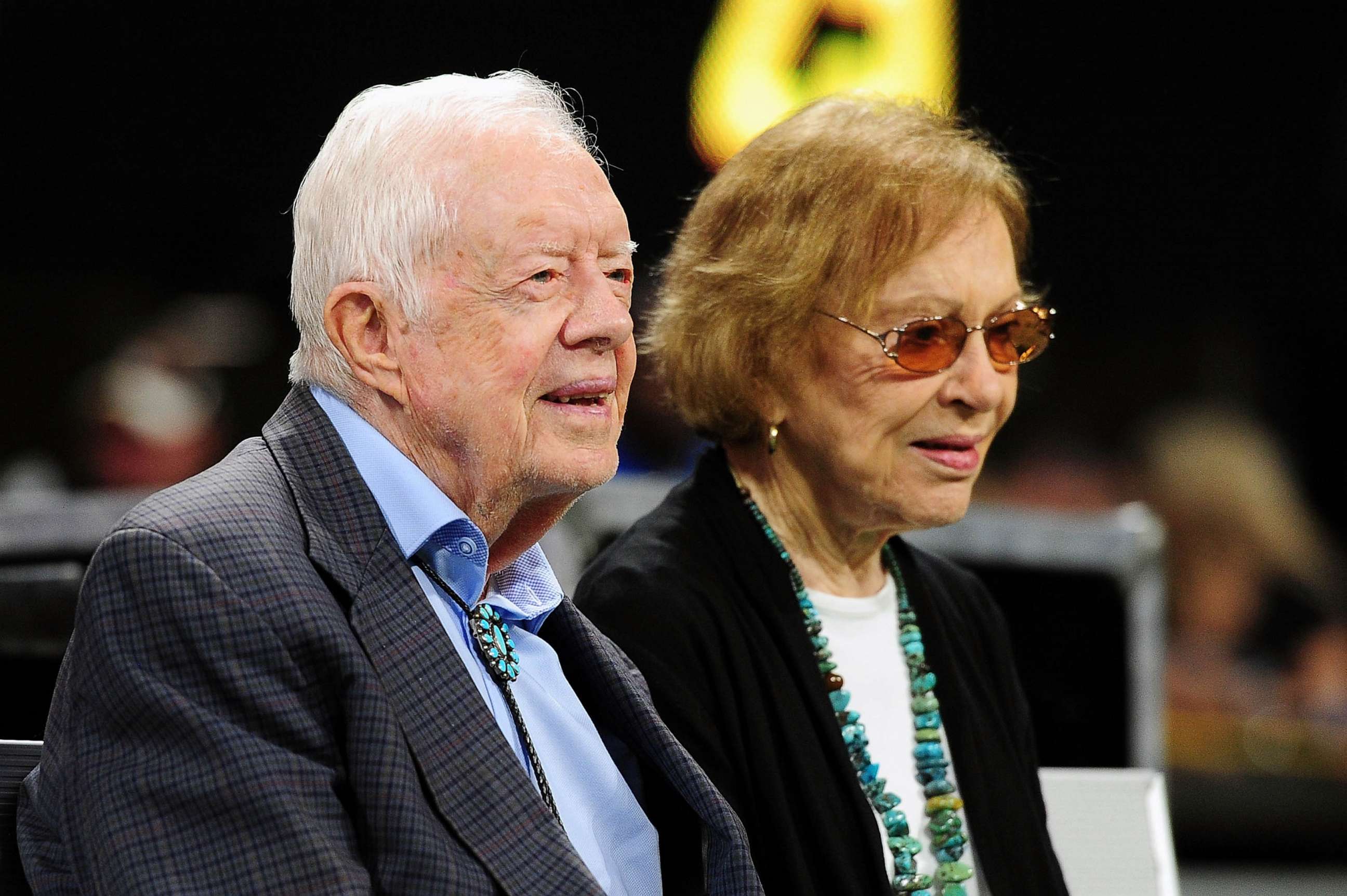 Former President Jimmy Carter has himself been receiving hospice care since February following a series of hospitalizations.
"The Carters are living the life they want to live at this time in their 90s. They're together ... and they are continuing to teach us these life lessons of how to age gracefully," Carter Center CEO Paige Alexander told ABC News.
ABC's Steve Osunsami reported on "Good Morning America" that, according to the Carter family, the former president and first lady are "sitting outside, enjoying what time they have together and taking visitors."
The Carters are the longest-ever married presidential couple, having wed in 1946. At 98, Jimmy Carter is the oldest living former president and the longest-lived former president in U.S. history.
He and Rosalynn Carter, 95, founded The Carter Center in Georgia in 1982, shortly after Jimmy Carter lost reelection to Ronald Reagan.
In the decades since, The Carter Center has become a noted international humanitarian force, focused on public health and human rights, among other efforts. The Carters have also become well-known for their long association building houses with Habitat for Humanity.
ABC News' Janice McDonald and Molly Nagle contributed to this report.