Hillary Clinton's Medical Incident Raises Questions of Who Knew What When
It was revealed she was diagnosed with pneumonia last week.
September 12, 2016, 2:32 PM
— -- New scrutiny is being applied to Hillary Clinton's health in the wake of the incident at Sunday's 9/11 memorial ceremony, which she left after feeling "overheated."
Clinton is at home resting in New York today in keeping with doctor's orders, according to her campaign. But the incident has raised questions about the campaign's transparency.
Clinton previously released some medical records, which are more detailed than medical documentation provided by Donald Trump, but even top Democrats are piling on, questioning an apparent reluctance to keep the public apprised.
President Barack Obama's campaign strategist David Axelrod tweeted a criticism this morning of the campaign. "Antibiotics can take care of pneumonia. What's the cure for an unhealthy penchant for privacy that repeatedly creates unnecessary problems?" he said.
Clinton's campaign communications director, Jennifer Palmieri, responded with two tweets. "We could have done better yesterday, but it is a fact that public knows more about HRC than any nominee in history," Palmieri said in one tweet. In another, she wrote, "In contrast to HRC, Trump has been less transparent than any nominee in modern history."
Here's a rundown of the disclosures — or lack thereof — made by her staff related to her health and well-being in the past week.
Monday, Sept. 5, Labor Day
Clinton had a coughing fit while campaigning in Cleveland, and she made a joke about how it was a reaction to Donald Trump.
"Every time I think of Trump, I get allergic," she said between coughs.
Clinton and her aides attributed the cough to seasonal allergies. She told reporters she "upped my antihistamine" and was doing "better."
Friday, Sept. 9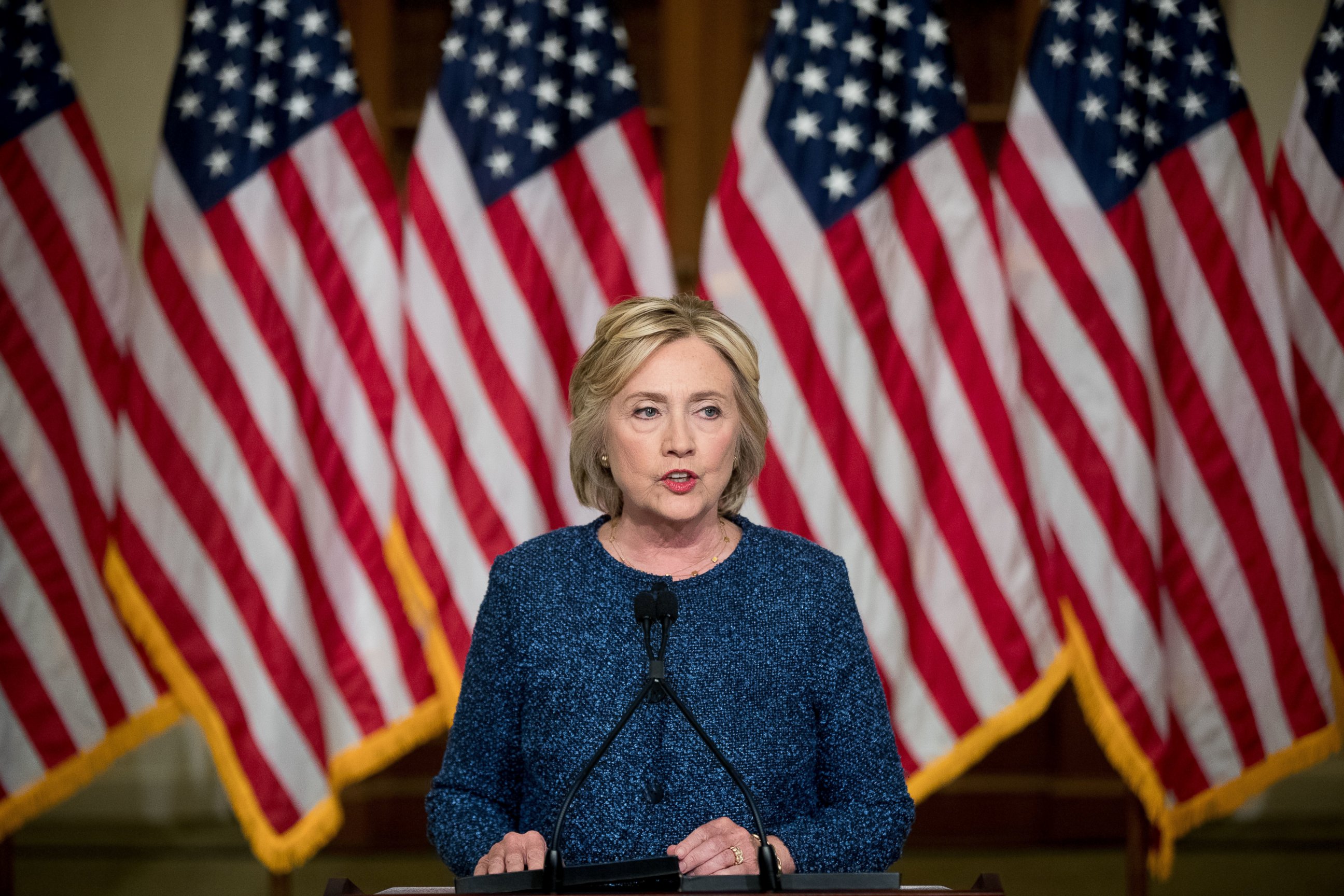 It wasn't announced at the time, but Clinton was evaluated by her doctor "during [a] follow-up evaluation of her prolonged cough" and was diagnosed with pneumonia, Clinton's doctor said in a statement on late Sunday afternoon.
As a result, she was put on antibiotics and "advised to rest and modify her schedule," according to the doctor's statement. Publicly, no announcements were made by her campaign on Friday about the evaluation, the antibiotic prescription or any changes to her schedule.
Today, Clinton campaign spokesman Brian Fallon told CNN that "senior staff was aware on Friday" that she had been diagnosed with pneumonia.
She held a meeting with a bipartisan group of national security experts and then held a news conference, where she spoke more softly than she has at her other news conferences.
Sunday, Sept. 11
8:20 a.m.Clinton arrived at ground zero for the 9/11 memorial service and reading of victims' names at about 8:20, minutes after Donald Trump arrived.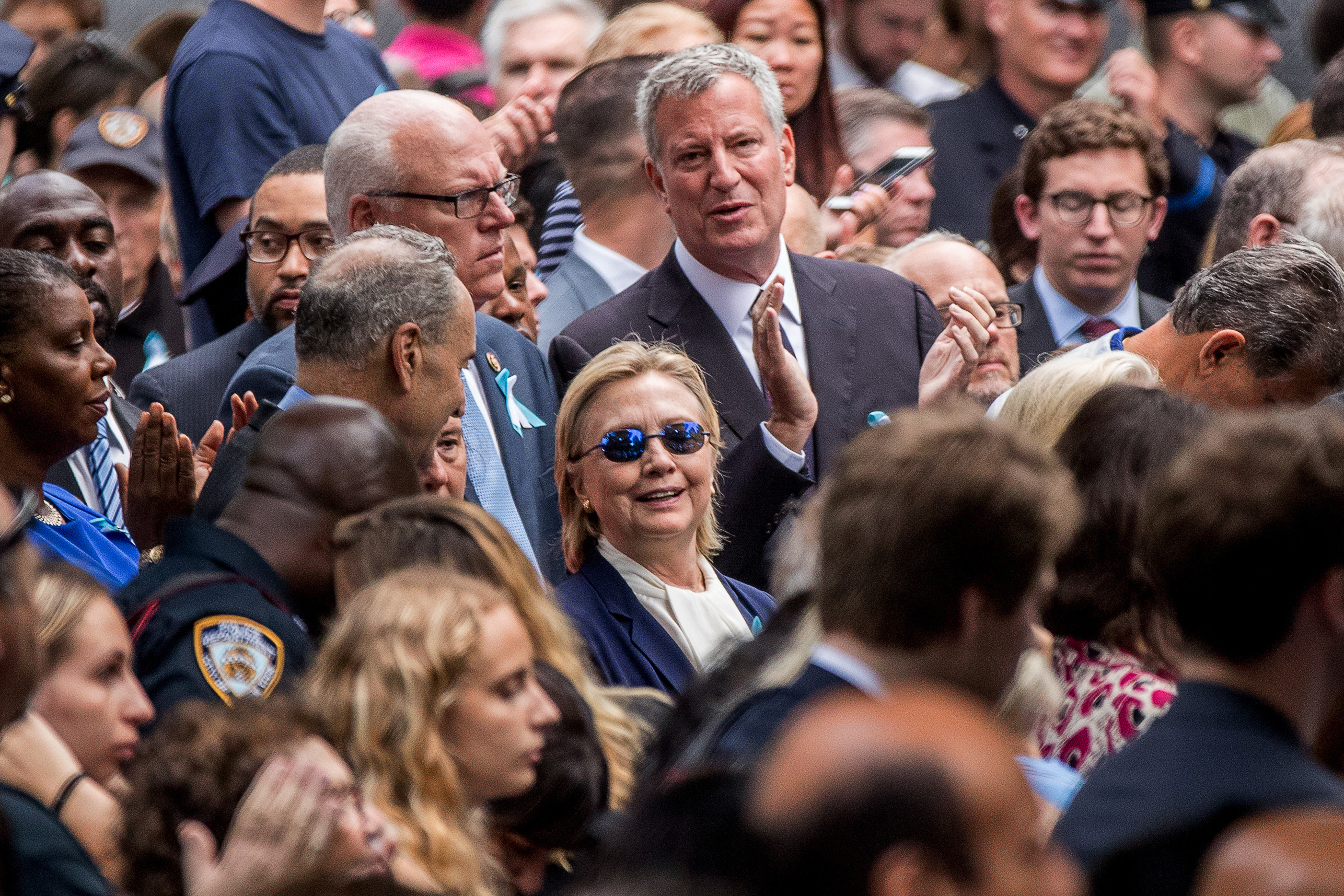 9:23 a.m.The pool reporter — a member of a rotating group of journalists assigned to stay with presidential candidates at all times during their public schedules — was kept in an area out of sight of Clinton. As a result, the reporter could not clearly see Clinton leave, but others saw her leave the area around 9:23 a.m.
She was seen getting in her "Scooby" van by a bystander, who shot video of her being helped into the vehicle.
Her whereabouts were unknown for about an hour after that. Her aides did not respond to requests for comment during this time.
11:03 a.m.Clinton campaign spokesman Nick Merrill said in a statement that she attended the 9/11 service "for just an hour and 30 minutes this morning to pay her respects," though that number appears inflated, if her 9:23 reported departure is accurate.
"During the ceremony, she felt overheated, so departed to go to her daughter's apartment and is feeling much better," Merrill added.
No additional information was provided at that point.
11:47 a.m.Hillary Clinton was seen leaving the apartment of her daughter, Chelsea Clinton, in Manhattan's Flatiron neighborhood. When asked what happened, Hillary Clinton told reporters, "I'm feeling great. It's a beautiful day in New York." She hugged a little girl who ran up to her on the street, then Clinton got in her "Scooby" van and was driven away.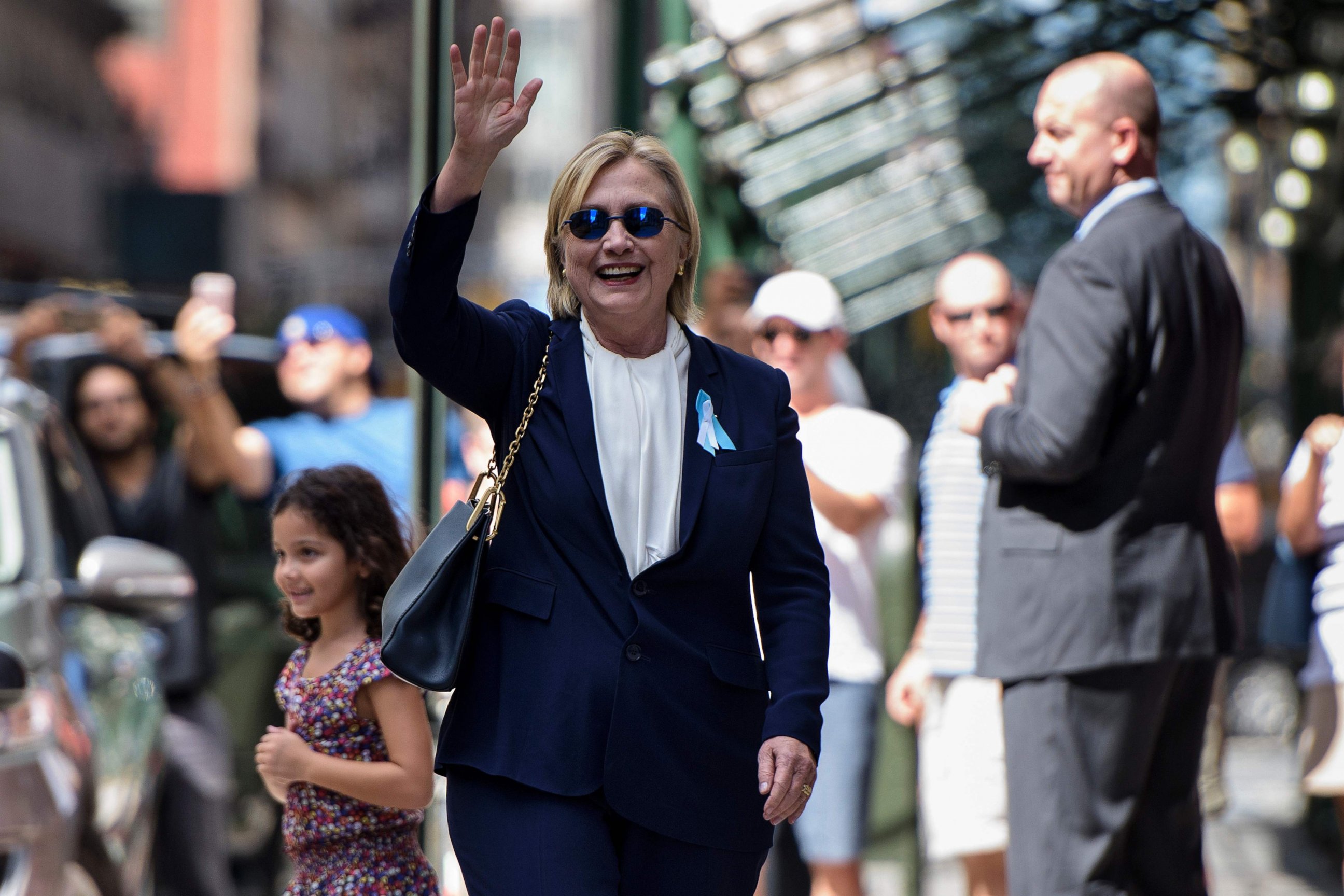 1:13 p.m. Clinton's motorcade arrived back at her home in Chappaqua, New York. The campaign did not say whether she made any stops along the way.
5:16 p.m.Clinton's longtime doctor, Lisa Bardack, released a statement saying Clinton was diagnosed with pneumonia on Friday after an examination for her "prolonged cough," which last week the campaign attributed to allergies.
Bardack — who an aide said examined Clinton on Sunday afternoon at the candidate's home — said Clinton was put on antibiotics and was advised to rest and modify her schedule.
The doctor said that at the morning's incident, Clinton "became overheated and dehydrated" and that "she is now rehydrated and recovering nicely."
Late that eveningThe Clinton campaign confirmed that she would not be traveling to California as previously scheduled and that she is scheduled to stay at home.
She had been slated to attend a closed fundraiser in San Francisco today, and that event is supposed to proceed as scheduled, with Clinton making an appearance via teleconference.
There are several events that are scheduled in Los Angeles for Clinton; their fate has not yet been announced.
Monday, Sept. 12
Fallon told CNN that Clinton "is not contagious" and the campaign plans to release more medical records.
He said that the campaign is meeting with her doctor today and that the release could be as soon as today or sometime this week.
ABC News' Josh Haskell contributed to this report.