— -- Texas Gov. Greg Abbott said flooding in Houston from Tropical Storm Harvey may be the worst the city has ever seen.
"Houston is an area that is prone to flood at least once a year," Abbott told ABC News Chief Anchor George Stephanopoulos on "This Week" Sunday, "but this is one of the worst, if not the worst that Houston has suffered."
Gulf Coast residents struggle to recover after Hurricane Harvey
Members of First Baptist Church of Loeb chain saw pews and clean up the church on U.S. 69 that had eight feet of water in it due to Hurricane Harvey flooding in Lumberton, Texas, Sept. 7, 2017.

undefined
Harvey, which hit the Texas coast Friday night as a Category 4 hurricane with 130 mph winds and has since been downgraded to a tropical storm, has so far left at least two people dead. The storm is lingering over the Houston area, causing severe flooding that is expected to grow worse over the next few days, with a total of up to about three feet in rain possible through Wednesday.
Abbott said he appreciates the federal government's help in responding to Harvey.
"We could not be more appreciative of what the federal government has done, from the president on down," Abbott, a Republican, told Stephanopoulos.
President Trump granted Governor Abbott's request for a disaster proclamation on Friday, activating response from the Federal Emergency Management Agency for relief to the state.
"FEMA has been very active, involved, and engaged in this whole process long before the hurricane even hit ground," said Abbott. "Because of their assistance it means that Texas will be able to begin the rebuilding process very swiftly."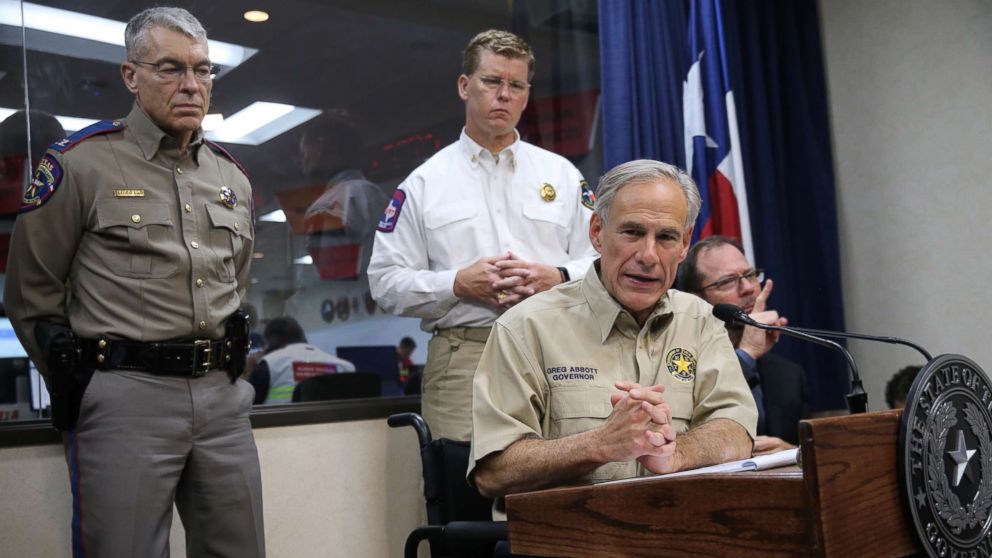 Asked by Stephanopoulos if it makes sense for the president to visit Texas this week, or if it will divert resources from the relief effort, Abbott said, "it depends on where he goes."
"We are already involved in the cleanup process in Corpus Christi, if the president were to visit there it wouldn't hinder any efforts. We'll just have to wait and see where the storm goes, understanding that this entire storm has been very unpredictable in its movement, and I couldn't tell you right now where it will be in two days," he said.
The president tweeted Sunday morning that he will visit Texas once he can do so without disrupting emergency response efforts.
The White House point man on the storm, Homeland Security Adviser Tom Bossert echoed the president's tweet in a separate interview on "This Week" Sunday saying that Trump "doesn't want to get in the way" of relief efforts.
"We'll go where we can without getting in the way of the operators," said Bossert. "We certainly won't go in a place where we would prevent lifesaving activities from taking place. The president wants to go to show support. He doesn't want to go to get in the way."