The politics in President Obama's home state of Illinois are once again in the spotlight for a scandal that seems ripped from the pages of a Hollywood script.
The Democratic candidate for lieutenant governor, Scott Lee Cohen, is butting heads with his fellow party members who are calling on him to resign amid reports that Cohen was arrested five years ago for allegedly assaulting his girlfriend.
Cohen, who won the Democratic primary by 26 percentage points Tuesday, is standing steadfast despite the controversy.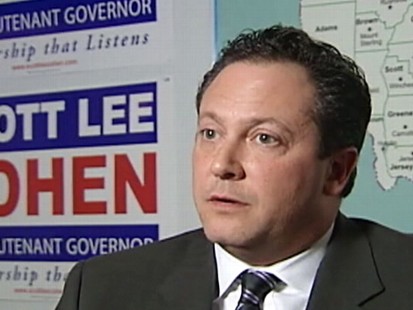 "I will not resign, I will not step down, I have done nothing wrong," Cohen said.
Cohen is a pawnbroker and owner of a cleaning supply business who was arrested and charged in 2005 for domestic battery. Cohen was accused of pushing his girlfriend's head against the wall and holding a knife against her throat, but the charges were dropped after she failed to appear in court on the date of the hearing.
The candidate has admitted that he was not at his best in 2005 and was involved with the wrong crowd, but he has denied any other wrongdoing.
It "was a difficult time in my life," Cohen said in a written statement. "I was going through a divorce, and I started running with a fast group. I was in a tumultuous relationship with the woman I was dating. We had a fight, but I never touched her."
Cohen's girlfriend, The Associated Press reported, had been arrested for prostitution. Cohen said he was not aware of that charge against her, and that he still does not believe she was a prostitute.
Cohen's ex-wife, Debra York-Cohen, has accused her former husband of forced sexual attempts, infidelity and steroid use. She even sought an order of protection against him.
But in an interview Thursday, she stood by the candidate's side and said that while all her previous accusations were true, he never physically abused her or the woman he started dating after they split up.
"At the time, he was going through a different phase," she said. "He was a different person than he is now."
Cohen, a relative newcomer to politics, surprised many when he beat four state lawmakers to win the Democratic primary. He now faces a tough fight against 27-year-old GOP candidate Jason Plummer.
Cohen, who paid for much of the campaign out of his own pocket, denied that he ever covered up the charges, saying that he "wanted to talk about all of these issues, but everyone wrote me off, and said I didn't have a chance to win."
With Democrats preparing for an uphill battle in this year's mid-term elections in Illinois and across the country, many fear Cohen could become a distraction for the party and its agenda.
Scott Lee Cohen a Distraction for Democrats?
"I just think the Democrats don't need anymore bad news and this is just a headache that they don't need to deal with," said Nathan Gonzales, political editor at the non-partisan Rothenberg Political Report.
Cohen is unwilling to bow down from his candidacy despite calls from some of his party members to do so.
"I will not resign. I will not step down," Cohen said in an interview with "Chicago Tonight" Thursday. "If the people of Illinois decided they don't want me as their lieutenant governor, I would consider it at that point."
In Illinois, residents vote separately for the nominees for lieutenant governor and governor, which means that Gov. Pat Quinn will now be running on the same ticket as Cohen, whether he likes it or not.
Quinn did not endorse Cohen in the primary and has called on his running mate to step aside if he cannot resolve the controversy.
"The governor has called on Mr. Cohen to do what's best not only for the ticket, not only for the Democratic Party but for the state of Illinois," said Elizabeth Austin, communications director for Quinn's gubernatorial campaign. "We are on the brink of financial disaster of unprecedented proportions. It is critically important that the elected leaders on both sides of the aisle work together with a sense of urgency to preserve education, health care assistance to seniors, to people with disabilities."
Quinn faces a tough re-election himself for the seat he occupied after Gov. Rod Blagojevich was ousted.
"I think voters have really begun to focus in on the Democratic side and ask themselves, is it really enough not just to be Rod Blagojevich," Chicago Tribune's veteran political reporter Rick Pearson said on "Top Line" Monday.
Rothenberg's Gonzales said the Cohen saga is unlikely to impact Quinn but the governor has to walk a fine line until the election.
"I think Quinn was already in a competitive race on his own," he said. "He can't afford to make mistakes and the party in general can't afford to make mistakes. If we are still talking about Cohen in October, Democrats are going to have a real problem."
Quinn's campaign said it expects the issue to be resolved soon.
"We believe that this will be resolved long before the November election," Austin said.
The state controversy has already trickled into the national limelight, and could worsen the perception of Illinois politics or "Chicago-style" politics that Republicans have assailed. But it's unclear whether it will have any impact on the Democrats' national agenda or the November elections.
"I don't think that it's going to have an electoral impact outside of Illinois in November," Gonzales said. "I think that this election is going to be about broader themes on economy [and] direction of the country."