John Kasich Becomes the 16th GOP Candidate for President
The Ohio governor enters as an underdog in the crowded Republican field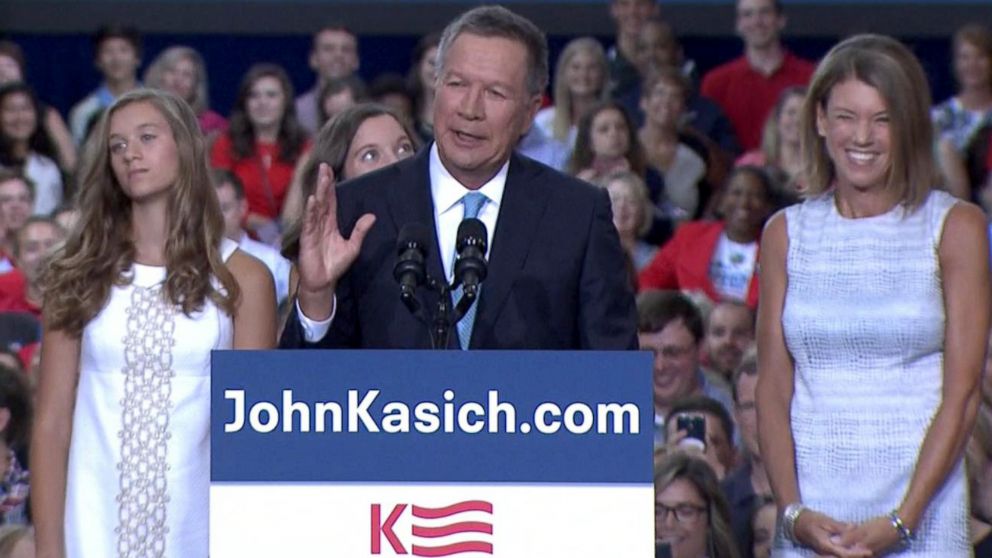 — -- Nearing its final tally, the field of Republican presidential candidates now stands at 16.
Ohio Gov. John Kasich entered the race Tuesday at his alma mater, Ohio State University, telling the crowd he may not raise as much money as the GOP frontrunners, but he'll run a campaign of "big ideas."
"It's the challenges that make you better. I have lived through them, and I have become stronger for them, and American has become stronger for them," Kasich said.
ABC/Post Poll: Trump gains yet shows vulnerability
Scott Walker Confronted by Undocumented Worker
A social conservative known for his brusque personality, Kasich has enjoyed a long career in public service, winning election to the U.S. House of Representatives in 1982 and eventually serving as chairman of the Budget Committee from 1995 to 2000. He left Congress to run unsuccessfully for president in 2000; 10 years later, he took office as governor of Ohio in 2011.
Bucking the trend of other Republican governors, some of them running for president in 2016, Kasich expanded Medicaid in his state under the Affordable Care Act. Kasich has argued forcefully that, with Obamacare passed and federal money on the table, it would have been wrong to deny Ohioans the expanded coverage.
Kasich enters the 2016 race as an underdog fighting against a crowded field. In the latest ABC News/Washington Post poll, which found Donald Trump leading the GOP field by a healthy margin, Kasich came in at two percent -- tied for 11th in the race.
That comports with his ranking in other major national polls, meaning Kasich is on the cusp of Fox's cutoff for the first nationally televised debate between GOP presidential candidates on Aug. 6, where the top 10 candidates in an average of the five latest national polls will be invited onstage.