Join the Debate: Send Your Questions for the Colorado Candidates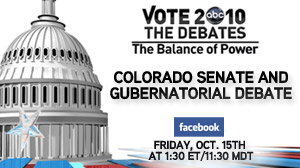 On Friday, October 15th,
Jake Tapper
will be joining ABC's Denver affiliate (
KMGH-TV
) and the Denver Metro Chamber of Commerce in co-moderating a debate between Senate candidates Michael Bennet (D) and Ken Buck (R), as well as a debate between gubernatorial candidates John Hickenlooper (D), Dan Maes (R), and Tom Tancredo (ACP). The debates will begin at 11:30 am MT and will be streamed live online at
ABCNews.com
and
Facebook.com/abcnews
. A one-hour special on the Senate debate will air on Sunday, October 17, at 9am MT on 7News following "This Week with Christiane Amanpour."
What issues surrounding the Colorado 2010 races are on your mind? Join the discussion and send Jake your questions for the candidates. A producer may also contact you to send a video message or question.
Please indicate whether your question is for the Senate or gubernatorial candidates.