It's been a tough week for Sen. Mary Landrieu.
If it wasn't bad enough that the three-term Louisiana Democrat was already considered one of the most vulnerable Democrats in the 2014 midterms -- whose seat could determine control of the Senate -- this week, Landrieu's re-election bid was rocked by turbulence over a private jet scandal and the announcement that her leading opponent now has more money to spend in the campaign.
The campaign of her GOP challenger, Rep. Bill Cassidy, announced Thursday that he had pulled ahead of Landrieu with $5.6 million cash on hand, according to new FEC filing posted for Landrieu and Cassidy. That's compared to Landrieu's $5.5 million.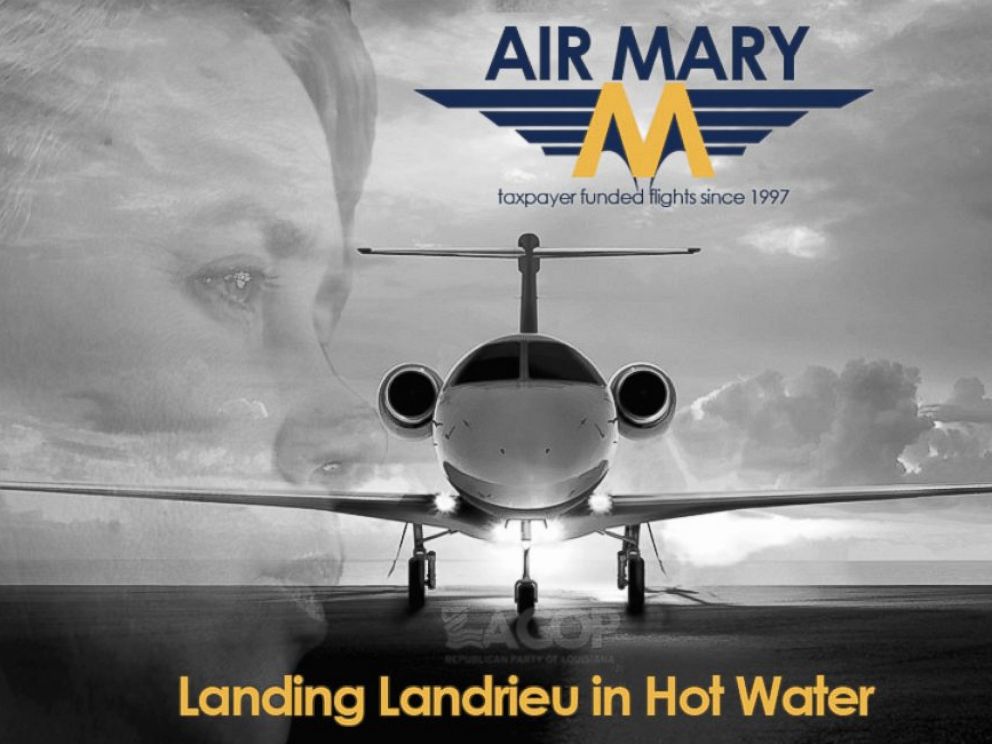 It's a small lead of only about $100,000, but a significant one for Cassidy. This is the first time he has managed to outdo Landrieu's deep fundraising pockets, and his campaign celebrated the achievement.
"We are incredibly excited about the state of our campaign," Cassidy campaign spokesman John Cummins said in a statement Thursday. "Dr. Cassidy's message of common-sense conservative reform is resonating. That's why he has proven one of the most prolific fundraisers of this cycle and is the only Senate challenger in the country with more cash on hand than the incumbent."
But the Landrieu campaign countered that Cassidy's cash on hand number is "inflated" by the inclusion of $400,000 that could only be used after Nov. 4 in the event that no one candidate receives more than 50 percent of the vote, in which case the two candidates with the largest number of votes would proceed to a runoff.
"We have always had the funds necessary to run the campaign we planned and will raise all the money we'll need to get out the message that Mary is fighting for Louisianans in the Senate," Landrieu campaign communications director Fabien Levy said in a statement. "Congressman Cassidy has chosen to inflate his fundraising numbers by including nearly $400,000 in runoff contributions that will be sitting in the bank when Sen. Landrieu wins this election on Nov. 4."
Mary Landrieu Takes Heat for Spending Public Money on Private Flight
'Hardheaded' Sen. Mary Landrieu and Dad Team Up for Cute Campaign Ad
Mary Landrieu Criticized for Re-Enacting Congressional Hearing in New Ad
Cassidy's cash announcement was just the final straw in Landrieu's terrible, horrible, no good, very bad week.
Things started to get bumpy on Tuesday when a CNN report alleged that Landrieu had used taxpayer funds to pay for a charter flight to attend a campaign fundraiser. Landrieu spent $3,200 on a round-trip flight from New Orleans to Lake Charles, Louisiana, where she attended a $40-per-person fundraiser with women supporters Nov. 8. The flight should have been paid for by Landrieu's campaign but was instead reportedly paid for by her Senate office, which is a violation of federal law.
The report came on the heels of a USA Today report a week earlier that said Landrieu was among one of the Senate's biggest spenders in chartering flights for official Senate business, racking up a $47,000 tab in 2013.
Landrieu campaign communications director Fabien Levy told ABC News it was a mistake that taxpayer dollars were used to pay for the flight to Lake Charles and that the campaign took action "immediately" to correct the error when it was first discovered by her office on July 29.
"We take our finances very seriously and are glad we caught the vendor's mistake and were able to rectify the matter as soon as possible," Levy said in a statement to ABC News on Wednesday.
Though the Landrieu campaign had already corrected the error, which it blamed on the charter company, Landrieu's opponents cried foul.
"Sen. Landrieu's disregard and abuse of taxpayer money is unacceptable and, reportedly, illegal," Rep. Cassidy said in a statement. "She should return all the taxpayer money she has spent on charter flights, open up her travel logs for further review to ensure there are not more violations, and apologize to American taxpayers immediately."
Candidate Col. Rob Maness, the tea party favorite in the race, suggested that the $3,200 flight was just the tip of the iceberg.
"In recent weeks, a disturbing pattern-of-behavior has been exposed revealing Sen. Mary Landrieu's constant abuse of taxpayer dollars," Maness said in a statement.
Then, the conservative America Rising PAC managed to squeeze a little extra play out of the media maelstrom that formed Wednesday with the rapid release of a Web video "Mary Landrieu, Louisiana's Frequent Flier," that mashed up sound bites on the story from local news reports.
Just as it seemed the story might die with the 24-hour news cycle by Thursday morning, a second CNN report was published late Wednesday night revealing that Landrieu would also reimburse a separate charter flight, for which her Senate office paid $5,700.
Landrieu had chartered the flight through her Senate office to attend an official event in Shreveport, Louisiana. While the Shreveport event qualified as official expense, the same plane then took Landrieu to Dallas, where she attended a fundraiser before returning to Washington.
"Out of an abundance of caution in case there was a cost allocation error connected to this flight, the Senate will be reimbursed for the [Shreveport to Dallas] flight," Landrieu's Senate spokesman Matthew Lehner told ABC News in a statement.
Cassidy's campaign spokesman John Cummins called the second flight reimbursement "a pattern" of disregard for taxpayer money.
"This second offense shows a pattern of mismanagement of her office expenses," Cummins said. "Sen. Landrieu only complied with federal law, nearly a year later, after she was caught red-handed. She then said she only complied with federal law out of an 'abundance of caution.' If an average Louisiana taxpayer broke the law, and then a year later tried to correct it, they couldn't get away with platitudes."
Adding fuel the fire, the conservative Keep Louisiana Working group announced soon thereafter that it had filed an FEC complaint against Landrieu over the charter flights; and the Louisiana Republican Party launched an "Air Mary" campaign, complete with a Twitter handle @AirMaryLa. The tongue-in-cheek Twitter handle provides this description: "Taxpayer Funded Flights since 1997, because clout doesn't fly coach."