Pence makes surprise trip to Ukraine, in move to set himself apart from GOP field: 'We are with you'
His visit comes about four months after President Joe Biden walked through Kyiv.
In a dramatic move to differentiate himself on a key foreign policy issue, former Vice President Mike Pence on Thursday made a surprise trip to Ukraine, projecting solidarity against Russia in a way, so far, unmatched by his Republican competitors.
His message in Ukraine was clear: "We are with you."
"We have to we have to stand together, freedom loving-nations, stand with the people fighting for their freedom here in Ukraine, and that'll be my message when I return home," Pence told reporters.
When ABC News asked if he'll carry that message to his party as well, as polls show support for Ukraine is dwindling among Republicans, Pence said he understands the frustration many Americans feel.
"Look, I really believe that the majority of the American people and I believe the majority of Republicans understand that America is the leader of the free world," he said. "As I made clear to President [Volodymyr] Zelenskyy today, when I return home, whatever the future holds for me and my family, we're gonna stand for freedom. And I'll do my part to make sure that America continues to stand for the courageous fighters here in Ukraine that are fighting to reclaim their freedom."
Among other stops, Pence visited the sites of atrocities in the early phase of the war, in Irpin, Bucha and Moschun, before meeting with Zelenskyy inside the presidential palace in the capital of Kyiv.
"The United States and the free world continue to stand with you until victory achieved but then justice is also achieved," Pence told Zelenskyy, who said he was grateful Pence got a chance to see the sites of Russian atrocities.
The purpose of the trip, it appears, was for Pence to position himself as the most experienced and best prepared for dealing with critical affairs on the world stage, something he'd do as president.
"I'm sorry for your loss," Pence told Larissa, an elderly woman in Irpin, after learning her nephew and neighbor died here. "Your bravery is inspiring ... I want you to know we're with you."
"I hope you see the heart and generosity of the American people," he told a group.
His visit comes about four months after President Joe Biden walked through Kyiv with air sirens sounding overhead.
Back at home, Pence has repeatedly criticized Biden for being "slow" in providing military aid to Ukraine as well as the Republican front-runners in the race for president for resisting support to the Eastern European democracy.
A divide on support for Ukraine emerged early in the GOP field when then-Fox News host Tucker Carlson asked candidates and hopefuls in March to respond to a questionnaire about the war. Former President Donald Trump and Gov. Ron DeSantis took similar isolationist positions, with DeSantis facing criticism for distilling the conflict down to "a territorial dispute."
"The war in Ukraine is not a territorial dispute. It's a Russian invasion," Pence told ABC "This Week" co-anchor Jonathan Karl in March, staking out a position opposite the two front-runners. "It's just the latest instance of Russia attempting to redraw international lines by force, and the United States of America must continue at a quickened pace to provide the Ukrainian military the support that they need to repel the Russian invasion -- and the stakes are that high."
Pence has only amplified this split since making his 2024 presidential bid official this month.
In a CNN town hall from Iowa on the day he launched his campaign, he said, "Frankly, when Vladimir Putin rolled into Ukraine, the former president called him a genius. I know the difference between a genius and a war criminal."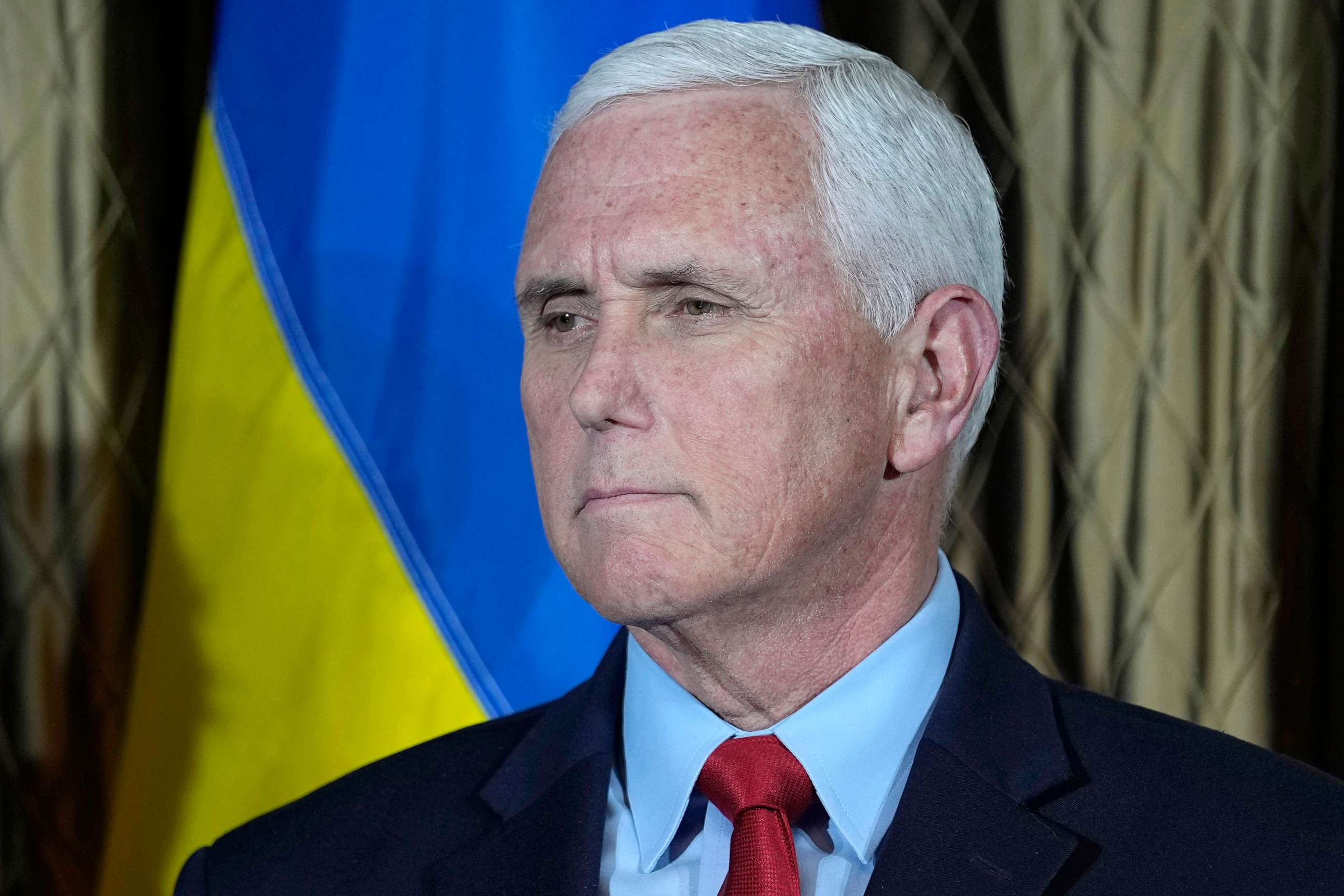 In an interview with NBC's "Meet the Press" earlier this month, he raised the difference on his own when talking about Trump.
"My former running mate, seeing war raging in Eastern Europe, is signaling an ambiguous message, not even able to say who he would prefer to see win the war in Ukraine," Pence said. "The United States needs to stand by the courageous fighters in Ukraine, give them the resources more quickly than Joe Biden has, to take the fight to the Russians and repel this invasion."
(Trump said in an interview last week that, if he were president again, he would almost immediately be able to end the war and that Ukraine was a separate country from Russia.)
Pence contends there's no place for Putin apologists in the Republican Party. Asked why then some in his party, particularly Republicans in the U.S. House, resist aid to Ukraine, Pence said on NBC this month that any skepticism there and among the American people "is more a reflection of lack of confidence in Joe Biden as commander in chief."
"Joe Biden talks about glossy goals of democracy. No. Look, if Russia overwhelms Ukraine. I predict it would not be too long before the Russian army crosses the border, where our men and women in uniform would have to go and fight by crossing into a NATO ally," he said.
Pitching himself as a Reagan-era Republican, Pence has pushed the so-called Reagan Doctrine -- of fending off enemies on their soil to prevent America's direct involvement -- to explain how he would handle foreign policy. While he says he doesn't support sending a "blank check" to Ukraine, he's also warned that "withholding or reducing support will have consequence."
Among others in the 2024 field, former U.N. ambassador and South Carolina Gov. Nikki Haley, South Carolina Sen. Tim Scott and former Arkansas Gov. Asa Hutchinson all support aiding Ukraine -- while tech entrepreneur Vivek Ramaswamy takes the opposing view, saying he doesn't consider the possibility of Russia overtaking Ukraine "a top foreign policy priority."
Pence's visit comes as Republican support for Ukraine has dwindled, according to some polls.
While solid majorities of Americans still support providing weapons to Ukraine, the share who say the U.S. is providing too much aid to Ukraine has steadily increased since the war began, driven by a shift among Republicans.
According to Pew Research Center, 44% of Republicans and Republican-leaning independents currently say the U.S. is giving too much aid to Ukraine. That share has more than quadrupled, from 9%, since March 2022, just after Russia's invasion began.