TRUMP'S FIRST 100 DAYS with ABC's SHUSHANNAH WALSHE and VERONICA STRACQUALURSI
Interested in
The Note?
Add The Note as an interest to stay up to date on the latest The Note news, video, and analysis from ABC News.
Day No. 91
THE BIG STORY: Now, that's quite a coincidence. The judge Donald Trump blasted on the campaign trail, U.S. District Judge Gonzalo Curiel, will now oversee another controversial case involving the president. During the campaign, Trump lashed out at Curiel's Mexican heritage, despite his being born in Indiana, saying he could not be impartial. Republicans even spoke out against then-candidate Trump over the comments. Now, Curiel will oversee a lawsuit brought on behalf of 23-year-old DREAMer Juan Manuel Montes, who was deported in February, despite being approved for the Deferred Actions for Childhood Arrivals (DACA) program. Montes was brought here as a child and he is believed to be the first DREAMer to be deported in the Trump administration. Attorney General Jeff Sessions issued a warning that will likely cast a chill across the community: "DACA enrollees are not being targeted. I don't know why this individual was picked up. Everybody in the country illegally is subject to being deported," he told Fox News. In Wednesday's White House press briefing, Sean Spicer was more muted, saying "the situation is evolving right now."
THE BURIED STORY: It would be a political earthquake and could change the court for decades to come, but for now it's just Sen. Chuck Grassley's discussing the possibility, according to the Muscatine Journal. The chairman of the Senate Judiciary Committee said in a Q&A he thinks a Supreme Court justice could step down relatively soon, paving the way for President Trump to appoint another justice to the Supreme Court. "I would expect a resignation this summer," the Iowa Republican said, without mentioning any specific justice. He called the possible resignation "rumored." The oldest justices on the court are Ruth Bader Ginsburg, 84, Anthony Kennedy, 80, and Stephen Breyer, 78, but the retirement speculation currently surrounds Kennedy. Like the newest justice, Neil Gorsuch, the choice would be a conservative and likely from the list the president unveiled while he was still a candidate. But, unlike Gorsuch, who replaced the late conservative justice Antonin Scalia, this could mean the strong possibility of a conservative's replacing a swing vote on the highest court, changing the makeup, a long-held fear of Democrats and even those who identify as only socially liberal. If you think the fight for Gorsuch was a tough one, this would be the Democrats' fight of a lifetime, but with Senate Majority Leader Mitch McConnell using the "nuclear option," the threshold is now lowered from 60 votes to a simple 51 vote majority to confirm Supreme Court nominees, meaning a battle, no matter how hard fought, may not matter.
THE SHINY STORY: On the White House agenda today? Another foreign leader and a joint news conference. This afternoon, President Trump will welcome the Italian prime minister to the White House. This press conference and meeting is less high-profile than the president's previous meetings with the U.K.'s Theresa May or Germany's Angela Merkel, but it's still one to watch. The president is expected to speak with Prime Minister Paolo Gentiloni about the upcoming G-7 industrialized nations meeting, which Trump will travel to Italy for in May. While there, the president could meet with another high-profile Italian resident: Pope Francis. Spicer said Wednesday during the White House press briefing, "We will be reaching out to the Vatican to see if an audience with the Pope can be accommodated." And, according to the Italian news agency Ansa, the pope could be open to it, with the Vatican's saying the pope is "always open to meeting heads of state who ask for an audience."
TLDR: U.S. District Judge Gonzalo Curiel, the judge whom Donald Trump attacked on the campaign trail as biased because his "Mexican heritage," will now oversee the lawsuit over a DREAMer who was deported by U.S. Border Protection.
PHOTO OF THE DAY: New England Patriots' tight end Rob Gronkowski crashed the White House press briefing Wednesday, asking press secretary Sean Spicer whether he needed any help. "I think I've got this but thank you," Spicer said. As Super Bowl 51 champs, the Pats visited the White House and were welcomed by President Trump.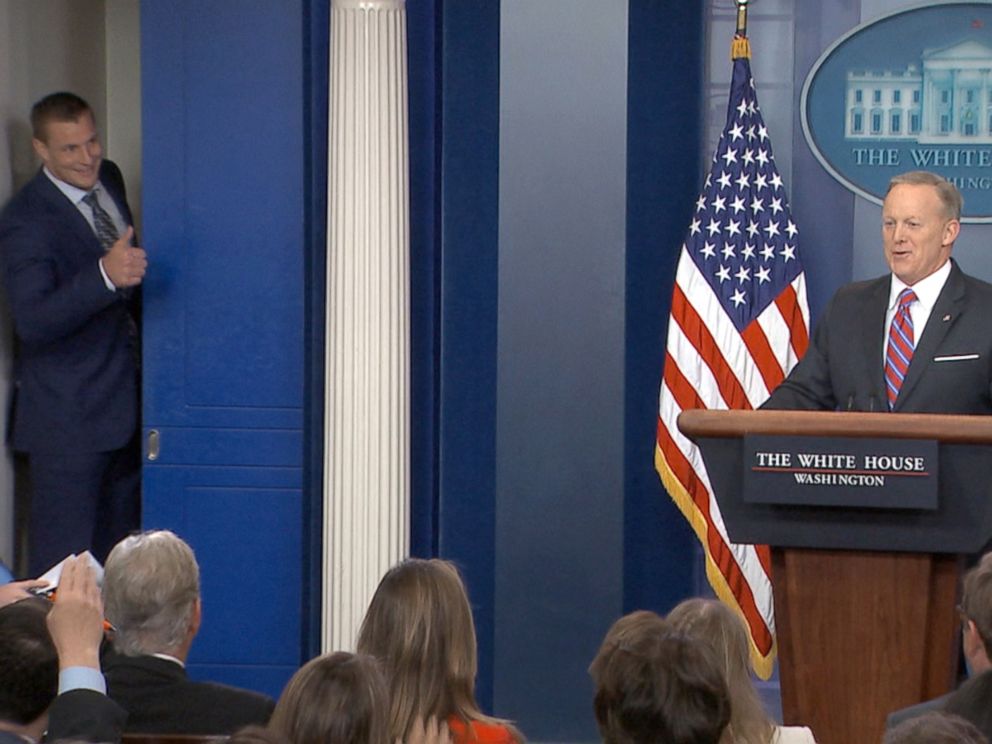 NOTABLES
--TILLERSON SAYS IRAN NUCLEAR DEAL IS SAME 'FAILED APPROACH' THAT LED TO NORTH KOREA: The Iran nuclear deal "fails to achieve the objective of a non-nuclear Iran" and "represents the same failed approach" that led to the North Korean nuclear threat, Secretary of State Rex Tillerson said Wednesday at a press conference. Tillerson spoke at the State Department after sending a letter to Speaker of the House Paul Ryan announcing that the Trump administration will be reviewing the Iran nuclear deal over the next 90 days, despite Iranian compliance with the requirements laid out in the 2015 agreement. ABC's RILEY BEGGIN has more: http://abcn.ws/2oMZf0N
--VP MIKE PENCE: US NOT SEEKING NORTH KOREA NEGOTIATIONS: The United States is not seeking to negotiate with North Korea and it is not in direct talks "at this time" with the rogue Asian nation, Vice President Mike Pence told CNN and the Washington Post Wednesday. "I think the path of negotiations with North Korea has been a colossal failure now for more than 25 years," Pence told the Washington Post. In a separate interview, the vice president said that "the only thing we need to hear from North Korea is that they are ending and ultimately dismantling their nuclear weapons and ballistic missiles program," notes ABC's KATHERINE FAULDERS. http://abcn.ws/2oWRKoA
--GRASSLEY SAYS HE EXPECTS A SUPREME COURT JUSTICE TO RESIGN THIS SUMMER: Chuck Grassley, chairman of the Senate Judiciary Committee, said a Supreme Court justice could resign as soon as this summer. "I would expect a resignation this summer," the Iowa senator said, according to the Muscatine Journal. Grassley's comments came during a Q&A at a visit to Kent Corporation in Muscatine, Iowa. Without naming a justice, Grassley said an upcoming resignation is "rumored," write ABC's VERONICA STRACQUALURSI and AUDREY TAYLOR. http://abcn.ws/2pVjqHT
SPEED READ with ABC's ADAM KELSEY
TRUMP ADMINISTRATION WILL REVIEW IRAN NUCLEAR DEAL DESPITE COMPLIANCE. The Trump administration is reviewing the Obama-era nuclear weapons agreement with Iran to determine whether they will stop the deal's suspension of U.S. sanctions, U.S. Secretary of State Rex Tillerson said Wednesday. Tillerson said administration officials would review the deal despite also announcing that Iran is complying with the terms of the 2015 agreement reached under President Obama, explains ABC's RILEY BEGGIN. "Iran remains a leading state sponsor of terror through many platforms and methods," Tillerson wrote in a Tuesday night letter to House Speaker Paul Ryan. http://abcn.ws/2pDSqA3
SYRIA MOVED AIRCRAFT OUT OF U.S.-BOMBED AIRSTRIP TO RUSSIAN BASE. Syria has moved its aircraft from a base struck by the United States two weeks ago to a separate airbase in the port city of Latakia used by Russia's military, a U.S. official tells ABC News. Most of Syria's operational fixed wing military aircraft have been moved to the base, according to the official. The tactical move to the base Russia uses for its fixed wing aircraft missions inside Syria is likely for protection from additional American strikes, since Russian aircraft will be nearby, ABC's LUIS MARTINEZ and RYAN STRUYK report. http://abcn.ws/2o5c5ZA
TIMELINE OF ADMINISTRATION'S STATEMENTS SHOWS CONFUSION ABOUT LOCATION OF US AIRCRAFT CARRIER. The White House tried to clarify a series of confusing and possibly misleading statements Wednesday about the location of a nuclear-capable aircraft carrier it initially said was headed north to the Korean Peninsula in the face of recent military provocations by North Korea, report ABC's JUSTIN FISHEL, LUIS MARTINEZ and ELIZABETH MCLAUGHLIN. The USS Carl Vinson was actually headed south from Singapore to participate in a four-day military exercise with the Australian Navy that only ended Tuesday. The carrier group is not expected in the Sea of Japan until the end of the month. http://abcn.ws/2oXgCMQ
DEMOCRATIC PARTY RIDES COATTAILS OF BERNIE SANDERS' POPULARITY. Democratic National Committee Chairman Tom Perez and Vermont Sen. Bernie Sanders headed to Louisville, Kentucky, on Tuesday night for the second stop of their weeklong "Come Together and Fight Back" tour. The evening was billed as a joint event, but it was evident from attendees that Sanders was the main draw. Three hours before it kicked off, for example, many "Feel the Bern" T-shirt-wearing folks had lined up outside the venue, the Louisville Palace. ABC's MARYALICE PARKS has more: http://abcn.ws/2pEwdyX
WHITE HOUSE RESTRICTS ACCESS TO SOUTHERN FENCE. The U.S. Secret Service said Wednesday it plans to restrict public access to the sidewalk along the southern fence of the White House, according to ABC's KARMA ALLEN. The changes are a part of an "ongoing comprehensive review" of security measures at the White House and its surrounding grounds, the Secret Service said in a statement Wednesday evening. The new restrictions come just a month after a man carrying mace scaled the White House fence and was able to roam the grounds. http://abcn.ws/2o6qeGa
US NAVY MAKES NUDE PHOTO SHARING A PUNISHABLE OFFENSE. The U.S. Navy announced on Wednesday new regulations that make it a punishable offense for sailors and Marines to post nude pictures of service members online without consent. The new regulations are a direct result of the recent scandal involving male Marines and sailors who posted nude photos of female Marines online. Engaging in such activity now carries the potential for criminal charges, ABC's LUIS MARTINEZ reports. The new rules went into effect immediately and will be formally included in the next printing of the Navy's regulations. http://abcn.ws/2pi5MC3
ANALYSIS: GEORGIA SPECIAL ELECTION RESULT LETS BOTH SIDES CLAIM VICTORY. Democrat Jon Ossoff failed to deliver a knockout punch Tuesday night in Georgia's 6th Congressional District race, coming close but falling short of crossing that 50 percent threshold. It means he will head to a difficult faceoff against Republican Karen Handel in the red district in June. The national implications and what this race might mean for President Trump were all on the line Tuesday but a split decision leaves a somewhat foggy view. ABC's RYAN STRUYK and SHUSHANNAH WALSHE have more: http://abcn.ws/2pEi8RU
5 TAKEAWAYS FROM NEW BOOK ABOUT HILLARY CLINTON'S FAILED CAMPAIGN. A new book detailing the downfall of Hillary Clinton's 2016 campaign contains some juicy, behind-the-scenes details about the Democratic contender and the team that failed to get her to the White House. The book, "Shattered: Inside Hillary Clinton's Doomed Campaign," was released on Tuesday. It was written by two political journalists, Jonathan Allen, a former Politico White House bureau chief who is currently the head of content at political news site Sidewire, and Amie Parnes, the senior White House correspondent for The Hill. ABC's MEGHAN KENEALLY notes five of the biggest takeaways from the book. http://abcn.ws/2oNTRuF
IN CASE YOU MISSED IT
BILL O'REILLY OUT AT FOX NEWS AMID SEXUAL MISCONDUCT ALLEGATIONS. Bill O'Reilly is leaving the Fox News Channel, the network's parent company announced Wednesday. "After a thorough and careful review of the allegations, the company and Bill O'Reilly have agreed that Bill O'Reilly will not be returning to the Fox News Channel," 21st Century Fox said in a statement. The star host has been dogged by misconduct claims — some sexual in nature — since an April 1 story in The New York Times detailed alleged settlements made between the host and five women who accused him of harassment and sexual misconduct. ABC's PAUL BLAKE has more: http://abcn.ws/2pD1Eth
WHO'S TWEETING?
@TIME: Introducing the 2017 #TIME100 http://ti.me/2o7a9zM
@lionelbarber: Exclusive: Brussels starts to freeze Britain out of EU contracts https://www.ft.com/content/f224b684-2513-11e7-8691-d5f7e0cd0a16 … via @FT
@tdwilliamsrome: President Donald Trump will meet with Pope Francis when he comes to Italy next month, sources from both leaders confirm.
@NYTSports: Patriots' turnout for President Obama in 2015 vs. Patriots' turnout for President Trump today: http://nyti.ms/2o4Kwj7
@Patriots: These photos lack context. Facts: In 2015, over 40 football staff were on the stairs. In 2017, they were seated on the South Lawn.