House Speaker Nancy Pelosi announced Thursday that she has instructed House Democrats to draw up articles of impeachment of President Donald Trump, saying he had abused his power.
"Sadly, but with confidence and humility ... today I am asking our chairmen to proceed with articles of impeachment," Pelosi said.
"The facts are uncontested," she said. "The president abused his power for his own personal political benefit at the expense of our national security by withholding military aid and a crucial Oval Office meeting in exchange for an announcement of an investigation into his political rival."
"His wrongdoing strikes at the very heart of our Constitution," she added. "Our democracy is what is at stake. The president leaves us no choice but to act."
"If we allow a president to be above the law, we do so at the peril of our republic," she said.
The announcement tees up a House floor vote in the coming weeks that would make Trump just the fourth president in American history to face an impeachment vote, and the third to be impeached by the House of Representatives.
"In America, no one is above the law," Pelosi said.
"The president has engaged in abuse of power undermining our national security and jeopardizing the integrity of our elections. His actions are in defiance of the vision of our Founders and the oath of office that he takes to preserve, protect and defend the constitution of the United States," she said.
About an hour later, Trump tweeted his first reaction, saying that Democrats are focused on impeachment after they "gave up on the ridiculous Mueller 'stuff.'" He said that impeachment is rarely used and suggested impeaching him will set a bad precedent for future presidents.
She declined to say whether any aspects of the Mueller investigation should be included in the articles of impeachment, saying she would wait for the recommendations from the chairs of the six committee chairs who have investigated Trump. "I'm not going to talk about that," she said.
She added, "This isn't about Ukraine. This is about Russia," asking "Who benefits ... from that withholding of military assistance?"
"All roads lead to Putin. Understand that," she said, as she has previously.
And she pushed back on criticism that Democrats are rushing to judgment -- that a decision on impeachment should wait until all potential witnesses are subpoenaed and court challenges resolved.
She said the White House blocking key witnesses from testifying amounted to obstruction of justice and Congress.
Asked about whether there was a timetable to have a House floor vote on impeachment before Christmas, she said, "We are proceeding in a manner worthy of the Constitution."
And when asked whether she was concerned such a vote would divide the country, Pelosi answered, "We don't take any glee in this. It's heartbreaking."
Referring to Trump, she said, "He's the one dividing the country. We are honoring the Constitution."
As Pelosi spoke, the Judiciary Committee announced it would meet Monday to "receive counsel presentations of evidence" from the House Intelligence Committee.
Pelosi's announcement comes after several constitutional law experts told lawmakers that the president had abused his power by pressuring Ukraine to open investigations that could benefit him politically.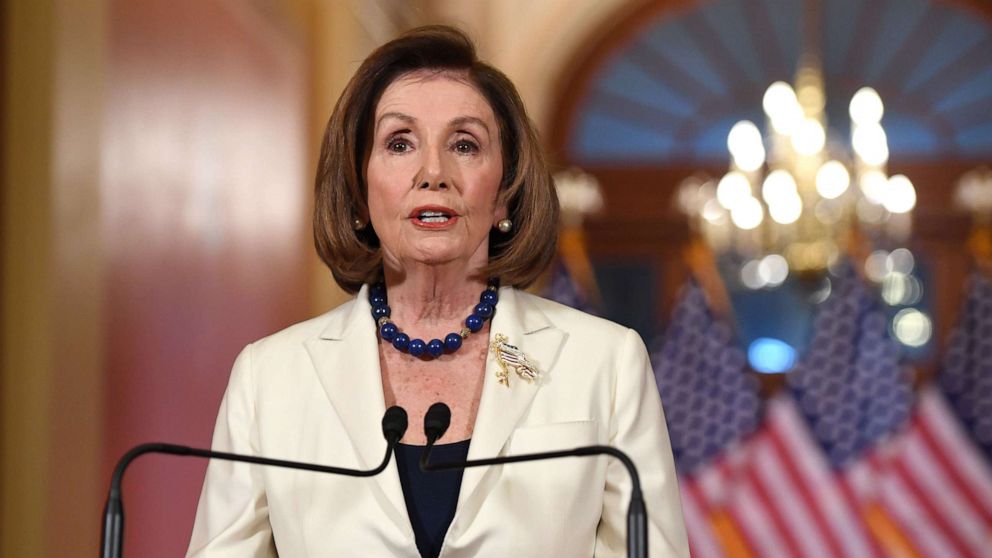 On Wednesday, three constitutional law professors selected by Democrats told the House Judiciary Committee that Trump's conduct towards Ukraine warranted impeachment. A law professor chosen by Republicans argued that there wasn't yet sufficient evidence to meet the constitutional standard and that Democrats were rushing to judgment.
After the hearing, House Judiciary Committee Chairman Jerry Nadler, D-N.Y., said he believed the conditions for impeaching Trump had been met.
Pelosi delivered the statement from the same spot where she first announced the start of the Ukraine impeachment inquiry in September. She privately discussed moving impeachment with her caucus and leadership team on Wednesday.
There were no objections in the room, when Pelosi asked Democrats "are you ready?" to move forward with proceedings, according to sources familiar with the meeting.
House Majority Leader Steny Hoyer, D-Md., defended Democrats' deliberations, and pushed back on the suggestion from Republicans that a vote would be premature.
"This is not rush to judgment," he said. "We've got a lot of information over two and a half years from a lot of different sources, including the Mueller report."
While Democrats are still divided over the nature and scope of possible charges against Trump, House Judiciary Committee Democrats suggested they could pursue articles on abuse of power and bribery, obstruction of justice and obstruction of Congress.
On Monday, attorneys with the House Judiciary Committee and House Intelligence Committee will present evidence for impeachment before Judiciary Committee members, suggesting that elements of the Ukraine and Mueller investigations will be taken into account in the drafting of articles of impeachment.
Members of the House Judiciary Committee have advocated adding elements of the Mueller investigation to the impeachment probe, though it's unclear if it would form the basis of a single article, or buttress a broader obstruction charge.
"It is that it's the pattern, a repeated pattern of conduct of obstructing justice, of obstructing Congress, of witness tampering of abuse of power, and typically an article is not around a topic area like Ukraine, it's around the high crime and misdemeanor," Rep. Pramila Jayapal, D-Wash., a member of the committee, told ABC News. "So you could imagine, potentially, bringing in things from the Muller report that are the same pattern."
Other members of the caucus, including many of the moderate freshmen from districts formerly represented by Republicans, said impeachment should remain focused on the Ukraine episode.
"My thoughts on that haven't changed. The fact that this was a potential abuse of power by the president related to national security and foreign assistance funds during an active war in Europe … was unprecedented and remains very shocking," said Rep. Jason Crow, D-Colo., a former Army Ranger.
Crow, along with six other freshman Democrats with national security backgrounds, wrote a Washington Post op-ed in September warning of the national security implications of Trump's actions towards Ukraine that led, in part, to Pelosi's decision to open the inquiry.
"That is the thrust of the inquiry and it should remain the focus of the articles," he said.
Rep. Kurt Schrader, D-Ore., another moderate Democrat, said keeping the articles of impeachment focused on Ukraine would help clarify proceedings for the American people.
"I just think it makes it confusing to the public," he said. "It looks like an expansive witch hunt on the part of Democrats because you're bringing up the old stuff that didn't have any water. Just keep it real tight, I think that's more convincing to the American people and people back home."
For Rep. Mark Pocan, D-Wis., a co-chair of the House Progressive Caucus, said the Ukraine charges are a "slam dunk," and could be voted on quickly while the committees continuing investigating elements of the Mueller report and seeking access to documents and witnesses in court.
"You'll still have the committees doing their due diligence on lots of other things that the president's done that many of us truly believe is illegal, but this one is just so clear cut there's no reason to hold off on dealing with it," he said.
Rep. Jeff Van Drew, D-N.J., one of two Democrats to vote against the resolution launching the Ukraine impeachment probe, said Thursday that "nothing's changed" for him, and he anticipates voting against what Democrats bring forward.
"If there was something new or different that I felt was truly impeachable, that would be a different situation. I have not come to that point," he said.
ABC News' Ben Gittleson, Sarah Kolinovsky and Katherine Faulders contributed to this report.