House Speaker Nancy Pelosi on Thursday declined to send the House's impeachment articles to the Senate to begin President Trump's impeachment trial, again calling on Senate Majority Leader Mitch McConnell to release the rules of the Senate trial despite growing calls from Senate Democrats for her to relinquish the charges.
While maintaining her position after a weekslong standoff with Senate Republicans over procedure, Pelosi suggested in her weekly news conference that she was preparing to name impeachment managers to transmit the articles - and formally kick off the trial in the Senate - "soon."
"Not indefinitely, I'll send them over when I'm ready," Pelosi said. "And that will probably be soon."
When asked about Democratic arguments that the impeachment, passed three weeks ago, was urgent, she replied: "I think we should move smartly and strategically"
"We need to see the arena in which we are sending our managers. Is that too much to ask?" she said. referring to the House Democratic managers who would present the case against Trump.
Pelosi pushed back on McConnell's claims that the rules for a Trump trial would mirror President Bill Clinton's trial, noting that was reached in a unanimous agreement while McConnell says Republicans have the votes to proceed without any Democratic support.
"At some point we would hope that we would see from them what the terms of engagement will be," she said.
"It doesn't mean that we have to agree to them, or like them. We just want to know what they are," Pelosi added later.
McConnell has refused to negotiate with Pelosi over witnesses, saying that the Senate would make a determination on adding additional evidence after opening arguments and questions from senators.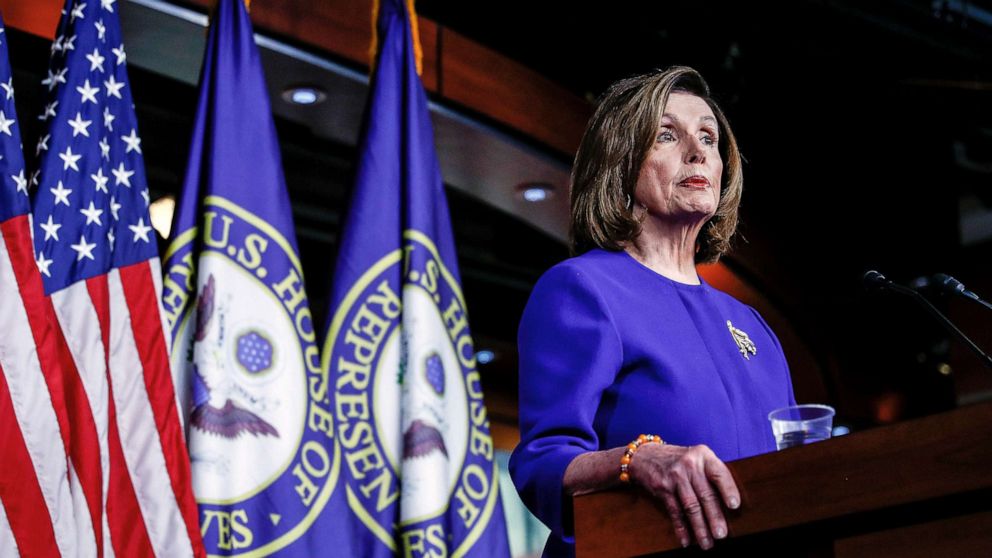 A growing number of Senate Democrats called on Pelosi to name impeachment managers to deliver the charges to the Senate, arguing that it would renew focus on Senate Republicans and any votes against subpoenaing witnesses and documents.
"We are reaching a point where the articles of impeachment should be sent," Sen. Richard Blumenthal, D-Conn., told reporters Wednesday.
"If we're going to do it, she should send them over," Sen. Dianne Feinstein, D-Calif., said. "I don't see what good delay does."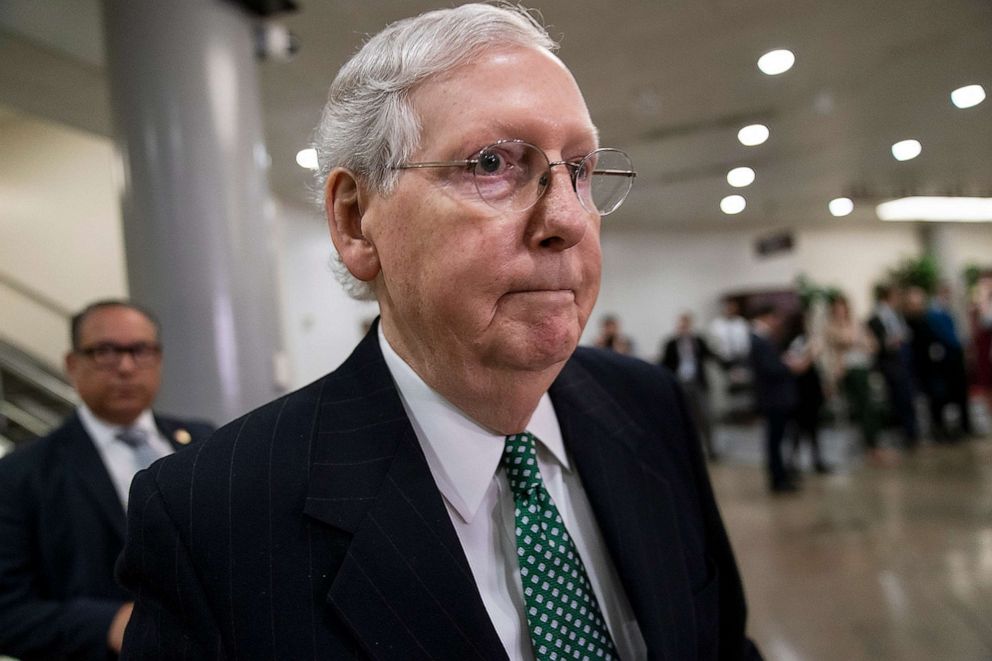 On Thursday, one of Pelosi's top lieutenants, House Armed Services Committee Chairman Adam Smith, D-Wash., appeared to break ranks with House leaders and call on Pelosi to send over the articles.
"At the end of the day like we control it in the House, Mitch McConnell controls it in the Senate. I think it was perfectly advisable for them to leverage that, get a better deal. At this point doesn't look like that's going to happen," he said in an appearance on CNN. "And yes, I think it is time to send the impeachment to the Senate and let Mitch McConnell be responsible for the fairness of the trial."
Smith completely reversed himself hours later on Twitter, instead saying that he supported Pelosi's position.
On the Senate floor Thursday morning, before Pelosi spoke, McConnell read quotes from Democratic senators who have expressed impatience over the stalled articles of impeachment.
Quoting Feinstein, McConnell said Pelosi has united senators against her.
"The Speaker of the House has managed to do the impossible: she's created this growing bipartisan unity here in the Senate in opposition to her own reckless behavior," McConnell said.
"Senators may not agree on much, but it appears most of us still recognize a threat to our institution when we see one," he added.
House Minority Leader Kevin McCarthy, R-Calif., also took note of Democrats' comments about the impeachment articles.
"The only person who does not believe it is time is Speaker Pelosi, and I do not know why," he said of turning the articles over to the Senate. "Maybe she thinks the case is too weak."
House Democratic leadership and staff have continued actively preparing for the Senate trial behind closed doors. Pelosi must first name the managers - the House Democrats appointed to present the case in the Senate - and the chamber must approve a resolution naming the team before the articles can be formally delivered to the Senate, which would immediately trigger the opening proceedings of the trial.
At the White House, President Trump, asked whether his former national security adviser, John Bolton, should testify as Democrats have demand, Trump said "we have to protect presidential privilege"but did not specifically say he would invoke it regarding Bolton.
As he had before, Trump said it would be up to the Senate as to whether it would call Bolton to testify.
"We have to protect presidential privilege. When we start allowing national security advisers to just go up and say whatever they want to say, we can't do that," he said.
Asked if he'd support a deal for witnesses that included former Vice President Joe Biden's son, Hunter, and House Intelligence Committee Chairman Adam Schiff, he replied, "I'm going to leave it to the Senate."
But he added that he wanted to hear from Schiff, Hunter Biden, Joe Biden, the first whistleblower, and the second whistleblower. "So yeah, if we do that I would like to have those people plus others testify."
McConnell has said the question of whether there should be any witnesses at all should be put off until the middle of a trial.
ABC News' Mariam Khan and Allison Pecorin contributed to this report.