WHEELING, West Virginia -- President Trump walked on stage smiling and swaying to the lyrics of "Country Roads," but immediately started swinging against Democrats for what he called their "shameless" treatment of his embattled pick for the Supreme Court, Judge Brett Kavanaugh.
"The entire nation has witnessed the shameless conduct of the Democratic party," Trump said to loud boos. "They are willing to throw away every standard of decency, justice, fairness and due process to get their way. They don't care how they get it. You see it happening before your eyes."
The president called Kavanaugh, who has been accused of sexual misconduct and testified before the Senate Judiciary Committee on Thursday denying allegations from Christine Blasey Ford, "one of the most accomplished legal minds of our time."
"I will tell you, he has suffered," Trump said.
The president, who said he watched almost every minute of Thursday's hearing, mocked Sen. Diane Feinstein's denial that she leaked documents related to Ford to the press.
"Remember her answer -- did you leak the document? 'Oh, oh, what? No. Oh, no. Well, wait one minute. No, we did not,'" Trump said. "I will tell you what, that was bad body language. Maybe she didn't, but that was the worst body language I've ever seen."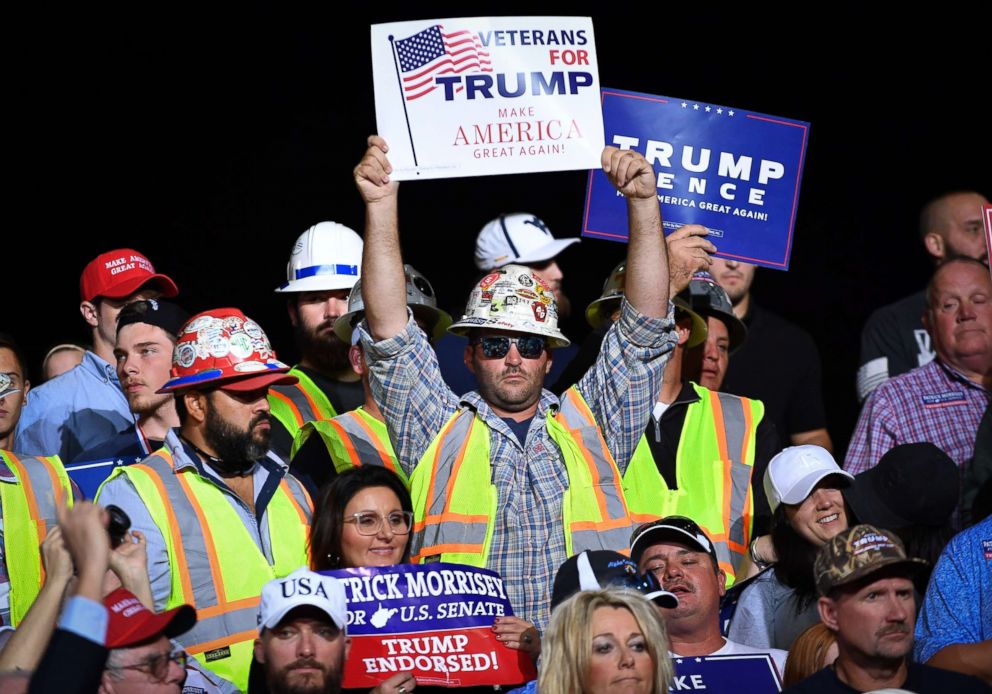 Trump then went on to recite a recent poll that found that 58 percent of West Virginians support Kavanaugh.
"So, it is 58 percent, 20 percent opposed. That is pretty good," he said. "I think that's pretty good."
The divide over Kavanaugh played out on the streets in Wheeling. As the line of supporters made their way toward the Wes Banco hockey arena, protesters across the street chanted "Kava-NOPE!" while Trump supporters called back "Kav-a-naugh!"
It was Trump's seventh visit to the Mountain State since he won the 2016 election. And while he won West Virginia by 42 points, one of the state's U.S. Senate seats is held by moderate Democrat, Sen. Joe Manchin. The current Attorney General Patrick Morrissey is running against Manchin, trailing slightly in recent polls. His campaign hopes a visit by the president could give them a winning bump.
Ahead of the rally, Manchin released a video welcoming Trump and slamming Morrissey on hot topics in West Virginia –- teachers' benefits and health care.
"It's always special when the president of the United States visits West Virginia," Manchin said.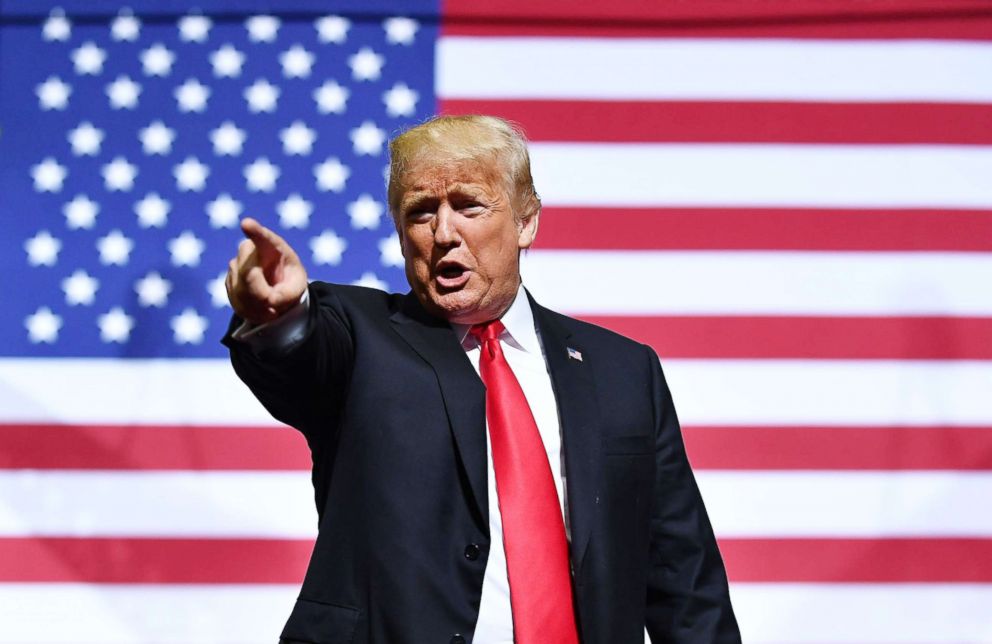 Trump repeatedly called Manchin, "Washington Liberal Joe Manchin." He also took a swing at West Virginia's 3rd congressional district Democratic candidate Richard Ojeda, who's running against Carol Miller, and called him a "total whack-o."
"I've seen that person you can't have that person in Congress," the president said. "He's stone cold crazy."
At the rally, the president went through a greatest hits list of talking points and stuck to the script on rallying support around Morrisey. But he also called out potential Democratic 2020 hopefuls by name: Sen. Bernie Sanders, Sen. Cory Booker, and Sen. Elizabeth Warren.
"How about Cory Booker. Did you watch the performance? He ran Newark, New Jersey, into the ground, and now he wants to be president, right? What was the moment he said he had? I don't think so. I think we take Kirk Douglas at his prime," Trump said, perhaps in reference to Douglas' role of Spartacus.
Trump also debuted his new line for the Democratic Party: "The Party of Crime."
The president repeated his attack on the media, the "enemy of the people," and said they were critical of his relationship with North Korean leader Kim Jong Un.
"We went back and forth, then we fell in love. He wrote me beautiful letters. And they are great letters. We fell in love. But you know what? They will say Donald Trump says they fell in love, how horrible. How horrible is that. So unpresidential," Trump said.
He then said it was easy to be president, and appeared to mock former President George H.W. Bush's "Thousand Points of Light" speech.
"It's so easy to be presidential," Trump said. "All I have to do is say, 'Thank you very much for being here ladies and gentlemen. It's great to see you all. You are great Americans. A thousand points of light. Which nobody has figured out. And thank you, ladies and gentlemen. Hasn't that been exciting!'"
Trump was joined on stage by West Virginia politicians, including Gov. Jim Justice, who switched from being a Democrat to a Republican last year and touted his relationship with the president.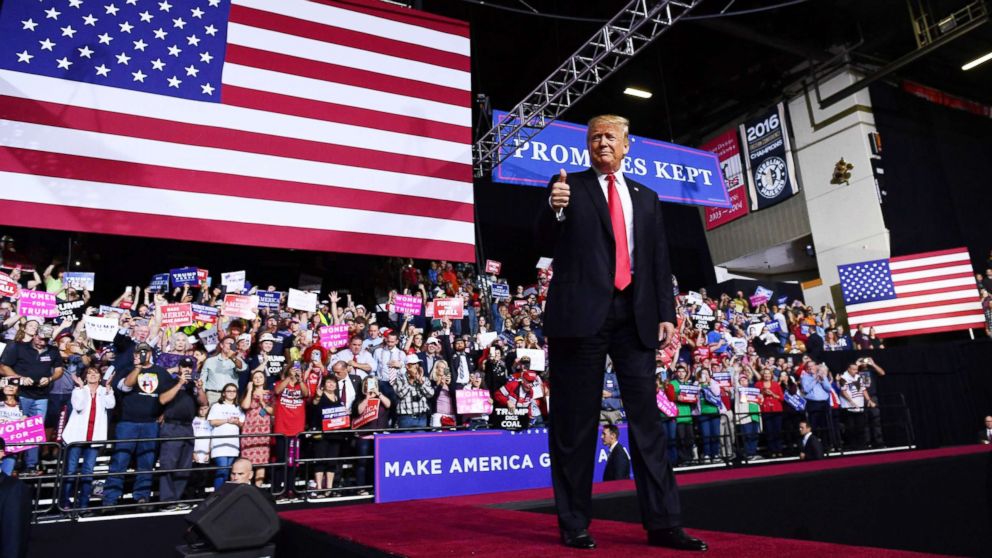 "You'll never know how much he cares about every one of you," Justice said.
Trump introduced Justice, who is 6-foot-7, as "Big Jim."
"We are joined today by many terrific Republican leaders, including a friend of mine and I have to tell you, Big Jim, biggest human being I've ever seen," Trump said. "Big Jim Justice, do we like him? He is our great governor."
College Football Hall of Fame coach and Trump supporter Lou Holtz made a surprise appearance ahead of the rally, and recalled his humble childhood in nearby Folansbee, West Virginia.
"This is my home," Holtz said. He said he came to Wheeling with a "simple message."
"The president needs your help," Holtz said, urging the crowd to vote for Morrissey over Manchin, although, Holtz admitted, Manchin is a "nice guy."