— -- The candidates are in the final stretch of the debates as the presidential campaign is on a true countdown.
Some new information about the final debate was announced today, and considering the first two presidential debates of this cycle were the most viewed ever in the history of presidential debates, the third and final one could make history as well.
"I think there's going to be a lot of focus [on the debates] and they've always been a really important part of the process," said Peter Eyre, a senior adviser with the Commission on Presidential Debates, the independent organization that sponsors the events.
Watch the third presidential debate on ABC News and ABCNews.com at 9 p.m. ET on Wednesday, Oct. 19.
Here's a rundown of the debates so far and what we know about the second and third head-to-head match-ups between Donald Trump and Hillary Clinton.
When and Where
First presidential debate: Sept. 26 at Hofstra University in Hempstead, New York.
Moderator: NBC's "Nightly News" anchor Lester Holt
The debate had six segments covering different subjects, as mandated by the commission.
The commission had announced that Holt selected three topics -- America's direction, achieving prosperity and securing America -- to cover during the debate, but noted that they were subject to change based on news events.
Vice presidential debate: Oct. 4 at Longwood University in Farmville, Virginia.
Moderator: CBS News correspondent Elaine Quijano
The debate was set to feature nine segments, each about 10 minutes long. The topics of the debate were not announced in advance.
Tim Kaine answered the first question, as a result of a coin toss.
Second presidential debate: Oct. 9 at Washington University in St. Louis, Missouri.
Moderators: ABC News' chief global affairs correspondent Martha Raddatz and CNN anchor Anderson Cooper
The debate was held in a town hall format, with about half the questions asked by members of the audience and the other by the moderators. Gallup was responsible for finding the audience members, who are supposed to be uncommitted voters, the commission announced.
The topics of the debate were not announced in advance.
Third presidential debate: Oct. 19 at the University of Nevada at Las Vegas.
Moderator: "Fox News Sunday" anchor Chris Wallace
The final debate will be in the same format as the first one.
The specific topics of the debate were announced today and include debt and entitlements, immigration, the economy, the Supreme Court, foreign hot spots and fitness to be president. They are subject to change based on news events.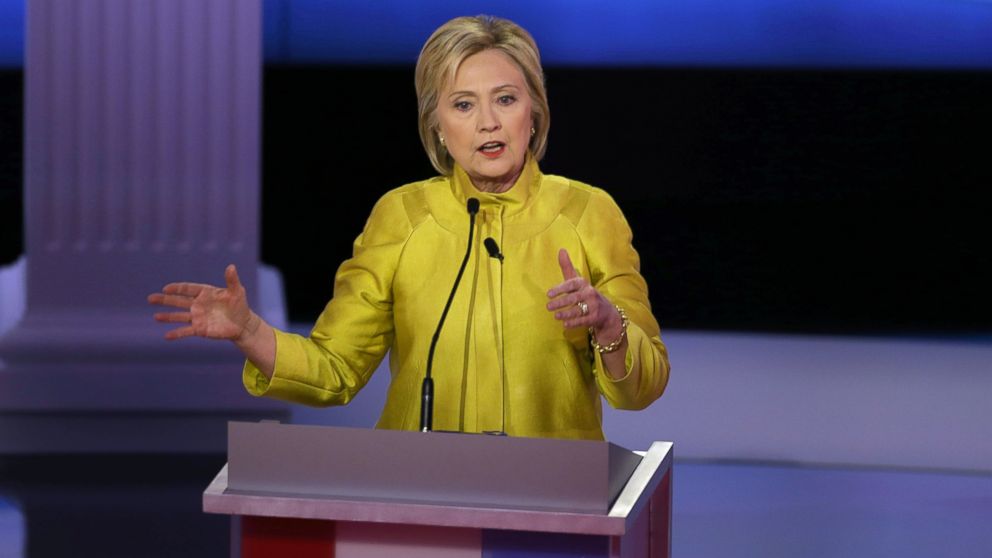 Who Will Be on Stage
Much like the first presidential debate, Clinton and Trump are the only two candidates who will be on stage this Sunday.
Based on the CPD's average of polls from five different national polls, Clinton has 44.8 percent of the national vote, Trump has 40.8 percent, and neither Libertarian candidate Gary Johnson nor Green Party candidate Jill Stein passed the required 15 percent threshold to be included in the debate. The averages put Johnson at 7.8 percent and Green at 2.6 percent, respectively.
The commission previously announced it will use five surveys -- ABC News/Washington Post, CBS/New York Times, CNN/Opinion Research Corp., Fox News and NBC/Wall Street Journal -- to make the decision.
Kaine and Pence were the only two candidates who participated in the vice presidential debate.
Who Will Be in the Audience
The names of any high-profile campaign guests have not yet been announced for the town hall debate.
For that town hall debate, the participating audience will be anywhere in size from a couple dozen people up to as many as 100 people, with a viewing audience of about 1,000.
Polling company Gallup has been tasked with finding the audience members for the participating audience, who are expected to be uncommitted voters.
In the run-up to the first presidential debate, attention was paid to some of the big names who would be in the audience off-stage.
Chelsea Clinton attended the debate, a first for her this election cycle after not attending any of the Democratic primary debates. And then another familiar face was present in the front row supporting Team Clinton: Mark Cuban.
The billionaire Dallas Mavericks owner is a vocal Clinton supporter and reportedly went so far as to volunteer to play Trump in Clinton's mock debates. He has said the Clinton team never returned his email offer, but they did keep him in mind for another move.
About 1,000 people are expected in the viewing audience at each debate, and while Eyre didn't expect there to be frequent cuts to the audience by TV cameras, there is a chance that special guests sitting near the front may be seen on TV at some point.
The audience will be a mix of guests of the universities, guests of the campaigns and "others who have made the debates possible, including sponsors, members of the media, security, etc.," he said.
How the Moderators Were Picked
Commission officials are tasked with picking the moderators for the debates, and while they normally announce their decisions in August, the final list was released in September this year.
"These journalists bring extensive experience to the job of moderating, and understand the importance of using expanded time periods effectively," Frank J. Fahrenkopf Jr. and Michael D. McCurry, co-chairs of the nonpartisan commission, said in the statement announcing the moderators.
Raddatz, who is a co-anchor of the ABC News Sunday show "This Week," is the only one of the four who has been selected by the commission before. She moderated the vice presidential debate between Joe Biden and Rep. Paul Ryan in 2012.
CNN's Candy Crowley was selected to moderate the town hall-style debate between President Obama and Mitt Romney in 2012. This year, that format will have two moderators: Raddatz and Cooper.
Crowley was the second female debate moderator ever. The first was ABC News' Carole Simpson in 1992.
"The formats chosen for this year's debates are designed to build on the formats introduced in 2012, which focused big blocks of time on major domestic and foreign topics," Fahrenkopf and McCurry said in the statement. "We are grateful for their willingness to moderate, and confident that the public will learn more about the candidates and the issues as a result."
Debate Prep Underway
Trump spoke repeatedly about his relaxed approach to preparations ahead of the first presidential debate. That might have changed with the second debate, but not according to Trump: he denies that a town hall-style event in New Hampshire on Thursday -- complete with a timer set to the same response times required for Sunday's debate -- was practice for the main event this weekend.
Kaine and Pence have both been running mock debates, with D.C. power lawyer Bob Barnett acting as Pence and Wisconsin Gov. Scott Walker standing in as Kaine.
As for the top of their tickets, the candidates took dramatically different approaches to debate prep in keeping with their starkly different campaigns.
Clinton cleared her schedule and took herself off the campaign trail for the four days before the first debate. She did intensive debate prep, which included mock debates complete with a Trump stand-in: her longtime aide Philippe Reines, whom Clinton has called "loyal, passionate and shrewd."
She also reviewed Trump's performance in Republican primary debates, according to campaign sources.
By contrast, Trump had two campaign events scheduled days before the first debate on Sept. 26.
His debate prep was slim and he did not delve into policy or participated in mock debates, sources have told ABC News.
The one study tactic that they both shared was a review of their opponent's past performances. But while aides say Clinton actively reviewed Trump's work, senior level Trump sources said he was given an iPad loaded with footage of old Clinton debates, though it's unclear how much time he spent watching them.
Trump was reportedly being advised by his senior campaign staff, including campaign manager Kellyanne Conway and campaign CEO Stephen Bannon, as well as former Fox News chief Roger Ailes, who has worked on the campaigns of Presidents George W. Bush and Ronald Reagan in the past.
Well-known Washington lawyer Bob Barnett was said to be advising Clinton during her debate prep. He helped her prepare for the primary debates by playing Sen. Bernie Sanders. The campaign reportedly found someone to play Trump in their mock debates but they were tight-lipped about the person's identity.
Trump didn't speak extensively about his debate prep, but talked about the tone he expected to take.
"I'm going to be very respectful of her," Trump said during a phone interview on Fox News before the first debate, referring to Clinton.
"I think she deserves that and I'm going to be nice. And if she's respectful of me, that'll be nice. We'll have something that I think people will respect as a debate but we'll see where it all goes. You really never know exactly how it's going to turn out and that's why we're going to have a lot of people watching," Trump said.
ABC News' Liz Kreutz, John Santucci, Candace Smith and Ryan Struyk contributed to this report.
Watch FULL LIVE COVERAGE of the third presidential debate at 9 p.m. ET on Wednesday, Oct. 19. Coverage and analysis of the debate will begin on ABCNews.com/Live at 7 p.m. ET.