Sen. Bernie Sanders projected to win Nevada caucuses
This projection is based off ABC News' analysis of votes.
Over 1,000 miles from where caucusgoers delivered his second consecutive early state victory, according to a projection by ABC News, Sen. Bernie Sanders celebrated with a rambunctious crowd in a San Antonio dance hall, showcasing his presidential campaign's broader ambitions as he detailed his progressive agenda for a much larger audience watching across the country. Bernie Sanders' lead in county convention delegates over Joe Biden has grown, with 50% of precincts reporting. Sanders still has 47% of county convention delegates, but Biden has dropped 4 percentage points to 19%. Pete Buttigieg currently sits in third with 15% and Elizabeth Warren is fourth with 10% of the vote.
Sanders took only a brief moment to bask in his Nevada caucuses win -- and chose to do so after first predicting he'd finish on top in the Texas primary in 10 days. The move wasn't simply a nod to the local crowd, but a continuation of his efforts the past eight days, during which he traveled between four Super Tuesday states -- plus Washington, which votes a week later -- around his Nevada schedule, knowing that his front-runner campaign can potentially build an insurmountable delegate lead should it continue its success that night.
"You know, based on what I have seen today in Texas, we were in El Paso. We're here now. Don't tell anybody -- don't tell anybody, I don't want to get them nervous -- we're going to win the Democratic primary in Texas," he said. "The president gets very, very upset easily, so don't tell him that we're going to beat him here in Texas. And now I'm delighted to bring you some pretty good news."
"I think all of you know we won the popular vote in Iowa. We won the New Hampshire primary. And according to three networks and the AP, we have now won the Nevada caucus," he added. "In Nevada we have just put together a multigenerational, multiracial coalition which is going to not only win in Nevada, it's going to sweep this country."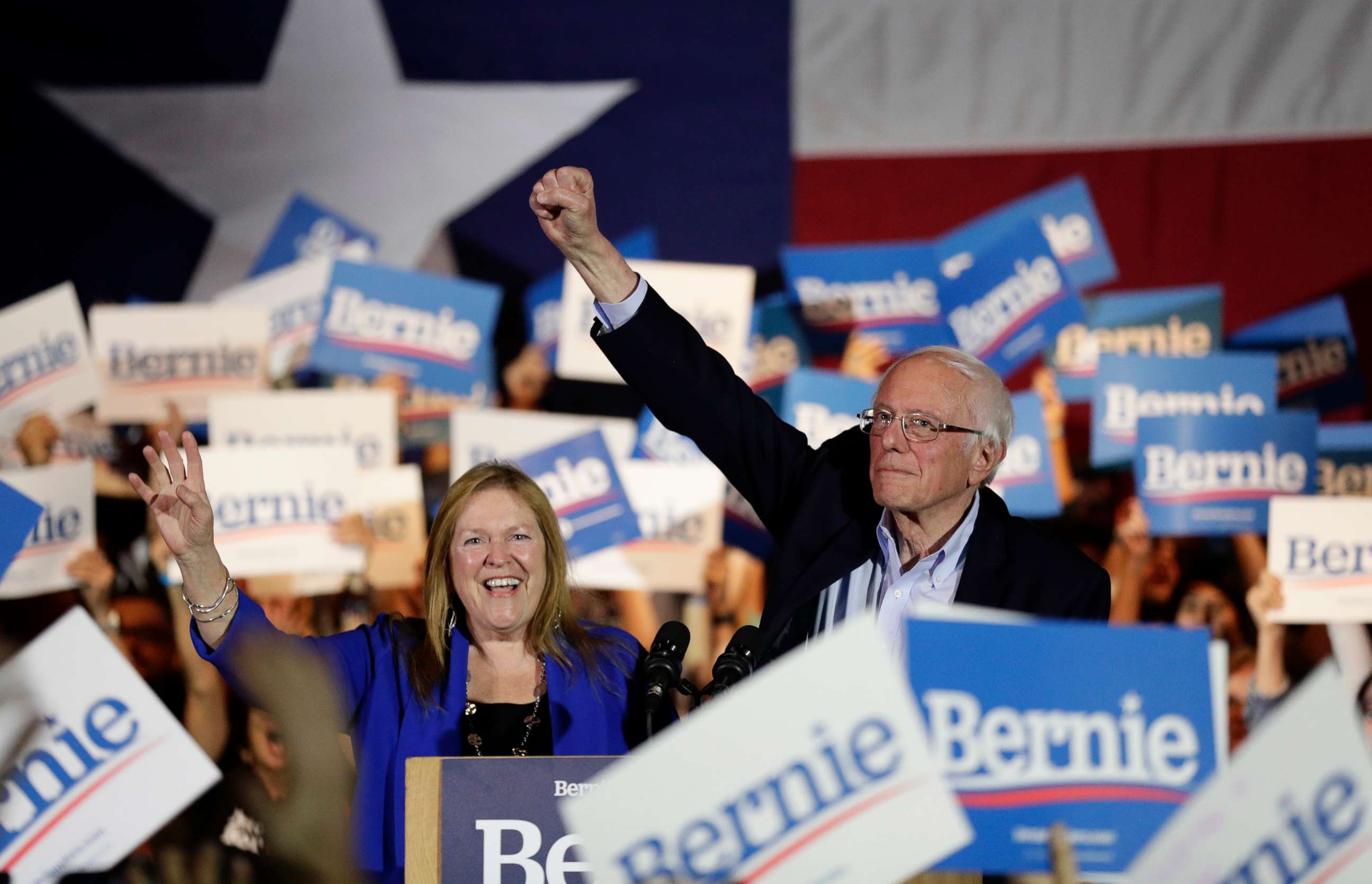 Registered Democratic voters in Nevada poured into various sites on Saturday amid the "first in the West" caucuses -- the first diverse electorate to weigh in on the 2020 presidential race.
After a fiery Las Vegas debate last week, during which candidates' attacks on each other made clear a splintering Democratic field, the results could maintain momentum for Sanders, the campaign's front-runner, while also providing a boost for Joe Biden after emerging from Iowa and New Hampshire with lackluster results.
Among the four early states, South Carolina is the only one left between the campaigns and Super Tuesday, and momentum out of Nevada could reignite a campaign or cement a candidate's standing outside of the top tier.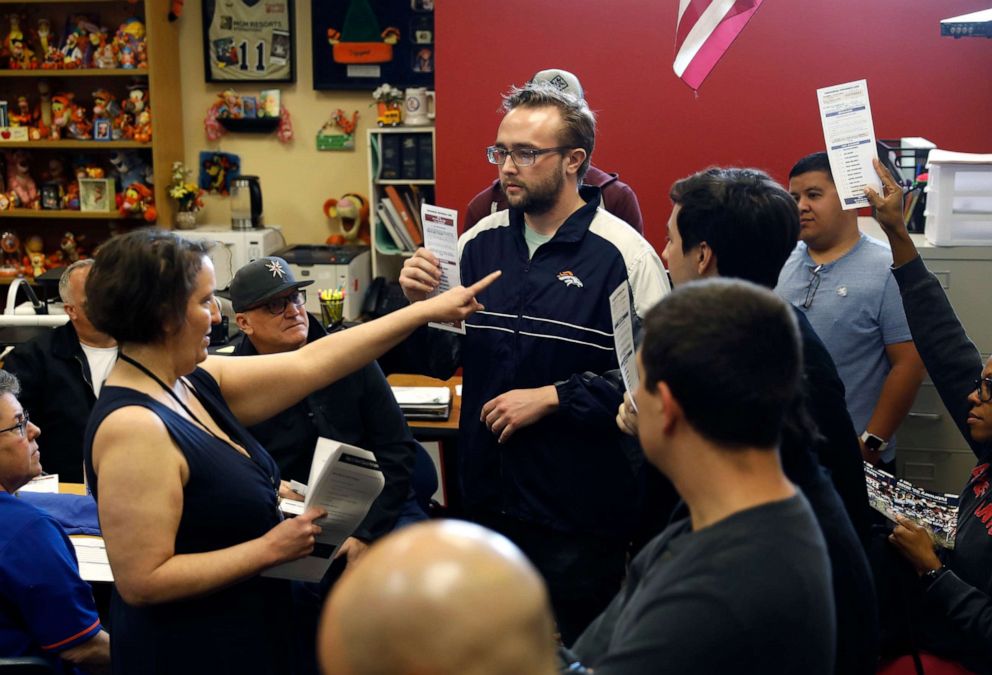 Here's how the day unfolded. All times are eastern.
11:01 p.m. Sanders still in the lead
We now have 23% of precincts reporting for county convention delegates, and Bernie Sanders is holding his lead, with 46%. Joe Biden is still currently in second, with 24% of county convention delegates, and Pete Buttigieg is behind Biden, with 14%.
For the first and final alignments, slightly more of the vote is in, with 30% of precincts reporting. But Sanders is still leading with 33% in the first alignment -- the so-called "popular vote" -- and 40% in the final alignment.
9:49 p.m. Sanders leads with 44% of county convention delegates, Biden second with 25%
With 11% of precincts now reporting, Sanders leads the Democratic field, with 44% of county convention delegates.
Biden is currently in second, with 25% of county convention delegates. Buttigieg follows Biden, with 15%.
More of the vote has come in from Clark County in this latest batch, and more from rural portions of the state, like Humboldt County, which covers a portion of northwest Nevada, and Churchill County, which sits on the western half of the state east of Reno.
In Humboldt County, Sanders leads with 71% and Biden is in second place with 27%. In Churchill County, Sanders has 46%, and Buttigieg, Warren and Steyer are tied for second place, each with 12.5%.
ABC News' Kendall Karson reported.
8:39 p.m. Buttigieg congratulates, criticizes Sanders
Former Mayor Pete Buttigieg congratulated Sen. Bernie Sanders for a "strong showing" in the Nevada caucuses, but also immediately began to warn supporters about the risk of making him the Democratic nominee.
"I congratulate Sen. Sanders on a strong showing today, knowing that we celebrate many of the same ideals," Buttigieg said. "But before we rush to nominate Sen. Sanders, you know, a one shot to take on this president. Let us take a sober look at what is at stake for our party for our values."
Buttigieg focused nearly the entirety of his remarks on his opposition to nominating Sanders to the ticket and said his campaign is "moving on from the battle born state with a battle on our hands."
"Sen. Sanders believes in an inflexible ideological revolution that leaves out most Democrats, not to mention most Americans," he said. "I believe we can defeat Trump and deliver for the American people by empowering the American people, to make their own health care choices with Medicare for all who want it. Sen. Sanders believes in taking away that choice, removing people from having the option of a private plan and replacing it with a public plan whether you want it or not."
ABC News' Justin Gomez reported.
8:08 p.m. Sanders' lead strong over Biden
With 4% of precincts reporting, the Vermont senator -- projected as the winner by ABC News -- currently has 45% of county conventions delegates. At this point, Joe Biden is in a distant second with 19% of county convention delegates. Elizabeth Warren has now slipped to fourth at 12% from the last update, and former South Bend, Indiana, Mayor Pete Buttigieg sits in between the former vice president and the Massachusetts senator with 16%.
County convention delegates with 4% of precincts reporting:
Sanders 45%
Biden 19%
Buttigieg 16%
Warren 12%
Klobuchar 4%
Steyer 4%
8:05 p.m. Biden celebrates 2nd-place standing
Former Vice President Joe Biden clearly felt confident in his showing in the Nevada caucuses Saturday afternoon, saying he believes the contest marked a "fundamental change" in the 2020 race.
"Y'all did it for me! Now we're going on to South Carolina and win and then we're going to take this back!" Biden exclaimed as he took the stage in Las Vegas, with one audience member shouting, "The comeback kid!"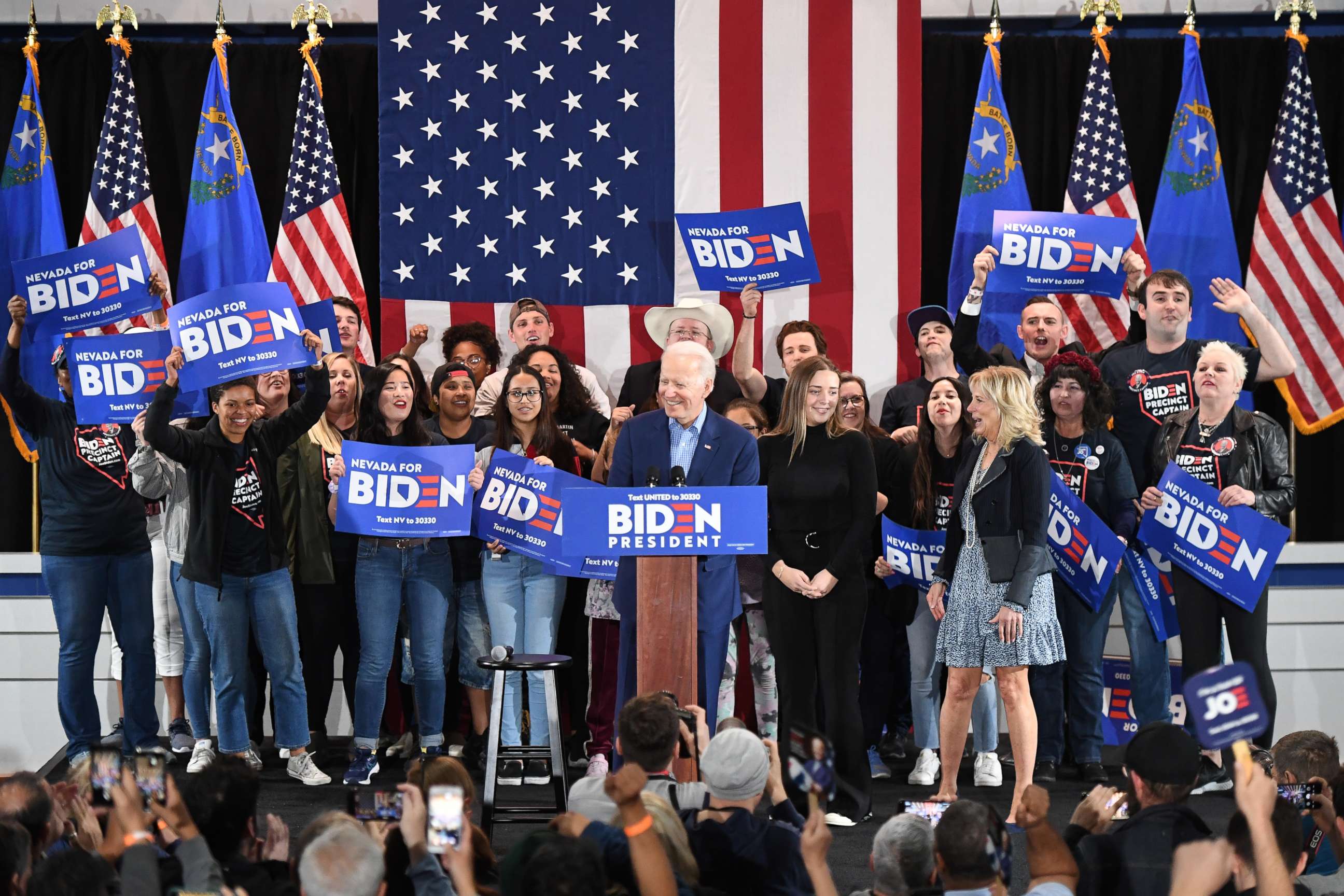 Biden, accompanied on stage by his wife, Jill, and granddaughter, Finnegan, told the crowd that while the press is ready to "declare people dead," his campaign is "alive" and "coming back."
"Well, look, you know, I know we don't know the final results yet, but I feel really good. You put me in a position. You know, the press is ready to declare people dead quickly, but we're alive and we're coming back and we're going to win," Biden said
Biden, who bet big on diverse voting states to help turn around his lagging campaign after disappointing finishes in Iowa and New Hampshire, told the crowd he hoped the strong finish here would continue in the upcoming contests -- and put him on a path to the White House.
"I want to get right to the point here," Biden said. "I think we're in a position now to move on in a way that we haven't been until this moment. ... We're gonna win in South Carolina, and then Super Tuesday, and we are on our way."
ABC News' Molly Nagle reported.
7:38 p.m. ABC News projects Sen. Bernie Sanders as the winner
Based on our analysis of the vote in the Silver State so far, ABC News projects that Sanders will win the Nevada caucuses.
Following projections, Sanders' campaign manager Faiz Shakir tweeted "we won again! 3 for 3."
"And our vote margin continues to grow, while we expand our diverse coalition. Awesome job by our Nevada team," he wrote. "Now let's go win South Carolina!"
7:05 p.m. President Donald Trump congratulates Sanders early as Nevada Dems wait for results
President Donald Trump sent his congratulations to Sanders on Saturday evening, though final results have not come in and ABC News has yet to project a winner.
"Looks like Crazy Bernie is doing well in the Great State of Nevada," Trump tweeted, talking down the other candidates and adding "Congratulations Bernie, & don't let them take it away from you!"
He also tore down former New York City Mayor Mike Bloomberg -- who is not on the Nevada ballot -- for his first debate performance.
ABC News estimates Trump will receive all 25 pledged GOP delegates from the state -- as the Republican party canceled its Nevada caucus, voting to bind their delegates to the president.
ABC News' Quinn Scanlan reported.