President Obama pledged a new foreign policy on the campaign trail, and now it seems his administration is trying to deliver on that promise.
Secretary of State Hillary Clinton is on her way back to Washington today after a week of high-level diplomacy aimed at rebuilding U.S. alliances around the world. There are indications that the administration is making an effort to improve relations and reopen dialogue with Syria, Iran and North Korea, and is perhaps even reaching out to parts of the Taliban.
In an interview with the New York Times, the president suggested his administration would consider reaching out to moderate elements of the Taliban. A similar approach has been used successfully by the U.S. military in Iraq, although the president cautioned that the situation in Afghanistan is "more complex."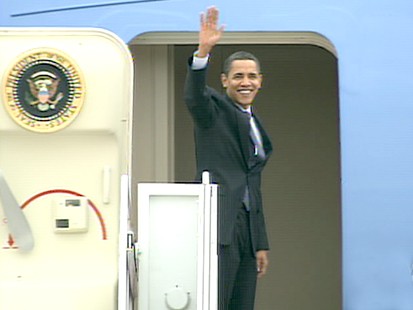 "There may be some comparable opportunities in Afghanistan and in the Pakistani region," he told the paper.
And in a step toward thawing diplomatic relations and reopening dialogue with Syria, two senior U.S. officials held talks in Damascus on Saturday.
The State Department's Jeffrey Feltman and Dan Shapiro of the National Security Council met with Syrian leaders, looking to ease tensions over Syria's ties to Iran, its role in Lebanon and its support of Hezbollah. The United States recalled its ambassador to Syria in 2005.
Meanwhile, Iran is considering a U.S. invitation to participate in multi-lateral talks about conditions in neighboring Afghanistan, a potential step forward in evolving U.S.-Iranian relations.
U.S. envoy Stephen Bosworth said that the administration also "wants dialogue" with North Korea.
"We're reaching out now. We want dialogue," he told reporters in South Korea, on the last stop of a trip through the region.
Danielle Pletka, vice-president for Foreign and Defense Policy Studies at the American Enterprise Institute, said the biggest risk of reaching out to adversaries, especially Iran is that they will perceive the United States as weak.
"They think the United States is back on its heels, economic downturn, afraid after Iraq, worried about Afghanistan, and that we are not a force to be reckoned with," she said. "That's a real danger for us."
But many foreign policy experts say the renewed dialogue is long overdue.
"I would give the Obama team an A," said Karim Sadjadpour, an analyst with the Carnegie Endowment for Int'l Peace. "They have moved cautiously and prudently and I think they have been making the right steps."
Obama's First Trip to Muslim Nation
Clinton spent the last week in Europe meeting with U.S. allies such as Russia, Belgium and Turkey.
In an interview with a Belgian TV station, Clinton said the United States and its NATO allies will work to form a stragegy that stabilizes Afghanistan and Pakistan "from the mutual threat they face from al Qaeda, the Taliban and homegrown insurgencies that are determined to destabilize those countries."
The secretary of state also made a surprise announcement in Turkey today.
"President Obama will be visiting Turkey within the next month," she said.
ABC News has learned that the upcoming trip will not be the occasion of Obama's promised address to the Muslim world from a Muslim nation.
Clinton discussed Iraq, Afghanistan and Iran with the Turkish president, prime minister and her Turkish counterpart. A pivotal regional player and a possible exit route for U.S. troops leaving Iraq, Turkey has its own forces in Afghanistan and is a mediating power in the Middle East.
The secretary of state also offered support for Turkey's membership in the European Union.
"The United States believes it will strengthen Turkey, Europe and our transatlantic partnership," she said. "We share a commitment to democracy, a secular constitution, respect for religious freedom, a belief in free markets, and a sense of global responsibility."
Clinton capped off her visit with an appearance on a Turkish talk show.
"We want the United States once again to be working together with friends," she said. She also spoke about more personal topics, from the early days of her relationship with former President Bill Clinton, to her lack of a "fashion gene."
On the show, she also said that the world is smaller and more connected today than ever.
"American and Turkish young people are No. 1 and No. 2 in the world in using Facebook," she said. "Who knew, right?"
An audience member asked her about how much sugar she liked in her coffee.
"I'm a medium amount of sugar person," she said, laughing. "Somebody said that I'm always trying to find the middle ... which is probably true."
To Russia With Love
In Russia, Clinton presented a gift that was meant to indicate America's desire to "reset" relations with Russia, but unfortunately that message was lost in translation. The gift was a button with a Russian word that the American team thought meant "reset," but actually means "overcharge."
The top priority for the United States and Russia is renegotiating the Strategic Arms Reduction Treaty.
"We both believe that we need a new one; our experts would concentrate on preparing some ideas for the two presidents to consider and to give the instructions," Russian foreign minister Sergei Lavrov said.
There are still disagreements with Russia over a possible U.S. missile shield, but now there is new hope for a compromise.
Clinton was the highest ranking U.S. official to address the European Parliament since Ronald Reagan, and she called Europe "an essential partner."
ABC News' Lara Setrakian and Jennifer Glasse contributed to this report.