A newly released document indicates that the CIA proposed using waterboarding, a controversial interrogation technique that simulates drowning, on terror suspect Abu Zubaydah three months before the Justice Department approved the harsh interrogation technique.
The document, released today by the Senate Select Committee on Intelligence provides a detailed narrative of the history of the Bush administration's attempts to authorize so-called harsh interrogation techniques.
The declassified narrative of the Justice Department's Office of Legal Counsel's (OLC) 2002 opinions on the CIA detention and interrogation program provides the most detailed timeline yet for how the CIA program was conceived and approved.
According to the account, once the DOJ had reviewed the proposals, it advised the CIA that "the Attorney General had concluded that certain proposed interrogation techniques were lawful and ... that the use of waterboarding was lawful."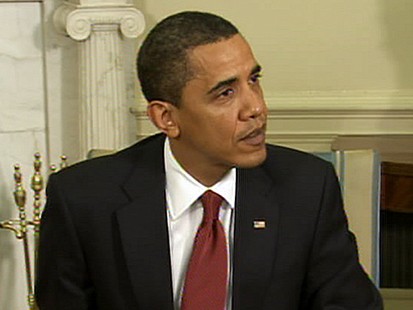 Zubaydah was subjected to
waterboarding, a form of simulated drowning
, at least 83 times in August 2002, shortly after the Justice Department formally approved it in a classified legal document.
DOJ officials concluded that the harsh interrogation technique would not violate any prohibition because there was no evidence it produced any prolonged mental or physical harm. It also says that the CIA first proposed the harsh interrogation technique months before the DOJ approved it.
Specifically, the narrative says that it wasn't until Sept. 16, 2003, that then-CIA Director George Tenet briefed Secretary of State Colin Powell and Defense Secretary Donald Rumsfeld on the CIA's interrogation techniques, at the request of then-National Security Advisor Condoleezza Rice.
Sen. Jay Rockefeller, D-W.Va., a member of the Senate Select Committee on Intelligence, had asked for the timeline released today to be declassified more than a year ago, but the Bush administration's National Security Council didn't give final approval for its release.
"We have at last begun the task of fully setting the record straight, holding our government accountable, and learning from past errors in order to protect our country into the future," Rockefeller said in a statement today.
"We now know that essential information was withheld from the Congress on many matters and decisions were made in secret by senior Bush administration officials to obscure the complete picture," he said.
He pointed out that the OLC opinions were not "made in a vacuum" and an OLC memo was written to "undermine" the Detainee Treatment Act.
This is the second report detailing harsh interrogation practices in the Bush administration. Late Tuesday, the Senate Armed Services Committee released a 232-page report detailing how high-level officials authorized such interrogation methods on detainees in military prisons around the world.
Capitol Conversation
Since President Obama released memos last week that detailed the authorization of such methods, a debate has erupted on Capitol Hill over whether officials who approved such tactics should be prosecuted.
It has also turned a spotlight on potential differences between the White House and Democratic lawmakers. Calls to impeach Jay Bybee, currently a federal judge and one of the authors of the controversial memos released last week, are rising among Democrats on Capitol Hill, but the White House has been silent on the issue.
Senate Select Committee on Intelligence chairwoman Dianne Feinstein, D-Calif., said the committee is reviewing the conditions and interrogation techniques. The study will likely be completed in six to eight months, she said.
House Speaker Nancy Pelosi, D-Calif., hinted that there would be multiple congressional hearings on the issue.
"I myself do not believe that immunity should be granted to everyone in a blanket way," she told reporters, adding that she is in favor of congressional hearings on the subject and the creation of a "Truth Commission," also proposed by the White House.
Senate Judiciary Committee chairman Sen. Pat Leahy, D-Vt., pledged that if he cannot get the votes to create a bipartisan commission to investigate the Bush administration's torture policy, he will conduct his own partisan inquiry in the Senate Judiciary Committee.
Leahy said Bybee was not forthcoming during his confirmation process and that he would never have been confirmed had the Senate been aware of the content of the memos. Leahy added that Bybee should resign.
There is an ongoing internal investigation into Bybee and two other authors of the torture memos, John Yoo and Steven Bradbury, within the DOJ.
House Judiciary Committee Chairman John Conyers, D-Mich., announced Tuesday that the committee would hold hearings on the torture memos.
"Critical questions remain concerning how these memos came into existence and were approved, which our committee is uniquely situated to consider," Conyers said in a statement Tuesday.
"The president's comments ... on possible approaches to a fuller accounting of these matters are exactly right -- further comprehensive review of the Bush administration anti-terror policies will be most valuable and successful if done in a truly apolitical and bipartisan manner," he said.
Sen. Russ Feingold, D-Wis., wrote a letter today to Obama urging a thorough Justice Department investigation of the interrogation policy and saying Obama should not rule out prosecuting the CIA agents who carried out the interrogations.
Republicans Unhappy
It is unclear whether the Obama administration will get a bipartisan panel to investigate the memos and officials, a move the president has said would be essential in this type of an investigation. But Republicans have bashed the Democrats and White House for releasing the memos and discussing possible prosecution.
"We have been monitoring this. The leaders of the House and Senate and the intelligence committees at the time were briefed on these techniques. Now, to go back and start penalizing or punishing a previous administration is what a banana republic does," Sen. Kit Bond, R-Mo., said on "Top Line." "Our country has never done that, and I think this is a terrible step in the wrong direction."
Even Sen. John McCain, R-Ariz., who serves on the Senate Armed Services Committee and is a long-time critic of the CIA's interrogation policies, joined with his Republican counterparts in urging Obama not to prosecute the authors of the so-called torture memos.
In a letter to Obama, McCain, Sen. Joe Lieberman, Ind-Conn., and Sen. Lindsey Graham, R-S.C., said prosecutions would have a negative effect on how officials provide their advice.
"We have every interest in looking forward to solutions, not backward to recriminations," they wrote. "That is why we do not support the idea of a commission that would focus on the mistakes of the past."
They also advised against the idea of forming a "Truth Commission" to investigate the harsh interrogation techniques.
Only one Republican, Pennsylvania Sen. Arlen Specter, broke from his party, saying the attorney general should prosecute if there is evidence that torture was employed.
"I am opposed to the commission idea because all of the facts are readily available to the Department of Justice," he said in a statement. "If there is evidence of criminality, then the Attorney General has the full authority and should prosecute it. But going after the prior administration sounds like something they do in Latin America in banana republics," he added, sounding a lot like his counterpart Bond.
Former Vice President Dick Cheney has been leading the charge in criticizing the administration's decision to release the memos.
"One of the things that I find a little bit disturbing about this recent disclosure is they put out the legal memos ... but they didn't put out the memos that showed the success of the effort. And there are reports that show specifically what we gained as a result of this activity. They have not been declassified," he said in an interview with Fox News.
Cheney also said he has asked the CIA to declassify those interrogation memos "so we can lay them out there and the American people have a chance to see what we obtained and what we learned and how good the intelligence was, as well as to see this debate over the legal opinions."
Today, Rep. Dana Rohrbacher, R-Calif., pressed Secretary of State Hillary Clinton to push the administration to declassify and release the documents Cheney requested.
Clinton's response: "Well, it won't surprise you, I don't consider him a particularly reliable source of information."
High Level Officials Involved
The report released late Tuesday by the Armed Services Committee shed new light on the authorization and implementation of harsh interrogation techniques at U.S. military prisons around the world.
"The report represents a condemnation of both the Bush administration's interrogation policies and of senior administration officials who attempted to shift the blame for abuse -- such as that seen at Abu Ghraib, Guantanamo Bay, and Afghanistan -- to low-ranking soldiers," said Senate Armed Services Committee chairman Sen. Carl Levin, D-Mich.
"The record established by the committee's investigation shows that senior officials sought out information on, were aware of training in, and authorized the use of abusive interrogation techniques," Levin said. "Those senior officials bear significant responsibility for creating the legal and operational framework for the abuses."
The report shows that these senior officials knew about and authorized these interrogation tactics considered torture by some and banned under the Geneva Conventions.
Levin pointed to "senior civilian leaders," including Cheney and then-White House counsel Alberto Gonzalez, for setting the tone.
The report focuses on interrogation methods that took place in military prisons. It ties those interrogation policies to the abuses of Iraqi prisoners by U.S. military authorities at the Abu Ghraib prison outside Baghdad as well as to interrogations at the U.S. naval base at Guantanamo Bay, Cuba, and in Afghanistan.
The Senate investigation was conducted for 18 months but was under Pentagon security review since November 2008. Its findings were drawn from more than 70 interviews and 200,000 pages of classified and unclassified documents.
"It is now widely known that Bush administration officials distorted Survival Evasion Resistance and Escape ('SERE') training -- a legitimate program used by the military to train our troops to resist abusive enemy interrogations -- by authorizing abusive techniques from SERE for use in detainee interrogations," Levin said in his statement.
"Those decisions conveyed the message that abusive treatment was appropriate for detainees in U.S. custody," he said. "They were also an affront to the values articulated by Gen. [David] Petraeus."
According to the report, Rumsfeld authorized 15 of the interrogation techniques -- such as stress positions, removal of clothing, use of phobias (such as fear of dogs), and deprivation of light and auditory stimuli -- requested by commanders at Guantanamo Bay.
It also goes into detail about how such methods were approved in military prisons in Iraq and Afghanistan.
But the question remains as to what steps the Department of Justice can, and will take. The bar for prosecution is quite high. A prosecutor would have to show that the lawyers knew the activity was torture and were finding legal ways around it, and that they were giving legal advice to make illegal actions legal.
Levin said attention must now be turned to questions of accountability.
"I have recommended to Attorney General [Eric] Holder that he select a distinguished individual or individuals -- either inside or outside the Justice Department, such as retired federal judges -- to look at the volumes of evidence relating to treatment of detainees, including evidence in the Senate Armed Services Committee's report, and to recommend what steps, if any, should be taken to establish accountability of high-level officials -- including lawyers," Levin said.
White House's Stance
Obama himself initially said no officials should be charged, but then shifted his language Tuesday, saying that the door is open for the prosecution of Bush-era officials.
However, the White House made it clear that those CIA officers who were told by the Bush administration that these harsh interrogations were legal should not be charged.
"For those who carried out some of these operations within the four corners of legal opinions or guidance that had been provided from the White House, I do not think it's appropriate for them to be prosecuted," he said Tuesday following a meeting with Jordan's King Abdullah.
"With respect to those who formulated those legal decisions, I would say that that is going to be more of a decision for the attorney general within the parameters of various laws, and I don't want to prejudge that," he said. "I think that there are a host of very complicated issues involved there."
Today, White House Press Secretary Robert Gibbs said the president is going to leave the handling of the prosecution issue to the lawmakers and Justice Department.
"I think that the lawyers that are involved are plenty capable of determining whether any law has been broken," he said. "I want to stress that that determination is not going to be made by the president, or the vice president, or anybody that works in the White House, because that's why many, many, many, many moons ago we created a Department of Justice."
Director of National Intelligence Dennis C. Blair confirmed a story reported in the New York Times that he informed Obama in a private memo that the harsh interrogation tactics did indeed yield valuable information from terror suspects, but said they were unnecessary.
In a statement released Tuesday night, Blair said that while he did recommend to the president that the administration release these memos, he also made clear that the CIA should not be punished for carrying out legal orders.
"We do not need these techniques to keep America safe," he continued. "The information gained from these techniques was valuable in some instances, but there is no way of knowing whether the same information could have been obtained through other means."
The White House has also suggested that any public investigation of interrogation policy should be like the 9/11 Commission.
"There needs to be a further accounting of what took place during this period, I think, for Congress to examine ways that it can be done in a bipartisan fashion, outside of the typical hearing process that can sometimes break down and break it entirely along party lines, to the extent that there are independent participants who are above reproach and have credibility, that would probably be a more sensible approach to take," Obama said.
Gibbs added that the president would see the 9/11 Commission as a model of how an investigation into the torture memo matter should be carried out.
Obama is concerned that such an investigation "could become overly politicized," Gibbs said. On the 9/11 Commission, however, the members -- regardless of whether they were Democrats or Republicans -- "put their party identification away in order to answer some very serious questions," he said.
ABC News' Jake Tapper, Z. Byron Wolf, Ariane de Vogue, Jonathan Karl and The Associated Press contributed to this report.