First lady Michelle Obama should have more parties at the White House. She should keep young daughters Malia and Sasha out of the public eye. And she should plan regular trips to Camp David.
She has gotten loads of such advice from the women with unique perspectives on her role. Think of them as the Former First Ladies Club.
"It is really sort of like a club," former first lady Laura Bush told "Good Morning America's" Robin Roberts in an interview scheduled to air next week. "Everybody who's been there before knows what the new person is discovering."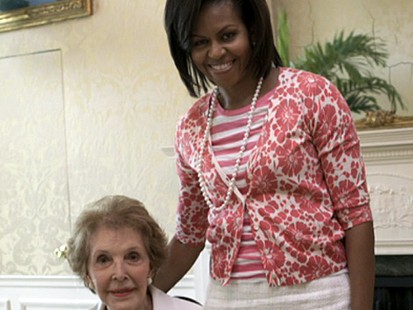 And, in welcoming their newest member, there have been phone calls, letters and invitations to dine.
Michelle Obama invited Nancy Reagan to the White House for lunch Wednesday. She was in town for events honoring her late husband, President Ronald Reagan: President Obama signed the Ronald Reagan Centennial Commission Act Tuesday and the Reagan statue was unveiled in the Capitol Rotunda Wednesday.
But, it turns out, they've been pretty chummy lately. Michelle Obama recently telephoned Nancy Reagan and they talked for 45 minutes, the White House confirmed.
"She called me for advice, suggestions; I was very happy to talk to her," Reagan told Vanity Fair magazine. "We had a nice conversation."
Reagan said she encouraged Obama to entertain and break with recent tradition by hosting a lot of state dinners. (For the record, the Reagans hosted 56 state dinners in their eight years at the White House. Laura Bush organized six.)
"It's the easiest thing in the world," Reagan told Vanity Fair. "You don't have to do anything. Just have a good time and do a little business. And that's the way Washington works."
Rosalynn Carter has spoken with Michelle Obama several times on a variety of topics since her husband's inauguration in January.
A spokeswoman said Carter's advice to the first ladies who've followed in her footsteps has always been the same: "select a few key projects, stand by your convictions, and ignore the criticisms."
"I think there's a real camaraderie among first ladies that I sense, just the willingness and openness of each and every one of them, just the sense of, 'I know what you're about to go through and I'm with you,'" Michelle Obama told Time magazine.
In the interview, Obama said she knows it's not just about her. "My sense is that it's not just me; I think they do this because they know, experience when you've got children, that you need support."
Former First Ladies Encourage Obama to Put Family First
There has been one common piece of advice from all of Michelle Obama's predecessors in the East Wing.
"The most unexpected and uniform advice that I got was, 'Go to Camp David early and often' — universally, across the spectrum," Obama told the latest issue of Time.
"I think every single first lady believed that that was an important resource, an important opportunity, an important thing for the health of the family. And some found it later in their terms than others, because you get so busy."
And a lot of the advice has revolved around her children.
In an interview with "Good Morning America's" Robin Roberts last summer, Michelle Obama said she had a "great conversation" with Hillary Clinton and also talked to Tipper Gore about raising kids in the White House.
The women told her to try to keep her little girls' worlds "very much their own," Michelle Obama said.
Obama added that Clinton had been particularly gracious in offering tips.
"I think you see her advice in her actions and I think she's done an outstanding job at role modeling, you know, how to keep the kids out of it, and she's a strong advocate of that and, and I respect that," Obama said.
No subject is too mundane for the First Ladies Club.
Back in December, Laura Bush said the incoming first lady didn't ask for advice when she visited with her two daughters. Instead, the two talked closet space in the White House.
In February, Bush told ABC News' Jonathan Karl that she and Michelle Obama had talked about family life inside the biggest fish bowl there is.
"I think it really does require a very careful balance of the private life that the family wants who live there and, certainly, the children want, who live there, and then the recognition that the public is very, very interested in everything you do. I mean, everything, from, you know, bringing coffee to bed in the morning to the new dog you're going to get," Bush said in the February interview.
She described the White House as isolating and said that's why she liked Camp David, where she could walk outside without being seen.
In the more recent interview with Robin Roberts, to air next week, Bush also talked about the role the first lady can play in shaping policy.
"I hope she'll discover, and I think she has, that she really does have a podium and that people do watch her, from all over the world," Bush said. "And she can be such a great example and is, for women and for people everywhere."