Congress loves to beat up on corporate executives for flying on private planes, but it turns out some senators do it all the time -- paid for with your tax dollars.
When it comes to spending big on travel, nobody beats Sen. John Cornyn, R-Texas. During the six months from October 2008 to March 2009, his office spent more than any other senator's on taxpayer-financed travel -- $150,000, most of it on airline flights, private and commercial.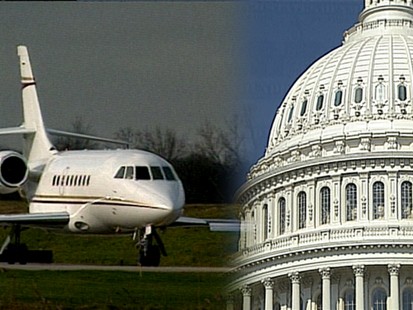 Sen. Chuck Schumer, D-N.Y.,
is the runner-up for the big-travel-spender award, He spent more than $140,000, including $111,000 on private charter flights around New York.
The rankings, compiled by Politico.com, show that Cornyn and Schumer spent 10 times more on travel than many of their colleagues, who choose to fly bargain commercial flights.
"These senators think their time and their energy is more important than being good stewards of the tax dollars," said Steve Ellis of Taxpayers for Common Sense.
Schumer managed to spend nearly $18,911.50 on airfare in one eight-day period for flights to Washington, New York City and upstate New York..
On one typical flight, Schumer spent $3,618.23 for a round trip between New York City and Albany, N.Y. A commercial ticket for the same route typically can be purchased for about $218.
Cornyn's travel total is boosted by $38,000 he spent on travel costs for a staff retreat in the quaint town of St. Michael's on Maryland's eastern shore.
Cornyn and Schumer declined to be interviewed for this story. But Schumer's spokesman told ABC News the senator needs to fly charter flights to fulfill his promise to visit all of New York's 62 counties every year, many without commercial airports.
"Unfortunately, since many parts of the state are not accessible by commercial air travel and there is virtually no air service between upstate cities, he relies on a very small propeller plane to make multiple stops per day across upstate New York, and hundreds of visits each year," said Brian Fallon, Schumer's spokesman.
A Cornyn spokesman said the private flights often are the only practical way to get to events around his state because Texas is so big.
However, the other Texas senator, Kay Bailey Hutchison, spent about half as much.