On his 63rd birthday, former President Bill Clinton is not without reason to celebrate.
After all, it was Clinton who earlier this month was lauded after helping to negotiate the release of U.S. journalists Euna Lee and Laura Ling, who had been imprisoned in North Korea for illegally entering the country from China.
But while Lee and Ling's safe return to the U.S. is certainly something to be proud of, political scientists say that Clinton's real reason to party is his ability to maintain a strong role in American politics – a feat that would make any former president – one who many once wondered how he'd fill his newfound free-time – proud.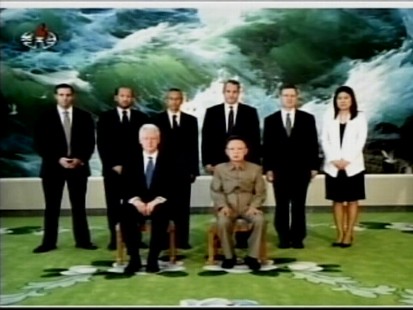 "The fact that on his 63rd birthday the man shows no signs of slowing down whatsoever and in fact seems to be continuing to invent new ways to stay occupied is really something else," said Russell Riley, a presidential scholar at the University of Virginia's Miller Center of Public Affairs.
"There was no question that last year at the point at which it was clear Hillary Rodham Clinton was going to be moving into a position in the administration that some people thought it would mean Bill would have to roll back is own agenda," said Riley. "But that's not what we've seen happen at all."
And party he did. Last week, Clinton, who was in Las Vegas for the National Clean Energy Summit, reportedly took advantage of his time in Sin City and threw himself a lavish birthday dinner at the MGM Grand hotel.
"With former President Clinton, anything is possible," said Julian Zelizer, a political historian and professor at Princeton University. "That's one thing that Americans kind of expect of him – all sorts of behavior. "
"Clinton can be the same guy who can resolve a situation in North Korea and then get involved in all sorts of escapades in his personal life, that's the story of his life," said Zelizer, "and I think he's happy with that status."
According to Zelizer, Clinton's role has morphed since the 2008 Presidential election, during which the former president railed against President Barack Obama's policies on behalf of his wife, who eventually lost the Democratic primary.
"It's interesting, because Clinton was once the person that Obama defined himself against," said Zelizer. "Now that's changed and Clinton has, in many ways, influenced this White House, from the selection of Obama's inner circle to most recently his role as a liaison to North Korea."
With Clinton's trip to North Korea only the second if its kind since former President Jimmy Carter traveled there in the early '90s, Clinton's role is beginning to be more defined as one of the Democratic party elders, said Zelizer.
"The Democrats were out of power for so long [before Obama] that they don't have many senior people to look to," he said. "In part, Clinton is now taking on that role."
But to be sure, Clinton's legacy is not unblemished, said Zelizer.
That mainly stems from his affair with then-White House intern Monica Lewinksy and the impeachment trial that followed in December 1998.
His outspoken – some would say over-the-top – performance during the 2008 presidential campaign was not easily forgotten either, and the former president was oft criticized for taking the limelight away from his presidential-hopeful wife.
Zelizer credits what he calls Clinton's "unbelievable resilience," with his ability to move forward despite his travails.
And Clinton's 63rd birthday may just be even more celebratory than his 62nd, according to Thomas Whalen, a presidential historian at Boston University.
"He's really proved that he's truly the comeback kid," Whalen told ABCNews.com. "Just when everyone was ready to write him off politically and began thinking his time had passed and it was time for the old rocking chair, he pulls off that high-profile rescue of the two journalists and he's back in the national consciousness."
Whalen suspects Clinton will continue to garner the spotlight as the health care debate moves forward.
"Once again, he's like a phoenix rising from the ashes – quite a bit has happened in the last year and this will definitely be a far more joyous occasion than [his last birthday]," said Whalen.
This time last year there was a "dark cloud" over Clinton, said Whalen, who believes this year's birthday celebration will be "far more joyous than the last."
"The former president was incensed that his wife was losing the primaries and there were a lot of whispers that he'd lost his political fastball," he said. "We've since seen that we probably were writing him off prematurely."
Whalen, who says that its common for there to be concern as to what a former president will do after they leave the White House, believes that Clinton is "proving that you can still be a significant figure on the world stage and make an appreciable difference on various public issues."
Lanny Davis, former special counsel to Clinton and a friend of the family for nearly 40 years, says he's never met anyone who is "more brilliant and more committed idealistically to the public good" than Clinton.
"Clinton should celebrate his birthday not only by looking back on a presidency which has to be historically declared to be immensely successful but also by looking forward," said Davis. "He's created out of nothing a whole new edifice for public good; and he's done it in less than nine years."