When his mother Lawanda was diagnosed with Alzheimer's disease, Blane Wilson swore he would not put her in a nursing home.
"It's like adopting another child," Georgia Wilson, Blane's wife, says about Lawanda, 78.
44 million Americans provide unpaid care to a loved one, according to a study by the by the National Allegiance for Care Giving and the AARP. Of those, 23 percent are providing care for someone with Alzheimer's, dementia or other forms of mental confusion, according to the same report.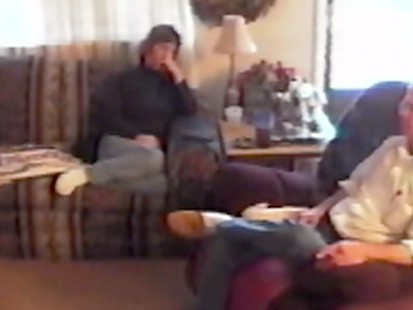 Watch "Primetime: Family Secrets" TONIGHT at 10 p.m. ET
Blane Wilson says it's been rough dealing with a parent with a disease without obvious, physical symptoms.
"It's the type of disease you look at and don't see it," he said.
The situation at the Wilson's house is a powder keg poised to explode: a man, his wife and the mother-in-law who never goes home. The disease caused a host of problems for Wilson and his family. The stress of supervising Lawanda , who frequently and unwittingly puts herself in harm's way, strained the couple's five-week-old marriage.
"All I want is for her to go," said Wilson's wife, Georgia. "I just didn't expect to get this five weeks after we married, honey."
After four months of caring for his sick mother, in a teary confession to "Primetime" cameras, Wilson says: "I didn't expect all this ... It's my mother. You don't understand"
Neither do the millions of Americans who suddenly find themselves caring for a loved one.
A common thread links together most caregivers: the haunting memory of how their loved one used to be.

Click here for expert answers, resources and tips for patients and caregivers at ABC News' OnCall+ Alzheimer's disease special section.

Click here to visite the Alzheimer's Association website.
Aging Expert: 'It's a Constant State of Loss'
"I guess that's what hurts, really," Wilson said. "When you look at your mother, you don't see the same person. It's kind of hard."
Memories of a strong, independent and loving mother often become a distant memory.
"It's a constant state of loss," said Virginia Morris, author of "How to Care for Aging Parents." "It's very hard to see a person who has cared for you to become childlike and helpless. To have them forget about who you are, it's staggeringly painful."
The slow, agonizing loss of a loved one isn't the only sacrifice made by caregivers, who often face setbacks in their professional and financial circumstances. One out of every three caregivers reports taking a second job to cover rising expenses, while 20 percent say they cannot pursue job promotions, transfers or skill-building opportunities because of their caregiving obligations, according to the AARP.
In an ironic twist, taking care of one family member often leads to tension with other loved ones. In a survey conducted by Caring.com, 80 percent of participants said caretaking has put a strain on their marriages.
This seemingly unbearable pressure can lead many caregivers to a dark place mentally.
"It's very common to think, 'Oh, I wish they would just die.' People often feel that, and then they feel bad," said Morris.
Despite its many difficulties, Morris insists there are ways to alleviate the stress.
"If you can understand that you can only give so much, if you can remember that you do need to put your own oxygen mask on first before you put it on someone else, you will be more level-headed, efficient and less resentful," says Morris.
Fighting the Stress: Advice for Families
As the U.S. population ages, the problems of caregiving are becoming increasingly common. According to a survey by the Opinion Research Corporation, more than 138 million Americans can expect to provide care for a loved one in the future.
But Morris says some of the problems associated with caring for a loved one can be alleviated with some advanced planning.
"It's easier to talk about [caregiving] before there's a crisis. It's never too soon to start planning," she says.
Hard as it is to have conversations about dying, Morris recommends talking to aging parents about their plans before they become sick.
Housing is one important issue to consider. "Many children think that parents want to live with them if they become ill, but that's not always the case," she said.
Morris also says families that thought they were financially stable can suddenly find themselves in dire straits if finances aren't discussed before an illness.
Finally, Morris urges parents to update their wills and to appoint power of attorney and a healthcare proxy in order to prevent any potential confusion, should they become ill. "We all say that we wouldn't want a prolonged death in a hospital, but the majority of us end up with that."
Despite the myriad challenges associated with caring for an ailing loved one, Morris believes this painful scenario can also be rewarding.
"Some children become incredibly close to their parents. They're glad they had the chance to take care of them."