From the death of Michael Jackson last month to screen goddess Marilyn Monroe in 1962 to hip-hop kingpin notorious B.I.G. in 1997 to the 1981 death by drowning of Natalie Wood and the 1994 murder of Nicole Brown Simpson, the Los Angeles County coroner's office serves as more than a medical examiner's office -- it's Hollywood's psychic stopover between glamour and the grave.
"The L.A. County coroner's office is the busiest office in the United States," said David Campbell, who worked there for 20 years, rising to the rank of captain of investigations and spokesman, before retiring in 2005. "On average, it'd be fair to say, 15 to 25 bodies a day would come into the coroner's office."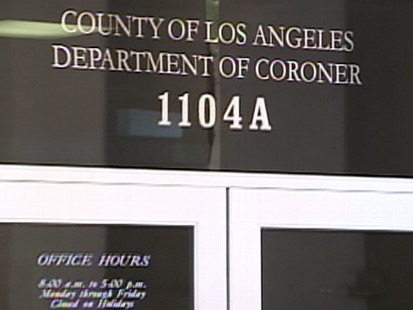 Michael Jackson is the latest star in its high-profile history to grace the L.A. county coroner's office.
"Not surprisingly, with Hollywood, they have some of the most high-profile and complex cases. They're the most technologically advanced coroner's office in the world," said Brad Schreiber, author of "Death in Paradise: An Illustrated History of the Los Angeles County Department of Coroner."
For more on the investigation into Michael Jackson's death, watch "Prescription for Death?" on "Primetime: Crime," Tonight at 10 p.m. ET
With national attention surrounding the investigation into the King of Pop's death, Campbell said stars like Jackson are given extra attention to protect their privacy.
"High-profile cases do get special attention. They may be isolated from other cases, and this way it prevents lookie-loos," Campbell told ABC News. "In addition to that, a security hold might be placed on the coroner's paperwork. It makes it more difficult for people to access it."
Still, Jackson's case has already sparked news of an investigation into reports that the singer's death certificate and other sensitive records were obtained by numerous employees in violation of regulations.
Yet, most victims -- no matter how famous -- barely raise an eyebrow at the coroner's office.
"When Nicole Brown Simpson came into the coroner's office, it was a very busy day. If I remember correctly, we had five or six homicides come in that particular day," Campbell said. "So there was no particular sense of 'oh my goodness, we've got a celebrity death or a high-profile case.'"
The subsequent autopsies and inquiries into the high-profile dead always seem to yield some telling details. According to the coroner's office, Nicole Brown Simpson's last meal was pasta; Sean Penn's brother, actor Christopher Penn, reportedly weighed some 310 pounds. And Campbell recalls a poignant image from the examination of singer Janis Joplin, who died from an overdose of heroin in 1970.
"It is in fact true that when Janis Joplin died, there was indeed bad drugs out on the streets," Campbell said. "In fact, I remember seeing a coroner's photograph of Janis Joplin when she died, and she -- she still had money, cash in her hand. She was clutching dollar bills."
Coroner Inquiries Provide Portraits of Death
The death of Hollywood legend Marilyn Monroe, who died five miles from Michael Jackson's last home, would remain haunting and mysterious until this day.
"The forensic evidence about her death suggests that she was not a suicide, because she took Nembutal, and yet there was no Nembutal in her stomach, it was in her bloodstream," Schreiber said. "The significance of that suggests that either forcibly, by an injection, or some other method, that she was given the Nembutal."
But the coroner's official finding as to the cause of her death was barbiturate intoxication, specifically Nembutal, Schreiber revealed.
Considerably more savage were the 1969 slayings by Charles Manson's followers of pregnant actress Sharon Tate, whom the coroner's office determined had been stabbed some 16 times.
"It was a historic low, at that point, to consider how brutally the people were killed at Roman Polanski's rented home," Schreiber said.
Other celebrated deaths received the same kind of dedicated inquiry now being carried out in Jackson's case. For Karen Carpenter, who battled anorexia before her death in 1983, an outside lab performed toxicological analysis at the coroner's request. Their finding: Her death was the result of her past abuse of Ipecac, a vomit-inducing drug.
"There is a technical term for it: emetine cardio toxicity," Schreiber said. "Emetine is the byproduct of Ipecac. So it is like a poison that makes the muscles of the heart grow striated, long and weak. ... [She] basically had a heart attack. She was a young woman, who had the heart of an old woman, and that's how she died."
Coroner's Office Unlocks Missing Link in Celebrity Deaths
And the L.A. coroner's office has unlocked the missing link in the death of Dorothy Dandridge, the first African-American to get a best actress Oscar nomination, who died suddenly at age 42.
"She'd broken a toe. And initially, when she was found in her Hollywood apartment, people thought that there'd been an embolism. And then it turned out that she was using an antidepressant that had just hit the market, called Tofranil," Schreiber told ABC News. "No one really knew what effects it might possibly have, but the L.A. coroner determined that the cause of death was overdose of Tofranil."
Hollywood's sordid history of death and stardom is almost as old as the town itself. Preliminary results of Jackson's autopsy show the powerful anesthetic propofol was a contributing factor in the pop icon's death, but results of the toxicology report are still pending.
And though little has changed at the L.A. county coroner's office in 2009, as Schreiber notes, their work's power to stun will never diminish.
"I know once I was at the coroner's office, and I was giving a tour to somebody. We happened to be walking by the autopsy rooms, and I pointed out and said, 'And over here is the autopsy room.' And they were actually doing an autopsy," he recalled. "My knees went to Jell-O, and I nearly did a face plant. It was stunningly horrifying. And I don't know how they do it, and how they do that day after day. I really admire them."