— -- And they say Americans don't care about soccer or the World Cup.
Hundreds of soccer super-fans packed into two charter jets on Friday in Houston and flew down to Brazil to cheer on the USA. They're all part of the American Outlaws, a diehard fan club headquartered in Lincoln, Nebraska with more than 125 chapters across the nation -- cities such as in Miami, San Francisco, Seattle and more.
You might recognize them as the raucous bunch that starts the chant: "I believe that we will win" and were chanting for the entire game Monday in Natal during the U.S.'s 2-1 win over Ghana.
Why There Are Hands in the World Cup Logo
Photos: Best Moments From the 2014 World Cup
ESPN's Complete World Cup Coverage
"It's all kind of exploded," co-founder Justin Brunken told ESPN of the group's growth. "It's kind of crazy how big it's gotten. When we started we realized a lot of people were looking for something like this. They were trying to organize with friends and find a bar to watch at, but one time the local bar would have the sound on and the next time they'd say, 'Well, the football game takes priority.'"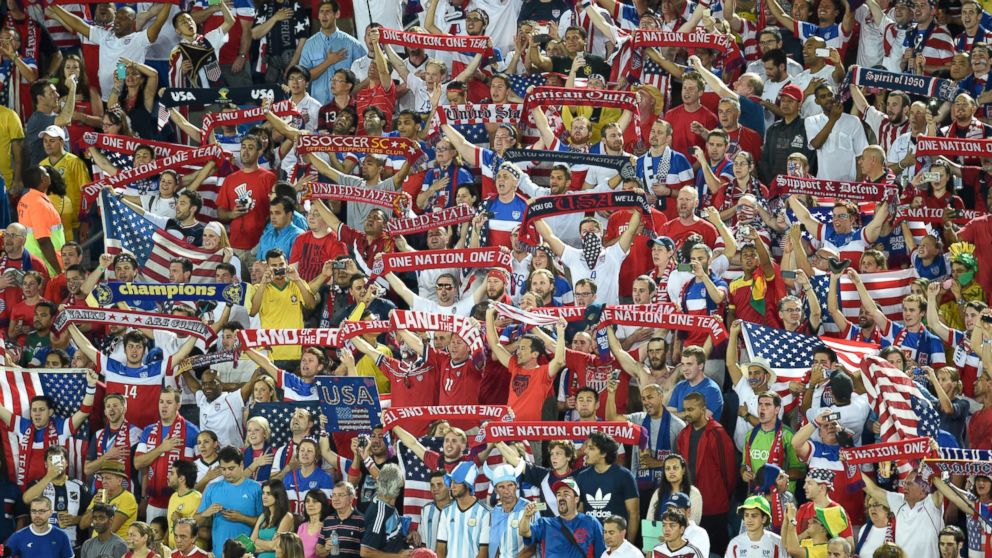 Now they're hard to ignore. Brunken and the more than 18,000 American Outlaws members are recognizable by their face paint, banners, signature red-white-and-blue bandannas and the relentless cheering in the stands when the U.S. takes the field. They organize tailgates and watch parties across the country, and every chapter has a designated bar that plays the games.
The American Outlaws' $29 yearly membership includes an official T-shirt and bandanna, and discounts on soccer tickets and merchandise.
The name comes from feeling like soccer fans were "outlaws" of the sports world, "supporting a sport that most people didn't know much about or cared little about," according to the group's website.
But their fervor for the game is catching on. Americans bought more tickets to the 2014 World Cup than any other nation except Brazil, FIFA said.
Brunken and his co-founder Korey Donahoo set the plan for the World Cup trip to Brazil three years ago. More than 540 members signed up for the package, which included hotels, tickets and flights between games, but "many, many more are here on their own," Brunken said in an email.
Part of the American Outlaws' mission is to help Team USA win -– and Brunken says it works. Former U.S. international defender Frankie Hejduk once told the outlaws "please be as loud as you can, you don't know how much of a difference it makes to the players," before the Ghana game in the 2006 World Cup.
Next stop for the group: Manaus on Sunday to cheer on the U.S. against Portugal.
Sign up for occasional World Cup dispatches from Brazil delivered right to your phone -- including the best photos and limited highlights -- by "starring" this story in ABC News' phone app. Download ABC News for iPhone here or ABC News for Android here.