— -- Kyrie Irving drilled a 3-pointer with less than a minute left, breaking a tie that had dragged on for more than three minutes, and LeBron James hit a one of two throws with 10.6 seconds left, lifting the Cleveland Cavaliers to an 93-89 victory over the Golden State Warrioras in Game 7 of the NBA Finals, for the team's first NBA Championship.
James finished with 27 points, 11 rebounds and 11 assists, as the Cavaliers beat the Warriors for the third straight game, completing an unprecedented comeback from a three games to one deficit in the Finals. Irving scored 26 points and grabbed 6 rebounds.
James was named Finals MVP for helping bring Cleveland its first professional sports championship in 52 years.
"CLEVELAND! This is for you!" James bellowed in his postgame interview.
Draymond Green carried the Warriors, scoring 32 points, grabbing 15 rebounds and dishing out 9 assists, but Stephen Curry and Klay Thompson both struggled, scoring 17 and 14 points, respectively. Curry hit just 6-of-19 from the field, and Thompson went 6-of-17.
The loss on their home court was not the finish expected of the Warriors, who this season won a record-setting 73 regular-season games, to break the 1995-96 Chicago Bulls' mark.
The game was tied at 89-89 when Golden State's Klay Thompson took a Draymond Green pass for a layup with 4:39 left in the game, but then neither team could score again until Irving nailed a 3-pointer with 54 seconds left.
The scoring drought came in a game in which neither team ever led by double digits, as both sides dug in on defense.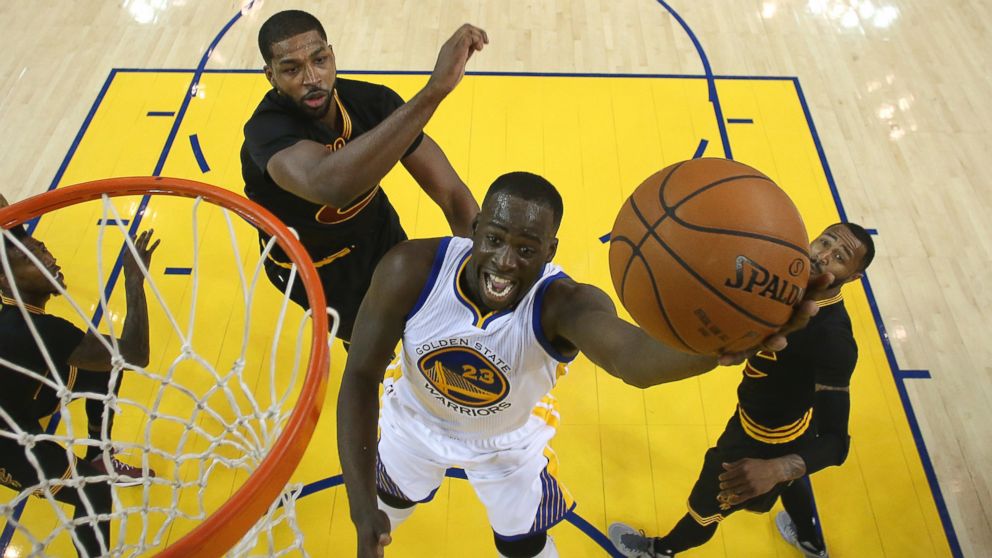 The Cavs trailed 54-46 with 10:33 left in the third quarter after Thompson, who had struggled in the first half, nailed a 3-pointer and followed it with an 8-foot fade-away jumper, but Cleveland answered with an 8-0 run to tie it up at 54-54. J.R. Smith fueled the run with a pair of 3-pointers and a steal that led to a layup by Irving.
The Warriors went back up 59-54 on a 3-pointer by Curry with 7:40 left in the quarter, but Cleveland answered with an 11-0 run, taking a 65-59 lead when Irving completed a 3-point play with 4:33 left.
But Green wouldn't let the Cavs run away with it. He drew a foul on James as he attempted a 3-pointer and hit all three free throws, then connected from long range in a 10-3 run that tied the game at 71-71 with 1:56 left.
Despite Green's 23 first-half points, the Warriors never led by more than 7 points before the break, taking a 49-42 lead into the locker room. Green was 5-of-5 from 3-point range, grabbed 6 rebounds and dished out 5 assists in the first 24 minutes, and the Warriors needed every bit of it, as the rest of the team struggled.
Curry, who scored 9 in the first two quarters, picked up his third foul with a minute left, putting him in foul trouble for the third straight game. He and Thompson, the so-called "Splash Brothers," went a combined 5 for 17 from the field.
James kept up the dominance that helped the Cavs force a Game 7 after they trailed the series three games to one, driving and outmuscling the Warriors for 12 points, while also grabbing 8 rebounds, dishing 5 assists and blocking 4 shots.