Danny Willett deserves his due as Masters champion
— -- AUGUSTA, Ga. -- History remembers the losers. History remembers the brilliant failures on the biggest stages. History remembers the men who held victory in their grasp, only to have it ripped away unforgivingly. History remembers the heartache and the sorrow and the agony of defeat.
Just as history remembers Roberto De Vicenzo signing an incorrect scorecard and Scott Hoch whiffing a 2-foot putt and Greg Norman suffering an all-day collapse, it will now remember Jordan Spieth. It will remember his epic meltdown, a quadruple-bogey on the 12th hole that turned a surefire victory into an agonizing implosion.
Yes, history will forever remember this year's Masters Tournament more for the man who lost than the one who won.
That's the way it goes.
Even if it shouldn't.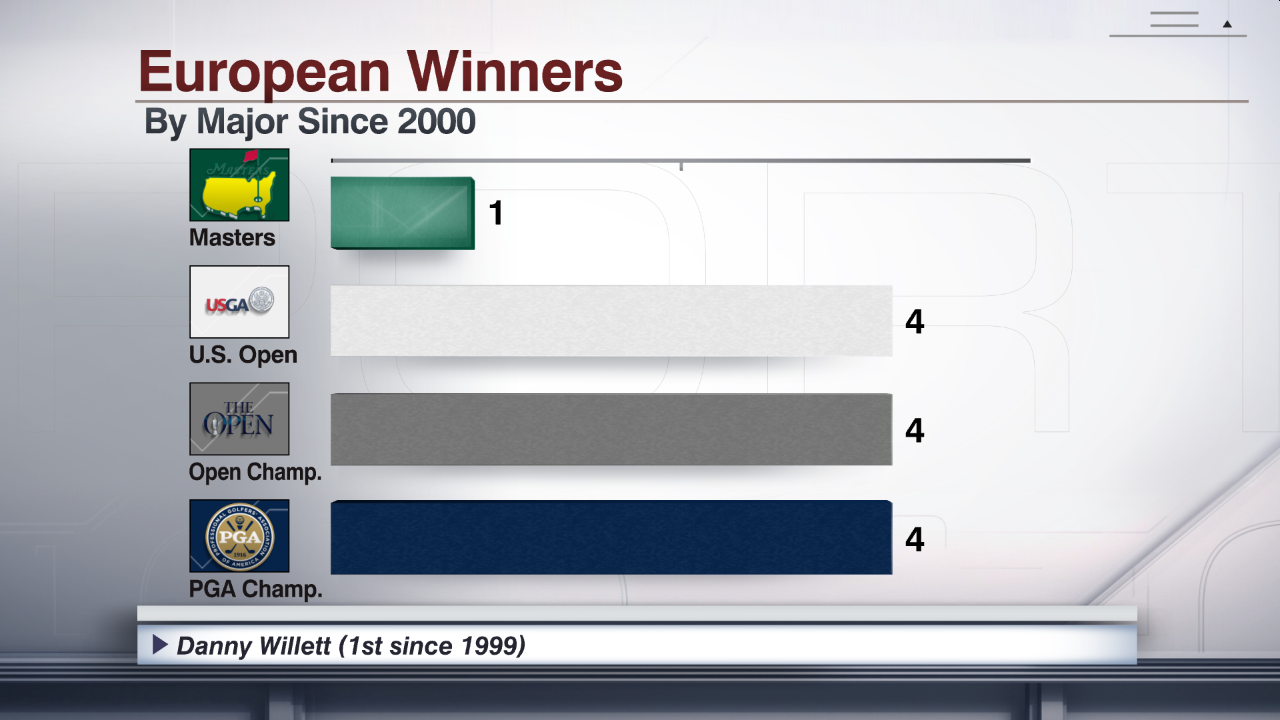 Danny Willett didn't tiptoe backward into his new green jacket on Sunday afternoon. He wasn't handed the title based on some lottery process.
History won't remember that Willett played 72 holes at Augusta National Golf Club in 3 fewer strokes than any other competitor. It won't remember that he posted a bogey-free, 5-under 67 in a pressure-packed final round, tied for the second-lowest score all week.
At least, not immediately.
The 80th edition of the Masters will always be known as the one that got away from Spieth, despite Willett's valiant efforts down the stretch. He made up 8 strokes on the back-nine, converting a 5-shot deficit into that 3-shot triumph.
"I just feel fortunate that I was in the position that I was to pounce on the opportunity to accomplish it," the Englishman said after his first career victory on U.S. soil. "If I had been 5 over par, then it wouldn't have mattered what Jordan had done. Fortunately I was in a position where we were in second place, playing quite nicely, and as a result of him doing what he did, we were able to stay at the lead."
Willett doesn't deserve second-billing. He doesn't deserve to be an afterthought following the greatest moment of his career.
This is a guy who less than a half-decade ago suffered a back injury so debilitating that he was rarely competing inside the ropes. At this point two years ago, he was ranked well outside the world's top 100, toiling among the game's journeymen and also-rans.
The most unbelievable part of Willett's story, though, is that he almost didn't play the Masters this week.
He and wife Nicole were expecting their first child, a little boy, with a due date of Sunday's final round. In the weeks leading up to the Masters, he'd explained over and over that he'd miss the year's first major championship before he'd miss the birth of their baby.
All of which means the real MVP of this week's 80th Masters might have been little Zachariah James Willett, who decided to enter the world 12 days before he was expected.
"I always said that I wouldn't come here if he wasn't born by now, which stuck," the proud father said after his win. "Fortunately enough, he listened to my prayers and he came early. It's just been the most ridiculously awesome 12 days, I guess. Words can't describe what I'm feeling right now, but words definitely can't describe how I was feeling last Tuesday when you get to hold something that me and my wife have made. It's just been incredibly surreal."
In another nice bit of serendipity, Willett was the 89th and final player to register at Augusta National this week, which meant his caddie, Jonathan Smart, wore the No. 89 on his white coveralls. That just happens to be the same number worn by Jack Nicklaus' caddie when he historically won this tournament 30 years ago.
The synergy ends there.
Perhaps more than any major in the past half-century, the 1986 Masters is remembered for the player who won rather than anyone who didn't.
The 2016 Masters will forever be one for the sadists.
When it was all over -- when Spieth couldn't recover, when Willett finished strong and steady, when last year's champion helped this year's champion into his new green jacket -- they each said all the right things.
Visibly distraught, Spieth shook Willett's hand and told him, "Really well played." Empathetic for his fellow competitor, Willett said, "He's a class act to be able to hold face as he did, obviously hurting like I imagine he would be. It just shows the character of the guy."
History will remember Spieth's historic collapse on the game's biggest stage. History will remember the pain written across his face as he completed his march toward calamity.
History shouldn't forget Danny Willett, though. It shouldn't forget his flawless finish, his steely demeanor and the fact that on this week, he was the best player in the field.