— -- Despite some initial push back from some fans who posted images of themselves burning Colin Kaepernick memorabilia, the quarterback's protest of the national anthem and treatment of "black people and people of color" has sparked an outpouring of support -- and merchandise sales.
The red, home team version of the 49ers Kaepernick jerseys became the league's top seller today, according to NFL.com, which tracks sales by popularity. The jersey sales surpassed those for Cowboys running back Ezekiel Elliott, who has held the top spot for much of the NFL pre-season.
The embattled quarterback took to Instagram today to acknowledge the occasion and thank fans for their ongoing support, despite the controversy surrounding him. He promised to donate the proceeds he receives from jersey sales to "the communities."
"I want to thank everyone who has shown me love and support, it truly means a lot! I wasn't expecting my jersey sales to jump to number one because of this, but it shows the people's belief that we can achieve justice and equality for ALL!" Kaepernick wrote. "The only way I can repay you for the support is to return the favor by donating all the proceeds I receive from my jersey sales back into the communities! I believe in the people, and WE can be the change!"
Kaepernick didn't elaborate on how much money he would donate, or how he would do it.
Kaepernick white, away game 49ers jerseys, the second appearance of his name on NFL.com's list of best sellers, currently out-ranks the first appearance of NFL superstars like Cam Newton and Rob Gronkowski.
The protest, which was first noticed by the media in a pre-season game against the Green Bay Packers on August 26, has added to the debate over the subjects of race, patriotism, sports protest and violence by and against police.
Kaepernick's growing marketability, at least in terms of jersey sales, has added an additional layer of complexity to this story. Mixing politics and sports has often been seen as difficult since teams don't want to alienate any fans.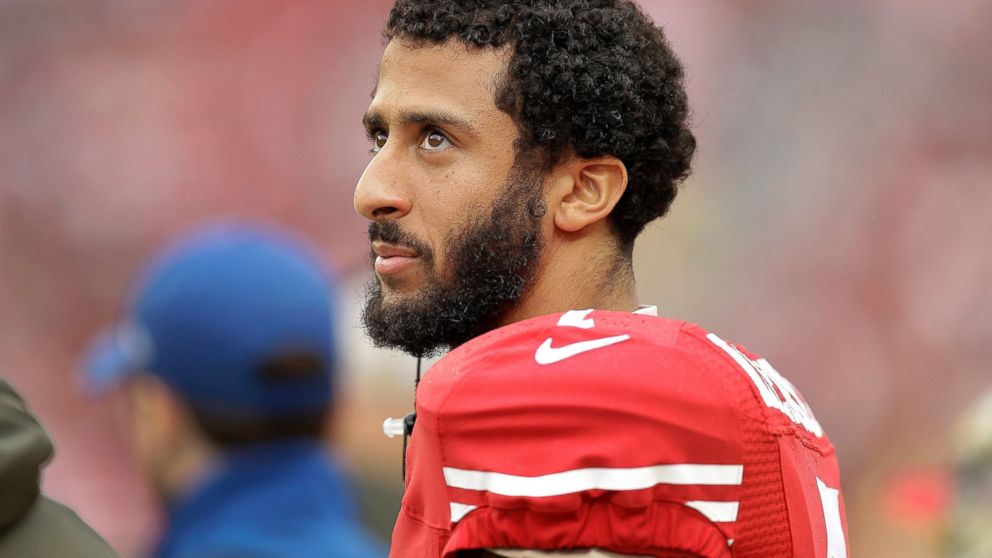 Today, NFL Commissioner Roger Goodell voiced disagreement with Kaepernick's choice to kneel during the anthem, after acknowledging his right to do so.
"I support our players when they want to see change in society, and we don't live in a perfect society," Goodell said. "On the other hand, we believe very strongly in patriotism in the NFL."
Republican presidential nominee Donald Trump said not long after the story broke that "maybe [Kaepernick] should find a country that works better for him," and the union for the Santa Clara, California Police Department -- the officers who work San Francisco 49ers home games -- said that its members would consider boycotting their duty to police the stadium if the team didn't discipline Kaepernick for his actions.
Santa Clara Police Chief Michael Sellers later offered a rebuke of that position, saying that "officers are here to protect the rights of every person, even if we disagree with their position," but also expressed sympathy for the union's sentiment.
President Obama defended Kaepernick's right to protest while answering questions from the press at the G20 summit meeting in Hangzhou, China this Monday, saying that he was "exercising his constitutional right."
"I don't doubt his sincerity," Obama said of Kaepernick, before going on to say generating conversation on the topic was positive.
The NFL regular season opens this week, and the 49ers are scheduled to host the Los Angeles Rams in a game on Monday, September 12. 49ers' coach Chip Kelly announced that Kaepernick would serve as the team's backup quarterback at that game.
He is expected to continue to protest there.