The NBA has a boatload of attention-grabbing superstars to keep an eye on this season. But for sheer excitement, the player most worth watching this season is Russell Westbrook. No other player can rack up numbers and highlight-reel dunks like he can. A couple of caveats: Yes, Westbrook does have deficiencies. He can be reckless (5.6 turnovers a game through Monday's games, second most in the NBA) and overly aggressive (eight offensive fouls, fourth among all guards). And he is an average defender (57th percentile in points per play). But that doesn't make him any less fun to watch. Here's why he's a must-see event:
He will posterize anyone at any time
Part of what makes Westbrook must-see TV? His propensity to roar through a defense for an emphatic dunk. Consider this: entering this season, Westbrook had nearly as many unassisted dunks in the past five seasons (122) as prolific slashers Dwyane Wade and DeMar DeRozan have combined (131) and more unassisted dunks than the total number of dunks by new teammate Victor Oladipo (116).
Most dunks by guards, last five seasons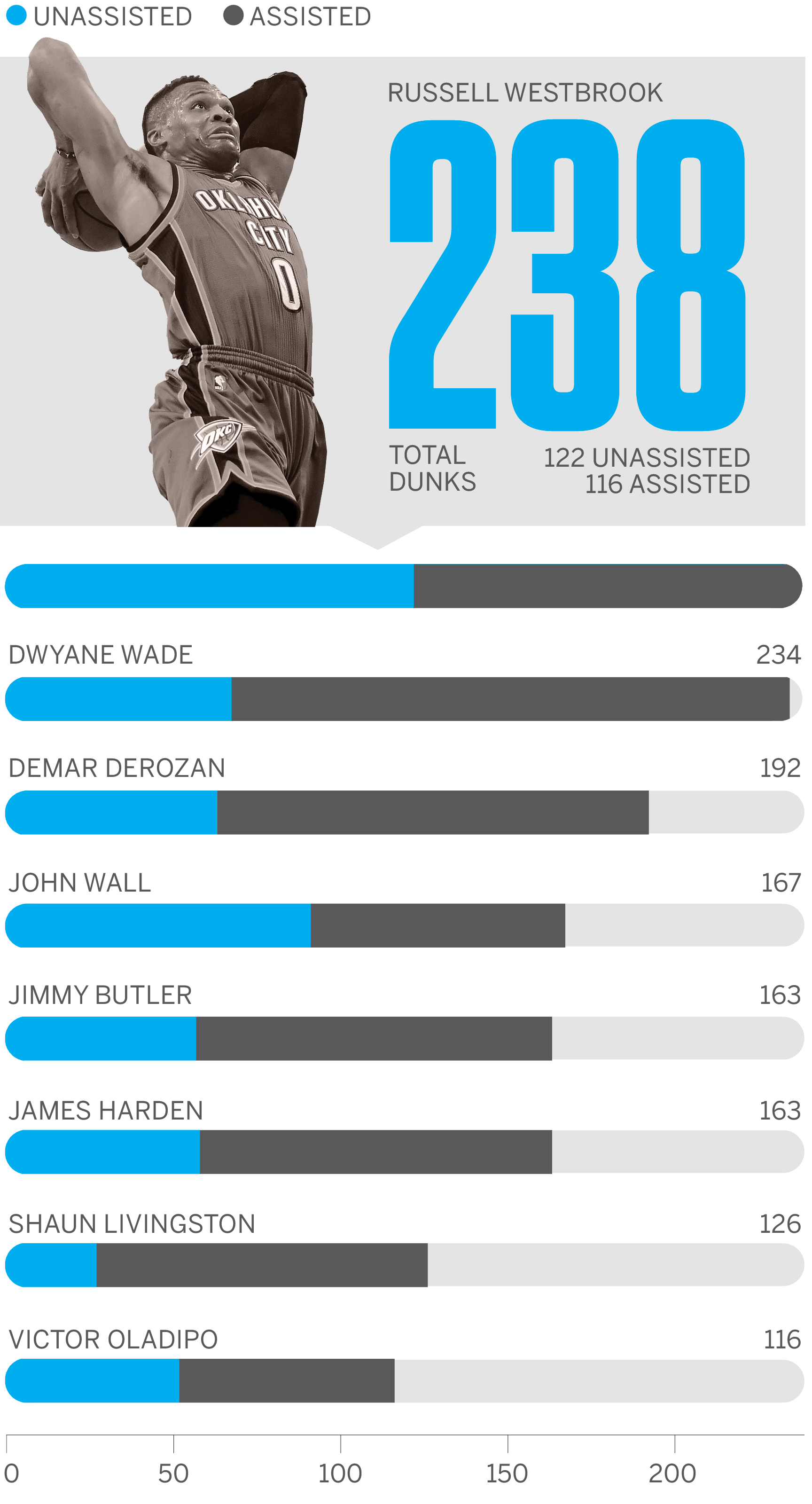 In fact, Westbrook is the king of the unassisted dunk. A look at all players with at least 20 dunks in a seasons over the past five seasons shows that Westbrook does it at a higher rate and a higher volume than just about anybody (check out the blue dots below). And his numbers from last season (in which 57 percent of his dunks were unassisted) make him even more of an outlier.
Unassisted dunks by all players, last five seasons
Dots represent all players' single-season totals from 2011-12 through 2015-16, minimum 20 total dunks made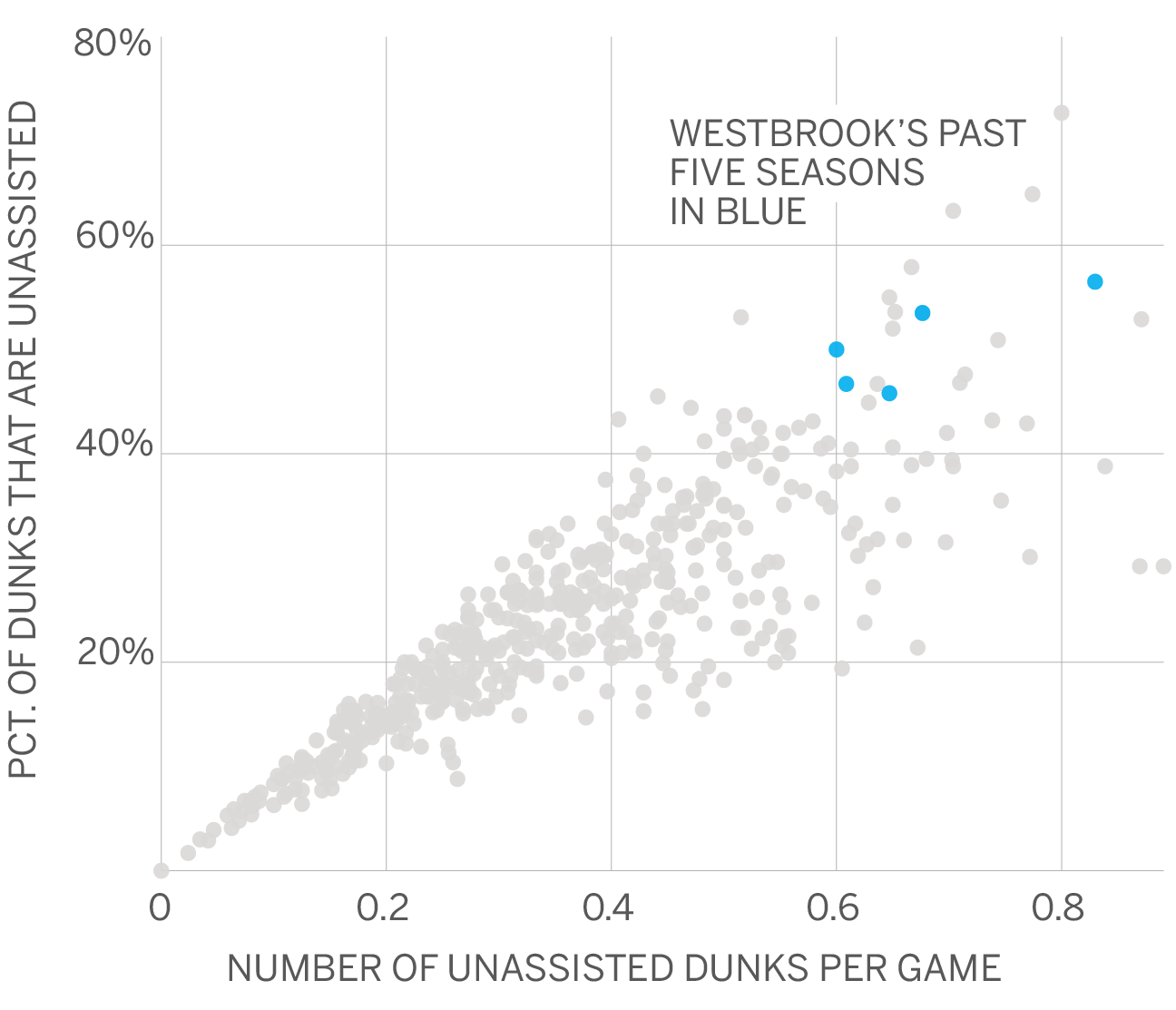 He's a monster in transition
With the ball in his hands, Westbrook is always looking to create chaos -- and he does it well. Last season, no player had the ball in his hands in transition more often, and nobody produced more points, per Synergy Sports Tech. Westbrook's totals: 374 times as a ball handler in transition, 398 points produced (1.064 points per play). Only a handful of players came remotely close to his numbers: James Harden, John Wall, Isaiah Thomas, Stephen Curry and LeBron James.
All players in transition, 2015-16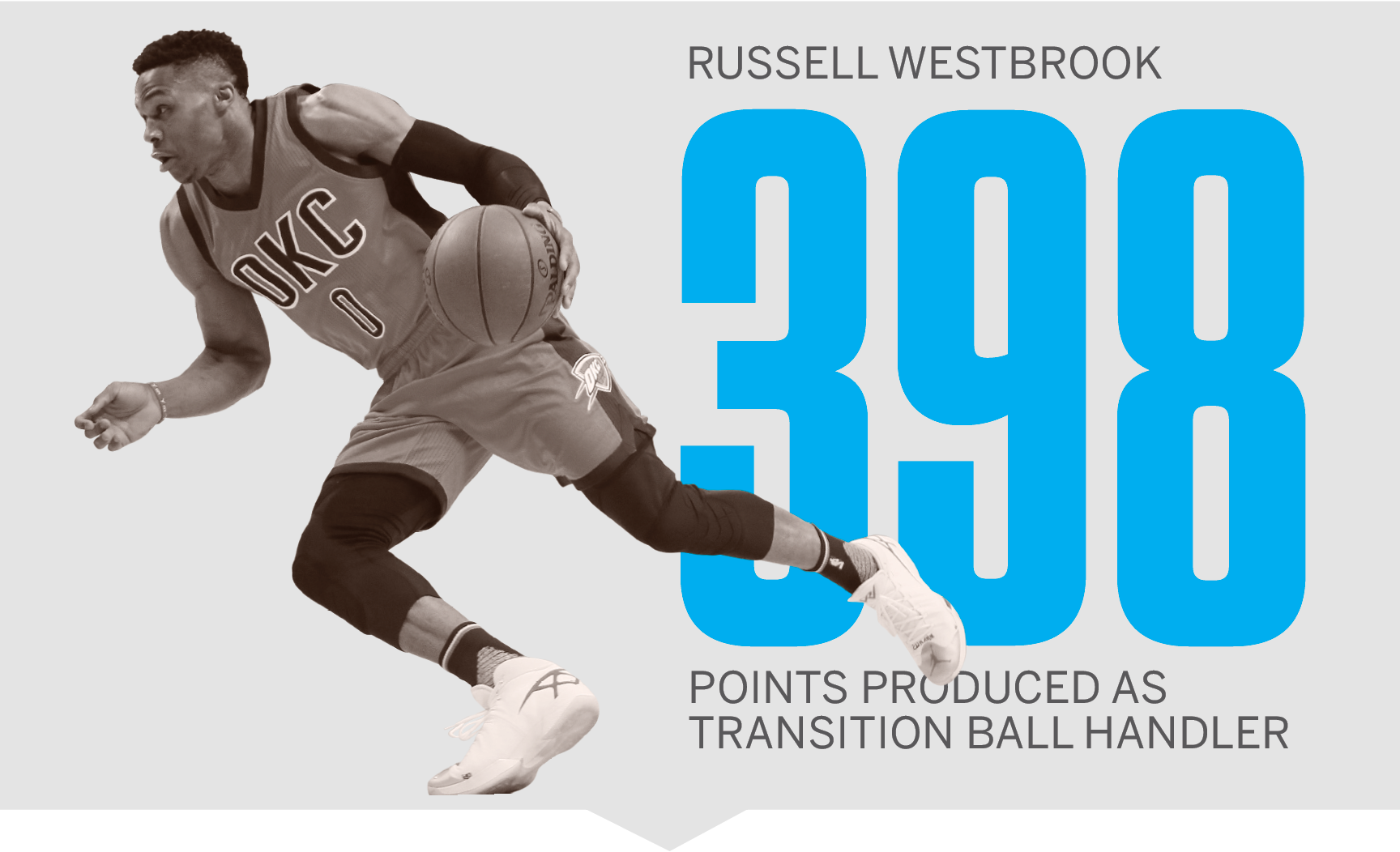 He is remarkably athletic
His speed, power and toughness are widely recognized, as evidenced by the NBA's newest general manager survey released last week. In a league full of eye-popping athleticism, Westbrook is the only player to receive GM votes in all three categories:
From 2016 NBA GM Survey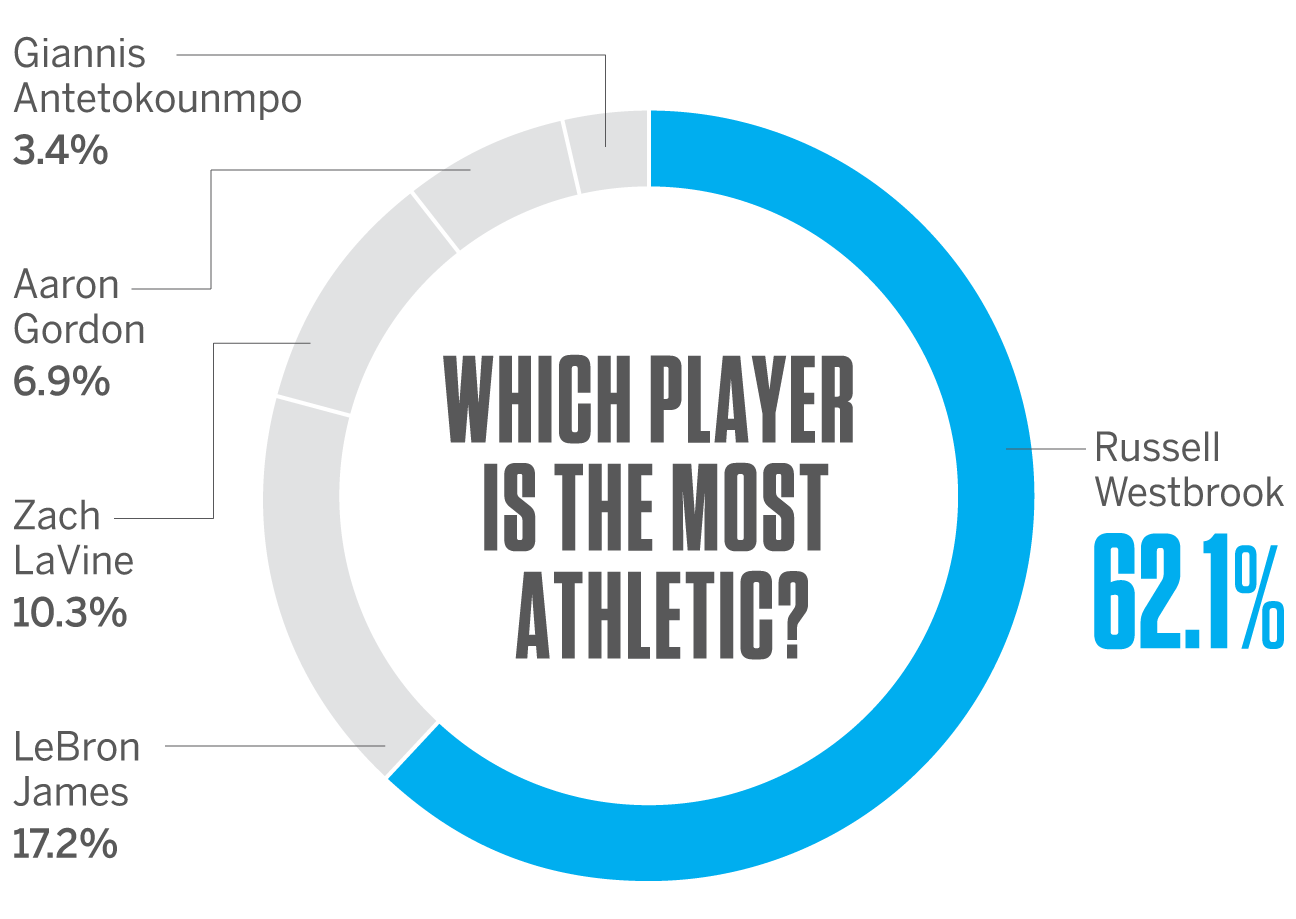 ---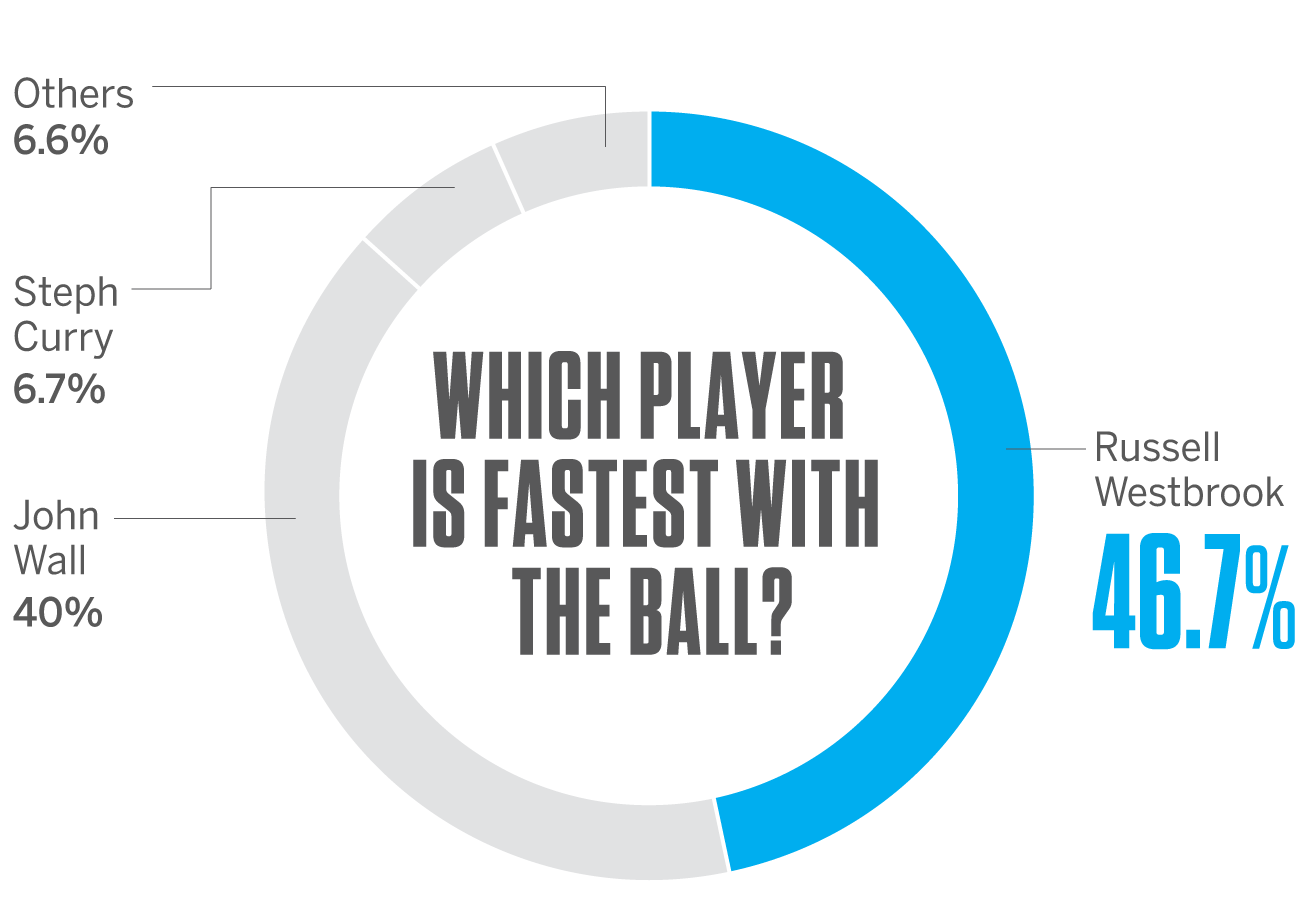 ---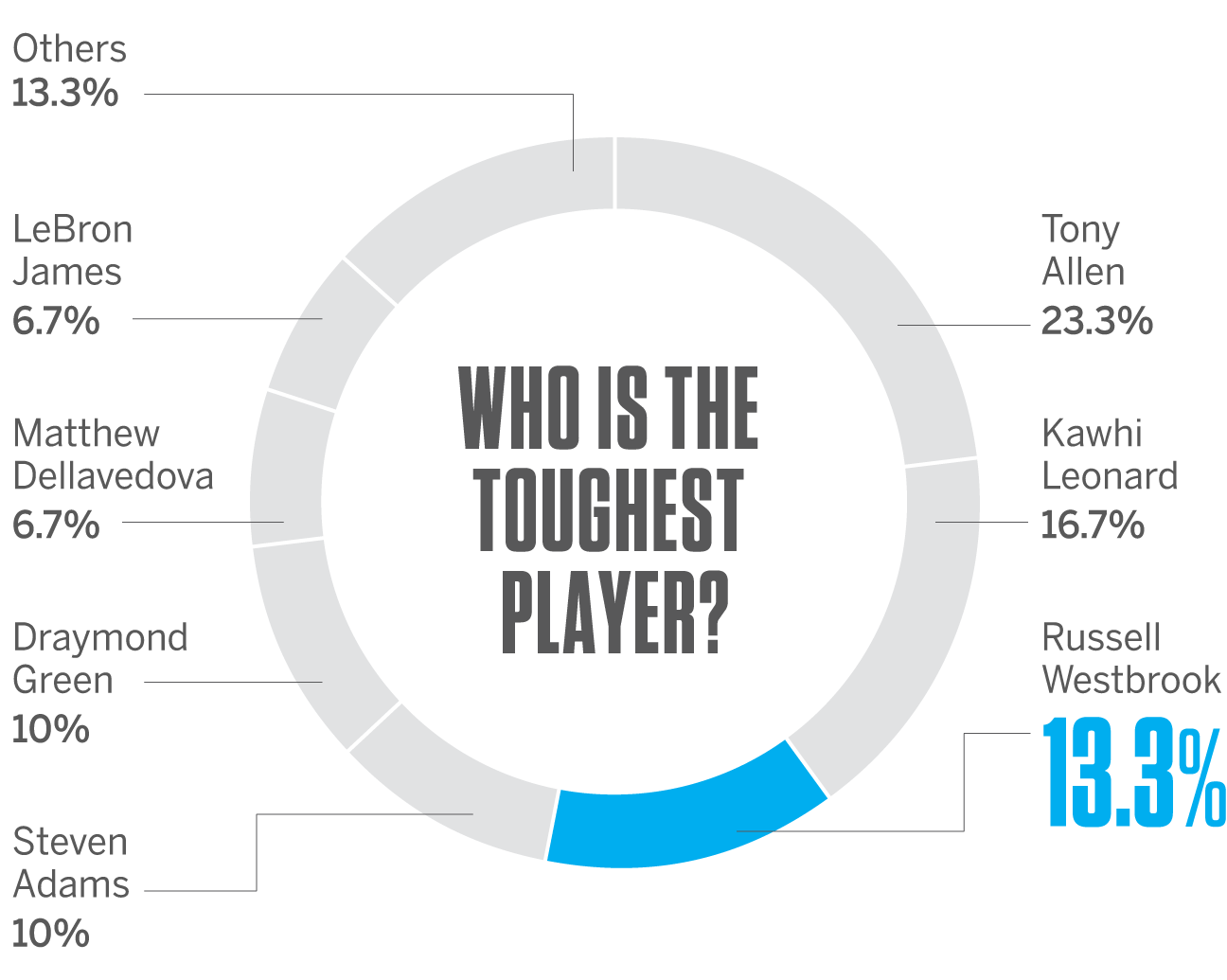 He's fine without Durant
Westbrook was second on the Thunder last season with 18.1 field goal attempts per game. Oklahoma City's No. 1 option, Durant, is now a Warrior. But Westbrook has done this before, during the 2014-15 season in particular, and he's more than capable of carrying the offense and, yes, playing efficiently. Below are Westbrook's career numbers with Durant (527 games) and without him (61 games). In most instances, his numbers are improved without Durant -- even in categories like turnover rate and defensive rating.
Westbrook in games without Durant vs. with him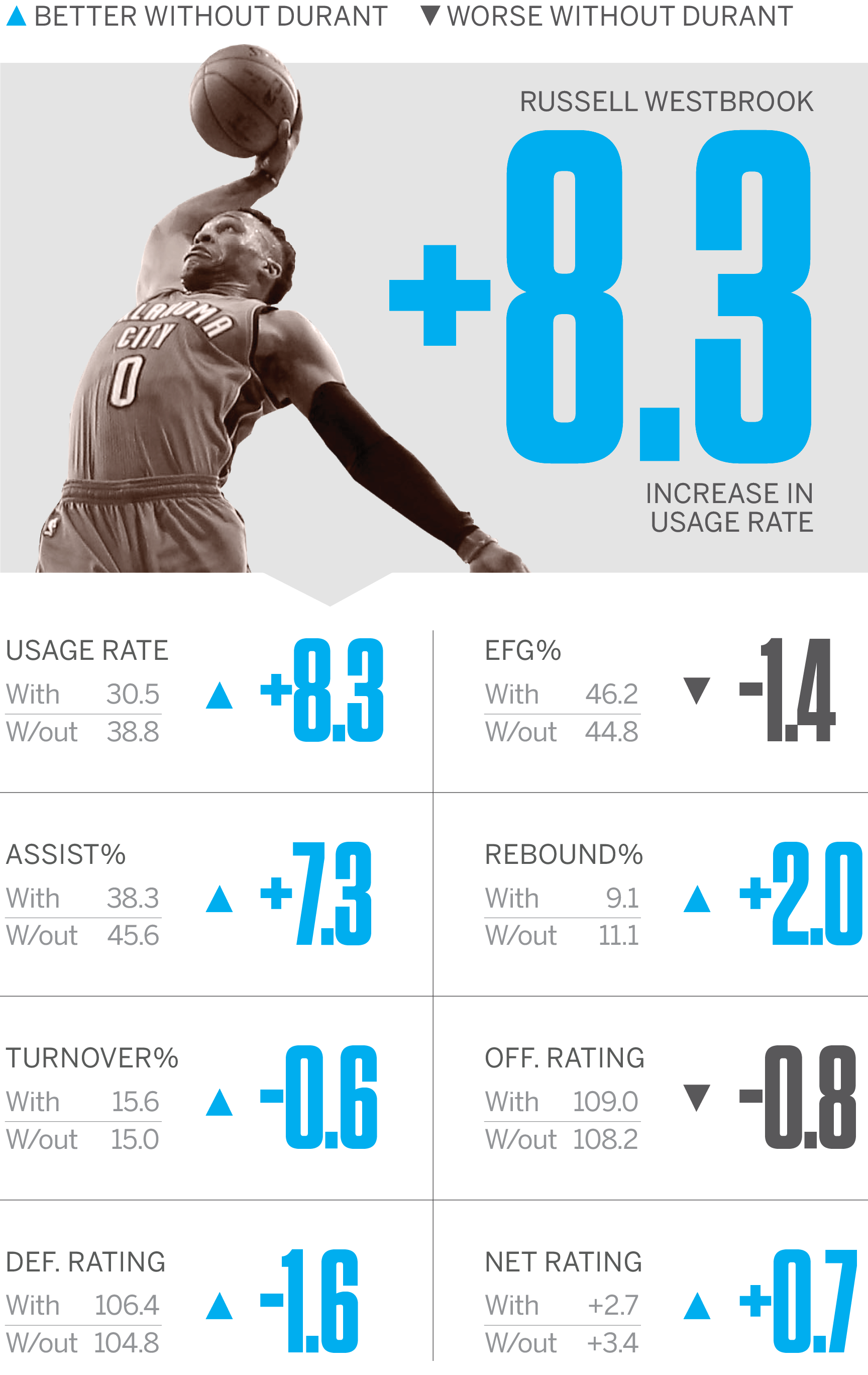 He's become a triple-double machine
Westbrook racked up a league-best 18 triple-doubles last season, tying Magic Johnson for the most in a season since 1967-68. And he's already had 11 this season, or one every two games! The Thunder offense will continue to be fast-paced, so there's no reason to think his passing stats will diminish. And as Kevin Pelton points out in his Thunder season preview, Westbrook grabbed a career-high 18.1 percent of available defensive rebounds last season, nearly as much as the average for a power forward (19.2 percent). Below, a look at his totals since entering the league -- notice the recent spike:
Triple-doubles by season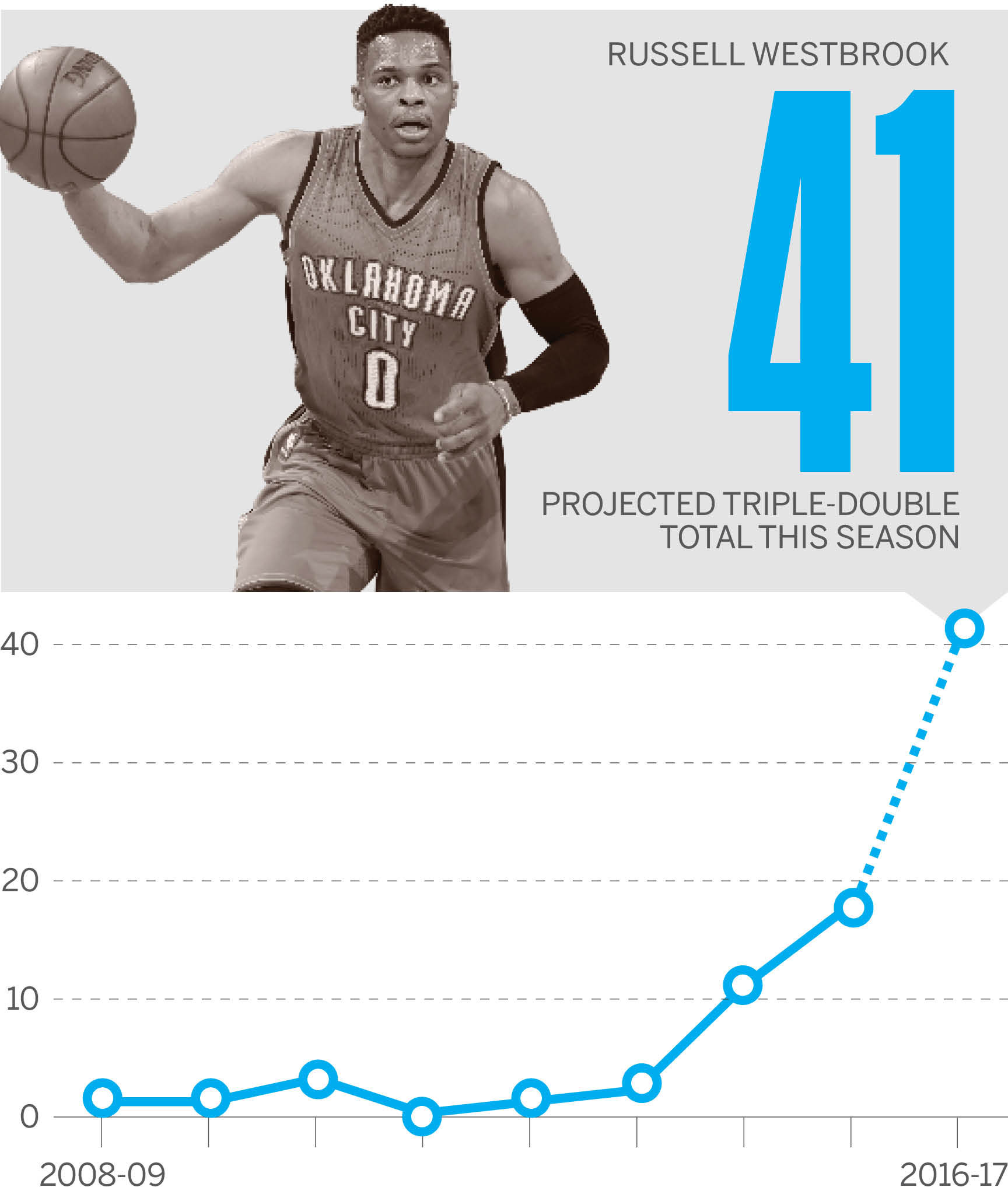 It's his franchise now
The Thunder franchise has had the remarkable good fortune to draft Durant, Westbrook and Harden in the past decade -- three Hall of Fame-caliber talents. But now that Westbrook is the only remaining superstar on the roster, he is on track to eventually lead the team in total win shares in the OKC era.
The top five win share totals in Thunder history (2008-09 to present):
---
2009-16
Small Forward
Games: 561
Win shares: 105.6 (.188 WS/game)
---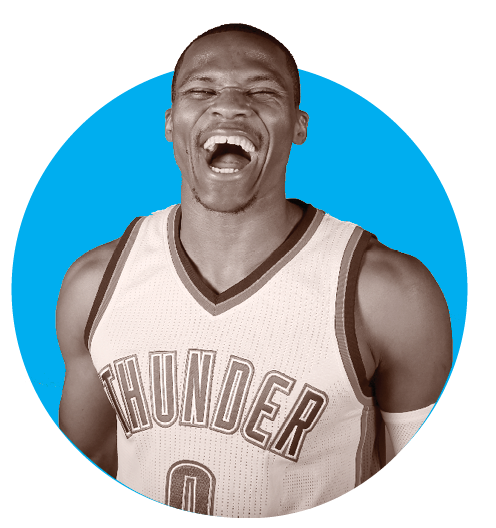 2009-16
Point Guard
Games: 609
Win shares: 70.6 (.116 WS/game)
---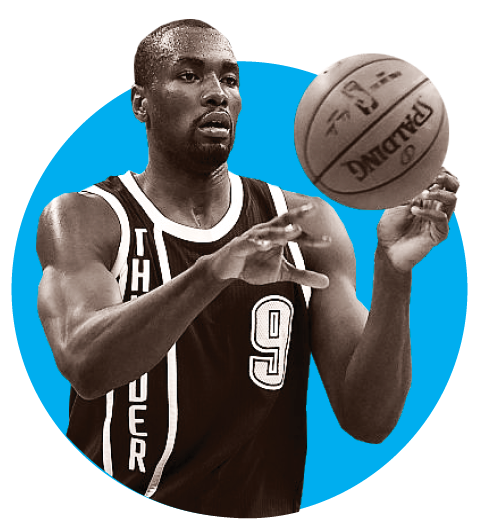 2010-16
Center
Games: 524
Win shares: 47.6 (.091 WS/game)
---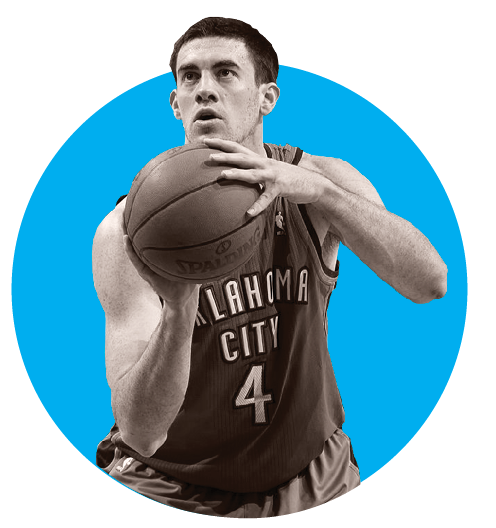 2009-16
Power Forward
Games: 572
Win shares: 28.6 (.050 WS/game)
---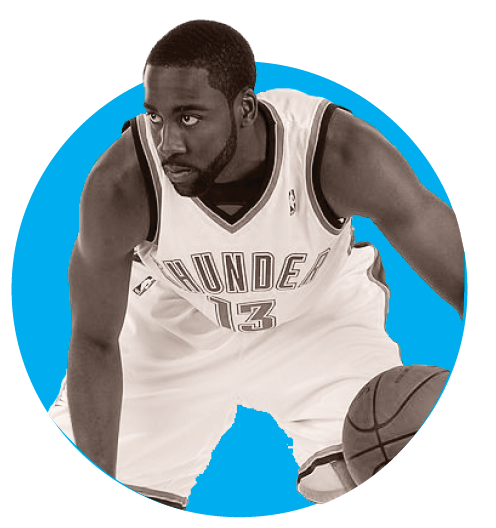 2010-12
Shooting Guard
Games: 220
Win shares: 21.0 (.095 WS/game)
---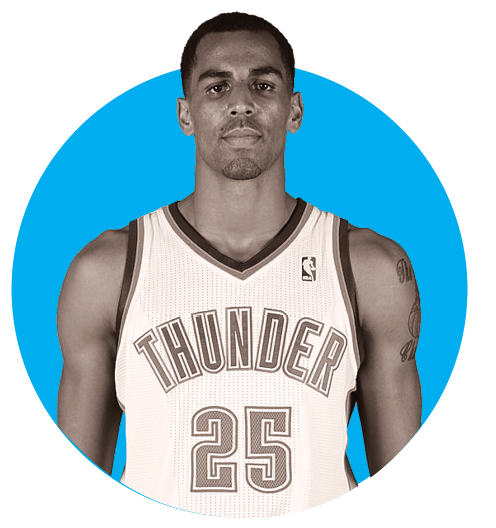 2009-14
Shooting Guard
Games: 368
Win shares: 21.0 (.057 WS/game)
---
It seems likely that Westbrook will eclipse Durant as long as he sticks around. He has averaged 9.5 win shares per 82 games in his career. At that pace and playing full seasons, Westbrook would surpass KD during the 2021-22 season, when he'll be 33.
He could join an exclusive club
Once his steals numbers rise to where they've been the past few seasons, Westbrook should have no problem averaging more than 25 points, 8 rebounds, 8 assists and 2 steals this season. How impressive is that? Very, and historically rare. Only once in league history has a player averaged 25/8/8/2 in a season: Michael Jordan in 1988-89 (though keep in mind that steals weren't officially tracked until the 1973-74 season). A look at Jordan's numbers, along with a composite of Westbrook's stats: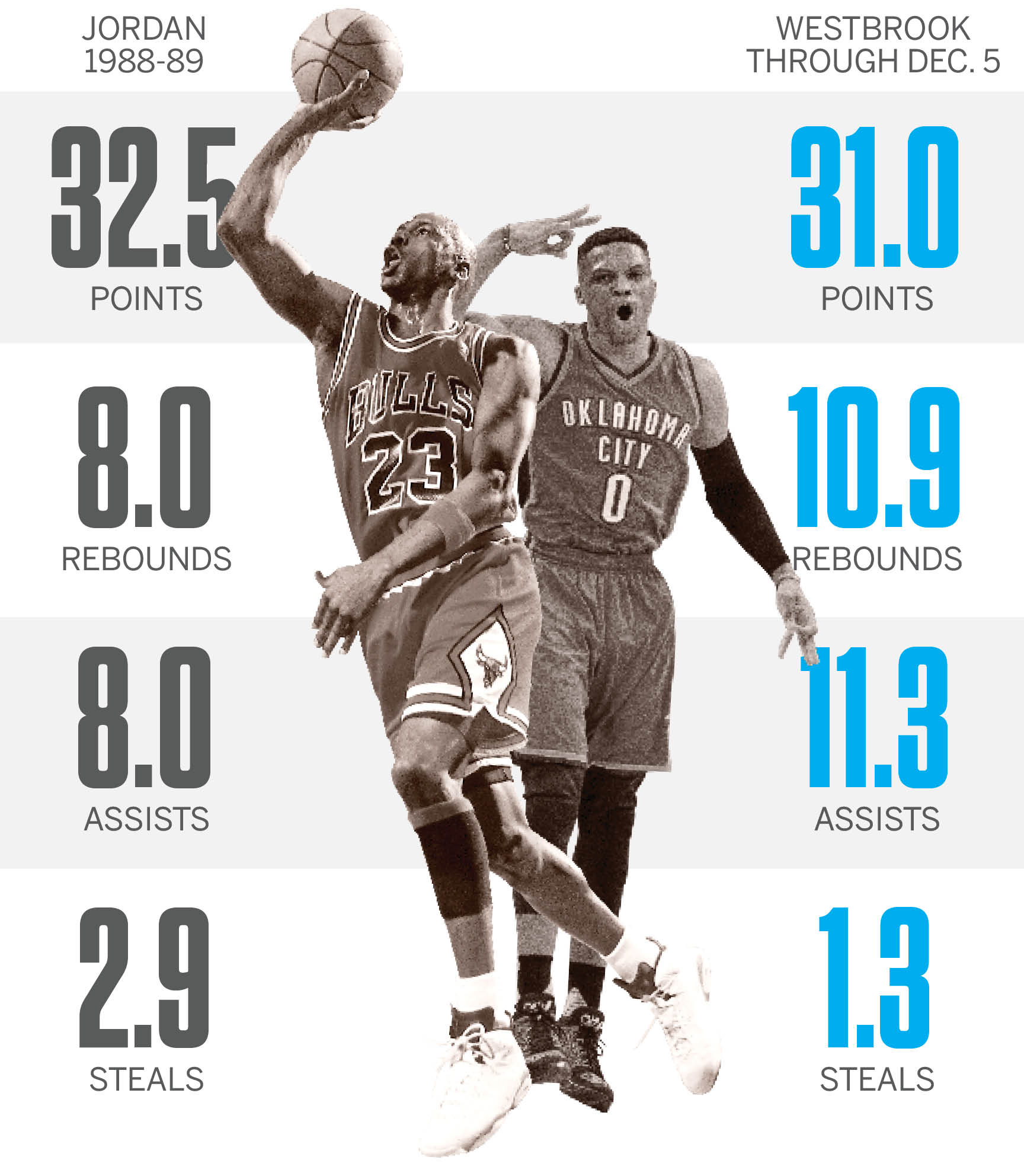 2016-17 statistics through Monday, courtesy of Synergy Sports Tech, NBA.com, Basketball-Reference.com, StatMuse and NBA Miner.