Uni Watch's Flashback: The NHL's outdoor brigade
— --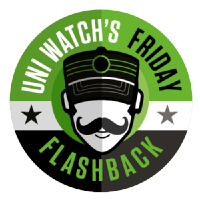 When it comes to big sporting events, New Year's Day used to belong exclusively to college football. But over the past decade, the NHL has established a strong tradition of ringing in the new year with the Winter Classic, an outdoor game featuring retro-styled uniforms.
With the NHL's centennial celebration commencing at the start of 2017, the league will be doubling down on the outdoor theme this holiday weekend. The Detroit Red Wings and Toronto Maple Leafs will be playing in the Centennial Classic on New Year's Day (additional info on the uniforms is available here), followed by the St. Louis Blues and Chicago Blackhawks facing off in the Winter Classic on Jan. 2 (additional uniform info here).
But how do those uniform pairings stack up against previous Winter Classics? The reality is that almost every Winter Classic has looked pretty good, but some have definitely looked better than others. With that in mind, here's one observer's rankings of Winter Classic uniform matchups, from best to worst, for each installment of the game since its 2008 debut:
1. Red Wings and Maple Leafs, 2014
The Maple Leafs and Red Wings were originally supposed to meet in the 2013 Winter Classic, but that game was canceled due to the NHL owners' lockout, so everything got pushed back a year. It was worth the wait. Toronto's design was inspired by the team's 1927 uniforms, while Detroit's look was loosely based on the franchise's early incarnation as the Detroit Cougars. And with both uniforms being solid-colored -- no contrasting pants or socks -- the result was a Color Rush game before anyone even knew that term. Take that, NFL!
2. Canadiens and Bruins, 2016
They shoot, they score! The Bruins' uniforms throwbacks to their 1924-25 design. The Habs also reached back to the 1920s, combining the team's old white "C" logo and its 1924 world championship crest (which was repurposed as a sleeve patch for the Winter Classic). Put it all together and you get a feast for the eyes.
3. Penguins and Sabres, 2008
The first Winter Classic was a winner, at least from a uniform perspective, as the Penguins turned back the clock to their late-1960s look and the Sabres threw back to their inaugural uniforms. Many fans feel those designs should have been kept all along. For one day, they got their wish.
4. Flyers and Bruins, 2010
The 2010 Winter Classic is remembered primarily for Marco Sturm's game-winning goal in overtime, but the uniforms looked sharp as well. The Bruins' jerseys featured an early version of the team's "spoked B" logo, first seen in 1948, and the Flyers wore something similar to their original white uni design. The orange-versus-gold pairing worked really well.
5. Capitals and Penguins, 2011
If you're thinking, "The Caps never should've gone away from that design," you're not the only one. It was such a hit in this game that it was soon adopted as the team's alternate uniform. The same thing happened with the Penguins' retro-inspired uniform from this game, which was soon added to the team's wardrobe rotation as an alternate.
6. Rangers and Flyers, 2012
This is what happens when you have two teams whose uniforms have barely changed over the years: With no obvious throwbacks to choose from, both teams went with fauxbacks. Not a terrible-looking game, but the designs felt a bit forced, and the use of cream tones -- or "vintage white," as it has become known -- felt gratuitous. Meh.
7. Red Wings and Blackhawks, 2009
The good news is that both of these uniforms had serious historical pedigrees, with Chicago throwing back to the mid-1930s and Detroit going all the way back to 1926. The bad news is that they didn't really look that great on the ice. That big Detroit "D" looked more goofy than classy, and the majesty of Chief Blackhawk's headdress was lost when it was shrunk down to such a small size. A useful reminder that older isn't always better.
8. Capitals and Blackhawks, 2015
If the Winter Classic has had a stinker from a uniform standpoint, this was it. The Caps wore a fauxback that felt like a mix-and-match collection of retro elements, and the Blackhawks' 1957 throwback was so similar to their contemporary uniform that it provided no sense of occasion (and is also similar to what they'll be wearing in this season's Winter Classic -- not a good sign). The weakest-looking Winter Classic so far.
That brings us up to date. As for this year's designs, the feeling here at Uni Watch HQ is that both of the upcoming outdoor games feature one really good design (Maple Leafs in the Centennial Classic, Blues in the Winter Classic) and one acceptable but unexciting design (Red Wings and Blackhawks). Still, turning over the calendar with outdoor NHL action is always enjoyable, plus it provides a rare chance to see an unusual uni-related phenomenon: hockey players wearing eye black.
Would you like to nominate a uniform or uni element to be showcased in a future Friday Flashback installment? Send your suggestions here
Paul Lukas wishes everyone a healthy and prosperous new year. If you like this column, you'll probably like his Uni Watch Blog, plus you can follow him on Twitter and Facebook. Want to learn about his Uni Watch Membership Program, be added to his mailing list so you'll always know when a new column has been posted or just ask him a question? Contact him here.