Not content to have become one of the most powerful information sources on this planet, engineers at Google have now conquered the Moon.
To mark the 40th anniversary this year of Apollo 11, Google's engineers partnered with NASA to add a new layer to their popular -- and free -- mapping program, Google Earth.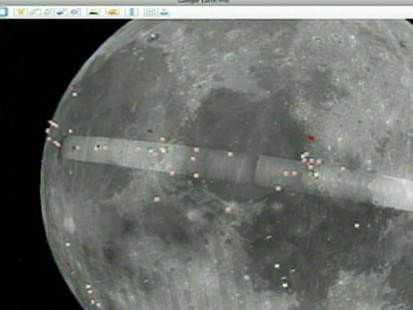 They inserted a detailed map of the lunar surface, as imaged by U.S. satellites. It becomes especially rich in material at the six sites where U.S. astronauts landed between 1969 and 1972, and where various robotic probes touched down in advance of Apollo.
To use it, one has to download the newest version of Google Earth, found HERE. It is separate from (and more detailed than) the lunar maps already found on the Google Web site; those have been there for about four years.
"I believe that this educational tool is a critical step into the future, a way to both develop the dreams of young people globally, and inspire new audacious goals," wrote Anousheh Ansari, the sponsor of the Ansari X Prize, and the first woman to travel in orbit as a space "tourist," on Google's blog.
"Finally, outer space doesn't seem so far away anymore."