As each new Smartphone hits the market, people ask me: "Is this going to be the iPhone killer?"
So let's get this out of the way, right away.
No, I don't think the Droid, or any other smartphone is going to be an iPhone killer.
Why? Because I don't think there has to be one. I think there's plenty of room in the cell phone universe for there to be more than one awesome phone, especially when there are plenty of wireless carriers battling it out for customers and coverage.
You've seen the "There's an app for that" commercials, I'm sure. While neither the Android Market nor Blackberry App World can compete with Apple's 90,000-plus apps at the moment, there are thousands of apps available for Android (which claims 10,000 apps) and Blackberry phones and the list grows daily.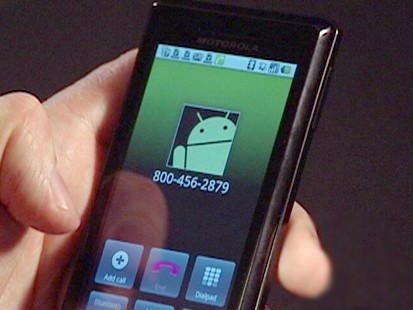 So make way for these new cell phones and scrutinize and lust after each of them for what they are, not for how they compare to something else.
That said, the Droid by Motorola is an Android 2.0-powered phone running Verizon's network.
It's a large phone; it felt big in my hands, and its edges are squared, not rounded and smooth. The sliding QWERTY keyboard is comfortable but the keys feel a little flat. If you have short fingers, it's a little difficult to reach the space bar in the middle.
But Android 2.0 phones like the Droid offers Google's Maps navigation, bringing free turn-based GPS directions right to your phone, a first for the smartphone market. Speak your destination into the handset's microphone, and Google maps will return the route, with voice-guided text-to-speech directions.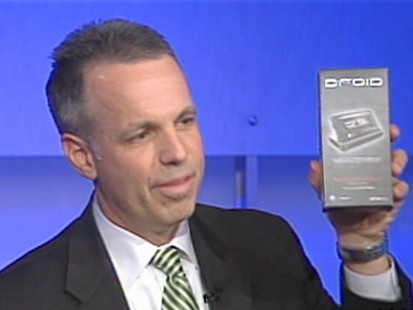 There's also tight integration with Google Voice, Gmail, Google Talk and one-touch recording and playback from YouTube.
Droid also searches like a good robot. When you initiate a search, it searches not only your contacts, but your multimedia library, your phone, the Web, everywhere, before it returns your search results.
Droid by the Numbers: A Few Specifications

A bright 3.7-inch touch screen (though you can't "stretch" or "pinch" a picture with two fingers as you can on the iPhone to make it larger or smaller).

A lithium-ion battery good for up to 385 minutes of continuous use, or up to 270 hours in standby mode, according to Motorola.

A full html browser, far better than what you get from the scrunched up display on phones with only the dumbed down mobile-browsers.

A slide-down QWERTY keyboard, which you may prefer to the virtual keyboard you use on the iPhone's touch screen. It may, on the other hand, drive you crazy. The keys are tiny.

A 5-megapixel camera with video capability and image stabilization and dual LED flash (the iPhone has no flash at all) pretty good for a camera phone, though, as with most cell phones, it's no substitute for an actual camera if you want more than snapshots.

An mp3 music player, for which the major supplier is Amazon.com. Amazon's music selections are massive, but if you've invested a lot in iTunes, you can't (at least for now) load your iTunes library into this Apple competitor.

The price: $199 with a two-year Verizon Wireless contract, plus tax and fees.